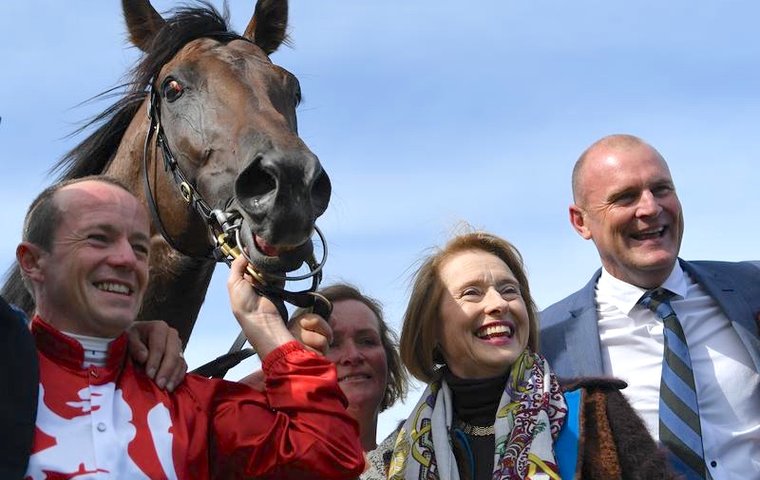 Gai Waterhouse's road to tomorrow's Melbourne Cup started with a horse found in a Japan that raced in France but ended with a runner bred just down the highway from Flemington racecourse.

Waterhouse, who runs her Tulloch Lodge stable in partnership with Adrian Bott, was in Japan in 2015 when she bought Hush Writer in a batch of six foals purchased at a foal sale.
She was unable to race Hush Writer in Japan. Hush Writer's owners, which include the Western Australian breeder Craig Thompson, of Mt Hallowell Stud, sent the horse to France to trainer Francis Graffard.
Hush Writer started his career with a second over 2100m at ParisLongchamp in April before winning a maiden over 2000m at the same venue in late May, ahead of his close-up third in G2 company at Chantilly in June, which was the colt's last run in France.
"He was a very nice foal and has grown into a magnificent horse," Waterhouse said in June. "I know we all say that, but he really is an imposing colt. He won well at Longchamp, and I was delighted with the way he ran at Chantilly. Not many horses were making ground on the day, but he came from well off the pace and was closing all the way.
"Francis Graffard has done a terrific job with him and we will be looking at the best way forward with him now and to formulate a plan."
Stiffest test failed
An audacious bid to win the Melbourne Cup with an inexperienced import became Waterhouse's plan. Her good friend Lloyd Williams had won the Melbourne Cup with the Northern Hemisphere 3-year-old Rekindling in last year.
Why couldn't she do it? Waterhouse went close with the Southern Hemisphere 3-year-old Nothin' Leica Dane in 1995 and she'd won the great race with the import Fiorente in 2013. But the task was beyond the immature Hush Writer once he arrived in Australia.
Hush Writer misbehaved and did little right when well beaten in a moderate handicap at Moonee Valley at his Australian debut on September 8. The son of Hong Kong G1 winner Rulership then showed ability when beaten a length by the handy Jaameh at Flemington second-up.
A well-beaten stakes placing at Mornington followed, but Hush Writer failed his stiffest test when comfortably seen off by Avilius and Jaameh in the G3 Bart Cummings (2500m), which offered a guaranteed Melbourne Cup start to the winner in early October. Waterhouse and Bott conceded defeat this time, sending Hush Writer to the spelling paddock to strengthen and mature in time for another attempt in 2019.
However, that failure didn't stop Waterhouse making another unorthodox bid for a Melbourne Cup runner.
Waterhouse and Bott decided to consider smart Australian-bred 3-year-old Thinkin' Big a Melbourne Cup possibility. Southern Hemisphere 3-year-olds don't win Melbourne Cups in these international times, or even since the Second World War. Skipton was last Southern Hemisphere 3-year-old to win the Melbourne Cup - in 1941.
But, as noted earlier, Waterhouse went the closest when Nothin' Leica Dane ran a great second to the grand stayer Doriemus three days after beating the Cox Plate winner Octagonal in the 1995 Victoria Derby. Nothin' Leica Dane was also tested but struggled in Peintre Celebre's Prix de l'Arc de Triomphe in 1997.
Waterhouse said on numerous occasions that Thinkin' Big reminded her of Nothin' Leica Dane, which is not unexpected as the stayer features in the High Chaparral colt's maternal pedigree.
"I've got a horse up in Sydney just like Nothin' Leica Dane, just looking at him, a horse called Thinkin' Big," Waterhouse said in September. "But this horse is better looking.
"I'm going to run him in the Spring Champion Stakes and then bring him down for the Cup."
Decline of Australian-breds in Melbourne Cup
Thinkin' Big won the G3 Gloaming Stakes (1800m) fresh on September 22, then ran an honest third in the G1 Spring Champion Stakes (2000m), a race Nothin' Leica Dane won 23 years earlier, on October 6 and followed the former Tulloch Lodge star's path with a win in the G3 Norman Robinson Stakes (2000m) at Caulfield to become the ruling favourite for the Victoria Derby at Flemington last Saturday.
The removal of the rule granting Victoria Derby winners that were entered an automatic Melbourne Cup start meant Thinkin' Big needed to win the Derby and earn a penalty or a weight adjustment to push his way into the Melbourne Cup field.
"You can never have enough cups," Waterhouse, who trains with Adrian Bott, said. "They're like diamonds, they're a girl's best friend.
"He's a brilliant horse, the owners are keen to do it, so why shouldn't we do it? They may never have a runner again."
However, like Hush Writer, Thinkin' Big couldn't stand up to the tough task. He finished 12th in the Victoria Derby to end the 2018 Melbourne Cup dream for his owners. But there's little doubt he'll return for another tilt at Victorian racing's showpiece in 2019.
However, the irrepressible Waterhouse and her training partner would not be denied a Melbourne Cup runner and fortune had smiled on the Manhattan Rain gelding Runaway earlier in the month.
On face value, Runaway isn't a trendy Melbourne Cup type. A look at his name in the form guide would automatically rule him out, for starters. The horse is Australian-bred, and Australian-bred horses don't win Melbourne Cups any more. Shocking was the last Australian-bred Melbourne Cup winner, in 2009.
An Australian-bred horse hasn't filled a place in the Melbourne Cup since Shocking. It seems the local trainers have given up on winning a Melbourne Cup with an Australian-bred horse. Only five Australian-bred runners have raced among the 71 competitors in the last three Melbourne Cups.
But such things don't worry Waterhouse and Bott. Nor did they worry Runaway in the G3 Geelong Cup, which has been used as a springboard to Melbourne Cup victories by Dunaden, Americain and Media Puzzle in previous years. Runaway went to the front and refused to yield to his rivals (see video below), beating his stablemate Northwest Passage (who missed the Melbourne Cup field) and Finche, part-owned by Juddmonte Farms and now a member of the Chris Waller stable.
Connections began a hard sell to get Runaway the weight penalty he needed to get into the Melbourne Cup before the son of Manhattan Rain, who Waterhouse also trained to a G1 win as a 2-year-old, had returned to the mounting yard after his Geelong Cup win.
"I'll leave it to [chief handicapper] Greg Carpenter, who is the best judge in the business," joked Runaway's part-owner and breeder, Anthony Mithen, of Rosemont Stud. "A horse that runs third in a Derby as a 3-year-old, wins the St Leger, is Aussie bred … we bred him. I think he deserves his spot, and Greg will too."
Runaway was placed in a Derby. He ran third in the South Australian Derby, which holds G1 status but is rated inferior to the Derbys in the eastern states, while his only stakes win before the Geelong Cup came in the VRC St Leger, which is often fortunate to hold its listed status.
Yet Racing Victoria's Greg Carpenter announced a 1.5kg penalty for Runaway's Geelong Cup win, which ended up being enough to get him into the field. The Caulfield Cup winner Best Solution did not receive a Melbourne Cup weight penalty, nor did the G2 Moonee Valley Gold Cup winner Ventura Storm, yet Runaway's weight was increased enough to make the Melbourne Cup field.
'A remarkable thing'
Can Waterhouse win a Melbourne Cup with a horse bred less than 100km from Flemington in an age where the $7 million event is dominated by imports and overseas runners? The usually super-confident Waterhouse was cautious about Runaway's prospects in her final Melbourne Cup interview yesterday.
"He'll be a 33/1 pop, 25/1 pop, but he'll give them a great run for their money, both owners and the punters," she said.
"You just love to have a runner in it, and we're lucky enough to have one in it, Australian born and bred by a sire that I trained. What a remarkable thing! So we're thrilled."
Whether Runaway is good enough to withstand the Aidan O'Brien and Godolphin assaults won't be known until Tuesday afternoon, but a couple of things are certain:
Gai Waterhouse won't die wondering, and - win, lose or draw - she and Bott will be back for another crack at the Melbourne Cup in 2019.