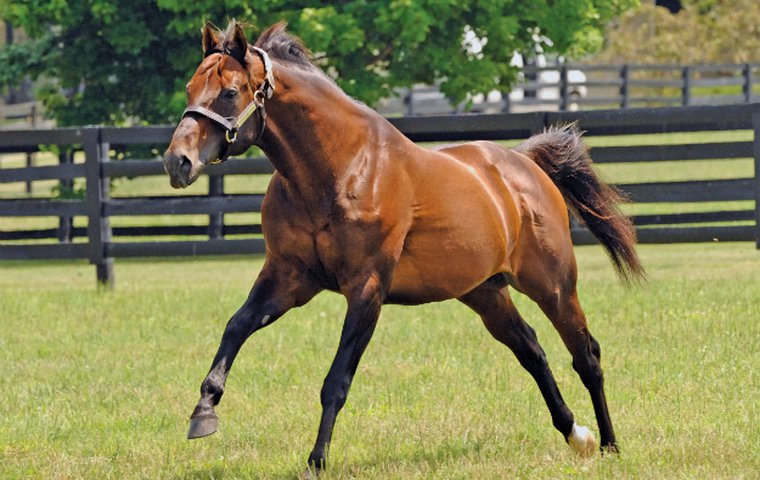 On race record alone, Candy Ride appeared value when he stood his first season for $10,000 at Hill 'n' Dale Farm in Kentucky in 2005. But breeders are often creatures of habit, content to throw their weight behind popular bloodlines and sometimes wary of the unknown. As a South American import who was the son of the Argentinean-based Ride The Rails, Candy Ride's fee was also reflective of the perceived element of risk.

In fairness, American breeders had every right to be wary - several would have previously been stung by the failures of other leading South American imports such as Gentlemen, Sandpit, and Candy Ride's own damsire, Candy Stripes. But there is always an exception to the rule and hindsight today tells us that Candy Ride was a steal during that first season.
Now 15 years old, Candy Ride is one of the flagship stallions at Lane's End Farm in Kentucky. He is standing this season for a high of $60,000 and currently sits in second behind Tapit on the 2015 leading American sires' list.
Among his eight G1 winners is the five-time G1 hero Shared Belief, this year's dominant Santa Anita Handicap winner who is regarded by many as the best horse in America. Another son, Dubai Sky, winner of the G3 Spiral Stakes at Turfway Park on March 21, looked to be a live Kentucky Derby prospect until the colt was sidelined with an injury that will cause him to miss the remainder of the year.
If the chatter is to be believed, he is also on the verge of establishing a lasting influence through sons Twirling Candy and Sidney's Candy, both of whom are represented by their first juveniles this year.
In short, he is not far off being the modern day Forli, another brilliant South American import who left a lasting influence following his retirement to Claiborne Farm in 1968.
Ironically, as he has become more highly regarded, it is Candy Ride's pedigree that has grown to be one of his most appealing assets; with only one drop of Northern Dancer in his background, he is now valued as an important outcross in an industry saturated with that blood.
"He's imparting some of his own brilliance," said Bill Farish of Lane's End Farm, "and he's a very important outcross for American breeders. He's had a tremendous amount of success with different lines."
Candy Ride's own racing career was restricted to six starts, but he was brilliant on every occasion.
Bred by Haras Abolengo, he ran away with his first three starts in Argentina in 2002, then was purchased by Sidney and Jenny Craig and imported to race in the U.S. Victories abroad included the G1 Gran Premio San Isidro by eight lengths and the G1 Joaquin S. de Anchorena, both on turf, while his 12-length debut win came on dirt.
It didn't take long for Candy Ride to turn heads in the U.S. After winning his debut for Ron McAnally, an allowance optional claiming race on dirt at Hollywood Park in June 2003, he switched back to turf to take the G2 American Handicap at the same track.
However, his most brilliant performance came at Del Mar in August 2003, when he trounced Medaglia d'Oro by 3 ¾ lengths in the G1 Pacific Classic. Not only did he set a new track record of 1:59.11 for the 1 mile 2 furlong distance but he also turned in a Beyer Speed Figure of 123, the highest recorded that year. It was a remarkable performance for a colt who at the time was still a month away from his actual fourth birthday.
Unfortunately that performance also closed his career. Connections opted to skip the Breeders' Cup Classic, primarily because Candy Ride had been in constant training for a whole year and had small feet that the trainer wanted to see spread, and although he later returned to training, ankle problems went on to prompt his retirement.
By the time Candy Ride entered stud in 2005, he had been away from the races for nearly 18 months. However, he offered an unbeaten race record at a comparatively low fee of $10,000, and, although his sire Ride The Rails resided in Argentina, the stallion was at least a G1-placed son of the Kentucky-based Cryptoclearance and a member of the Fappiano sire line. Candy Ride duly attracted 170 mares, which resulted in 124 foals.
It didn't take long for it to become apparent that Candy Ride was indeed passing on a measure of his brilliance. His first stakes winner arrived in August 2008, when Evita Argentina took the G2 Sorrento Stakes and there was another in November that year, when Capt. Candyman Can won the G3 Iroquois Stakes.
Within the year, both had bagged G1s. Evita Argentina landed the 2009 La Brea Stakes at Santa Anita while Capt. Candyman Can won the 2009 King's Bishop Stakes at Saratoga. Other first-crop standouts, El Brujo and Misremembered, won the G1 Pat O'Brien Stakes and G1 Santa Anita Handicap, respectively, in 2010 to contribute to an overall tally of 11 first-crop stakes winners.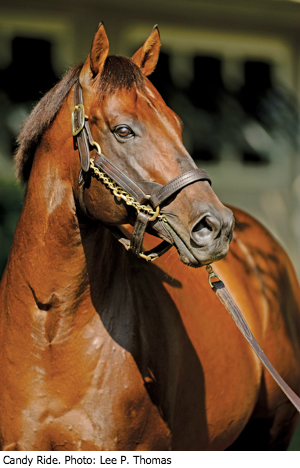 Candy Ride ended 2008 as America's third leading first-crop crop sire behind Tapit but ahead of Medaglia d'Oro and Speightstown. By that time, he had been installed at Lane's End Farm, which has had plenty of reason to celebrate his arrival since then.
Out of his second crop of 91 foals came G1 Santa Anita Derby winner Sidney's Candy and G1 Malibu Stakes winner Twirling Candy, two of six stakes winners by the stallion bred and/or campaigned by the Craig family.
The Craigs were also rewarded for this support, which was instrumental in Candy Ride's early success, as the breeder of 2012 G1 Santa Monica Stakes winner Home Sweet Aspen, the highlight of his 100-strong third crop.
None of Candy Ride's first five crops were bred off fees greater than $12,500, yet they contain 37 stakes winners. His first $25,000 crop, foaled in 2011, is highlighted by Shared Belief and G2 winner Candy Boy.
"He started at a low stud fee and now we're seeing a totally different type of book [at $60,000]," Farish said. "It will be interesting to see how he progresses over the next few years. He's very versatile - they can be 2-year-olds but they can run long - and he has an advantage in that he is open to so many different bloodlines.
"He throws different types. They're typey horses, not overly big but generally very well made."
In keeping with his own race record, Candy Ride has forged his reputation at stud through a series of top flight performances on Californian tracks - all bar one of his eight G1 winners, Capt. Candyman Can, posted a G1 victory in California, among them Misremembered, Sidney's Candy, and Twirling Candy.
But one particularly striking aspect of his stud record is the versatility shown by several of his better runners. His stud record contains stakes winners on dirt, turf, and artificial surfaces, but several were highly effective on each, notably Sidney's Candy, who won the G1 Santa Anita Derby on artificial, the G2 La Jolla Handicap on turf, and the G3 Sir Beaufort Stakes on dirt. Twirling Candy won the G1 Malibu Stakes on dirt, came within a head of emulating his sire in the G1 Pacific Classic on artificial, and was a G2 winner on turf and artificial.
With that in mind, it surely won't be too long until he becomes more prominent in Europe. He was represented by his first European stakes winner last season, when Sloane Avenue won the Listed Hyde Stakes at Kempton.
"I think it's a matter of time before European breeders really start to take notice of him," Farish said. "There's no reason why he won't work well there down the line."
While Candy Ride has been effective with a number of different bloodlines, it is hard not to be taken with the success he has enjoyed with Storm Cat. The likes of Capt. Candyman Can (out of a mare by Storm Creek) and Evita Argentina (Forest Wildcat) were early advertisements for the cross, which has since been further showcased by Shared Belief (Storm Cat) and Sidney's Candy (Storm Cat).
Even without the presence of Shared Belief, who will be hard to beat wherever he goes from now on, 2015 promises to be a pivotal year for Candy Ride. Not only is it the season when his first $50,000 crop of 2-year-olds hit the track but also when we gather an idea of whether he will become an effective sire of sires.
Sons Misremembered, Sidney's Candy, Spaniard, and Twirling Candy are represented by their first runners this year.
The word appears to be particularly strong for Twirling Candy, who has returned an average of $374,167 so far at this year's 2-year-old sales despite standing for only $10,000 alongside his sire at Lane's End. Among them were juveniles that sold for $630,000 and $500,000 at the OBS March Sale as well as a colt who topped the Barretts March Sale at $400,000.
"Twirling Candy has had a great run at the 2-year-old sales," said Farish of the 8-year-old, who carried the Craigs' colours to victory in seven of 11 starts. "And he's getting a better book this year. He's a beautiful horse, a bit taller than Candy Ride and a little longer. It's exciting to see a son of Candy Ride get so well received."
Twirling Candy has 90 2-year-olds on the ground while Sidney's Candy, who stands for $15,000 at WinStar Farm, is closely matched with 92. He also enjoyed a good OBS March Sale, thanks to a $530,000 colt, to add further lustre to the Candy Ride brand.