Paul Haigh reports on a special race meet near Shanghai - and hears news of an exciting new China Horse Club race scheduled for spring in Singapore.

Conventional wisdom on the potential El Dorado that is horse racing in China says there is no way to enter it except through the highly improbable course of events that might persuade the country's leadership to abandon its prohibition on betting. Good generals though – like shrewd politicians and clever businessmen – know that there is no point in full frontal assaults on unscalable heights. They also know that, to use a more colloquial if unfortunate phrase, there is more than one way to skin a cat.
The China Horse Club (CHC), brainchild of its founder and chairman, Teo Ah Khing, a Chinese-born Malaysian, is taking an approach to racing that promises to circumvent the interdiction on betting that's been unshakeable policy in the People's Republic since it was decreed by Chairman Mao in 1949.
Teo, a Harvard-educated, self-made billionaire who has come to the attention of world racing most notably as the man who built Meydan and through his part ownership with Coolmore of the brilliant 2014 Epsom and Irish Derby winner Australia, is not one used to anything but success.
The CHC business model does not necessarily require catering to the almost universal – and many would say particularly Chinese – desire to bet. It does involve recognition of another human characteristic: the desire of the wealthy, particularly the newly wealthy, to demonstrate the fact of their wealth.
Anyone who's spent time in Hong Kong, a geographically tiny part of China, will be aware of the phenomenon that causes its rich to buy expensive, high-powered cars that can only be driven around this Special Administrative Region of China at the 3-4 miles per hour traffic congestion permits.
All over the world, the super-rich are looking for new ways to spend their money in ways that differentiate them, and China is no different.
The CHC invites the population of the Chinese mainland to do just that by investing in expensive racehorses as an alternative, or as an adjunct, to big, fast cars. It also offers a lifestyle involving ski lodges in the Alps and magnificently appointed estates in Australia and elsewhere that provides an alternative method of flaunting success than another Maserati or Rolls-Royce.
This may be a cynical way of looking at it, as it plays down China's horse-loving tradition, which goes back at least 5,000 years, as well as the sheer love of sport, but no one who attended the Chinese Equine Cultural Festival, organised and promoted by the CHC in Shanghai last month and culminating in a race meeting on Oct. 12 at the Nine Dragons Hill Polo and Jockey Club, two hours drive from the city centre, can have doubted the essence of its appeal.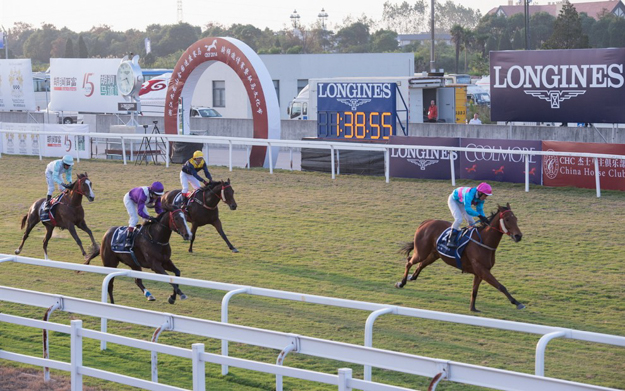 Beautifully packaged though it may be in references to patriotism and culture, at the core of the CHC's pitch is the glamour associated with the sport of racing and the fact that only members of China's new plutocracy can be in a position to enjoy it.
Whether the model will work is still open to doubt, but if it doesn't, it will not be for want of a target market.
In 2012, the year of the CHC's foundation, there were 1,028 citizens of Shanghai alone with disposable assets of more than USD$30 million. As China's economy grows, this number is only expected to increase. That's in one city alone, and there are already hundreds in China to whom the USD$30 million threshold will seem ridiculously low.
Last year's inaugural race meeting, held deliberately at Hohhot in Inner Mongolia, China's traditional centre of equine activity (think Genghis Khan), did not get a uniformly ecstatic reception from the world's racing media. By all accounts, the weather didn't help. Some jockeys were disappointed with the condition of the track. Glamour was in short supply.
Nine Dragons Hill was different.
A crowd of approximately 3,000-4,000 was made up of perhaps 500 or so invitees - mainly persons of influence in racing, including such as International Federation of Horseracing Authorities President Louis Romanet - 300 girls whose function was to look pretty and make welcoming gestures; another few hundred catering staff; and a few hundred young people who may have been let in free and who'd come because they simply didn't want to miss it.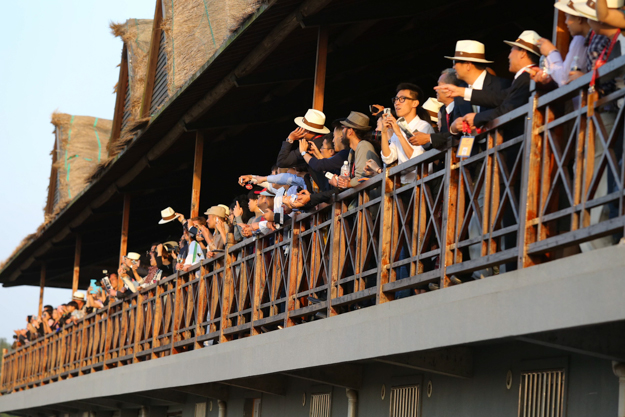 The rest, CHC members to a man and woman, were either rich or beautiful, or both. Since non-invited guests had to pay $7,000 plus travelling expenses and, if they wanted to enjoy the entire weekend, whatever it cost per night at the historic and recently renovated Peace Hotel on the Bund, whose pre-World War II guests included George Bernard Shaw, Marlene Dietrich, and Noel Coward, we can take it that not many turned up for just a day out.
Exclusivity is the CHC's selling point, and exclusivity is what attendees got in Shanghai. The weather was perfect, apart from a strong breeze. The scenery was splendid, if you ignored what looked like a nearby cement factory ("What does it make?" our guide was asked. "Some pollutions" was her terse reply). The going was excellent, according to now Singapore-based visiting riders, the U.K.'s Darryll Holland, and U.S.'s David Flores. The atmosphere was that of a very expensive picnic, although certainly not what Australians would think of as a picnic race meeting.
Informality was the watchword, and that extended to the timing of the races, which were delayed by an hour while organisers waited for the arrival of a representative from the Zhejiang Sports Bureau, who, dressed in jeans and a white short-sleeved shirt, in sharp contrast to the besuited majority, made a speech to open proceedings that might best be described as vigorous.
His organisation is only a local one, but his significance was to represent government in a country in which official approval is all-important.
Since all the races were contested by CHC horses – every one of them trained at the Nine Dragons course by the CHC private trainer, New Zealander Quinton Cassidy – the results were perhaps less significant. Although, as each horse represented a separate syndicate within the club, there was no obvious lack of competitiveness.
Wines, canapés, and delicacies were served throughout the day and helped encourage significant people to mingle and gauge each other's significance. Discretion is another watchword, and membership names and even numbers are not disclosed, but membership is in tiers and the highest tier costs seven figures in U.S. dollars, according to CHC manager Eden Harrington.
Mr. Teo, as the chairman is always known, asked how he felt the meeting had gone, said: "Very pleased. We set some distinct goals for the second CECF [China Equine Cultural Festival]. We wanted to promote many of the best virtues of the big carnivals of the world. That means glamour, excitement, the exhilaration of owners, and networking with the 'Who's Who.'
"Our inaugural CECF," Teo continued, "was aiming to achieve slightly different goals. It was intentionally set in the traditional heartland of Asia's horse culture. Because one of our objectives is to build a cultural bridge between East and West, the promotion of China's horse culture to international guests was paramount."
As importantly, Tom Magnier, speaking for Coolmore, from whom many of the horses are sourced, seemed equally pleased.
"We're proud of our association with the CHC, obviously so as we've been in partnership with Mr. Teo for the last two years," Magnier said. "I was impressed by this meeting. Today was a great day. Every journey starts with a few steps, and for us, our association with CHC is great.
"I'm managing Coolmore Australia, but effectively I'm representing my father [Coolmore head John Magnier – another man who doesn't back many losers]. He's very interested in China, and that's why we're here."
The CHC have now taken their international interests to a new level with the announcement of a SGD$3.05 million ($2.44 million) CHC race to be run in Singapore on Feb. 21, 2015.
The choice of the Singapore Turf Club (STC) as a not-too-geographically-distant partner for the CHC – which already owns high-class horses based in Singapore – is particularly appropriate and perhaps even inspired. Many rich Chinese are already familiar with the island republic through their visits to its casinos, and Mandarin and English are Singapore's national languages.
Details of the race, its conditions and even its name are yet to be revealed but, by a small margin, it will be the richest ever run in Singapore, just beating the annual Singapore International Airlines Cup, which carries S$3 million ($2.4 million) prize money.
The STC, which has been under pressure from the competition of newly legalised casinos, is equally happy with the arrangement. According to Teo: "The STC is a wonderful partner. Chairman Tan [Guong Ching], President Yu Pang Fey, and the senior team directing the club see the benefit in being the first partner in an international CECF event.
"The benefits to racing in Singapore are many. The sport will be promoted to a wider audience both locally and internationally - and it will be promoted in keeping with the ethos of the CECF as a lifestyle, social, and Thoroughbred racing event. New Chinese owners will be introduced to Singapore and we hope that many elect to continue to support the STC and the trainers and jockeys of the region."
The race at Singapore's Kranji Racecourse will of course be run under STC rules and under the control of STC officials. Many CHC members are expected to travel. It will not have escaped their notice that betting is not illegal in Singapore.
The theme of this year's CECF has been "Bringing China to the world and the world to China." A year ago that seemed an aspirational dream. These days even the cynics may not be so sure.
---
This story has been corrected to omit a reference to the China Jockey Club, which was reported as a hoax by the South China Morning Post.