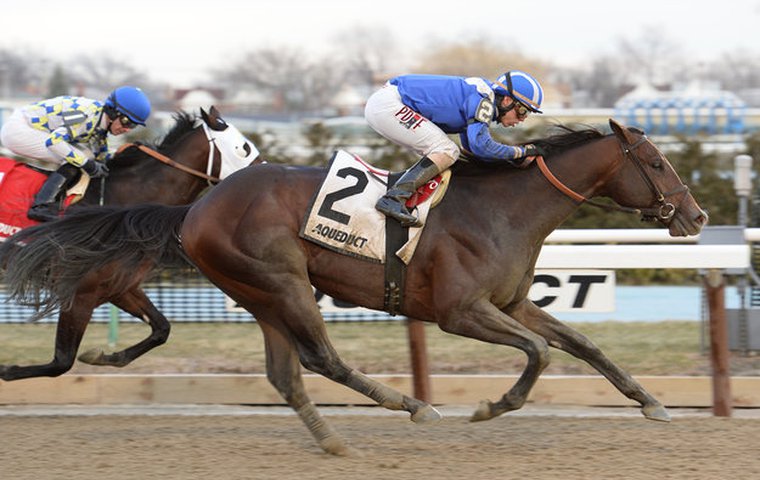 Shagaf steps out of the shadows - and out to prove his 'raw Derby potential'

Rick Nichols has been involved in horse racing for more than enough decades to understand the rollercoaster ride it can be.
Just last Saturday, after riding so high for the last few months, Nichols and everyone else associated with Shadwell Stable took that steep, scary descent when 4-5 favorite Mohaymen finished a shocking fourth behind 2-year-old champion Nyquist in a matchup of undefeated stars in the $1 million Florida Derby at Gulfstream Park.
"The Florida Derby was a disappointment to all of us," Nichols, Shadwell's U.S. racing manager, said about Mohaymen's first loss after a debut win followed by four straight victories in Grade 2 stakes. "But I understand it. I've been on the rollercoaster before. We've been on top and we've hit bottom too. It's not our first rodeo.
"It was such a hot, humid day and Mohaymen couldn't get a hold of that track for some reason. He just spun his wheels. At least he came out of the race fine and I believe you'll see a different horse on [Kentucky] Derby Day."
Now on Saturday, Nichols and the Shadwell team will hop on that rollercoaster once again, taking a similar ride while hoping for a vastly different experience.
Wood Memorial the 'litmus test'
In the $1 million Wood Memorial at Aqueduct on Saturday, Shadwell will once again start another unbeaten colt who figures to be the favorite in a major Grade 1 prep for the Kentucky Derby. Only this time, instead of a $2.2 million yearling purchase trained by Kiaran McLaughlin, the stables' royal blue silks with white epaulets will be carried by the undefeated homebred Shagaf, who is under the care of Chad Brown.
A perfect 3-for-3, Shagaf is coming off a victory in the Grade 3 Gotham by a length and a quarter at a two-turn, mile-and-a-16th distance on Aqueduct's inner track in his stakes debut, and he will be tested for class against a field filled with rivals all bidding to prove they are worthy of moving on to Churchill Downs on the first Saturday in May.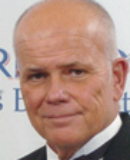 "It will be a litmus test for Shagaf because he's still basically an unproven commodity," Nichols (pictured left) said about the son of Bernardini out of the Unbridled's Song mare Muhaawara. "We would love to get a Grade 1 win with him, but it will be a much more even field than the Florida Derby, which had only three good horses in it. I think by Saturday evening we'll know exactly how good Shagaf is and if he'll be going to the Derby as well."
The Wood will mark Shagaf's first test at nine furlongs, but his connections believe distance is an element that will not faze their 3-year-old.
"I think the added distance will help this horse. He's got more stamina in his pedigree than Mohaymen does," said Nichols, who pointed out that Shagaf's dam, Muhaawara, is out of Habibti, who is the dam of 2013 Breeders' Cup Marathon winner Eldaafer. "The longer he goes, the better he'll get."
'The farther the better' for Shagaf
Brown sees the same raw potential as a long-winded distance runner in the bay colt.
"He's always acted like a horse who wants to run a route of ground," the 37-year-old trainer said. "The Gotham was his first time at two turns and that was only a mile and a 16th. He gives me every indication that it's the farther the better for him. I'm excited to see this horse run a mile and an eighth and even a mile a quarter (in the Kentucky Derby), where we might see the best of him."
Jockey Irad Ortiz Jr., who was aboard for each of Shagaf's three starts and three wins, believes Shagaf will be better suited by Aqueduct's main track – where he won his debut by six lengths at a one-turn mile – than the inner track with its tighter turns.
"The main track fits him very well," Ortiz said. "He should handle the turns better. I just hope it works out that way."
If it does, a victory in the Wood would give Shadwell two of the top contenders for the 142nd Kentucky Derby, including one with an undefeated record – though prior to the amusement park ride at Gulfstream few thought it could be Shagaf and Shagaf alone.
Throughout the winter, Shagaf's progress was seemingly obscured by the exploits of his more accomplished stablemate. Mohaymen, with a perfect 5-for-5 record, owned the No. 1 spot in the National Thoroughbred Racing Association's 3-year-old poll until his loss in the Florida Derby. Yet Brown believes Mohaymen's fame actually helped to garner added awareness for Shagaf.
Shadwell's 'tremendous teamwork'
"Shagaf hasn't run a fabulous speed number yet," Brown said. "That's why he's not on top of anyone's list. He probably gets a little more attention because Shadwell has two stars in the same crop. It's so hard to get one. The fact they have two, one a homebred, one that was purchased, shows how deep and versatile their program is. If anything, having Mohaymen gets him included in conversations."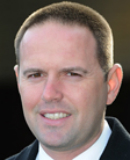 Brown (pictured left) also believes having horses who are currently ranked fourth (Mohaymen) and ninth (Shagaf) in the latest NTRA poll is a credit to Shadwell owner Sheikh Hamdan bin Rashid Al Maktoum for the world-renowned operation he has built, and Nichols, for wisely mapping out diverse campaigns for the stable's two sophomore stars.
"It's a great position Sheikh Hamdan is in, and he deserves it. It takes tremendous teamwork to produce two horses like this through your program. I'm so happy for Shadwell, which is a wonderful organization to be associated with. They deserve all this success," Brown said.
"Over the winter there were a few meetings to discuss how to separate these two great horses until the Derby. Rick is experienced and has a laid-back management style, knowing we can take it one month at a time and these things would work themselves out. That was the right approach. I always wanted to go the Wood and Kiaran kept his horse on the path for the Florida Derby, and that's how it worked out."
In terms of the two trainers, McLaughlin, won the Belmont Stakes (Jazil) and Breeders' Cup Classic (Invasor) for Shadwell in 2006 and has a resume filled with victories in important Grade 1 wins on the main track.
Not just a turf trainer
Brown, meanwhile, has emerged as one of the nation's best trainers in a short amount of time. A disciple of Hall of Fame trainer Bobby Frankel, Brown was second to Todd Pletcher in national earnings last year with $20,256,459.
Yet he's most commonly known for a legion of victories in turf stakes. He's won the Breeders' Cup Filly and Mare Turf three times. He's won the Arlington Million and Joe Hirsch Turf Classic, just to name a few, and trained four grass champions, Big Blue Kitten, Dayatthespa, Stacelita and Zagora. Reflective of that prowess, of his seven wins, four seconds and three thirds in the Breeders' Cup, 13 of those 14 placings came in turf races.
"I understand people's perceptions about me being turf trainer, but I'm never bothered by it. I'm really not. The only way it would bother me is if it was clear that I wasn't getting the opportunity to work with horses bred for dirt; the Derby and Oaks caliber horses," Brown said.
"We've done so well on turf and made so much money for our clients by managing their turf horses and getting the most out of them, we've led in turf earnings the last few years. Yet we've also won some pretty good races on dirt as well from not a ton of opportunities.
"It's nice to get the opportunity to work with a horse as talented as Shagaf, and Shadwell obviously had a lot of confidence in our staff to trust us with this horse because he was always earmarked as a top prospect – and they were right. We have some others in our barn from various clients that are good on dirt and it's nice to be a player at this level, especially after winning a Breeders' Cup race on the dirt with Wavell Avenue last year [BC Filly and Mare Sprint]. A lot of dirt horses are coming in the barn now and we'll do as well as anyone with them."
Sheikh Hamdan's loyalty
Nichols started sending Shadwell horses to Brown three years ago, and there are currently about 15 Shadwell horses earmarked for him. It was Brown's prowess with turf runners that put him on Shadwell's radar, but Nichols quickly realized the Mechanicville, New York, native is anything but a one-trick horse trainer.
"The turf aspect was a big draw because a lot of our mares are turf mares coming from England. With Chad's history of working with good turf horses from Europe and having success with them, he seemed like a natural fit for us," Nichols said. "We've been pleased with him. He's a very good communicator and he's good at spotting horses in the right races. We enjoy working with him as much as we do Kiaran.
"We knew Mohaymen was going to Kiaran. Sheikh Hamdan is very loyal and a very fair man. Kiaran trained Mohaymen's dam (Justwhistledixie) and once someone trains the mare, he most generally sends the offspring to that same trainer. But we had two good horses and Sheikh Hamdan wanted to give Chad an equal chance with a good colt and that's how he got Shagaf."
In one way, both the trainer and jockey guiding Shagaf on the tricky Triple Crown trail fit into the same mold. Both rank among the best in their profession. The 23-year-old Ortiz led New York in wins the last two years and nationally finished second in earnings ($23,546,727) and fourth in wins (300) in 2015. Yet both he and Brown have a limited Triple Crown resume with one Kentucky Derby appearance apiece.
Another 'good shot' at the Derby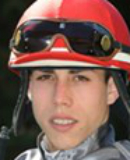 In the 2014 Derby, Ortiz (pictured left) rode Uncle Sigh, who went off at 30-1 odds and finished 14th.
"The Kentucky Derby is the race you want to be in," Ortiz said. "You dream about it, especially when you have a horse like Shagaf. He's done nothing wrong yet. He always passes the wire in front. He's 3-for-3 and we'll see what happens in the Wood."
Brown made it to Louisville a year earlier with Normandy Invasion, who finished second in the Wood and then led at the top of the stretch but weakened late to finish fourth in the 2013 Run for the Roses at 9-1 odds.
"I felt good about [Normandy Invasion]. He really had a good shot. Turning for home he took the lead," Brown said. "Maybe he moved a little too soon but there was definitely a part of that race where he did look like a winner. I never had a feeling like that before. Definitely not in horse racing; maybe not in life. You turn for home in the Derby and you storm to the front. At the time, it didn't look like there was a whole lot behind him. Nevertheless the horse got tired at the 16th pole and held on for fourth. It was my only Derby starter and when they loaded him in the gate I felt we had a good chance to win.
"If Shagaf can get to the Derby healthy and draws well, I feel like we'll have another good shot. But there's a lot of time between now and then."
Time indeed. Time for one more rollercoaster ride - perhaps on this Saturday with an uphill journey that features far more thrills and less chills for Shadwell Stable.