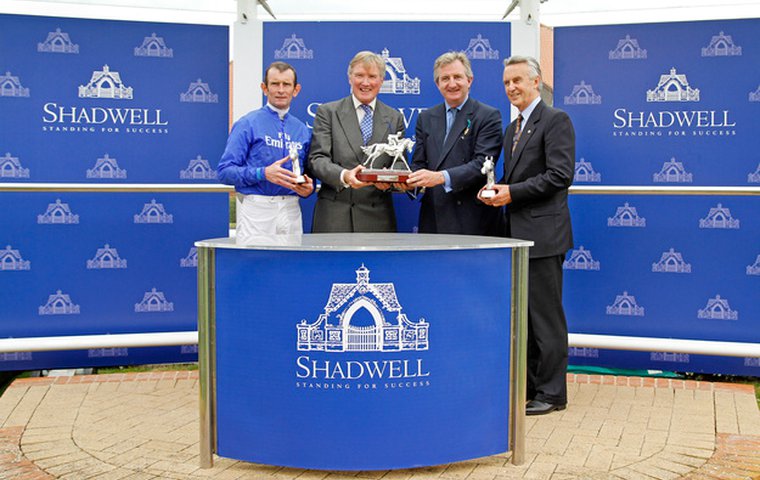 Few people are better qualified to discuss the state of the bloodstock industry than Richard Lancaster. Not only is he chairman of the British Thoroughbred Breeders' Association (TBA), he has been a key figure for many years in Sheikh Hamdan Al Maktoum's powerful Shadwell empire.

Lancaster, 63, has been director of Shadwell Stud in Britain since 1994, when he took the reins at Sheikh Hamdan's famous farm near Newmarket. Having served in the British Army for 13 years, he worked at the Royal Studs at Sandringham in Norfolk, Lee Eaton Sales in the U.S., and Killarkin Stud in Ireland before joining Shadwell as assistant manager in 1985.
Lancaster was appointed chairman of the TBA in August 2012 at a time when the breeding industry was still confronting the consequences of the global economic crash.
In December, he talked about the state of the industry when he delivered the winning owner's traditional address before a select gathering at the annual Gimcrack Dinner, where he represented Sheikh Hamdan, whose 2-year-old colt Muhaarar had won the G2 Gimcrack Stakes at York in August.
Earlier this month, Julian Muscat caught up with Lancaster to ask him about his main concerns, including the threat to middle- and long-distance pedigrees and the declining numbers of owner-breeders, as well as to reflect on Sheikh Hamdan's expansion into South Africa and his outstanding performer of 2014, the filly Taghrooda.
------
As chairman of the TBA, you recently commissioned a report on the state of staying races in Britain. Can you outline the report's remit?
"The report looks into the trends within the staying race programme. We have seen a downgrading in Pattern status of the Queen's Vase over two miles at Royal Ascot [G3 to listed], and now the G3 status of the Bahrain Trophy [13 furlongs, Newmarket] is at risk. Both these races are confined to 3-year-olds and the quality of horse contesting them is in decline; hence the downgrading.
"What we do know is that breeding and racing stayers is a long-term commitment. Many people are not prepared to be patient, and therefore, there are fewer stayers – with the resulting consequences. Broadly speaking, we are concerned that the staying Pattern is under threat."
So what's the solution?
"Well, I'm not sure the current programme actually makes sense. One of the Pattern's aims is to schedule a series of races in each division that gets progressively better as the season unfolds. It's a bit of an anomaly to have a Pattern race like the Queen's Vase suddenly appearing in the middle of June, because there is no build-up to it. It would make more sense for the Queen's Vase to be run on Champions Day [at Ascot in mid-October] with a steady build-up of races towards it. The St Leger should be part of that build-up.
"We're looking at things that can be done, and a more coordinated programme for staying 3-year-olds has been discussed, rather than a peak coming in mid-June.
"Speaking personally, I may be a bit old-fashioned in my thinking, but it's something I am passionate about. I think it's very important we maintain the distance spread of races we have in Britain, which plays its part in underpinning the quality of our racing. We have that reputation to maintain; it's not all about supplying bookmakers with more and more low-grade racing as required by their betting models. Otherwise we are going to lose that aspect of it."
Speed-based pedigrees increasingly hold sway with breeders today. Is there now a serious imbalance, and if so, what are the implications going forward?
"There is quite a significant trend towards precocious speed, and yes, I think we are in danger of an imbalance. The implications are quite simple: In the long term our prestigious races, which are mostly over 10 to 12 furlongs, will lose their status. We stage some of the finest race meetings in the world, due principally to the mix of distances, and we risk losing this position."
What sort of initiatives might encourage breeders to produce the broad cross-section of horses required to sustain a balanced racing programme?
"The TBA are going to work with the BHA Race Planning Committee to try to develop a programme which will encourage owners to buy potential middle-distance and staying types to compliment precocious speed. I have suggested a better development programme for staying types at 3, and more 2-year-old races – such as the Chesham Stakes and Washington Singer Stakes – which are restricted to the progeny of stallions who won races at 10 furlongs and beyond."
Ultimately, won't the commercial attraction of speed dictate how breeders choose to mate their mares?
"I am afraid you are correct. A large majority of potential owners want a horse that will develop quickly so that it can run, and hopefully win, as a 2-year-old. And there is always a chance that, if it shows exceptional form, it will be sold on for a handsome profit, either to wealthy Middle Eastern interests or to Hong Kong."
Do you believe the existing breeders' prize scheme for British-bred horses racing in Britain should offer greater financial rewards, as the French version does?
"The French are very lucky: They have far healthier returns coming into racing from betting, so they can afford to pay good breeders' prizes. We are under much greater pressure and need to concentrate our efforts on prize money in the first instance. It would be nice to reward breeders with more, but at the moment I think we have to be content with what we have."
Despite positive economic pointers in Britain, the annual foal crop remains static after a succession of falls induced by the recession. How much is this to do with Britain's poor levels of prize money?
"I do believe that more people would own racehorses if prize money was better. We are in a situation where a horse has to win a fair number of races to cover its annual training costs. Increased prize money levels would certainly make it easier to achieve this."
Against that, prize money in Britain is forecast to reach record levels this year on the back of a record harvest in 2014. By how much does prize money have to rise to make a real difference in recruiting a new wave of owners and breeders?
"I do not think it affects the top end of the market. The problem comes with the middle and bottom layers, where owners cannot sustain continual losses to stay in the game. We need to see a substantial increase if new people are to be attracted to racehorse ownership."
What effect has the decline in the number of traditional owner/breeders had on racing in Britain?
"I think this goes back to the concern about the middle-distance and staying programme we discussed earlier. Owner-breeders tend to be more patient and have cultivated families with classic lines in them. Even though there are fewer of them today, the majority of our important middle-distance and staying-race winners still come from the ranks of owner-breeders that remain. They are largely the ones who breed that type of horse.
"Because we have become so sales orientated, commercial breeders are producing horses desirable to the sales audience. This demands a much more precocious type, which means that most people shy away from investing in a middle-distance horse that might not even make it to the track as a 2-year-old. There's a lot of expense before you even see that type of horse on the racecourse.
"It's easy to understand why this is happening. Coolmore Stud have Galileo, and Montjeu before him, and this has given them a significant advantage in breeding horses for the big middle-distance races in Britain. For that reason, it is very hard to compete."
Why was Britain's zero-tolerance policy on the use of steroids in any horse from the day of its foaling not introduced as planned in January?
"I understand it was because the BHA wanted to ensure that Britain stood on a level playing field with its major competitors – France and Ireland. It was going to take slightly longer than anticipated for each country to establish the correct legal position. The BHA also required the agreement of trade bodies representing owners, trainers, and breeders. That has now been achieved and the new, zero-tolerance policy is due to be introduced on March 2.
"From the TBA's perspective, the European Federation of Thoroughbred Breeders' Associations also put a working group together to look into the matter. This has been a very useful exercise in getting a pan-European understanding of the issues involved, which are complicated. That group is just about to publish its finding in a report."
Is there a danger the policy will be usurped by the myriad complications associated with it?
"I believe it will work if the International Federation of Horseracing Authorities gets everyone to understand the importance of a level playing field. Recent discussions I have had with European breeders indicate a clear willingness for everyone to accept this basic principle."
"It was a memorable year for you in your capacity as stud director of Sheikh Hamdan Al Maktoum's Shadwell operation, which ended 2014 as Britain's leading owner after some relatively lean years. What in particular made the difference?
"It has been an outstanding year for Sheikh Hamdan. Undoubtedly, the G1 victories of Taghrooda and Mukhadram put him back in the spotlight. It was also encouraging to see a strong performance from the 2-year-olds last year. This gives us great hope for 2015."
Is the accolade of leading owner important to Sheikh Hamdan?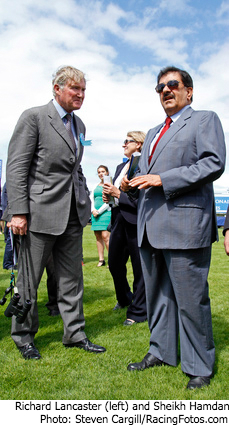 "It gives him a lot of pleasure to see that he is the leading owner in Britain. It gave a lot of other people pleasure, too, to judge from the number who came up to me towards the end of last season to pass on their congratulations to Sheikh Hamdan. People enjoyed seeing him back on top of the pile."
Did Shadwell also end the year as the leading breeder in Britain?
"That's a good question, because remarkably, there are no officially compiled tables for breeders – as there are for owners, trainers, and jockeys. I think that's sad. Breeders get very little recognition and this is one more example of it. There is no prize for the leading breeder when the season ends, as there is for owners, trainers, and jockeys.
"I think breeders are very important when it comes to maintaining the range of distances we race over in Britain. If you don't want quality racing, you can breed ordinary horses on a mass scale and that will do just as well from a betting perspective. But if racing becomes only about betting on numbers, you only have to look at the decline in popularity of Greyhound racing to see the implications."
Sheikh Hamdan is keen to limit the number of mares covered by each of his stallions at Shadwell. Has this impacted on their standing within the stallion ranks?
"We have always restricted the numbers of mares covered by our stallions and I don't think it has had a detrimental effect of them. I believe the stallions we have stood recently have just not been competitive enough in what is a tough market. We have also tended to stand middle-distance horses, which are not as easy to fill as stallions with precocious speed."
Has your experience with middle-distance stallions dampened your enthusiasm to stand them in the future?
"No, but it emphasises that, if you want to stand stallions at a certain level, you have to have a good mix among them. For a long time [Shadwell racing manager] Angus Gold and I have talked about our desire to have a top-class miler here at Shadwell. He would attract commercial breeders, and when they came to the farm to see him, they would invariably look at the others while they were here.
"Stallions can feed off one another in this way; that's what happens at Cheveley Park Stud, which has a good array of stallions right across the board. A breeder might be interested in one stallion but when he sees another he may change his mind about which one to breed his mare to.
"As it happens, we had a really good crop of 2-year-olds last season and at the end of the year, there could well be a top-class miler among them. We have started Mukhadram this year, who we priced very carefully to make sure he was competitive, and he has been a great success. The key with young stallions is to keep their fee constant for the first three years. We don't think it's a great idea to raise the fee on the back of a successful debut yearling sales season."
Taghrooda's feat in winning the Oaks and King George VI & Queen Elizabeth Stakes last year marked her down as out of the ordinary. How do you assess her in relation to another Shadwell starlet in Salsabil?
"Salsabil had top-class form as a 2-year-old when she won the [G1] Prix Marcel Boussac. She also came to hand to win the 1,000 Guineas over a mile before she followed up in the Oaks [over 12 furlongs]. She then won the Irish Derby before she added the [GI] Prix Vermeille to her record ahead of her unplaced run in the Prix de l'Arc de Triomphe.
"Taghrooda was not as forward, being more of a stayer, but we thought she was brilliant in both the Oaks and the King George VI and Queen Elizabeth Stakes. On balance, I think Salsabil was more accomplished, but both were exceptional fillies."
Sheikh Hamdan has expanded his racing interests into South Africa, where Mike de Kock now trains for him. What prompted that development, and does Shadwell plan to breed horses there?
"Mike de Kock has done really well, both in South Africa and in Dubai. The plan for any good horse he trains for us in South Africa is for it to travel on to compete at the Dubai Carnival. Shadwell has had a presence in standing stallions for some years in South Africa and we will continue to breed on a limited scale to support any stallion we have there."
Sheikh Hamdan recently won the Cape Derby at Kenilworth with Ertijaal, a horse he bred in Australia but was sent to race in South Africa. How did that come about?
"Angus [Gold] was responsible for that. We breed some nice horses in Australia, but ultimately, one of our aims is to provide horses for Sheikh Hamdan's enjoyment in Dubai, where Mike de Kock has had great success. So it made sense to send Mike some horses to train in South Africa from the start of their careers, and for those horses to graduate to the Dubai Carnival.
"David Hayes trains for us in Australia. He gets most of the horses we breed there, whereas Mike has been sent a handful for the last two years. We have stood stallions in Australia in the past, but we don't have a stallion farm. We keep all our mares as boarders in the Hunter Valley."'
And finally, which of his racehorses has given Sheikh Hamdan most pleasure?
"When you look back over the years, Sheikh Hamdan has had many great horses but I imagine Nashwan must be right there as having given him most pleasure. A home-bred 2,000 Guineas and [Epsom] Derby winner, Nashwan had true star quality. It's rare for a horse to win the Eclipse and King George VI & Queen Elizabeth Stakes in addition to the two classics. No other horse has done that – before or since."