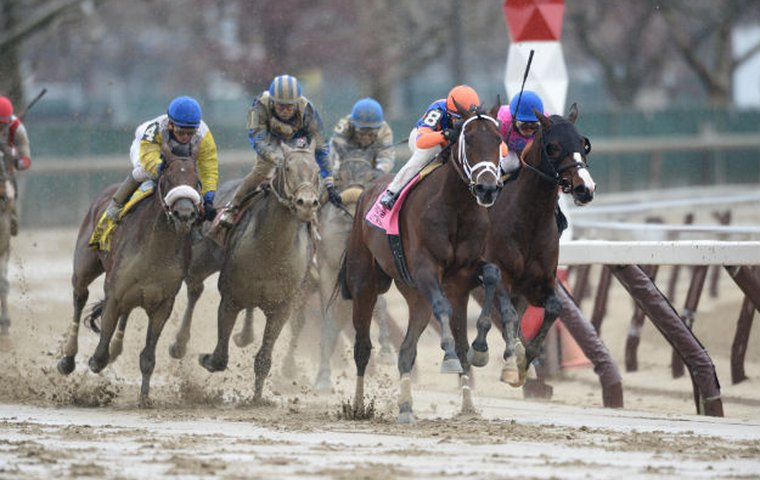 Shades of Uncle Mo as 'wow' horse Outwork closes in on a Derby dream

"When I envisioned this press conference, and I did envision this press conference, by the way, it was supposed to be Saturday night at about 7:15 [after winning the Kentucky Derby], not Friday [morning] at 8:45. Todd [Pletcher] about a half-hour ago scratched Uncle Mo and he won't run in the Kentucky Derby."
Those were the words spoken at a Churchill Downs press conference by Uncle Mo's owner, Mike Repole, the day before the 2011 Kentucky Derby. The previous year's undefeated 2-year-old champion and winner of the Breeders' Cup Juvenile suffered from an illness that centered on an elevated enzyme level connected to the liver. It was an ailment that confounded vets who, at the time of the scratch, were at a loss to explain what exactly was wrong with Uncle Mo.
The news of Uncle Mo's defection did not come as a surprise but nonetheless was a huge blow for Repole and Pletcher, who before the colt's stunning defeat as the 1-9 favorite in the Wood Memorial, believed they had the 137th Kentucky Derby in their clutches.
The son of Indian Charlie was initially diagnosed with a gastrointestinal tract infection following his third-place finish in the Wood. The liver enzyme issue raised its ugly head in the lead-up to the Derby, and, while the colt trained soundly at Churchill, his connections knew something was amiss because of his decreased appetite, weight loss, and unfavorable changes in his coat.
Spectacular first crop
Uncle Mo did return to the races later in 2011, and was beaten a whisker in a tremendously gutsy performance in the G1 King's Bishop at Saratoga Race Course. He followed with a victory in the G2 Kelso Handicap at Belmont Park, which served as a prep for the G1 Breeders' Cup Classic. After finishing 10th in the $5 million Classic, blood work revealed a return of those elevated liver enzyme levels, and he was retired.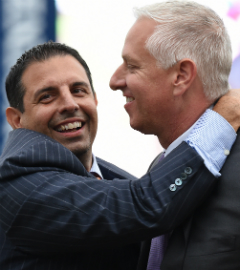 "I really believe, if it wasn't for this unfortunate illness, Uncle Mo would have done what American Pharoah did last year," Repole (pictured left with Pletcher - photo:NYRA.com) said recently. "Todd thought Uncle Mo would get a mile and a half, and now that his babies are getting a mile and an eighth, and winning Derby preps, I don't think there was any limitation to how far Uncle Mo could have run."
Uncle Mo's post-race career brought him to Coolmore's Ashford Stud in Versailles, Kentucky, where he began stallion duties in 2012.
His first crop hit the races last year, and have been nothing less than spectacular, both in looks and ability. Uncle Mo was the leading first-crop and 2-year-old sire in North America in 2015.
Further illustration of his dominance in the stallion ranks is that Uncle Mo will be represented at this year's Kentucky Derby by the undefeated Nyquist, the 2015 champion 2-year-old male and Breeders' Cup Juvenile winner, the current favorite to win the 142nd Run for the Roses.
----------
Alan Porter: How the Derby contenders shape up on pedigree
----------
Repole, who owns interest in Uncle Mo as a stallion, is a wildly successful business entrepreneur, whose empire of beverage and food products have included, to name just a couple, consumer favorites Vitaminwater and Pirate's Booty.
The ultra competitive 47-year-old yearns to be the first at everything, and his aptly named homebred Outwork obliged when he became Uncle Mo's initial winner in a maiden-special-weight race at Keeneland on April 23, 2015.
And now Repole is hoping Outwork provides him with another milestone: The owner's first Kentucky Derby win.
The stately looking colt, who stands 16.3 hands tall and weighs in at 1,250 pounds, entered the Derby conversation when he captured the G1 Wood Memorial at Aqueduct April 9, five years to the day of Uncle Mo's dramatic defeat in the race.
Repole, a native New Yorker who preferred coming to Aqueduct at the exclusion of most anything else as a teenager, said his initial Wood Memorial victory was satisfying for many reasons.
Similar recollections
"I've still got to put the Breeders' Cup Juvenile win with Uncle Mo as No. 1, but this one is a close No. 2," Repole said a few days removed from Outwork's Wood Memorial victory. "I never thought, outside of winning the Belmont Stakes, which I haven't done, that there would be a close No. 2.
"For so many reasons this was cool. We lost the Wood Memorial with the 1-9 favorite in Uncle Mo, came back five years later to the day with a son of Uncle Mo, out of a mare that I raced and is by Empire Maker, named Nonna Mia, which means 'my grandmother' in Italian. My 89-year-old grandmother was there for the Wood, and I walked Outwork into the winner's circle with my 9-month-old daughter, Gioia [in my arms]. It was her first Grade 1.
"This win is probably a little bit more personal," he continued. "You have very few chances to win a Grade 1 in your life, and when you're 1-9 in a race, you're not [usually] going to get the same chance in the same race."
Repole and Pletcher have similar recollections of seeing Outwork as a 2-year-old, when he was being prepped for racetrack life at Jim Crupi's New Castle Farm in Ocala, Florida. For Pletcher, it brought back memories of Uncle Mo, who was purchased by Repole for $220,000 out of Keeneland's September yearling sale in 2009.
Brilliant piece of work
"The first time I saw Uncle Mo when he was a 2-year-old was in March," Pletcher said recently. "Mike and I and his whole team go to Jim Crupi's farm, and Jim breezes all of his 2-year-olds who are in training. Uncle Mo stood out among the horses Jim breezed that morning. He had a 'wow' breeze, and everybody was hopeful at that point he might be a good horse.
"When we did the same trip to see Outwork, it was the same thing," Pletcher continued. "Of all the horses who breezed, Outwork [stood out]. Right after that we brought Outwork to Palm Beach Downs, and started to get him ready to run."
Repole remembers that Outwork turned in a brilliant piece of work at Crupi's farm, thrashing another horse bred and owned by Repole.
"Outwork worked in 36, which was two seconds faster than anybody else, and beat a horse by 10 lengths," Repole said. "I said, 'Wow. Either [Outwork] is really good, or that other horse is not very good.' The other horse turned out to be Sudden Surprise, who has become a [near] half-million-dollar winner."
Perhaps what struck both Pletcher and Repole the most was the fact that Outwork was uncharacteristically nimble and speedy for such a large 2-year-old.
Dazzling debut
"This was a big, big, immature colt who had incredible speed," Repole said. "We sent him to Todd's barn and he worked him and the horse really started to get what it was all about really quick. I told Todd if a race came up, I really wanted to run him. I always told Ashford and Todd that it was very important to me that I owned the first Uncle Mo winner. I wanted that. The race at Keeneland came up. If you look at the size of this horse, there is no way he should be running in a 4 1/2-furlong race, never mind winning it. It just shows how talented the colt was at an early age."
In his maiden voyage, Outwork set the pace under John Velazquez — who has been partnered with him for each of his four career starts and also was Uncle Mo's regular rider — and rambled home a 2 1/4-length winner.
The dazzling debut led his connections to point toward the Tremont Stakes at Belmont Park in June, but "baby and maturity issues", according to Pletcher, led instead to Outwork getting time off.
"I talked to Mike about it and he said, 'Look, back off and send him home. How much time do you want to give him?' I said, '45, 60 days.' Mike said, 'Give him 120,'" Pletcher said of the conversation he had with Outwork's owner.
Ultimately, neither saw any point in rushing Outwork back to the races, and opted to give him the remainder of his 2-year-old season off.
Perfect scenario
The colt returned to competition at Tampa Bay Downs on Feb. 13, and he was an easy winner of a first-level allowance race. In his prep for the Wood, Outwork ran second to the Pletcher-trained Destin in the G2 Tampa Bay Derby.
"Todd and I had a schedule and decided to get him back [to training] in December, and if he was good enough, we would give him an allowance race, a Grade 2, and then a Grade 1," Repole said. "We scripted the perfect scenario, and 99 percent of the time in horse racing that script doesn't work. We tried that 20 other times and it never worked, but this time it actually did."
Racing pundits were quick to point to the sluggish final time in the Wood — 1:52.92 over a muddy and sealed surface, the slowest running in the race's 64-year history at its current distance of 1 1/8 miles — and the fact that Outwork won the race by a mere head over an 81-1 maiden, Trojan Nation.
"I think ultimately what you take away from the Wood is that Outwork ran faster than everyone else in the race," said Pletcher, who won the Kentucky Derby with Super Saver in 2010. "That is the most important part of [analyzing the performance]. He was part of the early fractions — that were for that type of race and that type of track [condition] pretty fast — 22 and 4 and 46 and 4. He was hung out a bit wide on both turns. It was a demanding track. I think it was a good effort and he has more potential than what we saw in the Wood, and hopefully he continues to develop that."
Different feeling
"He loses focus when he makes the lead," he added. "He seemed very focused when he had Matt King Coal to his inside. Once he cleared him, and made the lead, you could see his ears go [up], like, 'What do I do now? I think I've won because I made the lead'.
"That would be my impression of him. Hopefully, as he matures, he learns how to continue on and polish his races off. I think it's a good sign — that he is able to win but maybe still have something left in the tank."
This year marks the first time Repole has had a Derby runner since Overanalyze finished 11th in 2013. The year of Uncle Mo's defection, his blue and orange silks were carried by his first Derby starter, Stay Thirsty, who finished 12th.
Unlike homebred Outwork, Overanalyze and Stay Thirsty were bought by Repole at auction. It's certainly a different feeling for an owner to bring a homebred to the Kentucky Derby, particularly one who is sired by a horse that holds considerable real estate in Repole's heart.
"Uncle Mo was a once-in-a-lifetime horse," Repole said. "I never thought he would turn out to be a better sire than a racehorse, but I can guarantee you he will be a better sire than a racehorse. That's saying a lot because he might have been one of the greatest 2-year-olds of all time, if not the best."
Repole is thrilled by fact that Uncle Mo will have three of his progeny running in the Kentucky Derby - Mo Tom is the sire's other Derby candidate - but his enthusiasm comes with a caveat.
"That's really cool . . . as long as Outwork doesn't come in second to Nyquist. Then, it won't be so cool."