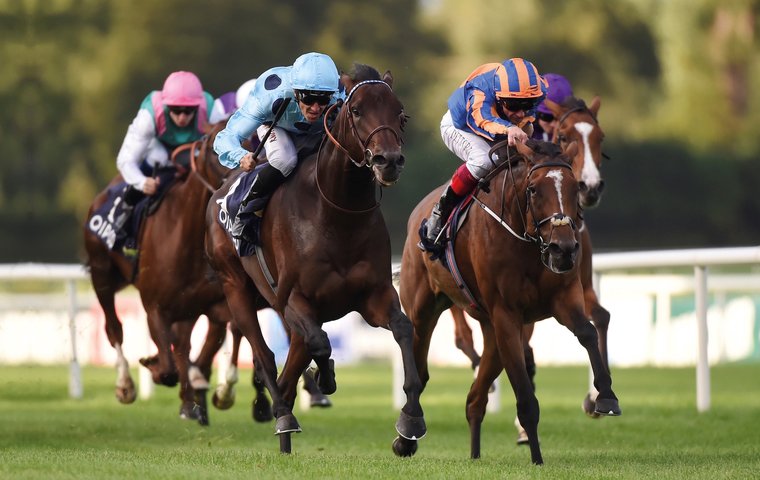 TRC's weekly industry digest - a round-up of international racing news from the past week.

New Zealand role for champion Almanzor
Oceania: Almanzor, winner of the Prix du Jockey Club and Irish and British Champion Stakes in 2016, is to shuttle to New Zealand's renowned Cambridge Stud.
The 2016 European champion 3-year-old is currently standing his first season at Haras d'Etreham in France for €35,000. He will stand at the Sir Patrick Hogan-founded farm, which was recently acquired by Brendan and Jo Lindsay, at a fee of NZ$30,000.
"Our purchase of Almanzor is a further vote of confidence in the New Zealand industry," said Brendan Lindsay. "He will be the first European champion 3-year-old since Montjeu to stand in New Zealand, so having access to a horse with his credentials is hugely significant."
Almanzor will join New Zealand-bred sires Tavistock and Burgundy, as well as Australian stallion Highly Recommended at New Zealand's greatest source of G1 winners.
Last week the Lindsays, stud chief executive Henry Plumptre and manager Marcus Corban travelled to France to inspect Almanzor at Haras d'Etreham, where he is standing his first season.
"Almanzor is an imposing stallion with a remarkable temperament to go with his physical presence," Corban said. "He's an exceptionally good-looking horse, I couldn't fault him."
UAE backing boosts French Guineas
Europe: The UAE has struck a commercial agreement with French racing's governing body, France Galop, to become title sponsor of G1s the Poule d'Essai des Poulains and the Poule d'Essai des Pouliches (the French 2000 and 1000 Guineas respectively).
Under the banner of its international title, the Emirates will support the first two classics of the French season with an increased prize money of €600,000 for the colts' race and €500,000 for the fillies' equivalent. From 2021 each prize pot will rise by €50,000.
This year's races, on May 13, will be run at Longchamp for the first time since 2015. The historic French venue returned to the international calendar last month after a reported €136 million revamp.
The partnership also includes the European Arabian Horse Cup, a G1 for purebred Arab horses, for which the prize fund rises to €100,000.
Go-ahead for Saratoga pavilion replacement
North America: Saratoga Race Course has received approval for a new three-story building from the state Racing Franchise Oversight Board, which monitors New York Racing Association's (NYRA's) business matters.
The new structure will replace the temporary 'At the Rail Pavilion' near the track's clubhouse turn. Work will begin at the conclusion of Saratoga's 2018 meet, on September, 3 and is expected to be finished by the start of the 2019 meet.
Chris Kay, president of the NYRA, said: "Perhaps most importantly, the new building will address the modern-day needs of Saratoga Race Course while honouring its history. We have taken great care to ensure that the building is historically consistent with the fabled architecture of our grandstand and clubhouse."
Jockey Club breaks the £200m barrier
Europe: Britain's Jockey Club announced a record set of financial results that exceed £200 million for the first time.
The commercial arm of UK racing is governed by a Royal Charter to act for the long-term good of British racing and reinvests all profits back into the sport. It generated its largest-ever operating profit before prize money of £44.8 million, up from the previous year's £43.4 million, and as a result increased its contribution to British racing's prize money by 10.1 per cent to a record £22.9 million.
Simon Bazalgette, group chief executive of the Jockey Club, said: "I'm very pleased we were able to make a record financial contribution to British Racing in 2017 as a result of achieving a ninth successive year of commercial growth.
"Looking ahead, we are increasing prize money further in 2018 and we are continuing to invest in the experience we offer to customers and participants."
Record fixtures for UAE
Middle East: The Emirates Racing Authority (ERA) will host a record 67 meetings during its 2018/2019 season. And, for the first time, Meydan and Al Ain will stage two meetings each in April after the traditional season-ending Dubai World Cup on March 30, 2019.
The new season will begin with five additional meetings at Meydan, Jebel Ali, Abu Dhabi, Al Ain and Sharjah, with the first card of the expanded schedule at Jebel Ali on October 28.
Xpressbet chief departs
North America: The Stronach Group, owners of online bookmaker Xpressbet, has confirmed that Ron Luniewski left his role as president of the online wagering company on April 20.
Luniewski joined Xpressbet in 2002 and helped transform the company from a small regional phone-betting outlet to one of the sport's most successful online betting providers.
"The Stronach Group is grateful for Mr. Luniewski's contribution to Xpressbet and to his dedication to our organization and the horse racing community," said Tim Ritvo, chief operating officer of The Stronach Group. "He has helped to build Xpressbet as one of horse racing's most trusted and respected wagering outlets."
New analyst at Arlington
North America: Handicapper Noel Michaels has joined the broadcast team at Arlington Park as racing analyst. Michaels recently worked as editor-in-chief and contributor to American Turf Monthly in addition to consulting for the National Thoroughbred Racing Association on the National Horseplayers Championship. Michaels has previously lent his voice and analysis to major racing broadcasts, including NYRA's Talking Horses and TVG.