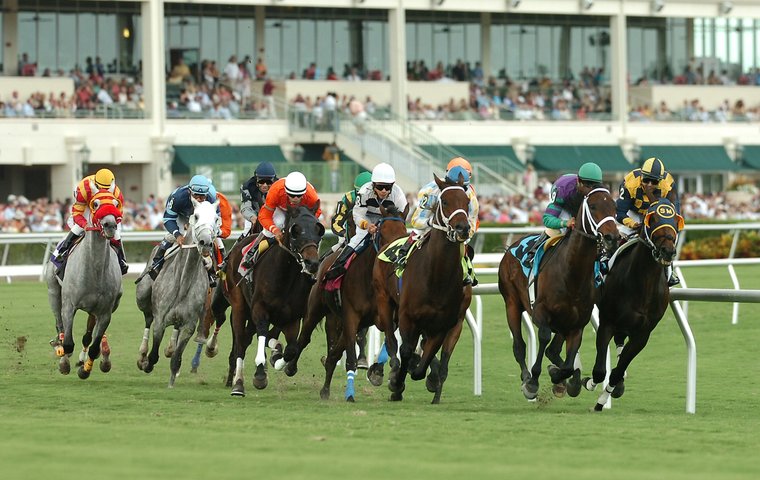 The new TRC weekly industry digest - a round-up of international racing news from the past week.

Gulfstream's lucrative new incentives program
North America: Gulfstream Park has announced plans to build on the success of Florida's year-round racing program during the upcoming Spring/Summer meets through lucrative incentives for both Florida-bred and open-company horses.
One week after releasing a record stakes program worth $4.1 million, Gulfstream officials have released a $1 million incentives program that will further enhance the purses during the spring and summer months.
The incentives include:
Daily purses with the potential of reaching $300,000

Purses for 2-year-old Florida-breds running in open maiden special weight that could reach $65,000

Entry-level allowance purses worth $47,000

Purses raised ten percent for any 8½ -furlong dirt race when seven or more horses leave the paddock.
Farewell to top sire Elusive Quality
North America: former champion sire Elusive Quality, sire of Kentucky Derby winner Smarty Jones and Breeders' Cup Classic hero Raven's Pass, has succumbed to the infirmities of old age and has been euthanized.
Dan Pride, COO of Godolphin in America, said, "Elusive Quality was one of Sheikh Mohammed's early racing successes here in the U.S. and he then was the second stallion to stand for him in America with Quiet American being the first. His son Smarty Jones won the Derby and captured the hearts of a nation. And to the team here at Jonabell, he was just a pleasure to be around and he's going to be greatly missed."
Although he didn't win a G1 during his racing career, the son of Gone West put up several impressive high-level performances.
As well as Smarty Jones and Raven's Pass, his progeny included Elusive City, Maryfield, and Quality Road. He shuttled to Australia from 2003-08 and was represented by multiple champion and now successful young Darley sire Sepoy.
Deal secures Breeders' Cup hero's stallion future
Oceania: Breeders' Cup winner Wrote's long-term New Zealand future is guaranteed following a successful move by Highview Stud.
The Irish-bred stallion was well-received by breeders in his first season, prompting farm principal Brent Gillovic to purchase the son of High Chaparral outright.
"There will be 48 shares and we'll sell around a dozen and keep the rest for ourselves," he said.
"Wrote oozes quality, he's a beautiful horse with a great pedigree as a Breeders' Cup Juvenile Turf [2011] winner by High Chaparral out of a fantastic female family tracing directly to the blue hen mare Special.
"He covered 85 mares in his first season and we can't wait to see his foals in the spring."
Wrote shuttled from Northwest Stud in Ocala, Florida, last season.
"He was purchased by a Venezuelan group in a racing package from Coolmore and in America he's already had a couple of 2-year-old winners and a stakes performer from a handful of runners," Gillovic said.
New starter incentive program at Canterbury Park
North America: Canterbury Park's season begins today with an expanded schedule of 70 race days and a more lucrative starter incentive program. Total purses are projected to exceed $15 million, a record level for the Shakopee, Minnesota, track, with a per-day average of about $215,000.
Canterbury Park racing officials, with the assistance of the Minnesota Horsemen's Benevolent and Protective Association, have increased available funding for the starter incentive program, creating a system that rewards stables that come to the meet with ready-to-race Thoroughbreds.
The $150,000 program, which continues until the funds are exhausted, offers the following bonuses for eligible horses:
$750 bonus ($600 to Owner & $150 to Trainer) if the horse makes its first start at Canterbury Park from May 4 - May 12.

$500 bonus ($400 to Owner & $100 to Trainer) if the horse makes its first start at Canterbury from May 18 - May 28.

$250 bonus ($200 to Owner & $50 to Trainer) if the horse makes its first start at Canterbury on or after June 1.
Cheltenham a first for Jockey Club's new app
Europe: Racegoers at this week's Cheltenham Festival have become the first people in Britain to use app-based mobile tickets for general admission to a sports event after the Jockey Club launched the feature as part of its new 'Race On' app.
The Race On app has been developed to enhance the customer experience at the 348 racedays the Jockey Club stages annually across its 15 racecourses.
As well as offering mobile tickets to those purchasing general admission and with an easy share option to send on to members of their party, the app also offers a series of other features. These include a live race card, instant results, competitions to play against fellow racegoers, maps of facilities and 'Golden Moments' that provide prizes including visits to the parade ring.
It is now freely available to download for Apple and Android devices.
Keeneland's new sales recruits
North America: Keeneland officials today announced that Kyle Wilson and Dean Roethemeier will join their sales team as sales associates effective March 19.
Both men are graduates of the Darley Flying Start (now Godolphin Flying Start) program. As stallion seasons director at WinStar Farm since 2015, Wilson was responsible for all stallion sales-related activity associated with the farm's 22 stallions. He also has been involved in bloodstock sales and management at Three Chimneys Farm and with Bradley Thoroughbred Brokerage.
Roethemeier comes to Keeneland from Darley America, where he handled client development and nominations sales. He was previously marketing executive at Dalham Hall Stud in Newmarket.
Dan Blacker: why I'm backing WHOA
North America: Santa Anita-based trainer Dan Blacker, the son of famed British equine sculptor and former jump jockey Philip Blacker, has become the latest to support the Water Hay Oats Alliance.
Blacker, 35, operates DB Racing, as well as the racing syndicate Radley Equine. He is a former assistant to Tom Albertrani and Richard Mandella. He studied at the University of Edinburgh and is a graduate of the Godolphin Flying Start program. Before coming to the U.S., he spent time working for trainers in the UK, Ireland, France, Australia, Dubai and Argentina.
In a statement to WHOA, Blacker said: "I do not believe Lasix is the foremost problem. As a trainer, eliminating it will likely make it tougher for me in the short term to limit EIPH on raceday. However I understand that in order to create a clean racing state it must be abolished.
"In reality, Lasix is the tip of the iceberg. There is a mentality that has evolved which encourages treating every runner with a shopping list of pre-race medications. This has unfortunately become accepted as part of the game and it contradicts everything we associate with modern sport."
He added: "Hong Kong is a racing jurisdiction renowned for strict medication policies. Winning races is achieved by a horse's natural talent, combined with the skill of the trainer and jockey. This pinnacle of integrity is recognized by the gambling public and rewarded by the largest betting pools in the sport. Surely this is the ultimate goal we should all be striving to achieve."
He said America needed a national body governing the sport and setting strict uniform medication guidelines. "If we come together as an industry it can be a reality."