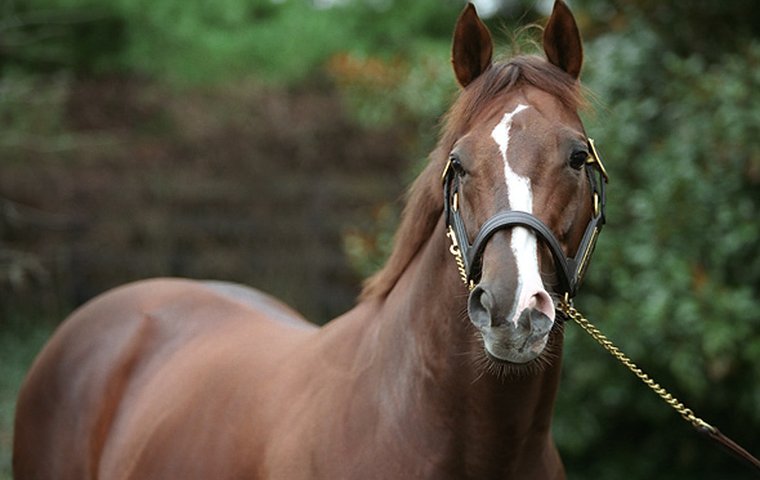 TRC's weekly industry digest - a round-up of international racing news from the past week.

Dansili stepping down
Europe: Juddmonte Farms' Dansili, currently world #49 in the TRC Global Sires' Rankings, has been pensioned from stud duties due to declining fertility.
The son of Danehill and one of the leading British-based sires in the history of the Pattern made a rapid rise through the stallion ranks, starting at a fee of £8,000 and rising to a peak of £100,000 thanks to some outstanding horses such as Flintshire, Harbinger, Rail Link, Proviso, Queen's Trust, Dank and The Fugue.
He has also made an superb start as a broodmare sire, with five G1 winners as well as exciting 2018 prospect Expert Eye.
Simon Mockridge, stud director of Juddmonte UK, confirmed that Dansili "will now enjoy a well-deserved retirement at Banstead Manor Stud".
Now NFL's 'Gronk' has a Derby runner
North America: NFL star Rob Gronkowski has partnered with Phoenix Thoroughbreds to acquire a significant stake in Kentucky Derby contender Gronkowski.
The colt, a son of Australian champion Lonhro, was initially purchased by the consortium as an unraced 2-year-old at the Tattersalls 2017 Craven breeze-up sale. He is trained by Newmarket-based Jeremy Noseda and will be ridden by his regular jockey, Jamie Spencer, at Churchill Downs.
Gronkowski, the New England Patriots quarterback, began watching his namesake this year and was "really stoked when he started winning". Gronk – as he is affectionately known by football fans – confirmed that he and his entourage would be "headed to the Derby" on May 5 to support the winner of his last three starts.
Remembering the 'Iron Horse'
North America: Coolmore's three-time American champion sire, Giant's Causeway, has passed away at the age of 21 following a brief illness at his Kentucky birthplace, Ashford Stud.
"To foal, raise and race a horse of Giant's Causeway's caliber is every owner/breeder's dream," reflected Dermot Ryan, manager of Coolmore America. He added that the "once-in-a-lifetime" sire of 31 G1 winners worldwide had been "nothing short of sensational" for the U.S.-arm of the operation.
Although born in Kentucky, the 'Iron Horse' enjoyed a mighty career on the European turf under the watchful eye of world #1 trainer Aiden O'Brien. Following a summer that saw him claim five consecutive G1s, including the St James's Palace Stakes and the Coral-Eclipse, Giant's Causeway was named Cartier Horse of the Year in 2000.
"He was an incredible horse, really," said O'Brien. "He was brave and consistent, and he just loved a battle. He's a great sire of broodmares and he puts that toughness that he had into all of his progeny. He was a true champion."
Race upgraded to G1 in Winx's honour
Oceania: The Australian Turf Club has announced that the Warwick Stakes will will now be known as the Winx Stakes.
Not only will the 1400m race - run on August 18 at Randwick – be named for the 6-year old mare, but it has been bumped up to G1 status, as well as having increased prize money to A$500,000.
Winx, winner of the past two editions of the Warwick Stakes, won her 25th consecutive career victory last Saturday, when she came from the back of the field to take her second A$4 million Queen Elizabeth Stakes, and her 18th G1 victory in all.
Santa Anita bonus program making a mark
North America: Santa Anita's inaugural 'Ship and Stay' programme has attracted 100 new horses. Funded solely by the Stronach Group, the initiative was patterned after Del Mar's successful 'Ship and Win' programme and provides ongoing bonuses to individual trainers and owners who bring horses to Santa Anita from out of state in order to keep running throughout the new year.
The programme has now been in effect through 63 racing days and non-Californian horses have accounted for 204 starts, generating bonus money of $208,308.
Chinese move on racing and betting
Asia: China's President Xi has tasked the southern island province of Hainan to develop equine sport and lotteries as part of a plan to turn the region into the Asian country's largest free-trade zone.
Although horse racing with betting is legal in former British colony Hong Kong, and casino gambling in ex-Portuegese outpost Macau, it is prohibited across mainland China. The party-run People's Daily explained that the new plan meant that Hainan was "entering a new growth phase" and trackside betting should be expected.
Mao Zedong, the then leader of China's communist party, banned horse racing in 1949 as an immoral pursuit.
"There is a lot to be considered, from the technology, to racing administration, track management and training jockeys, trainers, farriers and mafoos [grooms]," Winfried Engelbrecht-Bresges, the Hong Kong Jockey Club's chief executive, told the South China Morning Post.
Showcasing no longer shuttling
Europe: Showcasing will no longer shuttle to the Southern Hemisphere. His stallion career has continued to flourish at Whitsbury Manor Stud in England, where he now commands a fully booked service fee of £35,000, having started his stud career in 2011 at a fee of £5,000.
With that in mind, Whitsbury Manor Stud's offer to purchase the 50 per cent shareholding owned by the New Zealand-based shareholders of Showcasing was accepted on the proviso that he would no longer shuttle to the Southern Hemisphere.
Showcasing has been represented by six stakes winners in the Southern Hemisphere this racing season, including exciting 3-year-olds Be Bee and So Far Sokool and two-year-old Group winners Xpression and Bit Lippy.
Showcasing stood at Haunui Farm last season at $12,000 + GST and will be represented by three further racing crops in the Southern Hemisphere.
Fee for Satono Aladdin
Oceania: New Zealand nursery Rich Hill Stud have announced the fees for their 2018 stallion roster, which includes the exciting new Japaese stallion Satono Aladdin.
The farm, in association with Shadai Stallion Station, will offer the G1-winning son of Deep Impact for $12,500 + GST. Last season's most popular first-season sire Vadamos,, who served a book of 159, will remain at $15,000+gst.
Melbourne Cup-winning stallion Shocking and former New Zealand Horse of the Year Jimmy Choux will stand at reduced fees of $10,000+gst and $5,000+gst respectively,, while Proisir will remain at $7,000+gst after averaging 130 mares in his first three seasons at stud.
Reliable Man's Southern Hemisphere book capped
Oceania: Westbury Stud in New Zealand have left their service fees relatively unchanged for their stallion roster heading into the 2018 breeding season. The Karaka farm has kept Reliable Man $17,500+gst and have limited his book to 130 mares.
"Due to the increased size of his book in the Northern Hemisphere this year, we have decided to introduce a cap of 130 to his book in 2018," Westbury Stud General Manager Russell Warwick said.
Westbury have also kept with the status quo for Tarzino ($15,000+gst), Redwood ($10,000+gst), El Roca ($7,500+gst) and Telperion ($5,000+gst), while Swiss Ace will be offered at a reduced fee of $12,000+gst, down from $15,000+gst.