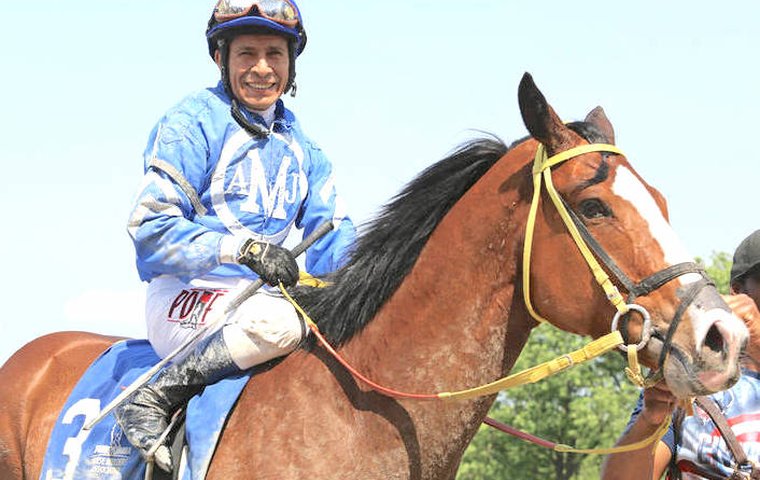 TRC's weekly industry digest - a round-up of international racing news from the past week.

They're under starters orders in the great U.S. sports betting race
North America: The U.S. Supreme Court has ruled in favour of New Jersey's law permitting wagering on sports, paving the way for other states to legalise sports betting. Justices in the country's highest federal court voted 6-3 to abolish a 1992 federal law, the Professional and Amateur Sports Protection Act, which prohibited sports betting in the vast majority of states.
For the past 25 years, gambling on sport in the U.S. has been legal only in Nevada and, to a limited extent, Delaware, Montana and Oregon, as well as on racecourses. Since the Supreme Court agreed to hear New Jersey's case last July, a further 20 other states have adopted versions of bills that will take advantage of the ruling.
"The legalisation of sports gambling requires an important policy choice, but the choice is not ours to make," Justice Samuel Alito wrote on behalf of the court. "Congress can regulate sports gambling directly, but, if it elects not to do so, each state is free to act on its own."
It is widely estimated that Americans place up to $150 billion a year in illegal sports bets.
A battle between the online British bookmakers to win customers in the lucrative American market is expected to begin in earnest, and shares in William Hill, Paddy Power Betfair and GVC Holdings rose steeply on the back of the news. Paddy Power Betfair was the first to show its hand, when it launched a bid for fantasy sports league company FanDuel.
That said, horse racing must overcome political opposition in two of the Triple Crown states — Kentucky and Maryland — to take advantage of the ruling there. Kentucky, for example, has no casinos at present.
Bookmakers braced after ruling on controversial gaming machines
Europe: After a protracted dispute between anti-Fixed Odds Betting Terminal (FOBT) groups and high-street bookmakers, the British Government has reduced the maximum permitted stake on the controversial electronic gaming machine from £100 to just £2.
The decision will hit high-street bookmakers, many of whom are major sponsors of racing in the UK and rely on FOBTs for more than half their revenue. The proposed change will reduce the Government's tax from the machines, although an increase in duty applied to online gambling may go some way towards making up for it.
Bookmakers have claimed this level of reduction could mean the closure of hundreds of betting shops, and thousands of redundancies, with a consequent loss to racing of up to £60 million in media rights payments for live pictures from racetracks.
The decision was confirmed by Matt Hancock, secretary of state for the Department for Digital, Culture, Media and Sport. Hancock – who is also the Member of Parliament for Newmarket – argued that the Government had decided to "take a stand" because "horse racing should not be financed on the back of this misery".
The minister, continued: "These machines are a social blight and prey on some of the most vulnerable in society, and we are determined to put a stop to it and build a fairer society for all."
The £2 maximum bet is likely to come into force in 2019.
Prado reaches historic milestone
North America: Hall of Fame Jockey Edgar Prado won the 7,000th race of his distinguished career on Tuesday, becoming just the seventh rider to reach that mark.
The 50-year-old was "thankful [and] very humbled" to have achieve the feat aboard Anthony Merlino's Thefundsarelow in the sixth race at Parx Racecouse in Bensalem, Pennsylvania. The Peru-born jockey, a regular on the Maryland circuit, first became national figure in 1997, when he won an astonishing 546 races in the year. He is one of only four riders to win over 500 races in a year.
"It's a big accomplishment in my career," Prado said of his achievement in a video posted on America's Best Racing's Twitter feed.
Goodwood to hold new Goffs boutique sale
Europe: Goffs UK, in partnership with Goodwood Racecourse, will hold a boutique sale for high-end horses-in-training and breeding opportunities at this year's Qatar Goodwood Festival.
The new venture comes off the back of the hugely successful Goffs London Sale, a highlight of the European Sale calendar, and expands the Goffs offsite sales to five.
The sale will take place after racing on August 1 and is positioned to attract international clients, with access to newly released Hong Kong permits and for those who are looking for horses to race in the Melbourne Spring Carnival in Australia and major Middle East Festivals.
Qatari cash boost for French Group 1s
Europe: The Qatar Racing and Equestrian Club has enhanced its commercial partnership with France Galop, the commercial arm of French racing.
The government-run organisation has allocated an additional budget of €500,000 to promote several top events in the French Thoroughbred calendar. It will, for the first time this year, sponsor the G1 €400,000 Prix Jean Prat, over a mile on Deauville's straight course on July 8.
This race will be commercially known as the Qatar Prix Jean Prat and the Qatar Racing, and Equestrian Club will be the title sponsor of the day.
In addition, Qatar is contributing to increases in the following G1s in 2018:
Qatar Dragon Cup (Arabians) up by €40,000 to €100,000
Prix de l'Opera Longines up by €100,000 to € 500,000
Prix Marcel Boussac up by €100,000 to €400,000
Prix Jean Luc Lagardère up by €50,000 to €400,000
Prix de la Forêt up by € 50,000 to €350,000.
Longchamp track switch over safety concerns
Europe: Races due to be run on ParisLongchamp's Moyenne Piste (middle track) are to be switched to the Grande Piste (outer course) for its next two meetings.
The precautionary measure is a reaction to the questionable state of the ground at the newly reopened track at last weekend's Poule d'Essai des Pouliches (French 1000 Guineas), which was delayed after the Ryan Moore-ridden US Navy Flag had slipped in the preceding Poulains (French 2000 Guineas).
Many jockeys expressed their concern over safety, and an impassioned Christophe Soumillon described the track as "dangerous" and lambasted officials for their lack of concern. "Nobody is listening to us. It's scandalous," the Belgian told French television.
Ex-Ballydoyle jockey dies at 94
Europe: Irish dual-purpose jockey TP Burns has died aged 94. In a 40-year career, Burns topped the combined flat and jumps list in Ireland on three occasions, in 1954, 1955 and 1957. He enjoyed a fruitful partnership legendry trainer Vincent O'Brien throughout the 1950s, when the pair colluded to win nine times at the Cheltenham Festival.
It was on the O'Brien-trained, John McShain-owned Ballymoss that Burns rode his first classic win, the 1957 Irish Derby, after the horse had finished second to Crepello at Epsom. The same connections combined a few months later when Ballymoss became the first Irish-trained winner of the St Leger and the Ballydoyle handler claimed his first British Classic winner.
Charles of O'Brien, son Vincent, said: "TP was an integral part of Ballydoyle for a large number of years, and I know my father had the greatest respect for him and his opinion, and he loved having him around the place."
Award for anti-cruelty campaigner
North America: The Humane Society of the United States has announced U.S. Senator Lindsey Graham (R-South Carolina) as its Humane Horseman of the Year.
The award is given to an individual who demonstrates an outstanding commitment to protect American equines. Graham is being recognised for his ongoing leadership to protect horses and burros from cruelty.
Since 2011, Sen. Graham has led efforts to pass legislation to ban horse slaughter operations in the U.S. and end the export of American horses and burros for slaughter in Canada and Mexico.
"I'm grateful to be recognized by the Humane Society of the United States," said Graham. "But I would especially like to pay tribute to my late friend John S. Rainey, who was dedicated to ensuring the humane treatment of horses for many years."
New TV deal for Arena racetracks
Europe: Arena Racing Company has announced the appointment of RaceTech to provide HD TV coverage of all fixtures at its 18 British racecourses from the start of 2019 to independent bookmakers in Britain and Ireland through its Racing Partnership service