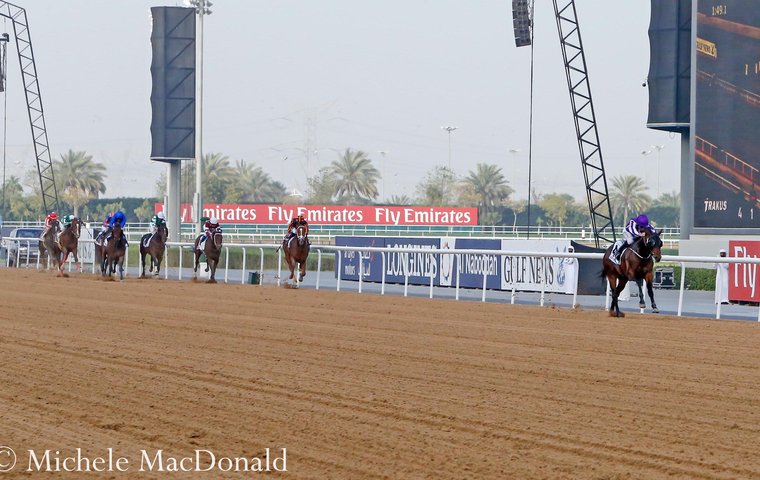 It was a performance that gave Geir Stabell a headache - Mendelssohn's stunning all-the-way demolition of a seemingly high-class field in the UAE Derby at Meydan two weeks ago. It was a feeling Stabell, founder, editor and handicapper of the international ratings service Globeform.com, has had before, although very, very rarely, as he explains here.

Everyone involved in sports, be it athletics, football, tennis, whatever, will be familiar with how sometimes one party 'could only do as well as the opponent allowed'. How a top-class tennis player never got a look-in simply because his rival dominated to such an extent that he never found his rhythm.
Was the loser really three straight sets inferior? On the day, of course he was. His rival was able to constantly keep him out of his comfort zone. Racehorses, albeit very few, can do the same, making a mockery of ratings, and giving us handicappers a mix of thrill and frustration.
Mendelssohn might be one of those. One of the freaks.
The son of Scat Daddy created an almost bizarre result when he powered home by 18½ lengths from classic-winning filly Rayya in the UAE Derby (video below). Three lengths further back came Reride, and he was almost two lengths ahead of Gold Town – up to that point considered the best 3-year-old in Dubai.
How do we rate such a performance?
The answer is that, in all honesty, it can't be rated to any sort of accuracy. All we can do is offer an educated guess - with a headache to go with it.
It's easy to say the rest ran well below form. I have always felt that, unless we are dealing with extreme ground conditions, it pays to take a more positive view of wide-margin winners.
Yes, those beaten were below par, but how badly could they have run?
It's hard to believe that top trainers Doug Watson (Rayya), Steve Asmussen (Reride) and Charlie Appleby (Gold Town) all had their horses in lousy shape on the big day. What's easier to grasp is that, because Mendelssohn travelled so incredibly strongly – and had them all on the ropes half a mile from home – they were soon pushed outside their comfort zones.
That's when Thoroughbreds begin to tire badly. While Mendelssohn looked stronger by the stride, they all looked pretty fed up with the whole exercise. Getting exhausted, they were not able to perform anywhere near what we would perceive to be their true form.
Such a margin ought to happen in jump racing only. When Thunder Snow won last year's UAE Derby, 13 of the 16 runners finished within 16 lengths. This year, the fifth-placed horse, G2-winning Seahenge, was beaten no less than 26 lengths. Again, how badly could all these also-rans have performed?
I had Mendelssohn on a Globeform rating of 115p going into the UAE Derby, with Reride on GF 105p and UAE Oaks winner Rayya and Gold Town both on GF 104.
Reride earned his rating in the Mine That Bird Derby at Sunland Park, where he beat Runaway Ghost – who went on to win in the Sunland Derby next time out. Rayya was coming off a convincing win over the Godolphin duo Expressly and Winter Lightning (UAE 1000 Guineas winner) in the UAE Oaks. Gold Town had crushed everything he faced in an admittedly sub-standard 3-year-old male division at the Dubai Carnival.
Mendelssohn was pushed out by Ryan Moore, something that makes it at least a little easier to try assessing this form.
Taking the margin at face value, we calculate that he beat Rayya by 37 pounds, plus the 4.4lb sex allowance, arriving at a 41.4lb difference. Could Rayya have run to GF 100 in the Derby? Probably not. If she did, well then Mendelssohn was worthy of GF 141 – making him another Frankel already.
Could Reride have been close to his Sunland form? Again, probably not. I have no doubt that he is capable of GF 105, but Meydan is quite different from Sunland Park, where it was his turn to boss inferior rivals.
What about Gold Town? Perhaps he isn't all that good after all? He's no slouch, mind you, and it was almost unreal to observe how all but one horse was off the bridle after 1000 metres of the UAE Derby.
Like any other handicapper, I'm taking a guess, and I have put Rayya in on 80, with Reride on 83 and Gold Town on 80. This still makes Mendelsson's performance worth Globeform 127 - extremely high, higher than any other Kentucky Derby contender.
His winning time over 1900 metres, 1.55.18, compared well with Thunder Snow's 2.01.38 over 2000 in the World Cup and Heavy Metal's 1.36.21 over 1600 in the Godolphin Mile.
So, is Beholder's half-brother, who undoubtedly improved when switched to dirt, capable of 127, or is this figure too high? Too low perhaps? Let's just say it's in the right neighbourhood.
We do not see such demolition jobs too often, but it happens, Secretariat's 31-length romp in the 1973 Belmont Stakes (video below) being the prime example.
However, freak margins are not exclusive to dirt racing. Two more fairly recent cases are Frankel's win in the Newmarket 2000 Guineas in 2011 and Hawk Wing's in the 2003 Lockinge Stakes at Newbury. They both made all over a straight mile on turf.
Hawk Wing won by 11 lengths from G1 Queen Elizabeth II winner Where Or When, who was eight lengths ahead of the third-placed horse, G1 Prix Jean Prat winner Olden Times, who beat Domedriver by a length for third.
Domedriver had won the 2002 Breeders' Cup Mile, beating European Horse of the Year Rock Of Gibraltar. These three, simply humiliated by Hawk Wing, were all capable of 120 plus, yet in the Lockinge they got nowhere near such form (video below). Domedriver chased the winner, only to tire badly, Where Or When was a few lengths behind and kept on without ever threatening, and Olden Times ran on at one pace after being held up at the back of the field.
Assessing Hawk Wing to Globeform 132, I ended up with GF 110 for Where Or When, while Olden Times and Domedriver both returned a mid 90s figure.
The tremendously talented Hawk Wing, a three-time G1 winner who had been runner-up in both the 2000 Guineas and Epsom Derby in 2002, ran once more - when he finished down the field and lame in the Queen Anne Stakes at Royal Ascot a few weeks later - and was then retired to stud.
Seven years later an even better miler surfaced, and he was able to follow up.
The Frankel performance that sticks in the mind, from his perfect 14-for-14 career, was his Guineas win at Newmarket, where Tom Queally sent him straight to the front, allowing the colt to bowl along at what would have been a suicidal pace for ordinary horses. He gradually opened up a big gap to the rest. The Racing Post comments-in-running says "at least ten lengths clear at halfway" (video below).
The applause began before he got to the Bushes (a point around 2½ furlongs from the finish).!
Casamento, winner of the G1 Racing Post Trophy at two, and Roderic O'Connor, runner-up to Frankel in the G1 Dewhurst and winner of the G1 Criterium International at two, raced prominently in the main field, and both paid the price. They came home tenth and 11th, beaten 35½ lengths and 37¾ lengths respectively.
Dubawi Gold, a 33-1 shot, stayed on from the back to take second, six lengths behind Frankel and 6½ lengths in front of Native Khan, who ran on from the middle of the chasing pack. Dubawi Gold went on to fill second also in the G1 Irish 2,000 Guineas, as Roderic O'Connor was back to winning form - on a day when he was allowed to race within in his comfort zone.
What Secretariat's, Frankel's, Hawk Wing's and Mendelssohn's huge wins have in common is that they were all gained by making all – and that's easy to understand.
Though it's a lot more difficult to do that in the Run for the Roses.