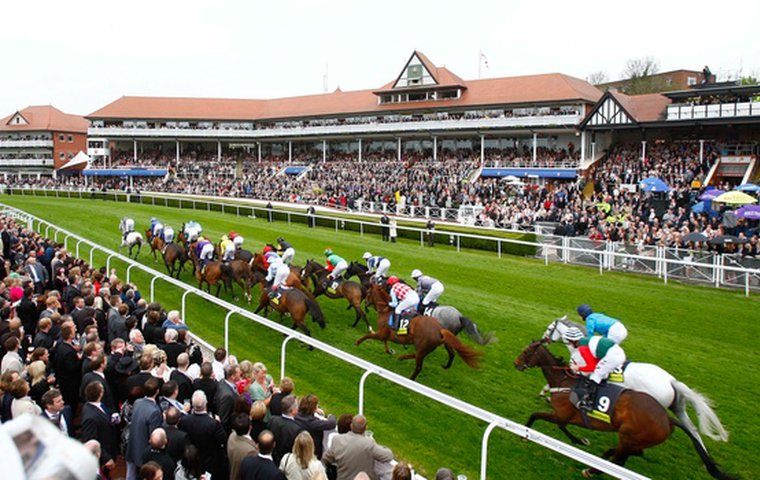 It's Britain's oldest track – as well as one of its most modern and forward thinking. That attitude has paid dividends at Chester, helping make it hugely popular, and it is a major reason why it won the British Racecourse Association's premier accolade – its Showcase Award (for Owners' Experience)– in 2013. With its annual highlight, the three-day May Meeting, starting May 7, Julian Muscat explains how Chester has become the country's most customer-friendly racetrack.

A small audience gathers on the western walls of the ancient Roman city whenever racing unfolds at Chester, in northwest England. They are afforded free panoramic views of the track, yet tens of thousands prefer to pay at the gate.
If that sounds like one more quaint curio about Britain's oldest racecourse, it is anything but. The most customer-friendly racetrack in the country attracts Chester's sell-out crowds. Constant innovation and improving facilities are the mantras by which this historic venue has built a devout following among diehards and casuals alike.
Very few grandstand tickets, if any at all, are available for the 15 days when Chester hosts racing every year. The grandstand capacity is 21,000, but attendance more than doubles on its most popular days. The infield is akin to a folk festival: portable barbecues are ablaze and picnics abound. It is a gem of a place, its impact verified by the detail that a high percentage of racegoers return annually.
Richard Thomas is managing director of the Chester Racing Company, which embraces a range of other leisure-related activities that help to fund its core product. He has been at the helm for 14 years.
"Our ethos from Day One was to improve what we had every year," Thomas said, "and our city-centre location has allowed us to make good money."
Thomas settled on his game plan after examining the workings of numerous leisure businesses.
"The successful ones were those that listened to their customers and provide the best facilities," he said.
Thomas also noted two things about Chester's demographic.
"The northwest is an area which appreciates watching live sports because some of the best football (soccer) clubs in England are based here," he said. "Each of those clubs has top-class stadia, so the local audience is accustomed to good facilities when watching sport."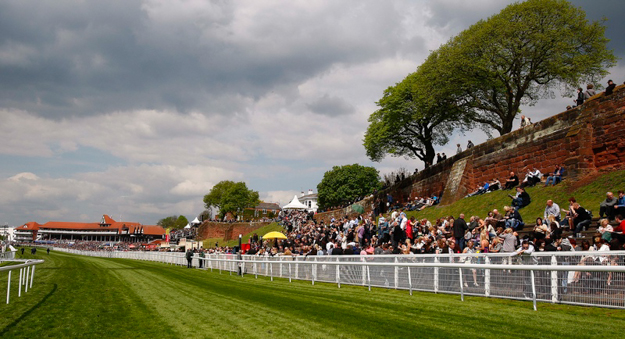 Chester's busiest fixture is its sole Sunday date, which falls this year on Aug. 3. The 45,000-strong crowd will be particularly diverse, from avid race-fans and day-trippers to families with young children bewitched by the raft of activities laid on for them. Beyond that, its racing programme caters for all tastes at different times throughout the year.
"It is very important that we race on the same days every year," Thomas said. "People tend not to come back if the goalposts keep moving; They like to book ahead and plan holidays around their racing. We actually finance three fixtures without central funding. We put up prize-money of £125,000 ($212,113) on each of those days, but we were always confident it would be profitable."
Owners running horses at Chester are given a complimentary lunch, cooked by the Racing Company's own caterers, within their own viewing facility. They are collected from train stations or airports by courtesy car. Through a series of mobile outlets brought to their tables, they can bet through the racecourse's in-house betting service, ChesterBET, from which all profits are reinvested.
The first such venture of its kind in Britain, ChesterBET was established two years ago when the company bought all the necessary equipment. Chester's previous alliance with The Tote saw Britain's pool-betting operator skim off much of the profit, but Chester's in-house service quickly paid for itself. It now generates around 15 percent of the company's annual revenues of £30 million ($51 million) for profits of £3 million ($5 million) – and betting revenues continue to rise.
Thomas explained that returns from ChesterBET bore comparison with Tote returns. Rather than a pari-mutuel, it is a fixed-odds service where the odds are set at 10 percent below official starting prices established by Chester's on-course bookmakers.
"ChesterBET is not the best value on the racecourse," Thomas acknowledged. "That is to be found in the betting ring, which is something we constantly promote to our audience because bookies are part of the racecourse fabric. But, if people are in the Champagne bar, they can bet through our mobile outlets without having to give up their seats. And there is no queue."
This mobile betting facility, which Chester introduced at its jumping-orientated sister racetrack, Bangor, has allowed management to develop self-contained pods all around the racetrack.
"We have large crowds here and we must make sure we can service them easily," Thomas said.
"We have created many areas where people have all they need around them – bars, food, seating, toilets, and the opportunity to bet – without having to move very far."
Among British racecourses, Chester stands as something of a beacon. It's a point readily acknowledged by Great British Racing's chief executive, Rod Street.
"Chester was a very early adopter of social media, which tells its own story," Street said. "They developed one of the first really successful Twitter streams. They just seem to 'get' the customer.
"What they manage to do incredibly well is to recognise their customers' needs as well as racing's needs," Street continued. "Their consumer model recognises that, beyond racing aficionados, there are a great many people who simply want a great day out. They live up to the adage of there being something for everyone."
That approach has seen Chester attract a young and vibrant audience that is keen to dress up. Such an audience invariably engages with smartphones requiring a strong Wi-Fi connection, which is the focus of Chester's latest technological advance.
With its prestigious May meeting starting May 7, Chester claimed another first in Britain when it laid down a bespoke Wi-Fi network in partnership with the internet-based betting operator Betfair. Access to the network is free and the platform will tailor specific products to Chester racegoers, such as virtual racecards and the ability to bet with both ChesterBET and Betfair.
Last year, Chester trialled a mobile business platform enabling smartphone users to charge up an account and use it to buy drinks in a cashless bar. In time, the aspiration is that visitors can use the platform for their entire day's spend, and settle up by smartphone. It will not be long in coming.
Big Races at Chester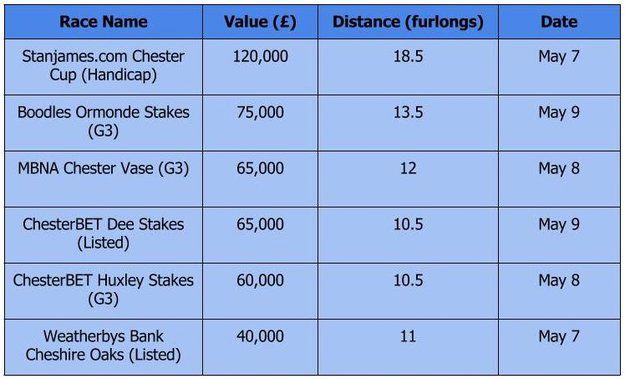 Most Popular Races at Chester