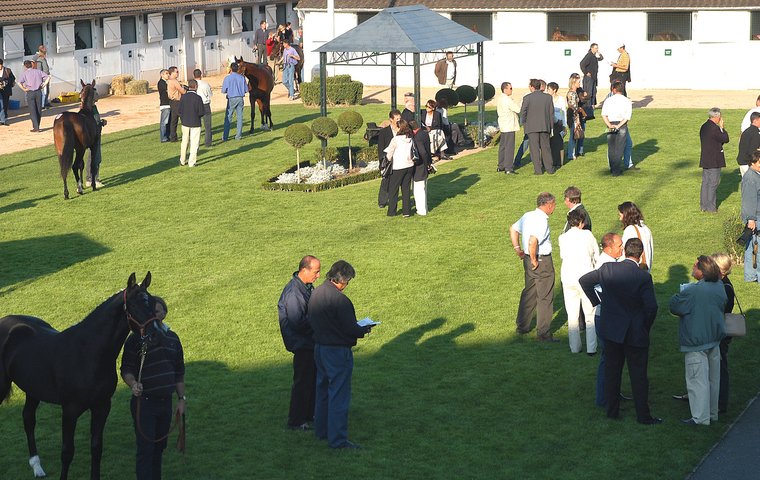 From Derby winners to top-class sprinters and a lot more in between, next week's Arqana's August Yearling Sale has shown itself to be on a par with the very best in the world. The renaissance of the French breeding industry has also served to further strengthen its success in recent years. Isabel Mathew looks at some of the standouts in the catalogue.

What do names such as Wings Of Eagles, Almanzor, Qemah, Mekhtaal, Le Brivido, The Right Man and several other top-calibre performers all have in common? They were all bought at this sale, which takes place in Deauville on August 19-21.
As the first European yearling sale of the season, Deauville traditionally paves the way for an action-packed second half of the year for consignors and buyers alike. It is here that the search for the next champion begins.
In June, Arqana's results hit new highs when August yearling graduate Wings Of Eagles created a surprise in the Epsom Derby, while just a day later, December foal purchase Brametot went on to follow up his Poule d'Essai des Poulains victory when taking the Prix du Jockey-Club (French Derby).
When Coolmore stepped in
The adage 'you snooze, you lose' could be appropriate for the Wings Of Eagles story. In 2015, the colt went through the ring just five lots into the sale. At a time where a lot of buyers would have been waiting to gauge the market, the son of Pour Moi was snapped up by M.V. Magnier on behalf of Coolmore for €220,000.
"He was a lovely colt that we always expected to make a good price," his breeder, Aliette Forien, of Haras de Montaigu in Normandy, remembers. "Wings Of Eagles comes from a family that has been incredibly good to us, and we were delighted at the time that he was going to such a good home," she adds.
She adds, "Unfortunately we didn't go to Epsom that day as it was near the end of a busy breeding season [they also stand top National Hunt sire Martaline, Prince Gibraltar, Literato, No Risk At All and Night Wish], and I was pretty exhausted.
"If I am perfectly honest, we didn't think Wings Of Eagles had that much of a chance. He certainly proved us wrong! It's a real dream to have bred a Derby winner, and something we certainly won't forget in a hurry."
One of the many highlights of this year's 334 yearling catalogue is a Wings Of Eagles half-sister by Juddmonte's first-crop sire Kingman (lot 101). The filly, also from the family of Montaigu homebred Belle Et Celebre, will go through the ring during the second session of Part 1 on Sunday.
"She's looks very like her dam, Ysoldina, who finished third in the Poule d'Essai des Pouliches. She is very strong," says Forien. "We chose Kingman because he was an excellent racehorse that fitted her whole profile very well," she adds.
A happy hunting ground for Rouget
Forien has now been consigning yearlings for 33 years since she took over the reins at Montaigu. The stud was bought by her great-grandfather, Gabriel Guerlain, of cosmetics fame, in 1903.
"Arqana have done a fantastic job since they took over and have really brought the sale up to a standard that is on a par with the top yearling sales anywhere around the globe," she says. "It is a fantastic place to sell yearlings, and we are hopeful of a strong sale with 14 nice prospects."
Last year's Cartier Champion Three-Year-Old Colt, Almanzor has also been one of the flag bearers for the sale since being sold for €100,000 to his trainer Jean-Claude Rouget in 2014. At the same auction, Al Shaqab signed for the handler's subsequent G1 winners Qemah, Zelzal, Jemayel and Mekhtaal.
Rouget, who also purchased Prix du Jockey Club winner and current French champion sire Le Havre for the same price as Almanzor back in 2007, believes his sales success is down to buying around 50 yearlings a year rather than his eye for a horse.
In 2016, he was the second leading buyer at the sale after purchasing 21 lots for €2,34 million. His recent juvenile maiden winner, Olmedo, who was bought for €100,000 at the v.2 one-day sale held straight after the August Sale (Tuesday, August 22), looks yet another very promising prospect.
Almanzor's breeders, Haras d'Etreham, offer a sibling to the champion as lot 143, a colt by their resident stallion Wootton Bassett, while dual G1 winner Qemah's half-brother by Charm Spirit (lot 10) will also come under the hammer.
Since consigning its first yearlings in 2009, Ecurie des Monceaux quickly hit the heights through selling the progeny of their excellent broodmare band. In 2016 they sold the four highest-priced lots, adding to a total that represented the equivalent of 26 percent of the turnover of the sale. With 36 lots on offer again, they also finished as leading vendor for the fifth consecutive time.
None of last year's top lots have yet to reach the racecourse, but a sister to €1.4 million Coolmore/Mayfair Speculators top-lot purchase, now named Magic Wand, will be on offer from Monceaux manager Henri Bozo's consignment as lot 51.
Le Havre and Siyouni well represented
The daughter of Galileo is a three-parts sister to Irish Oaks winner Chicquita. One of nine lots in the sale by the Coolmore supersire, of which four are consigned by Monceaux, the filly hails from a family that has provided million-euro-plus sales toppers for the last two years.
Frankel is represented by ten lots, including a colt out of Breeders' Cup Filly & Mare Turf runner-up L'Ancresse, while Dubawi counts four. It is not however just the top foreign-based stallions that make up the catalogue.
Haras de Montfort and Preaux resident Le Havre has 24 lots listed, the largest number of any sire to go under the hammer, closely followed by Siyouni with 23.
Last year also saw the return of Sheikh Hamdan Al Maktoum's Shadwell France on the buyer's list after an absence of a few years. He ended the sale as leading purchaser after Angus Gold signed for eight yearlings totalling €2.97 million.
With the results on the racecourse plain to see, which also includes this year's classic runners-up Sistercharlie and Sea Of Grace among other top performers, Arqana's August Yearling Sale looks all set to provide some fireworks once again.