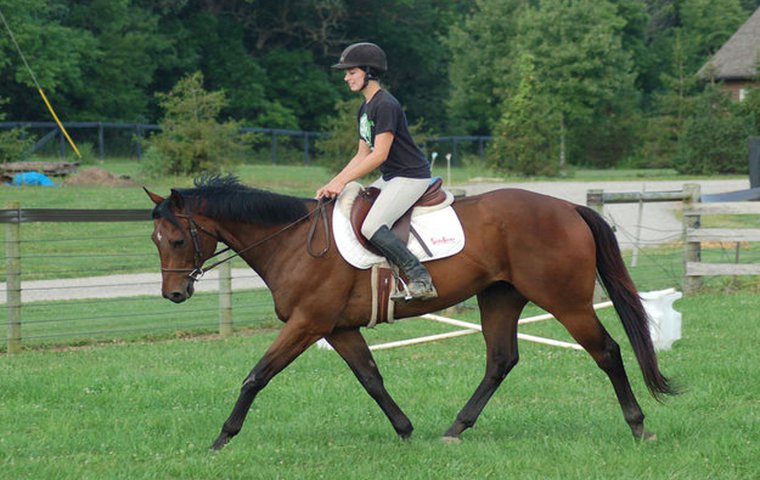 A crucial part of successfully retraining and rehoming retired Thoroughbreds is the solid foundation that comes with thoughtful early training and mindful handling throughout a horse's racing career. Jen Roytz explores the importance of preparing Thoroughbreds for second careers during their racing years.

Aftercare for retired racehorses has become an increasingly popular cause during the past decade and an issue of growing importance in United States racing. For many trainers, racetrack riders, and owners, responsible aftercare for their horses starts long before the horse has run his or her last race.
There is no question that a sound horse is easier to rehome after its racing days are over, and horses who retire without significant injury have proven to have athletic longevity often well into their twenties. It's not just physical soundness that will benefit a horse throughout its life, but also the mental soundness that comes with a solid training foundation and handling, which begins before the horse has ever seen a racetrack.
"When starting a young horse under tack, the first lessons are the most important ones of their lives, because this is the foundation that all other training is based on," explained Kentucky-based trainer Kellyn Gorder.
Gorder, a former jockey, has a long history with horses. He currently has strings stabled at Churchill Downs and Keeneland, and he trains G2 winner Bourbon Courage, among others. For years he started young horses under saddle for some of the biggest names in horseracing, including WinStar Farm and Team Valor.
"I start future racehorses the same way I would start horses for any other discipline," Gorder said. "It's important to get a horse supple and to put a light mouth on them. Once they are used to being ridden in a small paddock, we do a lot of flat work, including figure eights and serpentines, which includes teaching them both rein and leg cues. As they progress, I like to introduce them to obstacles such as poles, cross rails, and cones. Along with hacking out in the fields, this gets a horse ready not just for the track, but prepares them to be retrained for a different discipline once their racing career is over."
Gorder also says you can't underestimate the importance of having good riders getting on the horses each morning at the racetrack.
"I try to hire riders that have good hands and good overall horsemanship," Gorder said. "Many times the riders I hire have backgrounds in dressage, hunter/jumpers, or other riding disciplines other than riding at the track."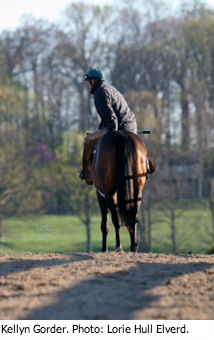 Veteran trainer Edward Plesa, Jr., echoed the sentiment. He explained that he is not only particular about which riders he hires, but which riders he puts on which horses, making sure that horse and rider "get along."
The theory seems to do wonders, not just for his horses' racing careers, but as they transition to the next phase of their lives as well.
"Once I know a horse is coming up on retirement, the first thing I do is change the equipment I put on them," Plesa said. "We make sure every horse is broke to a Western saddle, and we take our time with them so they learn to relax and don't always think that the saddle and riding means go."
Exercise riders play a crucial role in teaching a young horse how to be ridden. The experiences a Thoroughbred has with a rider at the racetrack as a 2- and 3-year-old can stay with that horse long after its racing days are over, explained exercise rider Katie Merritt, whose list of credits include being the regular morning rider for such American stars as multiple graded stakes winner Capt. Candyman Can and 2012 Breeders' Cup Classic winner Fort Larned.
"I put a lot of stock into being soft and patient with a horse," Merritt said. "Taking the time to let the horse stand and relax beforeand after their morning gallop, giving them pats and rubs on their neck, and talking to them as they watch horses go by, does wonders for their mindset. Constantly rushing a horse to and from the track can cause them to be nervous, or high strung. Even little things like loosening the girth as they're walking back and taking the bridle off gently and quietly encourages them to build a positive rapport with humans."
Sometimes it's the smallest details and nuanced habits of trainers, riders, and grooms that can have the greatest impact on a young Thoroughbred's life, and the lessons a horse learns from these people in its formative months and years can stay with him or her long after the track. Racehorse owners should be mindful of this when choosing a trainer, as that person and his or her team will not only be tasked with preparing their charges for their racing careers, but for life.