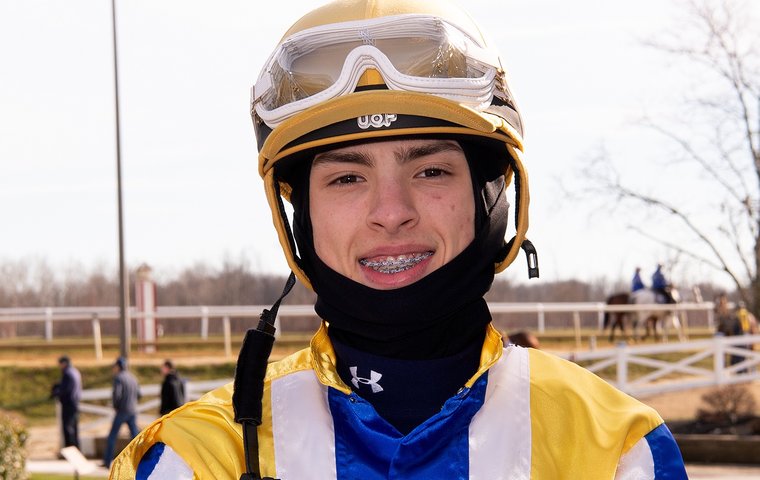 A possible star of the future emerged at Laurel Park yesterday (January 9) when jockey Charlie Marquez - aged just 16 - rode his first winneer.

Sierra Leona was the eighth mount for young Marquez, who debuted January 1 at Laurel, finishing fourth on Up Hill Battle. Sierra Leona ($13.60) won the one-mile claiming event for fillies and mares four and older in 1:39.97 over a fast main track, rallying from mid-pack for a three-quarter-length triumph.
"It feels amazing. I'm only 16; it's a lot to digest," Marquez said. "But I'm glad I'm here and I'm thankful for all the opportunities been given to me. This means so much to me."
Marquez settled Sierra Leona (riding for trainer Phil Schoenthal's Kingdom Bloodstock) in third as Hay Baby Girl went the opening quarter-mile in 24.57 seconds before Music Maker took over and went a half in 48.80 and six furlongs in 1:13.97. After coming under pressure on the turn, Marquez took Sierra Leona inside and came with a steady run to pass horses and edge clear inside the 16th pole.
"I've been riding my whole life, in the pony races and riding over jumps," Marquez said. "I've done a whole bunch of different things, so this is an honor to be a professional now and finally win my first race."
Marquez rode in seven amateur races in 2019, three at Laurel and four at Parx, with two seconds and two thirds. He had two thirds in seven mounts before recording his first win, and went on to finish sixth on Greely Is Back in the subsequent race.
From Columbia, Maryland, just ten miles from Laurel Park, Marquez is the son of 52-year-old Carlos Marquez Jr, a multiple Graded-stakes winner of 3,150 career races currently riding at Camarero in Puerto Rico. His grandfather, Carlos Marquez Sr, was also a successful jockey - he taught at Puerto Rico's famed Escuela Vocacional Hipica jockey school.
Marquez said he plans to finish his secondary education at home as he pursues his riding career.
"I'm turning in [forms] to get home-schooled, but there's no way I'm dropping out. I need school just in case anything happens," he said. "I owe everything to my mom. My mom has taught me everything that I know. I wouldn't be able to do any of this without her."