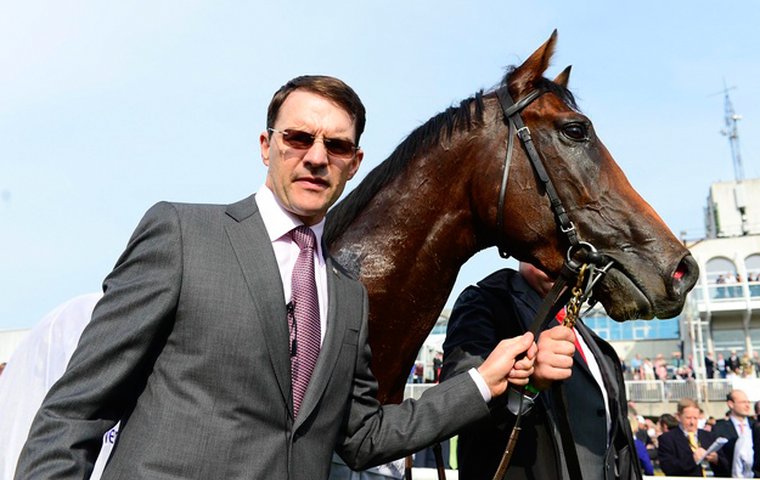 Look to John F Kennedy to spearhead a vintage set of 3-year-olds in 2015

Even with Australia's early retirement, the 2014 flat season has seen Aidan O'Brien poised to haul in more prize money in Britain and Ireland than ever before. And, because of Australia's retirement, the Coolmore stallion machine that empowers the trainer's remarkable success is closer to becoming even stronger.
In this piece, I would like to take a brief look at the horses that will carry O'Brien into 2015 with arguably his strongest set of 3-year-olds. His horses dominate the betting for the British classics for both genders, but I think there is one that stands out on the limited evidence so far. Aside from issuing the usual well-earned paeans for his great skill and drive, I will ponder both some of the failings among other operations that make the great trainer's task that much easier, and the related difficulties in assembling a racing and breeding operation with any hope of challenging Ballydoyle/Coolmore.
First, as usual, to the data: The bar graph below traces the increasing haul of prize money annexed by O'Brien in Britain and Ireland since he first started sending out flat horses. (It is of no interest for these purposes, but a quick reminder that he also transformed 87-rated flat stayer Istabraq into one of the best hurdlers of all time.) In effect, it updates and pictures the juggernaut I described before the 2014 flat season in Europe started in earnest.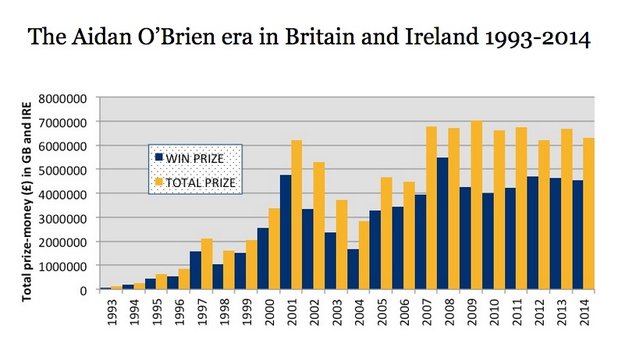 O'Brien horses have consistently earned around £7 million ($11.2 million) in total prize money since 2007. You can add millions more to that haul from races all round the world, but the point is to demonstrate the seasonal relativity in influence in Britain and Ireland.
In the juvenile division this season, O'Brien has already revealed some great talent, most of which has been provided by surely the world's best grass-race sire in Galileo. At the recent Arc meeting at Longchamp in France, O'Brien's Found and Gleneagles (demoted to third for interference) were first past the post in the G1 Prix Marcel Boussac for fillies and the Prix Jean-Luc Lagardère (Grand Criterium) for colts, respectively. While, back home earlier, he won Ireland's two G1 races for 2-year-old colts with Dick Whittington and the same Gleneagles, who that time enjoyed clear sailing to victory.
You can go on and on. There are highly touted horses at home who haven't even run yet, and the likes of G2 winners Ol' Man River and Highland Reel have impressed many and rank high in ante-post lists.
My belief is that John F Kennedy, a colt by Galileo who is a brother to the stable's G1 Yorkshire Oaks winner Tapestry, is the one. He's not entered in this week's G1 2-year-old races at Newmarket (O'Brien's leading hope is again Gleneagles in the Dewhurst Stakes, and Smuggler's Cove in the Middle Park) because O'Brien wants to keep him from prime time for a little while longer, but you can see here his huge potential in a G3 victory at Leopardstown in September.
I have written before about the difficulty of disentangling the effect of a trainer like O'Brien in assessing the true signal of jockey effectiveness from the noise. But, of course, the same is true when it comes to the influence of owners (and breeders) on trainers. Could others have had O'Brien's career if they had been given the same chance by Coolmore's stallion master par excellence, John Magnier? It's possible.
The narrative of horse racing is to credit success as if it were abstracted from its underlying causes. "A great ride!" a commentator may shriek, when the horse was 99 percent responsible for victory; "A tremendous training performance!" another might exclaim, when really the stable's vet deserves the bulk of the credit, and all the license-holder has done is organise routine exercise under instruction.
I am certainly not going to make a U-turn on the concept that O'Brien is a phenomenon, however. But it's the link between Coolmore, Ballydoyle and, to be fair, jockeys Joseph O'Brien (when he doesn't try lane 8) and Ryan Moore that makes each link of the chain stronger.
Ballydoyle-Coolmore's almost total dominance of Darley-Godolphin is now well established. One of Godolphin's trainers Charlie Appleby recently spoke of the need for his side of the operation to get better, which is admirable. Appleby certainly seems a good operator, but, in effect, achieving parity of success looks an uphill battle.
The same is not necessarily true of Sheikhs Joaan and Fahad of Qatar, whose discrete operations have breathed new life (not to mention an absolute mountain of cash) into European flat racing the last three years.
Sheikh Joaan's Al Shaqab team has had a really good 2014, showcased by Treve's brilliant second win in the Arc (for which the Japanese riders would receive an "assist" if they were credited in racing like football, or a "three-base error" if they were credited in racing as in baseball).
At the same time, however, the task of achieving consistent success at the highest level in the European classics seems still far away. Establishing the same kind of stallion base as Darley, let alone Godolphin, is an extremely difficult job, and it is still only speculation that the Qataris might try to acquire some or all of Prince Khalid Abdullah's Juddmonte operation at some point.
It is tough to support success just from the yearling sales, however much is spent. A study by Jason Hathorn (whose excellent bloodstock research is well worth reading) found that 56 percent of recent G1 winners were homebreds, and it is a lottery that doesn't exclude those shopping in the middle-market for the others.
It's a racing certainty that you will hear the phrase "British racing is more competitive than ever" at least once a day somewhere in the domestic media. But the figures don't suggest that, as I have shown here and here. It's easy to understand why: With the demise of the (mainly aristocratic) British owner-breeder during the last 25 years, resources, as far as horsepower is concerned, are in fewer hands, so it makes sense that there should be a greater variance (and less strength in depth) in many Pattern races. And the numbers bear that out.
It will be interesting to see if O'Brien finishes the season strongly in Europe and America, but he certainly has the horses to do it. And next year has all the makings of a vintage campaign.
The epilogue to the 2014 flat season looks to be a plus ça change, plus c'est la même chose kind of deal except, if anything, O'Brien is only getting stronger. With the rash of premature retirement of some of the game's equine stars, such as Australia, Kingman, and Taghrooda, I am holding out great hope for future ones to emerge and holding great hopes for my ante-post wager on John F Kennedy for the 2015 Epsom Derby. "Things do not happen. Things are made to happen," said the great man. Kennedy, I mean.