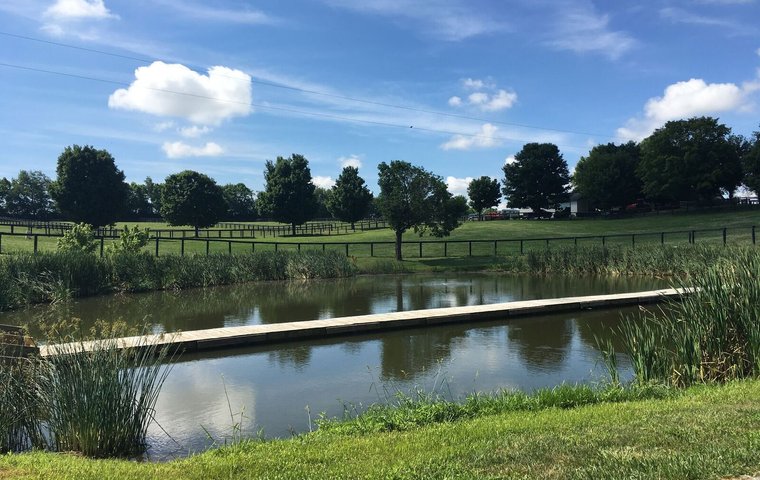 "We've been very lucky," reflected Sandy Fubini. Given Fubini's successes, "lucky" might perhaps be a modest assessment of what she has accomplished. A veterinarian, a businesswoman, and the principal owner of Machmer Hall, the breeding operation based in Paris, Kentucky, Fubini could as easily attribute her achievements, and those of her partners in the farm, her daughter and son-in-law, Carrie and Craig Brogden, to things like hard work, shrewdness, a deep understanding of the business, and an eye for a good horse, to name just a few.

Still, there's no denying that they've had a few pretty good breaks.
Consider:
In the 1990s, Fubini owned a gift shop in the upscale Tyson's Corner mall outside of Washington D.C. She hit big when the Beanie Babies craze hit in the second half of the decade.

In 2008, Machmer Hall bought a mare for $4,500 at the Keeneland November Sale of breeding stock. Almost immediately, they agreed to sell her for a modest profit, but the buyer never came up with the money. Two years later, the mare foaled Vyjack, a multiple graded stakes winner. A year after that, she had Tepin, voted last year's champion turf female.

In 2010, that mare, Life Happened, was booked to Into Mischief, which would have produced a full sister to Vyjack. But Into Mischief didn't have any openings on the day the mare needed to be bred, so she went to Bernstein instead. Machmer Hall didn't get the Vyjack full sibling. Instead, they got Tepin.
Fubini and her daughter purchased their farm, which abuts Stone Farm and Claiborne Farm in Kentucky's bluegrass region, in 2001. Originally 105 acres, the family has gradually purchased available land that adjoins Machmer Mall, and now their mares, yearlings, weanlings, and foals sprawl across 560 acres.
"One of the reasons we bought this particular place," said Carrie Brogden, "is because it was in between Stone farm and Claiborne. I was like, 'Look at all the Derby horses they've had!"
A gift from the heavens
Though Machmer Hall didn't breed any of the 2016 Kentucky Derby starters, Vyjack ran in the race in 2013 and the farm had two Derby runners, Intense Holiday and Vinceremos, in 2014.
This year may have been disappointing, perhaps, but then again, how many Kentucky farms can say that they bred a Royal Ascot winner, which Machmer Hall can after Tepin's thrilling win in the G1 Queen Anne Stakes in June?
"If I had planned it better, I would have gone," said Brogden. "Two people on the farm were on vacation and there was no way I could have left here. But I was right here in the barn watching it on my phone, and I did bet her to win. 5-2? That was a gift from the heavens."
A graduate of the Fasig-Tipton August yearling sale in Saratoga, Tepin has earned more than $3.5 million after being purchased in 2012 by Robert Masterson for $140,000; this year, the Brogdens are bringing to Saratoga a consignment of eight horses, five that they bred or co-bred and three for clients. They'll have another 11 in the Fasig-Tipton sale of horses bred in New York on Aug. 13 and 14.
Rotating the yearlings' exercise
In late June, Carrie Brogden was pretty much living in the yearling barn on the farm, prepping for the summer sales season. Her September sales yearlings are still out in the fields; she'll start working with them when the July sales yearlings have shipped off the property. A proponent of keeping horses out in the field for as long as possible, she rotates the yearlings' exercise between walking on a freewalker and swimming in a pond on the property.
"It's the yearling swim facility," she said, watching her ever-present Pomeranian rescue dog head right in on a warm summer day.
A wooden platform juts into the pond, and daily, yearlings are handwalked from their stalls to the pond and guided in to do laps around the platform.
"We've been using it for five or six years now," she said. "We rotate between the swimming and the freewalker — we don't want to do all swimming and all that pounding on the walker."
There are about 220 horses on the property, 110 of them mares the Brogdens and Fubini own on their own or in partnership.
Commercial operation
Craig is the farm's general manager, while Fubini does the accounting and orders veterinary supplies. Primarily commercial breeders, this family operation will occasionally keep a filly out of a proven mare, particularly if they've made the call to sell the mare. They sold Baby Betty, the dam of graded stakes winner Sweet Whiskey, for $400,000 in 2014, but kept her 2014 filly, who's in training with Mike Stidham.
In 2009, Machmer Mall purchased the Maryland-bred Special Me for $6,000 at the Keeneland January sale. The dam of graded stakes winner Stonetastic, recent winner of the Regret Stakes at Monmouth Park, and Gift Box, second in the Curlin at Saratoga and pointed to the Travers later this month, may sell at Keeneland at November, and if she does, said Brogden, her 2016 Speightstown filly may stay at Machmer Hall.
In addition to her work on the farm, Brogden also owns a consignment company, Select Sales, with partners Andrew Cary and Jay Goodwin.
"It was a natural progression," she said of founding the company. "Craig and [former partner] Tom Ryan were out in the field one day and said, 'Why are we paying people to sell our own?'"
"At the time, I was afraid," she admitted. "I honestly didn't think that I could do it."
Relishing the role
It's hard to imagine that the gregarious and outgoing Brogden doubted her ability to promote the horses at the sales, to be a front person and interact with the public — remember, this is the woman that handled hordes in search of the latest Beanie Baby while working for her mother — and it didn't take long before she relished her new role.
"At the first sale, I told Andrew that I was just going to stay back and let things happen," she remembered. "The next morning he asked me how I felt about it, and I said, 'I'm born to do this!'"
Fubini, an introvert who will stay home in Lexington during the sales and avoid the highly social Saratoga sales season, said: "It comes to her naturally. She had a job as a salesperson in D.C. and within three months, she was the top seller."
Walking through the yearling barn, surveying the horses that will go through the ring this summer, Brogden stops at the stall of a Lemon Drop Kid colt out of the Malibu Moon mare Alec's Moon, Hip 20, selling on Monday night in Saratoga.
'You can't breed for the exception'
"This is one of my favorite homebreds this year," she said, nuzzling and speaking affectionately to him. "I kid all the time, this is my Derby horse this year. I loved him so much we bred the mare back to Lemon Drop Kid."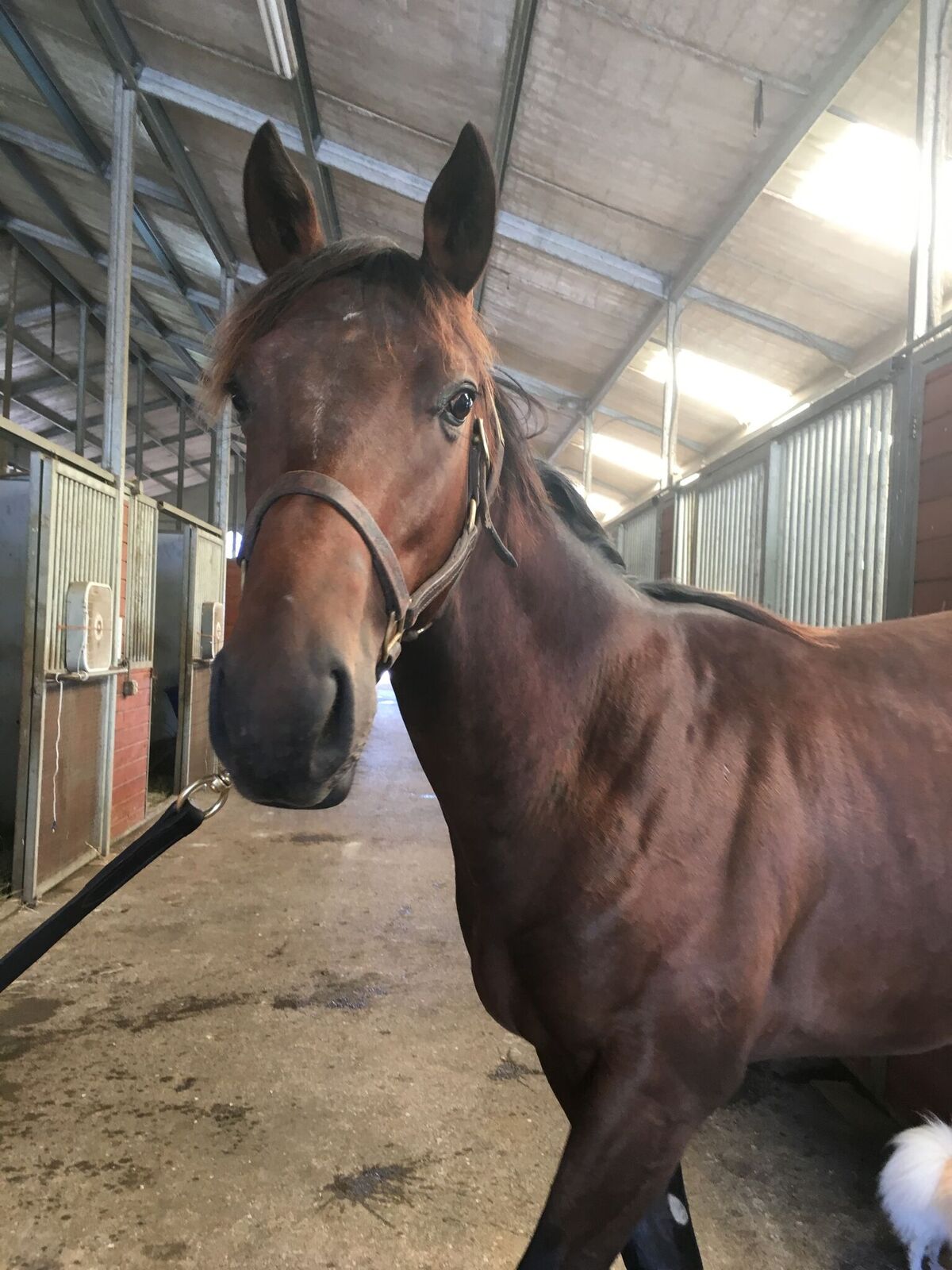 This fall, when sales season quiets down, Brogden will spend much of her time in her downtown Lexington office, advising clients on next year's breeding. She says that her specialty is looking at pedigrees and making sure that mare owners don't overspend, and she counsels pragmatism.
"I try to tell people that you can't breed for the exception. Everyone wants to breed for lightning in a bottle," she said.
Back in 2008, Fubini saw a weanling colt go through the ring. Though she didn't bid high enough to get him, she was able to secure his dam, described by her as "gorgeous, big-boned, grand-looking". That was Life Happened, the dam of Tepin and Vyjack, purchased for $4,500.
In 2014, Machmer Hall sold her for $750,000. Lightning in a bottle?
"There's an element of luck," said Fubini, "but you have to be smart and a good horseman, and you have to take the right one or two to the sale every year."
"It's funny," mused her daughter. "The crazy thing is, if one of those mares booked to Bernstein in 2010 had come off her spot, or if Life Happened hadn't ovulated that day, then Vyjack and Tepin wouldn't exist."
"My husband and I made [a lot of money] on Beanie Babies," said Fubini. "We had to stay on top of what was happening, what was current, what would pop. The Thoroughbred industry reminds me of that, but in slow motion."
"Whether it's painting or sculpture or probably even condos," she continued, "wealthy people have pots of money and if you have something unique or unusual, you can make [a lot of money] off it.
"With horses, you have to have three things: pedigree, conformation, and vetting. It's hard to get that triumvirate, about as hard as winning the Triple Crown."