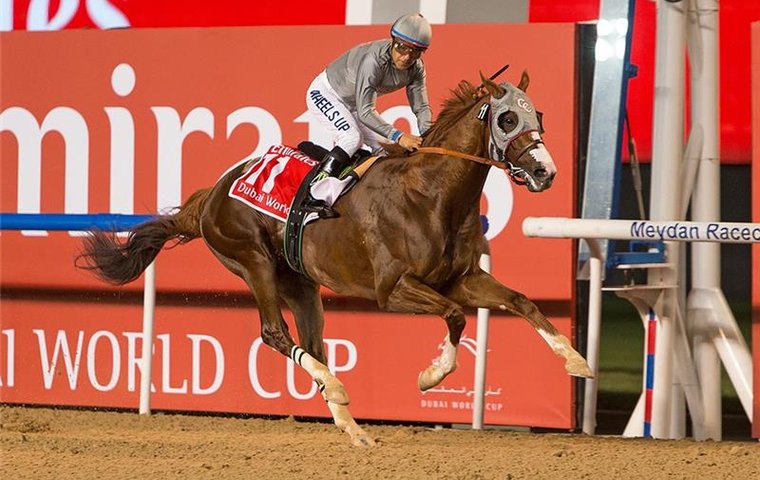 Whenever charismatic champions such as California Chrome approach the end of a fabulous racing career, there's usually a melancholy feeling for the people closest to them. Yet for Perry Martin, the majority owner of the immensely popular 2014 U.S. Horse of the Year, the blues are nowhere to be found these days.

While California Chrome approaches the home stretch of a career that has seen him skyrocket from an obscure California-bred to America's all-time leader in earnings, Martin finds himself spending more time looking forward than reminiscing about some of his 5-year-old horse's greatest moments, scenes such as victories in the 2014 Kentucky Derby or the $10 million Dubai World Cup this past March.
He's focused on the exhilaration spawned by an array of major races and showdowns awaiting his equine star in the next six months, as well the challenge of charting a successful career at stud for his homebred son of Lucky Pulpit.
Anticipation building for his return
With his days filled with tasks such as contemplating breeding seasons for California Chrome in Australia, or fielding offers from the New York Racing Association to run for an enhanced purse in the Whitney Stakes at Saratoga next month, there's simply no time for a wistful sense of nostalgia in his hectic schedule.
"To me, it's an exciting time," Martin said. "There's no reason to feel sad."
The final stage of California Chrome's career is slated to begin next week - on July 23 with an appearance in the $200,000 G2 San Diego Handicap at Del Mar, the horse's first start since his dominant 5-length victory in the Dubai World Cup on March 26.
"The anticipation is building for his return," trainer Art Sherman said. "We're all looking forward to the rest of the year."
If all goes well, down the road there's targets such as the $1 million Pacific Classic at Del Mar on Aug. 20 and the $6 million Breeders' Cup Classic on Nov. 5 at Santa Anita Park.
Lure of next year's 'mind-boggling' prize money
After that? A year ago, the Breeders' Cup would have brought down the curtain, as it did for American Pharoah. Yet now, through the launch of the inaugural Pegasus World Cup at Gulfstream Park on Jan. 28, the lure of the race's $12 million purse has altered the traditional schedule for the nation's top horses and given Team Chrome some reason to at least ponder the possibility of an extended 2017 campaign.
"It's not out of the question that he could run one more year," Sherman said. "There's an unbelievable amount of money he can run for (in 2017). It's mind-boggling. But I don't try to think about that right now. It would be nice to have one more year, though. I'd sure enjoy it."
The final decision on when California Chrome will be retired will ultimately be made by Martin, who owns a 52 percent share of the horse. Most likely, the Pegasus, which will cost the horse's ownership group $1 million to enter, will be the finale. Yet in taking a page from the never-say-never playbook, Martin is leaving the door slightly ajar. He said there's a slim 7-8 percent chance that the Cal-bred will race after the Pegasus.
"It's going to be awfully hard to run after the Pegasus after all the promises we've made to breeders," Martin said.
NYRA's Whitney offer 'not enough'
Regardless of when California Chrome exits center stage, in the coming weeks and months Martin and Sherman plan to enjoy the fruits of a campaign that has already started in superb fashion with the World Cup triumph, which came on heels of earlier 2016 wins in the G2 San Pasqual at Santa Anita and a $143,000 prep race at Meydan Racecourse on Feb. 25.
The San Diego continues that journey, though even plotting that course was complex, with several tracks lobbying Martin to bring his popular champion and his faithful legion of fans – the "Chromies" - to their circuit.
"It's nice to have people chasing you and asking you to run at their venue," Martin said.
One of the suitors was NYRA. Martin says NYRA was willing to bump the purse of the Aug. 6 Whitney Stakes from $1.25 million to at least $1.5 million in order to lure California Chrome to Saratoga, but that was not enough for him to revise the horse's itinerary to include a plane ride to New York.
Clash with Beholder looms
"New York was the big one. They wanted us to come back there. I guess they can make us do it, but they haven't pushed that hard yet," Martin said. "They want us for the Whitney. It's appealing. I've never been to Saratoga and they wanted to raise the purse for us. But it's not enough of an incentive. If they really want to bump it up, they can make us get excited about it. But the way it is now, it's not worth it. We're better off staying close to home and sticking with our plan. It has worked so far."
The next step promises to be the Pacific Classic, where California Chrome could very well meet up with the champion mare Beholder in the most eagerly anticipated matchup of the year.
"It will be quite a thrill to have him and Beholder in the same race at Del Mar. It will be standing room only that day. It's great for the sport. I think it brings out people, and you need the good horses to bring the people back to this industry. I'm looking forward to it very much," Sherman said.
"We're taking on all comers. We're not ducking anyone. There are no special races for him. We're taking on the best horses out there and, to me, he's the main one. If I could train any horse in the country, I wouldn't trade him for anybody."
North American earnings record
Martin understands a three-time champion such as Beholder will be a formidable rival, but he also knows the mare will be facing a new level of competition in the dual classic winner.
"She looks like a good mare, but she hasn't been facing Chrome," Martin said. "Let's just say I have a lot of confidence in my horse."
Confidence surely seems in order after California Chrome's victory in the World Cup, which made amends for a runner-up finish in the race a year earlier during a dissatisfying 2015 campaign in which the reigning Horse of the Year raced only twice and finished second both times. With wins in 12 of 21 career starts, California Chrome now owns the North American record with earnings of $12,532,650, thanks to his most recent victory.
"He wasn't sharp for last year's World Cup, but he still did a good job. I couldn't complain about second place, but still I wanted more," said Martin, a physicist who owns Martin Testing Laboratories, just outside of Sacramento, California. "We knew in 2016 that would be the target. We wanted to go back to Dubai and finish that unfinished business.
"That was the plan and we stuck to it. We did it the right way and got him over there early. Got him a prep race over the track. Got him acclimated to the climate. Everything went perfect."
Innovative 'super syndicate' plan
As his horse's starts dwindle down to a precious few, Martin's days are filled with working alongside Taylor Made Farm to make California Chrome's career at stud as successful as possible. Taylor Made entered the picture last year when Martin's original partner, Steve Coburn, sold his share of the horse to the farm.
Since then, the Taylor Made team and Martin have put together an innovative plan, which Martin calls "The Super Syndicate", to secure top-quality mares for a California-bred whose racetrack accomplishments have dwarfed his humble pedigree. The plan allowed breeders to buy into the ownership team and receive a share of California Chrome's earnings in exchange for sending mares to the 2014 Kentucky Derby and Preakness winner.
"I'm enjoying working with Taylor Made on a transition into the breeding portion of Chrome's career. We started the Super Syndicate and those people who got in at the start already made their money back. Now we're working on other ideas. We're talking about breeding partnerships that would be similar to ownership partnerships. It's professionally managed but it's for the smaller guy, someone who can come in with some money and buy a breeding season in a partnership with someone else just like them," Martin said.
"I'd also like to see if we can take advantage of incentives for California-breds. We can ship a mare out of state, bring her back and have the foal born in California and it's considered a California-bred, so we're talking about a program in which we'll pay for shipping a mare back and forth. We might even give a discount if someone commits to bred to him in year three. There's a lot on the table."
Shuttling to Australia possible
Martin also said there was a possibility that California Chrome could be shuttled to Australia for a dual breeding season.
"We've done a lot of research and believe there's a lot of possibilities in regards to shuttling California Chrome to Australia," Martin said. "There has been a lot of success in Australia with the A.P. Indy line, so we're exploring that."
With all that in play, it's no wonder that Martin has been able to keep his emotions in check about the impending end of one road in California Chrome's career.
For the 79-year-old Sherman, there's a different outlook.
"It's been a once-in-a-lifetime shot," he said about the four seasons he's spent training the multiple G1 winner. "There are so many good horses who go by the wayside, making it so amazing what he's done. For him to still be at the top of his game at five is very satisfying for me at my stage of my life. We all know what will happen eventually. I hope he makes it as a sire and produces Grade 1 winners. He's capable of doing it. For me, it's another stage of your life. I hope I'll be around to train his babies."
Babies, and even siblings, a concept that has filled Martin with lofty thoughts about Faversham, a yearling full brother to California Chrome he owns and plans to name after pedigree analyst Rommy Faversham, who Martin has consulted in regards to standing California Chrome in Australia.
"I have Chrome's full brother, so I'm planning on doing it again," Martin said. "I don't know if racing gods will agree with me, but I'm planning to do it again."
And with plans like that, there's surely no time for sad goodbyes.