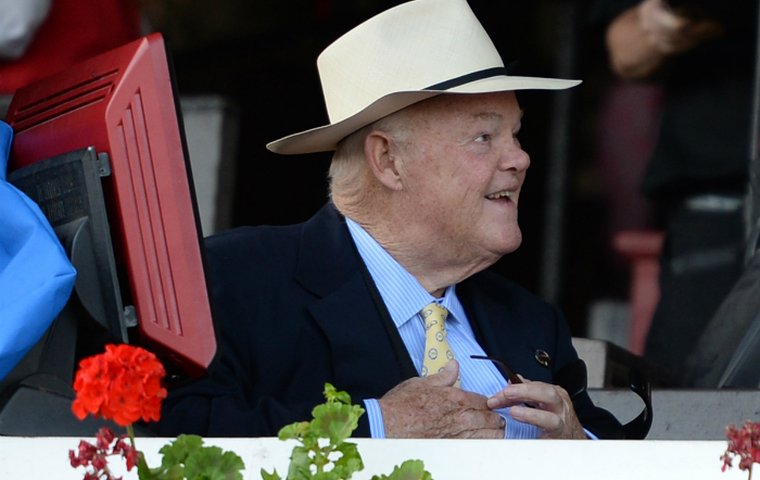 Daisy Phipps Pulito is sitting on a bench outside her family's Saratoga barn on a recent morning, gazing at a scene that is as familiar as seeing her reflection in the mirror. But the imagery is decidedly different this year, and Pulito, as if peering through a kaleidoscope filled with images of her late father, Ogden Mills "Dinny" Phipps, reacts to the landscape before her with tears and smiles, in equal measure.

Phipps, who died April 6 at the age of 75 from pancreatic cancer, was part of the fabric of Saratoga. His presence at the American summer mecca for horse racing is expected, so his absence this racing season, not only for family and friends, but for fans as well, is akin to discovering a beloved treasure has been lost.
As ubiquitous as the Phipps family's black and cherry silks are in American racing, so too was Phipps' presence on the backstretch. Each morning, from a golf cart positioned at the front of the barn of his longtime trainer, Shug McGaughey, Phipps surveyed his horses galloping and breezing on the Oklahoma training track.
Phipps' bulldog, seated on his haunches and at attention on the passenger seat, was often a companion to his master. Sometimes smoke could be detected wafting from the sides of the cart, evidence of Phipps' fondness for a good cigar. There was one constant, however, a cordial "good morning" delivered to passersby, whether he knew them or not.
Carrying the family banner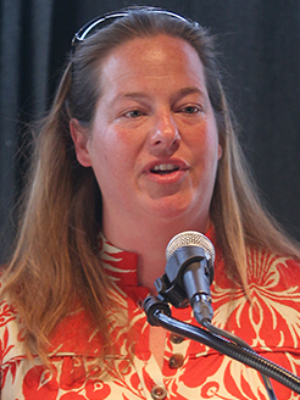 "Saratoga is one of those places my family has come to all of our lives, and normally my dad would be sitting in his golf cart, smoking a cigar over by the turn there, so this is weird," Pulito, 43, said of her first visit to Saratoga since her father's death. "Saratoga is a place where, even when we were busy with work, we always tried to come back on the weekends and during our vacations. Saratoga was always something we could do as a family; it always has been fun for us.
"It's different here now. It's different in the house. But we're all coming up here this year . . . you carry on, and you do what you have to do."
The business of breeding, raising, and racing Thoroughbreds — whose royal pedigrees reflect a carefully cultivated mating system — has continued, despite the loss of the stable's patriarch. Pulito, her five siblings, Kayce, Kelley, Lilly, Ogden II, and Samantha, and mother Andrea, are carrying the banner going forward, a precedent seen time after time in the Phipps family.
Their father's passing was preceded by the death 14 years earlier of their grandfather Ogden Phipps, one of the most prominent breeders and owners of the 20th century in American racing. Gladys Livingston Mills Phipps, Dinny Phipps' paternal grandmother, established Wheatley Stable with her brother, Ogden Livingston Mills, in the 1920s. The siblings achieved massive successes with their homebreds, including Bold Ruler, the 1957 Horse of the Year and sire of Secretariat.
Horses being horses
Word that the Phipps name would continue to be seen in the entries wasn't surprising — Dinny Phipps' children have always demonstrated a keenness for racing. But it was welcome news, nonetheless, to lovers of the sport who remain nostalgic for an era where the operation of private stables was once the rule rather than today's exception.
The ease of living and working in Saratoga, Pulito said, was of particular appeal to her father, an industry leader who was chairman of The Jockey Club for 32 years, until his retirement last summer. During his tenure, Phipps presided over the proceedings of The Jockey Club's Round Table conference, which is held in Saratoga Springs every August.
"For my dad, Saratoga was always easy," she said. "Our house is close to the barn. You see people you don't normally get to see during the year. It was a place for him to get a lot of work done in the industry, and to see his horses and learn more about the horses, and spend time with his trainer.
"He would come back to the barn a lot in the afternoons, too, and talk to Shug, when it was quiet and the horses were out grazing. That probably is the most enjoyable and peaceful time at the barn — when you can see your horses being horses."
Looking back with fond memories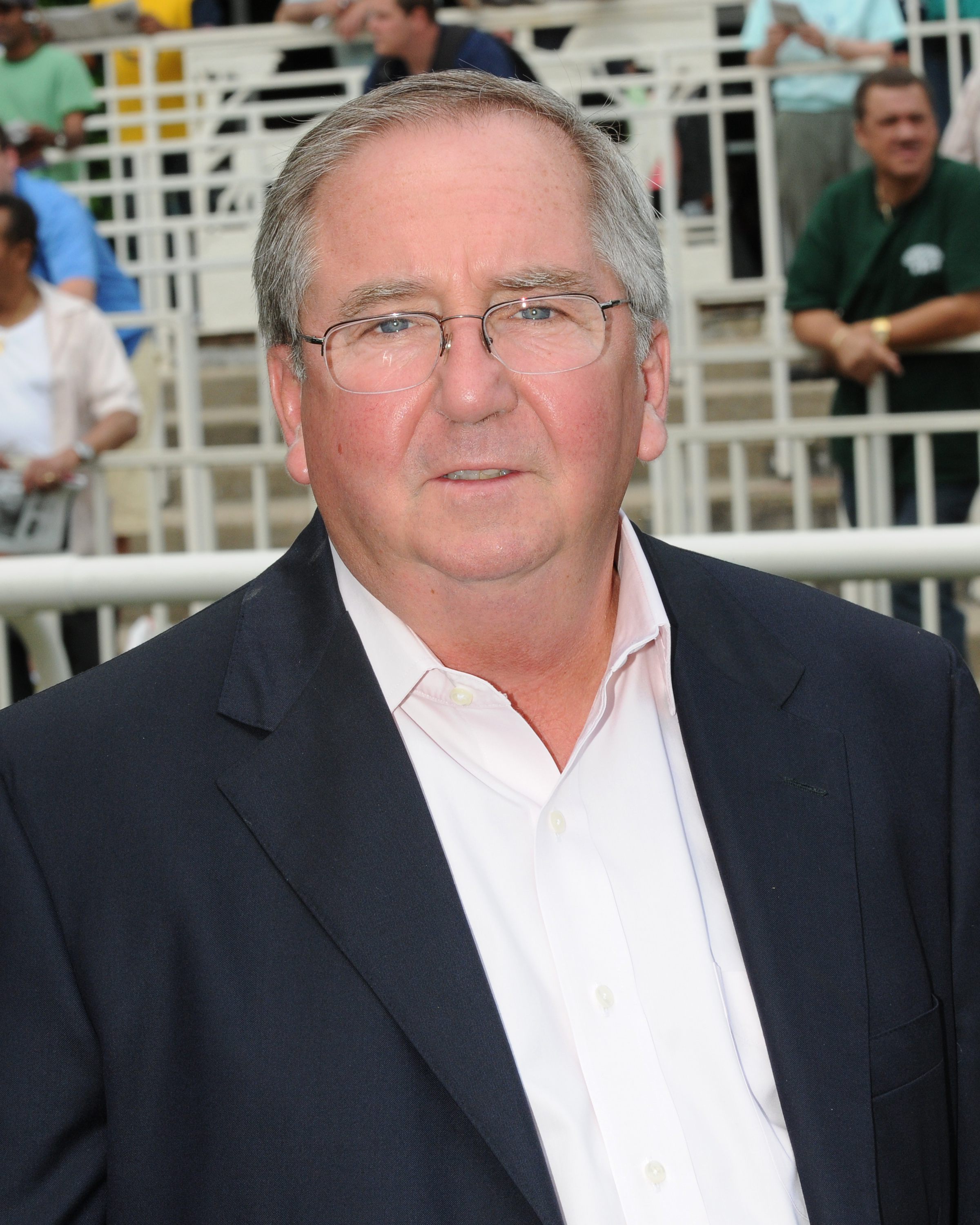 McGaughey, the private trainer for the family since 1985, is also feeling Phipps' absence this summer in Saratoga.
"It's going to be different without Dinny," McGaughey said. "I already miss him, because I don't have someone to bounce things off of daily, like I did when he was hanging around here. We'll learn to work our way through that, but I will miss him a lot.
"Last year was a special time because we knew Dinny [was sick] and to see him out here enjoying himself and having fun meant a lot to me. I look back on that with fond memories."
McGaughey, who was introduced by Phipps at his 2004 Hall of Fame induction in Saratoga Springs, saddled many Grade 1 winners at Saratoga Race Course for the owner. Among them, Rhythm in the 1990 Travers; Persistently, who upset 2009 Horse of the Year Rachel Alexandra in the 2010 Personal Ensign, a race named for Dinny's father's undefeated champion; and Point Of Entry in the 2012 Sword Dancer Invitational.
Emotional moment
The unveiling of 2-year-olds at Saratoga was always an eagerly anticipated event for Phipps. His only Kentucky Derby winner, Orb, whom he owned and bred in partnership with his cousin, Stuart S. Janney III, debuted at Saratoga in 2012. Although he finished third, Orb's effort that afternoon was one of the most ballyhooed career debuts of the meet, due to the colt's terrible break from the starting gate and his furious finish.
Phipps' Carrumba, a daughter of Bernardini whose female side of the pedigree features the bloodlines of one of the stable's many champions, Heavenly Prize, earned the first victory of her career at Saratoga in 2015. This Sunday, the 4-year-old Carrumba will provide the Phippses with their first stakes starter at the 2016 Saratoga meet, when she runs in the G3 Shuvee Handicap.
Carrumba — perhaps more so than any horse currently in the barn — is a sentimental favorite. She captured the G3 Top Flight Invitational Handicap at Aqueduct April 10, and was the first winner following Phipps' death, four days later. To say it was an emotional moment when Ogden Phipps II led Carrumba into the winner's circle would be an understatement. Had the Top Flight been run when it was meant to be — one week earlier — and not rescheduled because a wind storm forced the cancellation of the racing card April 3, Dinny Phipps would have watched from his hospital bed.
"The week my father passed away, I was in the hospital with him, my brother, and Mom," Pulito recalled. "The only thing Dad wanted to talk about was his horses. We talked about Carrumba . . . a lot. It was really cool that she won.
Fun times
"For many people, rooting for the black and cherry [silks] is what they do," she added. "[His death] is a big void for a lot of fans, too."
Pulito, who is married and lives in Lexington, Kentucky, is managing the racing operations for the family. It's not an unfamiliar role for the mother of two young children, Andrew and Charlie. She had been assisting her father for the past several years, a position that began in earnest when her father was suffering from health issues that prevented him from going to Saratoga in 2009.
"I always had my dad's back," Pulito said with a smile. "I did more of the day-to-day work and he did more of the big-picture stuff. It was fun, because it was something we could do together."
Her attention is drawn back to the scene unfolding in front of her — a set of horses returning to the picturesque barn, which features an expansive outdoor walking ring and a bathing area, a paddock lush with grass for grazing, and numerous hanging planters, with red geraniums spilling out of their sides, swinging gently in the breeze from the barn's awning.
Pulito takes a deep breath, uses her sleeve to wipe the tears pooling at the corner of her eyes, and remarks: "Hanging out with my dad on the golf cart, listening to him and Shug talk about the horses, and old times, and some of the horses that used to be in this barn . . . those were fun times."