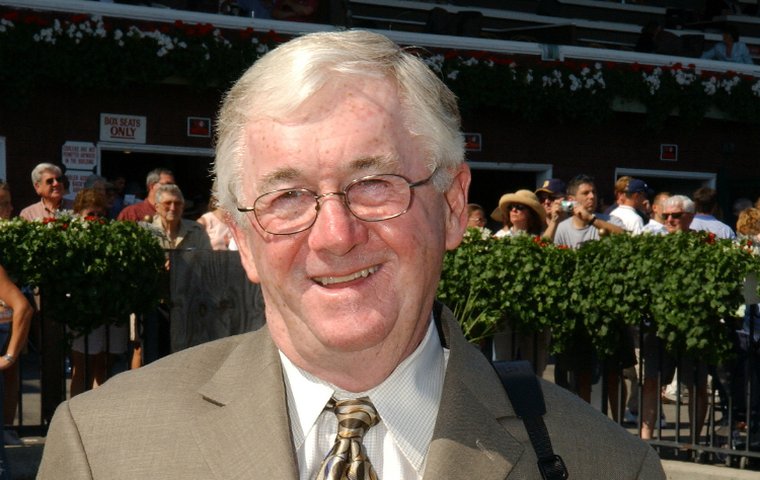 Jimmy Toner might keep a low profile, but his horses are easy to spot, especially in the morning. Just look for those bright orange bandages. Long before trainers began equipping their exercise riders with distinctive vests for easy identification during morning training, Toner was wrapping his horses' legs in those bandages, mirroring the orange "JJT" on his white saddle towels.

It might be the only way the self-effacing Toner brings attention to himself, though the talented fillies in his barn this summer may well put him in the Saratoga spotlight— and not for the first time.
A fixture on the backstretches of New York, Toner got started as a teenager in New Jersey, living on the backstretch during high school summer breaks in the 1950s. He didn't come from a horse racing family, but he did have a cousin who worked at Garden State Park and Monmouth Park, and sometimes he'd bring young Jimmy along with him to work.
"He was a bartender," said Toner, sitting in the office of his Belmont Park barn a few days before shipping to Saratoga. "So I got to meet a lot of trainers."
Army service in Korea
While his parents weren't "exactly thrilled" about it, Toner worked at the track full-time after graduating from Bishop Neumann High School in Philadelphia, starting off in the barn of W.L. (Bill) Mitchell and working the Jersey circuit of Monmouth Park, Garden State Park, and Atlantic City. That's where he stayed, until duty called. Literally.
In the mid-1960s, Toner was drafted and shipped out for a year to Korea, working in the demilitarized zone. He never saw combat, but even 50 years later, he is visibly affected by his time in the army.
"See that barbed wire?" he said, pointing to a photograph dated November 1964. "That's North Korea."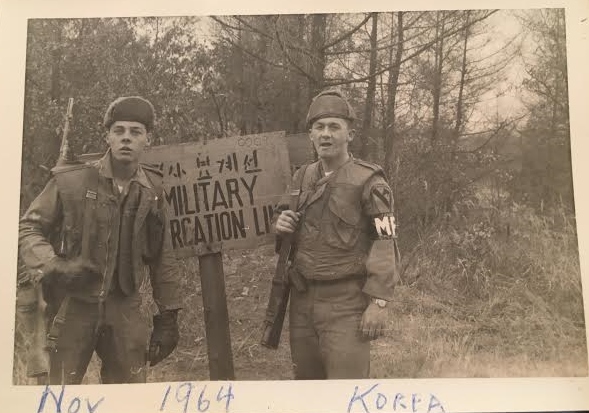 He remembered the men in the photo with him, noting that one shipped out not long after the photo was taken, and recalling with a mostly feigned sense of umbrage that, despite his being among the smaller men, he was the one made to carry around the bag of rifles.
"I thought we'd be there a few months," he said. "We ended up being there for a year."
Returning to the States, Toner went into the National Guard and opened up his own stable, two obligations that didn't always co-exist easily. During one of his two-week duty stints at Fort Drum in north central New York State, he told his commanding officer: "Look, man, I gotta take off for the weekend. I have a horse running at Suffolk Downs."
Toner flew to Massachusetts for the race, with both permission and money to bet for his fellow soldiers.
"I think the horse ran third or fourth," he said.
In the early 70s, he left New Jersey for New York, where he worked for Caesar Kimmel for two decades, finally going out on his own for good in the early 1990s.
Among his first clients was Ronald Nicholson, who had had horses with Kimmel, for whom the trainer now known best for his success with turf fillies won the 1994 NYRA Mile (now the Cigar Mile) with Flying Chevron. Twenty years later, Toner is training for Nicholson's son Justin's Ninety North Stable and AJ Suited Racing Stable, and he conditioned two of Nicholson's horses, Bold Hawk and Two Months Rent, one from each partnership, to wins in the Hawthorne Derby, exactly five years to the day apart.
In Bold Hawk, two of Toner's main clients, Nicholson and John Phillips, come together, the latter's Phillips Racing Partnership having bred Bold Hawk, the Nicholsons purchasing him privately.
Third winner of the Diana
Bold Hawk is out of Tribulation, the first horse Toner trained for Phillips and a multiple graded stakes winner, including the 1993 Queen Elizabeth II Challenge Cup Stakes at Keeneland. Later in the decade, the Phillips/Toner partnership would win the 1999 Breeders' Cup Filly and Mare Turf with Soaring Softly, who was voted that year's champion grass mare after winning seven of eight races.
Toner now trains a son of Soaring Softly, and it's not uncommon to find in his barn the offspring of the fillies and mares he's trained for Phillips. Four years ago at Saratoga, the Phillips homebred Winter Memories gave Toner his third win in the GI Diana, 14 years after he'd won the race with her dam, the multiple graded stakes winning Memories Of Silver.
Earlier this year at Belmont, Toner and Phillips' Time And Motion won the Memories Of Silver Stakes and the Wonder Again, both named for horses Toner had trained for Phillips.
"We've been blessed with so many wins," said Phillips, "but this year was a rather special moment for him when Time And Motion won the stakes race named for Memories Of Silver. Both of those horses have a special place in Jim's heart.
Stable for Saratoga
"I was honestly kind of surprised at how it affected him, but it was kind of neat that he trained not only Time And Motion's mother but also the horse for whom the race was named."
This Saturday, Toner will go for his fourth win in the Diana — and fourth with a Phillips homebred — when he runs Recepta on opening weekend in Saratoga. Later this summer, he hopes to run Time And Motion in the G2 Lake Placid, another race that he won with both Wonder Again and Memories Of Silver.
In an era when it's not uncommon to see a trainer with dozens, or even hundreds, of horses, Toner has kept his stable small. He'll bring about 12 horses to Saratoga, half of them 2-year-olds that will train or make their first start there, several of them relatives to horses in his barn now or to horses that he used to train. Both Phillips and Nicholson point to that approach as a reason for Toner's success.
"He takes them all as individuals, and he paces each horse based on that horse's own proclivities, as opposed to trying to accelerate or slow down the pace because of other horses in the barn," said Phillips.
"It's an advantage, too," he went on, "that he's often trained their mother, because he picks up on the family traits and feeds me information that we take into consideration as we breed the next generation."
'Spoiled brats'
Said Nicholson: "He cares greatly about the horses and he tries very hard to do what's right. You just feel that your horses are in the hands of someone who really loves the animals."
"You can't help but get close to them," said Toner, speaking particularly of the fillies, which he admits are a little easier to deal with than the colts. "I made spoiled brats out of all of them."
Despite his decades in racing, Toner is not given to looking back. He can be drawn into telling stories, though, and even as he anticipated this summer's Saratoga meet, he indulged in a moment of retrospection.
"Early on, there was nobody up there," he said. "The big meet then was Atlantic City. Now Saratoga's huge, and Atlantic City's closed."
Then he shifts perspective again, pointing forward. "I like going up there [to Saratoga]," he said. "As long as you can win a race, it's good. And I'm thinking about going up there now to try to win some races."
Said Nicholson: "To me, the most telling thing about Jim is that, when we're in a race, the other trainers are thinking, 'If it's not me, I hope it's him'. He's the guy other people are rooting for."