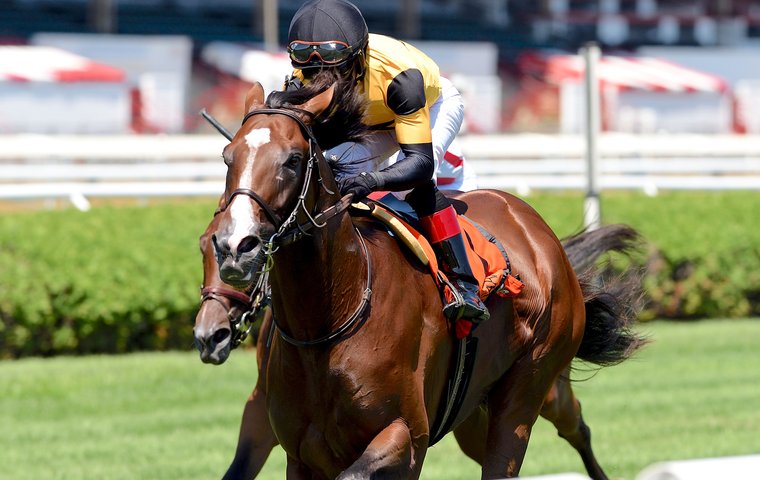 When trainer John Kimmel decided to enter Mr Buff for the G1 Whitney Stakes at Saratoga, the conditions for the big race told him that his horse would be carrying 6lbs less than the likes of Improbable, Code Of Honor and Tom's d'Etat. As the race was run last Saturday, however, his horse had just a 4lb pull against these heavyweights.

When G1 winner No Parole's name appeared in the entries for the G1 Jerkens Stakes, under race conditions he would have to shoulder 124lbs, six more than most of the field. On raceday, also last Saturday, he got away with spotting those horses just 4lbs.
This, of course, is all down to weights being raised very sensibly for health reasons during the Covid-19 crisis. Measures have been taken in many jurisdictions around the world. At many U.S. tracks, including Gulfstream Park, Monmouth Park and Del Mar, there has been an across-the-board increase of 3lbs on every runner to reduce the need for last-minute 'hot box' wasting for jockeys - the cramped racecourse sauna rooms have become no-go areas because of social distancing requirements. Now no horse is required to carry less than 118lbs.
At Saratoga, though, there's an extra twist. The jockeys have agreed they won't ride at less than 120, which means runners assigned 118 or 119 are actually carrying one or two pounds more to round up to 120. But the horses assigned 120 or more are unaffected - their weights stay the same.
Which can make a crucial difference.
Take the G2 National Museum of Racing Hall of Fame Stakes, a turf contest for 3-year-olds at Saratoga in July. According to the conditions, the strong favourite, Decorated Invader, was being asked to carry 124lbs while all of his rivals were to carry 118. Decorated Invader is the best 3-year-old turf performer based on the East Coast. Connections of horses lining up against him all knew they were up against it, though a 6lb pull should have helped.
Most handicappers would agree that 6lbs equals about three lengths. So why not take a shot?
In the event, all four of his rivals had to carry 2lbs extra to race at 120, while Decorated Invader's weight remained at 124. The goalposts had moved – in his favor. And indeed he won by 1¼ lengths. Imagine if the margin had been half a length, a neck, or a head.
The chances are that it will happen soon. A runner-up whose weight has been unfavorably raised will be narrowly beaten. Under such circumstances, should the connections of the beaten horse feel robbed?
In my book, they should. Simply because they had decided to enter their horse based on conditions advertised in the programme book, conditions that would have given them a better chance than those imposed on them on the day.
Raising the lower weights but not those for the most accomplished contenders can only achieve one thing - giving runners with the best previous results a better deal.
The field for this Saturday's Ballerina Stakes handicap had not been drawn at the time of writing, but the weights have been published. Interestingly, 13 of the 28 pre-entries have been assigned 119lbs or less. How many of them will end up being 'out of the handicap' on the day?
If this practice continues, it could have significant implications in several upcoming races. Take the G1 Hopeful and the G1 Spinaway Stakes, due to be run at Saratoga in early September. Both races offer a 2lb allowance for any maiden winner, and a 4lb pull if a maiden goes through the entry box. As the base weight for both races is 122lbs, these weight allowances could be wiped out entirely.
Such changes are made even in races that are not just important championship contests in their own right, but also crucial 'Win and You're In' contests for the Breeders' Cup. These weight swings may seem small, but they can make a crucial difference to a horse's season.