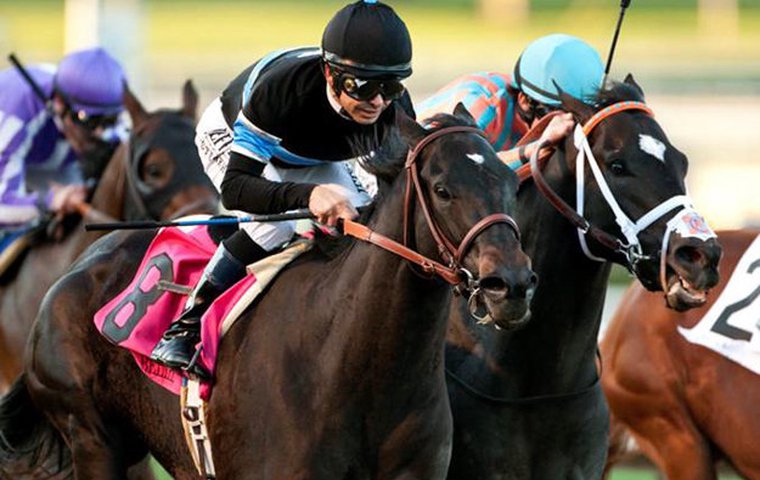 The San Antonio Stakes does not have the celebrated past that many handicap division races across the country do. A G2 at Santa Anita, only four champions have won it in the last half-century. Gulfstream Park's Donn Handicap - a race in the same division, at the same 1 1/8-mile distance - has meant considerably more to the history of the sport. Both races will be contested at their respective tracks this Saturday. Most would think of the San Antonio as nothing more than a prep for the Big 'Cap, and 99.9 percent of the time they'd be right.

But this year, the San Antonio could also be a road to Damascus moment for North American racing.
In the afterglow of the Eclipse Awards, and before the Derby campaign reaches its cruising speed, the 2015 edition of the San Antonio is the type of marquee event racing doesn't usually produce this early in the year. Two of the above-the-title stars are coming back to answer some of the questions left unanswered by last November's controversial Breeders' Cup Classic, with the third star waiting in the wings.
Racing is in a propitious situation. We have entered the post-Super Bowl, pre-March Madness down period on the sports calendar and here the sport of kings has a noteworthy event with genuine narrative. While it's unlikely to lead "SportsCenter" or get much talk radio attention, the San Antonio is going to carve its own space in the news cycle. If we get a California Chrome-Shared Belief stretch duel, the sport will be energized in a way that it hasn't been in quite some time. (A couple of my handicapper friends have asked that I mention Hoppertunity in this space. He's entered, too, and has a good chance; you've been warned, gamblers.) The race will be televised Saturday on Fox Sports 1 from 5:30-7:30 p.m. EST.
It all starts with having California Chrome back. Rarely--at least in this century--do Derby-Preakness winners return for a 4-year-old campaign. I'll Have Another, Big Brown, Smarty Jones, War Emblem, and Charismatic (not to mention Preakness-Belmont winners Point Given and Afleet Alex) all hit the breeding shed after their sophomore seasons. Only Funny Cide, a gelding, won two legs of the Triple Crown and stayed in training beyond his sophomore campaign.
Triple Crown success has always been the quickest and surest way to stardom in racing. The fact that the connections of the most prominent names in the sport so frequently call it quits after 3-year-old success yet before their charges peak as race horses is a major detriment to racing as a spectator sport. Once you've punched your ticket to the breeding shed, why stick around and potentially hurt your brand while risking injury on the track? Though it's hard to argue with the sound fiscal sense of sending a Classic winner to stud at the peak of health and value, the monolith of the breeding business--which, of course, plays a vital part in the industry--towers over the racetracks to such a degree that the game on the field suffers. Stir that in with an ever-growing predilection among trainers to hunt and peck gentle landings for their top horses, and you have a dish that leaves fans still hungry.
If the sport is to grow, or simply maintain, in the coming years, we need to see more of its stars. It's a pretty tall order to ask Bob Baffert or Todd Pletcher to push their horses to race more often; I don't profess to know what's best for the horse more than trainers do, but I do have an idea what keeps fans like me interested in horse racing.
California Chrome has returned to the track and racing needs to capitalize on that. We need Chrome to race, to face all the top contenders, and to do it as often as his body will allow. We need to hear the word "rivalry" used in reference to horses stabled on separate circuits. We need Wise Dan and Palace Malice and Untapable and Main Sequence to keep grinding away. And since "Big Days" are the way of the world now, at least a handful of these names should be on the--nationally televised--undercards for all the Triple Crown races this spring, facing off against one another, developing rivalries, generating interest.
How about trying--as the great Steven Crist wrote a few years ago--to link up races from different tracks, in the same division, and televise them as a series? It worked, briefly, in the early '90s, and it still seems to be working well for the Triple Crown. We could and should have a reincarnation of the American Championship Racing Series… in every division.
The roadblock keeping this from happening is the one that turns articles like this into fantasy. Without a singular authority or centralized governing body, North American racing is bound to repeat its mistakes. It's the same problem that has crippled boxing over the years (and it's the reason Mayweather-Pacquiao is happening about five years too late.) Since there is no governing body, no commissioner to incentivize top horses to square off against one another as frequently as possible, we must rely on the willingness of competing tracks to play nice. As with owners cashing out early, or trainers playing it safe, asking tracks, many of which don't exactly have bullish bottom lines, to value the greater good over their own profitability, may be asking too much in an open market.
They owe it to their sport, however, at least get themselves to the negotiating table.
In three months, the racing world (and beyond) will fall in love with a new matinée idol, some fresh-faced 3-year-old draped in roses, grinning in the glow of spring sunshine and flashbulbs, and trafficking in fantastical hope the way so many young stars have done similarly in the past. If this new hotshot then makes back-to-back scores, the wave of excitement leading up to the last installment of a trilogy could make all the aforementioned racing stars--even California Chrome, last year's of-the-moment darling--old news. Isn't that always the way?
I'm genuinely excited to watch the San Antonio this weekend. California Chrome and Shared Belief are both versatile enough that any matchup between them offers the open-ended fascination that breeds wonderful spectacle. When you think beyond this race and see the depth of name-brand talent at the ready in 2015, it's easy to imagine a wonderful year unfolding where the country's best horses continuously provide exceptional theater for rapt audiences of both racing lifers and newbies. I hope the energy generated by this winter showdown does not fizzle out immediately. If racing is to create any lasting momentum in North America, the San Antonio has to be the start of something longterm, not a fleeting, solitary thunderclap.