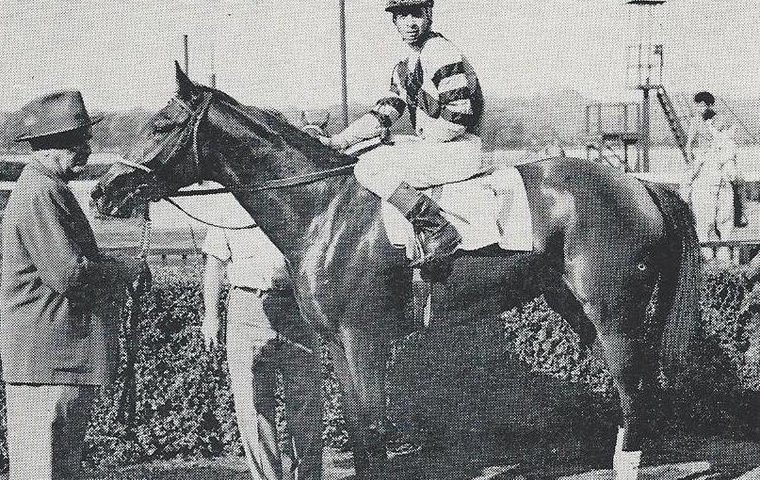 Some horses seem to fall through the cracks of history. They may have been practically household names in their era, garnering headlines and plaudits for their accomplishments, but they somehow become lost in the relentless progression of time. One such, a personal favorite, is Idun.

Named for the Norse goddess of eternal youth, Idun (pronounced EE-doon), was a multiple champion, earning best female honors at two and three, and setting a record auction price for a yearling filly.
Foaled on April 14, 1955, Idun was offered by her breeders, Leslie Combs II and John W. Hanes, as part of the Spendthrift Farm consignment at the Keeneland summer yearling sale in August of 1956.
Taken with her athletic looks, trainer Sherrill W. Ward purchased her for a then-record $63,000 on behalf of owner Josephine Bay. Her husband, Charles Ulrick Bay, who had died in December of the previous year, had been United States ambassador to Norway from 1946 to 1953. After his death, Mrs. Bay was named president and chairman of the board of directors of her husband's Wall Street firm, A. M. Kidder & Co, one of the few women at the time to lead a Wall Street concern.
Hall of Famer Ward, the son of trainer John S. Ward, started training in 1929 and oversaw the early career of multiple champion Forego until his retirement in 1975, when he handed over the training of the great gelding to Frank Whiteley.
Unbeaten juvenile season
The bay Idun was from the first American crop of Royal Charger, a son of Nearco who was a multiple stakes winner in England and began his stallion career at the Irish National Stud before being purchased to stand at Spendthrift in 1953.
She was the first foal from her dam, Tige O'Myheart, a 1950 daughter of Bull Lea, who was bred by Calumet Farm and raced for them until July of her 3-year-old season, when she was sold privately to Neil S. McCarthy, a Los Angeles attorney who had purchased and imported her sire. She only managed one win from 14 starts and was then sold privately to Combs and Hanes. She was a half-sister to 1947 Preakness winner Faultless, both being out of co-champion 3-year-old filly Unerring.
Idun made her career debut on July 19, 1957 in a five-furlong maiden at Belmont over the straight Widener course. She finished second in the field of 18 with jockey Eric Guerin aboard but was promoted to first following the disqualification for interference of the winner, Bridgework.
She remained unbeaten in her seven subsequent juvenile starts.
On August 16, she came from behind in a 5 ½-furlong allowance at Saratoga to win by 3 ½ lengths, again with Guerin aboard. She followed that with an all-the-way win at Saratoga over six furlongs on August 27 and at Belmont on a sloppy track on September 14. She claimed her first stakes win a week later in the six-furlong Matron at Belmont by three lengths, this time under Bill Hartack.
Unanimous vote
After a nose victory in her first attempt at a mile at the now defunct Garden State Park in New Jersey came a three-length victory over 14 others in the 1 1/16-mile Gardenia, also at Garden State, on October 19. It was jockey Hartack's 40th stakes win of the year, tying Eddie Arcaro's record set in 1952. Hartack went on to tally a record 43 stakes wins.
In the October 30 Frizette, over 1 1/16 miles at Jamaica, Idun's 1 ½-length win took her past Top Flight's earnings record of $219,000 for a 2-year-old filly, set back in 1931. The winner's share of the Frizette's $50,000 added purse brought Idun's seasonal earnings to $220,955. She was unanimously named that year's champion 2-year-old filly.
In December, the executive committee of Kidder & Co issued an ornate resolution stating that, as she had established a world record for earnings as a 2-year-old, and that this had been achieved in 'a total of nine minutes twenty-eight and three-fifths seconds' the committee 'is pleased to elect said filly IDUN an honorary Vice-President with the hope that this recognition will serve as an inspiration to all producers of the firm who are now dragging their feet'.
Perhaps the new vice-president didn't read the proclamation. She won only half her ten starts at three, but still was accorded champion 3-year-old filly honors. She started off promisingly, winning at Garden State by eight lengths on May 10. The six-furlong allowance victory was noteworthy in that Idun became the shortest priced winner at Garden State since Triple Crown winner Citation won the Jersey Stakes there in 1948.
Teeth problems
Two weeks later, she was fourth in another allowance, this time at Belmont. The winner was A Glitter, who would go on to win the Coaching Club American Oaks.
Ward offered an explanation for his filly's substandard performance, saying that Idun had been shedding caps from her teeth, causing her discomfort in her mouth. The day after that race, Ward sustained ruptured blood vessels in a leg after being kicked by a loose horse. Horse and trainer were both on the shelf for the next month, causing Idun to bypass the Acorn and CCA Oaks.
Her next start was in a six-furlong Belmont allowance on June 27, which she won by three lengths. Her 3-year-old stakes debut came in the second ever running of the 1 1/16 mile Mother Goose on July 5, closing day of the 48-day Belmont meet. She won by three lengths with Hartack aboard over eight others in front of a crowd of 32,229.
A week later she was second in the Delaware Oaks on a sloppy track behind Acorn winner Big Effort, who had finished behind her in fourth in the Mother Goose. Ward decided after the race that Idun needed more time between her races, so she skipped Saratoga.
A four-length win in a Belmont allowance in early September served as a prep for the 1 1/16-mile Gazelle, which she captured by 4 ½ lengths as the 124-pound highweight over the good Tempted and A Glitter.
She ran fifth of 17 in the October 4 Beldame, then nine days later was fourth in the Ladies Handicap. She concluded her season on November 8 by finishing third against males in the 1 3/16-mile Roamer Handicap at Jamaica.
4-year-old campaign
By the start of Idun's 4-year-old campaign Josephine Bay had remarried and was now Josephine Paul. Her star filly kicked off the year with a narrow victory in the seven-furlong Columbiana Handicap at Hialeah in February. She ran unplaced in the Black Helen Handicap at the same track in March.
She went on to win the Colonial Handicap at Garden State in May, then finished third in the Distaff Handicap at Belmont nine days later under 125 pounds. A month later she was second in the six-furlong Regret Handicap at Monmouth carrying 126. She was hit in the eye with a clump of dirt in the race and missed her next engagement in the Molly Pitcher.
She came back to win the Liberty Belle at Belmont on July 6 at six furlongs, then was fifth in the 1 1/16-mile New Castle Stakes at Delaware, won by Tempted.
With the mile-and-a-quarter Delaware Handicap deemed a trip too far, she finished third to Tempted in an overnight handicap at Saratoga, followed by another third in the seven-furlong Vagrancy at Belmont.
Winning offspring
In the one-mile Maskette at the newly opened Aqueduct, she went off at generous odds of almost 9-1 and scored by 1 ¾ lengths over favorite and 126 pound highweight Tempted, who reversed the placings in the nine-furlong Beldame at Aqueduct. Idun concluded the season, and her career, as runner-up in the six-furlong Interborough Handicap at Belmont on October 28.
Idun retired with 17 wins from 30 career starts and earnings of $392,490. She didn't earn any year-end titles at four.
She went on to have nine foals, five of them winners, but none matching the calibre of their dam.
Her first, Bless Swaps, a filly by 1955 Kentucky Derby winner Swaps, won once from four starts. Her next, another filly, named Verana, by multiple stakes winner Summer Tan, scored once from nine tries.
She didn't produce any foals for the next five years, then came Beaverstone, by 1963 Kentucky Derby winner Chateaugay, who never won. Her next foal, a filly by Graustark named Monochrome, also never won. Ben Adhem, her colt by Ribot, won nine of 47 starts, including two stakes at now closed Longacres in Washington State.
Her next three foals, Honored Guest, Lord Ligonier and McCutcheon, were by Graustark, while her final foal, North Bay, was by Good Counsel. Idun died in 1979.
Idun is not a member of the American Racing Hall of Fame. Perhaps she should be.
Sources
American Racehorses – 1957, 1958, 1959
Great Breeders and Their Methods: Leslie Combs II and Spendthrift Farm, Mary Marshall
Legacies of the Turf: A Century of Great Thoroughbred Breeders, volume 2, Edward L. Bowen
Chicago Tribune online archives
Daily Racing Form online archives