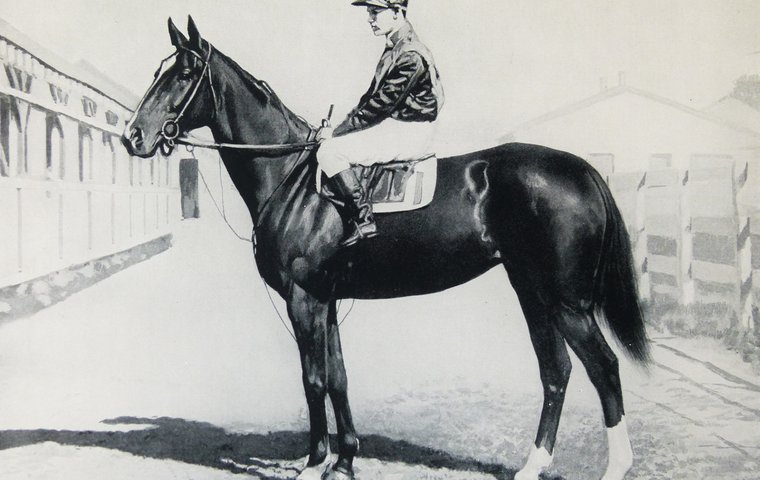 The Beldame Stakes, run every autumn at Long Island's Longchamp, Belmont Park, has showcased an elite list of winners since its inception in 1939, among them champions Gallorette, Cicada, Gamely, Shuvee, Lady's Secret, Personal Ensign, Go For Wand and Havre de Grace. And Forever Unbridled joined the roll of honor with an easy win in the 2016 edition on Saturday.

The filly the race was named after was owned and bred in 1901 by August Belmont II at his Nursery Stud near Lexington, Kentucky. Belmont, who served as chairman of The Jockey Club from 1895 until 1924, was also the breeder of Man o' War, but sold him as a yearling.
A strongly built dark chestnut with straight front legs and a well-set neck, Beldame was by Octagon. A foal of 1894 owned and bred by August Belmont I, Octagon won the Withers, the Toboggan twice, and ran third in the Belmont Stakes. Beldame was by far his best offspring.
Her dam, Bella Donna, foaled in 1885, was bred in Britain and imported to the U.S. by Belmont senior as a 3-year-old in 1888. She was purchased by Belmont for $8,800 at the dispersal of his father's horses in 1891 following his death the previous November.
In addition to Beldame, she produced four stakes winners for Belmont, including 1907 Preakness winner Don Enrique. Beldame's breeding was all British, except for her American-bred sire and French-bred paternal grandsire and great-grandsire.
Dsagreement with the trainer
Belmont leased Beldame at two and three to one of his friends and business associates, Newton Bennington, as Belmont was busy with such projects as the New York subway system and the construction of the new Belmont Park.
Her first racecourse appearance was on June 10, 1903, at Gravesend in a five-furlong maiden, where she finished second as the 5-2 favorite. The Daily Racing Form chart noted that she was nearly left at the start and "closed a tremendous gap and was going faster even than the winner and in the end was much the best and is evidently a high-class filly".
She found her way to the winner's circle in her next start, the Vernal Stakes at Sheepshead Bay, again over five furlongs, at the beginning of July, scoring in what would become her usual wire-to-wire fashion.
Belmont had a disagreement with his trainer, John J. Hyland, over the seriousness of a skin problem the filly developed after she was shipped to Saratoga. The trainer felt it was only mosquito bites, but Belmont thought it could be hives or shingles.
When Beldame ran a poor sixth in an overnight race at Saratoga, eight lengths behind eventual 2-year-old filly champion HamburgBelle, Belmont insisted she be scratched from the prestigious Futurity. In response, Hyland announced he was quitting at the end of October.
Long-gone New York racetracks
Hyland had trained two Belmont Stakes winners for Belmont, Hastings (grandsire of Man o' War) in 1896 and Masterman in 1902, along with two-time horse of the year Henry Of Navarre (official year-end championships didn't begin until 1936; earlier championships were decided retroactively).
Following that defeat, Beldame came back to win the six-furlong Great Filly Stakes at Sheepshead Bay in early September by a head. Later that month she was third in the Matron Stakes at Morris Park over the same trip. Only a few days after that, she went up against colts in the Nursery Handicap, again at Morris Park, finishing fourth.
Beldame graced several long-gone New York City area racing venues with her presence. Sheepshead Bay in Brooklyn held its inaugural meeting on June 19, 1880, and boasted the first turf course in America, the opening-day feature being the nine-furlong Green Grass Stakes on the lawn for 3-year-olds.
That track's fate was sealed with the passage of the Hart-Agnew Bill, effectively banning betting in New York State. Two other Brooklyn courses, Brighton Beach (opened on June 28, 1879) and Gravesend (opened August 26, 1886), which held the Preakness from 1894 through 1908, also didn't survive the legislation's enactment in 1908. Racing resumed in 1913.
Beldame made her first start for Bennington and new trainer Fred Burlew in November, defeating colts in a six-furlong overnight race at Aqueduct by four lengths on a sloppy track.
Epsom Derby-winning rider
She lost only twice in 14 starts at three, both times to older males, but she did kick off the season by beating them in the Carter Handicap at Aqueduct. In the Metropolitan Handicap at Morris Park she broke badly and, under a featherweight 98 pounds, finished third to the 4-year-old colt Irish Lad.
She ran off with jockey Gene Hildebrand before the Ladies Stakes, then restricted to 3-year-old fillies, at Morris Park in May and galloped around until finding a gap that led back to her barn. She was returned to the track, and not only started in the race, she broke in front, led all the way in the one-mile contest and won eased up by threequarters of a length.
After the Ladies, Frank O'Neill became her regular rider. He had ridden her in her last race as a juvenile and her first at three, the Carter. O'Neill rode the great weight-carrying gelding Roseben several times, including a victory in the 1905 Manhattan Handicap (then run on dirt) under 147 pounds. He went to France to ride when racing in New York shut down, and was later 11-time champion jockey in France, along with winning the Epsom Derby in 1920 on Spion Kop and the 1911 St Leger and 1912 Ascot Gold Cup aboard Prince Palatine.
Beldame reeled off four straight victories, commencing with an allowance in the slop at Gravesend. She romped home by 10 lengths in the Gazelle at Gravesend as the 124-pound highweight, again on a sloppy surface, followed by the nine-furlong Mermaid Stakes at Sheepshead Bay by seven under 126, and a mile allowance at Sheepshead Bay by two.
'Exercise gallop'
In the one-mile Test Handicap at Brighton Beach in July, she finished second, beaten only a length by the 5-year-old multiple champion male Hermis, who equalled the track record carrying 133 pounds to Beldame's 115. A month later, she won the Alabama by six as the 1-20 favorite in what was described as "an exercise gallop".
Such now well-known stakes for 3-year-old fillies as the Acorn and Coaching Club American Oaks did not yet exist during Beldame's time, having their first runnings in 1931 and 1917, respectively.
Two weeks after the Alabama, in the mile-and-threequarter Saratoga Cup, she faced the 4-year-old Africander, who had set a new track record in winning the race the previous year and had also won the Belmont Stakes. Among the rest of the field were 1903 American Derby winner The Picket and 1902 Lawrence Realization winner Major Daingerfield. Beldame beat them by four lengths on a sloppy track carrying 108 pounds. The Daily Racing Form heaped her with praise, saying she was never fully extended and "simply played with the others".
All the way scores in the Dolphin Stakes and September Stakes at Sheepshead Bay, and the First and Second Specials at Gravesend rounded out her season. She had been successful at distances from seven furlongs to a mile and threequarters. She was named champion 3-year-old filly and Horse of the Year.
She returned to Belmont's ownership in 1905, and her first start was a timely one - May 4, opening day of the new Belmont Park.
The feature was the Metropolitan Handicap, transferred from the now shuttered Morris Park. The previous year's champion 2-year-old. Sysonby, dead-heated with 5-year-old Race King for the win, with Beldame back in ninth.
Inseperable companions
After a second and a win at Gravesend, she won the mile-and-a-quarter Suburban Handicap with 123 pounds, becoming only the second female to capture the race after Imp in 1899.
A pair of seconds and thirds followed, she then ran unplaced in the Delaware Handicap at Saratoga, and in her final start was second in the Saratoga Cup.
"She seemed to have lost her old-time vim and dash" was the opinion in the Thoroughbred Record on the announcement of her retirement. The Morning Telegraph, recalling her at her best, declared her "A public idol".
She closed out her career with 17 wins, six seconds and four thirds in 31 starts, with earnings of $102,135, becoming only the third female to surpass $100,000 in lifetime earnings, after Miss Woodford and Firenze.
A side note in the Thoroughbred Record article remarked: "For the last two seasons, Beldame's constant companion has been a roan pony. They were inseparable companions. Whenever Beldame appeared on the track for exercise the pony accompanied her. Now that Beldame is through with the track work, the pony has been retired also."
Her unusual eating habits were also duly recorded. She had an aversion to oats, and would never eat more than three quarts a day, but she loved ears of corn, and would devour seven or eight a day, stripping them down to the cob.
Shortly after her retirement, Aqueduct introduced the Beldame Handicap, originally for 2-year-old fillies.
She produced three winners from seven foals, but none approached their dam's ability. She died in 1924, the same year as her owner.
She was a member of the second ever group of inductees into the American Racing Hall of Fame in 1956. Her jockey, Frank O'Neill, and first trainer, John J. Hyland, joined her in that same class, while Fred Burlew, who went on to train 1922 Kentucky Derby winner Morvich, had his name added to that illustrious list in 1973.
Sources
American Racing Manuals, 1961 & 1971
Daily Racing Form online archives
"Beldame Retired to Stud", excerpt from The Thoroughbred Record, August 26, 1905, in Hoofprints Through the Century, William Robertson and Dan Farley
Racing in America, Walter S. Vosburgh, 1922, privately printed by The Jockey Club
Thoroughbred Champions, Top 100 Racehorses of the 20th Century, 1999, The Blood-Horse, Inc., chapter by Deirdre B. Biles
Women of the Year, Jacqueline Duke, ed., 2004, Blood-Horse Publications, chapter by David Schmitz