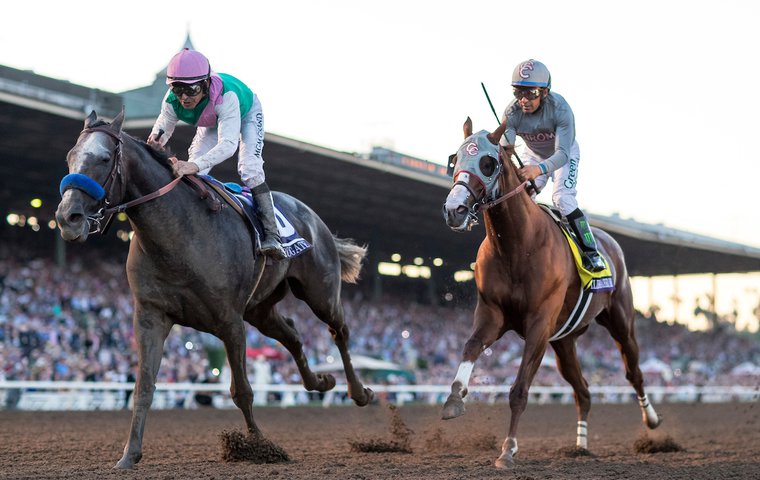 There's a tendency in many sports to confuse luck with ability. Take a baseball or soccer team that wins a major championship. Often the coach's role is dismissed by critics who believe that anyone with a modicum of knowledge about that sport can lead a team loaded with stars to a title. Of course, it's never that simple.

Not in basketball. Not even in horse racing, where some might foolishly tell you that any loud-mouthed $2 gambler in the grandstand could train a champion equine.
Just watch what Bob Baffert does and you'll know better.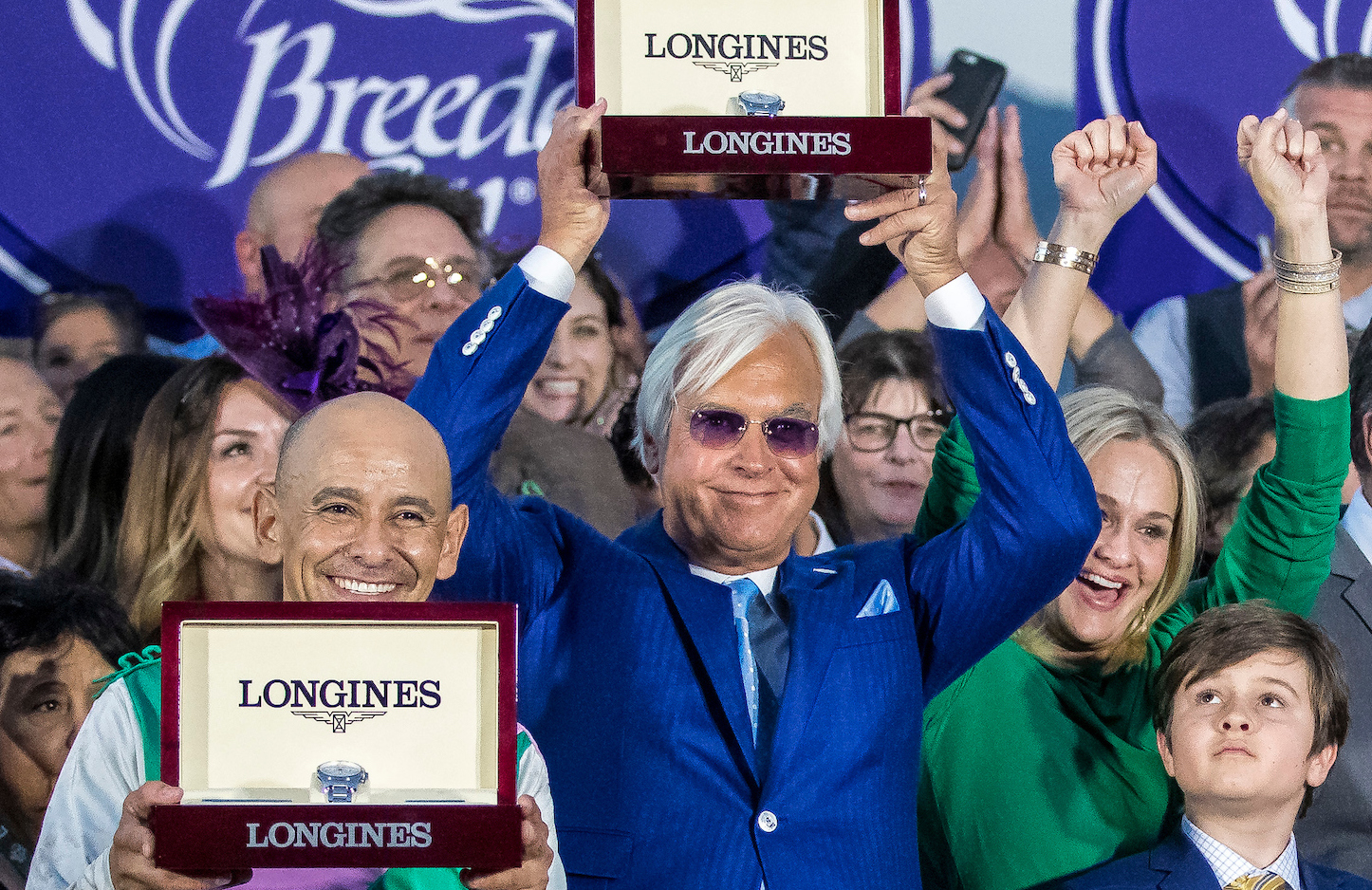 If training great horses was easy, plenty of other people would have won both the Travers and the Breeders' Cup Classic with the same horse.
Instead, on Saturday, in front of 72,811 witnesses at Santa Anita Park and millions more watching on television around the world, he sent out Juddmonte Farms' Arrogate to stun heavily favored California Chrome by a half-length in the $6 million Breeders' Cup and became the first trainer to pull off a Travers-BC Classic with the same 3-year-old.
In the process, he also became the first trainer to win the mile-and-a-quarter Breeders' Cup Classic in three straight years.
Superlative operation
He might have two more years to go to match Woody Stephens' Joe DiMaggio-like five Belmont Stakes wins in a row, but before Saturday he was one of only two trainers to ever win the race in back-to-back years – and his company in that exclusive fraternity, Jay Robbins, won it with the same horse (Tiznow 2000-01). Baffert assembled his hat trick with three different 3-year-olds (previously with American Pharoah in 2015 and Bayern in 2014).
Lest we forget, he also pulled off the first-ever Grand Slam last year when he tacked a BC Classic win onto American Pharoah's Triple Crown sweep – and how we can we forget that Baffert ended a 37-year Triple Crown drought with his beloved Zayat Stables superstar.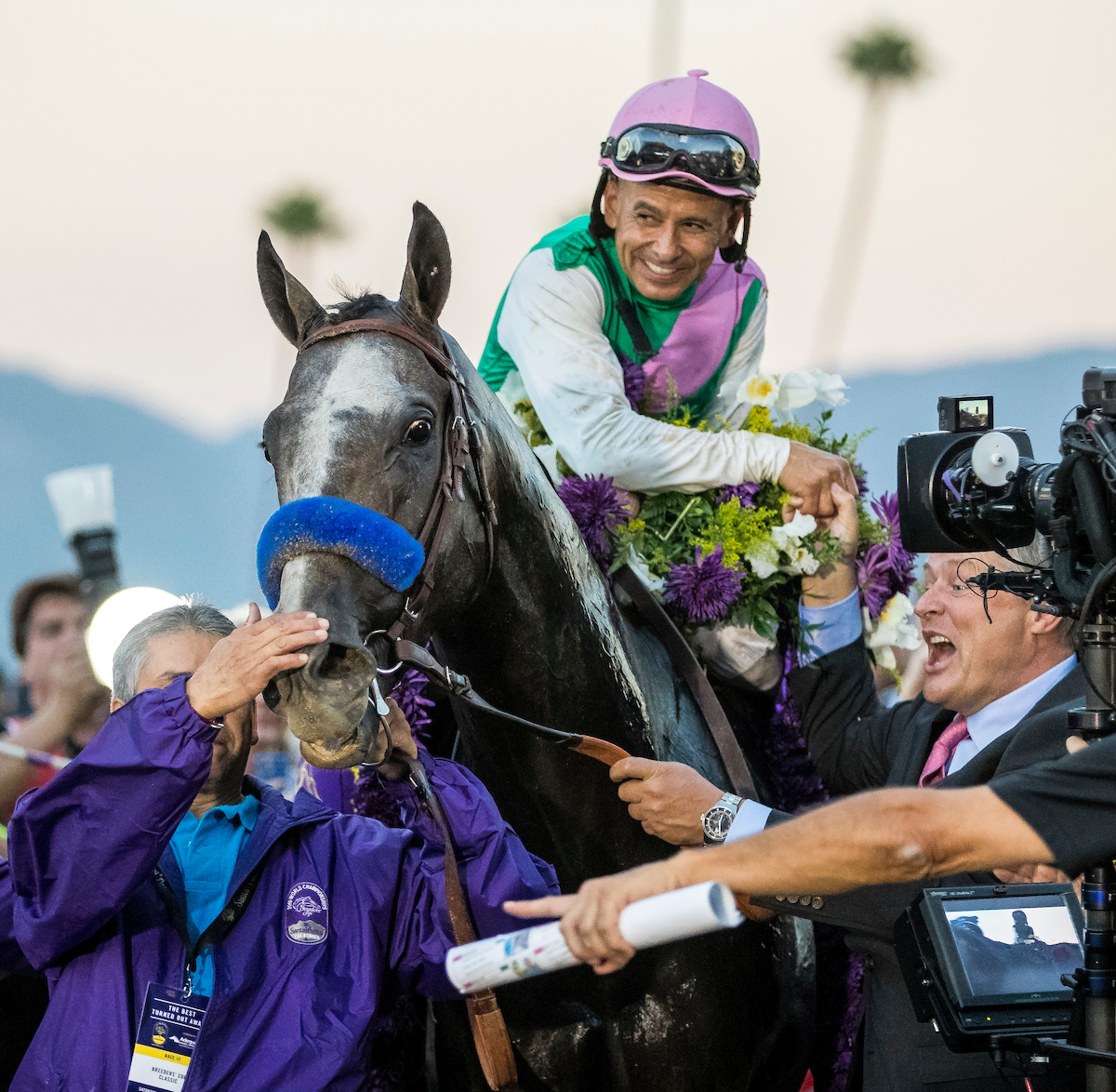 He's surely not doing it alone. He was a highly capable assistant in Jimmy Barnes and has access to the sport's best riders, jockeys such as Hall of Famer Mike Smith who rode Arrogate, and some of its richest owners. His operation is superlative. Yet if anyone thinks they can go to Golden Gate Fields or Finger Lakes and rustle up someone to step in and seamlessly take over Baffert's barn, they simply have not been paying attention to the sport's major races in recent years.
"Now Bob appears to own the Classic," said Juddmonte President Dr. John Chandler. "We'll have to call it the Baffert Benefit after this, I think."
No need to think. A change would be quite appropriate after Baffert's latest bit of magic at the 33rd edition of the World Championships.
Remarkable training feats
"My good friend (trainer) Jerry Hollendorfer," Baffert said at a press conference following the BC Classic, "always tells me you always seem to pull a rabbit out of your hat on these big days."
"He used another word instead of hat, though," Smith chimed in to loud laughter.
Regardless of where it comes from, training feats like the one with Arrogate are simply beyond the scope of most trainers. Yet, at 63 years-old, Baffert has pulled off two of the best training feats in his career by winning the BC Classic in back-to-back years with horses coming off 10 weeks rest – which is a remarkable statement considering that Baffert was a Hall of Famer, three-time Eclipse Award winner and developer of 12 champions before American Pharoah entered his life.
And, once the Triple Crown winner headed to stud, who figured Baffert could find someone good enough to beat California Chrome, a 2014 Horse of the Year and North America's all-time leading earner?
"After losing Pharoah, I thought how are you going to beat something like that with everything we went through," Baffert said. "And then to be so lucky and blessed to have a horse like that. Then to run down a great horse like California Chrome … that's what the Breeders' Cup is all about. Watching races like that. They're just the best. The cream just rises to the top.
"Every year I've been so lucky."
Rest assured, it's more than just luck.
In this instance, the accomplishment was 180 degrees removed from a year ago. In 2015, Baffert spent 10 weeks laboring to get American Pharoah back in top form after a loss in the Travers and was rewarded with a 6 1/2-length win in the Triple Crown winner's final start.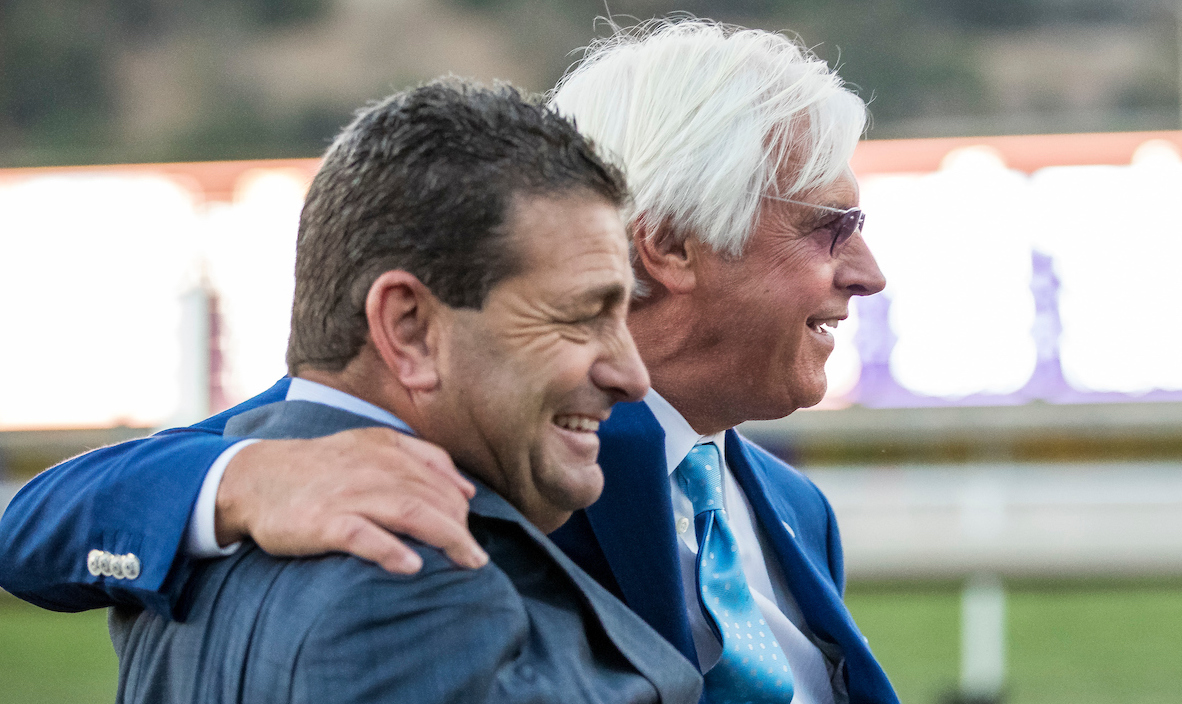 Key weapon
Arrogate was the complete opposite. He did not just win the Travers, he jumped out to the lead at the start and demolished his rivals by an astonishing 13 ½ lengths in track-record time.
He ran what many believed was the race of his life that he would never duplicate, because that's what usually happens with most horses and trainers.
Frosted, for example, was equally freakish earlier this year in winning the Metropolitan Handicap. But, since then, though he won the Whitney, he has not approached the speed figure he registered in the Met Mile and on Saturday the 2015 Belmont Stakes runner-up was sixth in a field of nine.
Extended rest is viewed a key weapon in staving off a bounce, yet time off alone does not explain how Arrogate came back and ran strongly enough to beat a rival as good as California Chrome. Especially when you consider Arrogate raced for only the sixth time in his career in Saturday's stakes – yes, sixth – and the Travers marked his first appearance in stakes. Oh, and the BC Classic marked his debut against older horses.
You need a very remarkable and gifted horse to do something like that.
"To come back and sit on him for two months, it was something that I used to do in the quarter horse bin, and I wasn't worried about it," Baffert said. "We got away with it with Pharoah, and you can do that when you have a great horse."
Pulling the right strings
Yet you also need a master at pulling the right strings to keep that horse on edge, even if the trainer opted for the humble card after his latest amazing feat.
"We thought we could be competitive. But down deep I really wasn't sure if we could beat California Chrome because I still have total respect for the horse. He's a great horse," Baffert said
California Chrome, who won the Dubai World Cup earlier in the year and brought a six-race win streak into the BC Classic, is indeed a champion. And for most of the BC Classic, while he zipped along on a clear lead under Victor Espinoza, American Pharaoh's regular rider, he seemed destined to atone for a third-place finish in the 2014 Breeders' Cup.
At the top of the stretch, after Arrogate had moved into second and it became clear the race would be a two-horse race to the wire, California Chrome was clear by a length and a half and seemed en route to another win in one of the world's richest races. Yet in the final 16th, when the "bounce" should have popped up, Arrogate kicked into a higher gear and the 8-5 second choice ($5.40) surged to victory.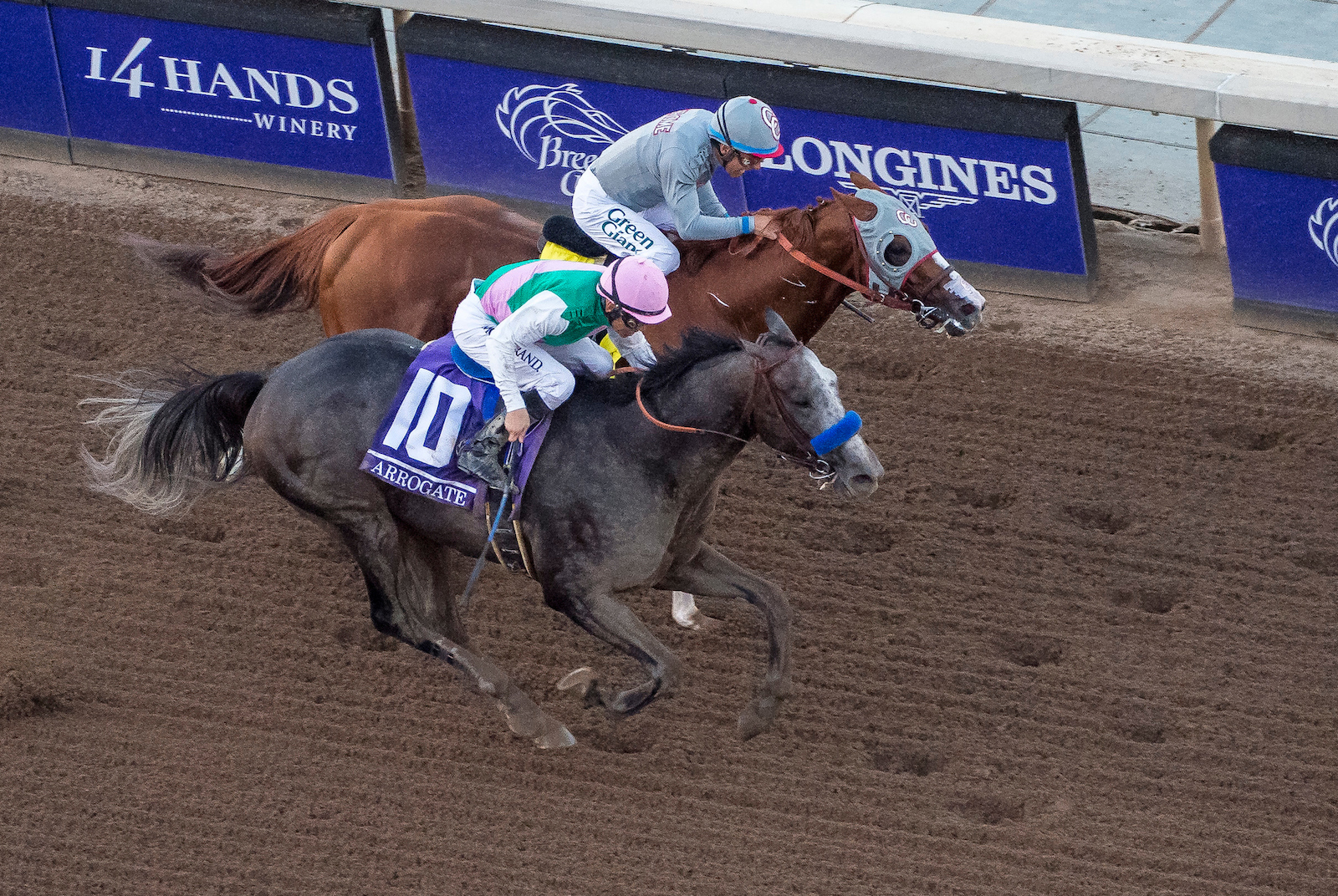 "This horse ran a race today that you just don't see from a young 3-year-old that's only run five times," Smith said. "He literally was prancing after the race was over. Most horses hang their head and have to take a breath or two before they can even turn around and come back after going a mile-and-a-quarter. He hasn't run in two months and he was literally dancing. The outrider couldn't believe it. He goes, 'Are you kidding me? This horse is dancing like this?' And I said, 'He's just got air forever.'
"He was relentless, this horse. He never stops. He's got some stamina. Bob's done a great job. The horse has only run five times and he beat California Chrome. That's incredible."
Incredible, indeed. Yet it's been par for the course in the last year or so for Baffert, who earlier in Saturday's card won the Breeders' Cup Sprint with Drefong, a 3-year-old who posted a big victory in a G1 stakes on Travers Day at Saratoga (the King's Bishop) and then returned from a 10-week break with a winning performance at the Breeders' Cup Sprint at the World Championships.
Sound easy?
People should know better than that.
As good as Arrogate may be – and most likely he will be the 3-year-old champion male but not Horse of the Year; California Chrome will probably get that prize – he was molded by the guy with the white hair who seems amazingly skilled and blessed these days.
"Somebody up there is really looking down on me," Baffert said.
And no doubt they like what they see in a Hall of Fame trainer who is taking the seemingly impossible and making it all seem routine.
The Classic result will have done Baffert and Smith no harm at all in the TRC Global Rankings when the new standings are released on Thursday. Currently Baffert is tied for sixth in the world trainers' list and Smith is 17th-ranked jockey. Juddmonte are fifth in the owners' standings.
Expect improvement also for the connections of California Chrome after the 5-year-old's stirring performance yesterday.