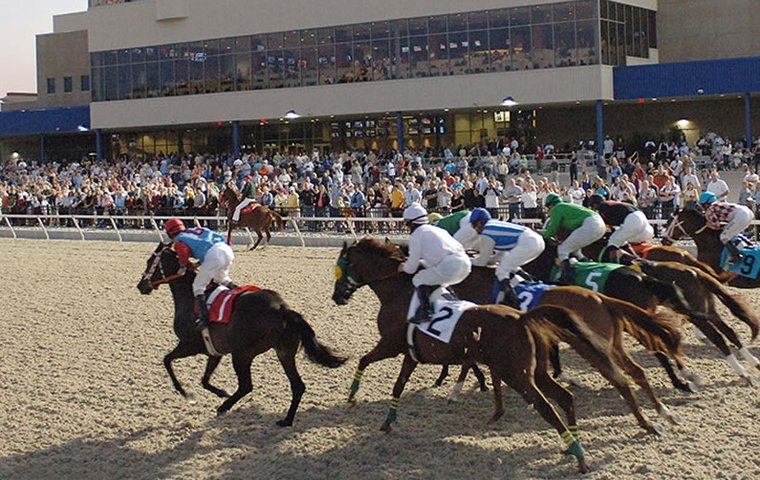 In September 2005, Turfway Park, a Northern Kentucky racetrack at the time 50 percent owned by the Keeneland Association, opened its fall meet with a new Polytrack synthetic racing surface.

It was no coincidence that, exactly one year earlier, Keeneland had installed a new Polytrack surface on its training track. In fact, based on the positive response from horsemen that trained their horses over that training track, Keeneland entered into a partnership with Martin Collins Enterprises, the British firm that owned Polytrack, to promote this surface to other U.S. tracks.
Polytrack was relatively new. The first installation had been in 2001 at Lingfield Park racecourse in England. Owners and trainers gave the new surface high marks as very few horses broke down and the track held up well throughout the flat winter racing season.
Turfway Park was the first of eight tracks that would replace dirt tracks with a new synthetic surface over the next two years. The U.S. Thoroughbred racing industry as a whole was deeply concerned about the number of equine fatalities, particularly on its dirt surfaces, both during racing as well as training.
Based on the success of the Polytrack experience, Keeneland replaced its dirt course with Polytrack for the 2006 September meet. At that time, Nick Nicholson, President and CEO of Keeneland, made the following definitive and forward looking statement:
"We were not satisfied with the status quo: the status quo of our dirt track and the status quo of racing surfaces in North America. We felt that in these modern times there has to be a better way."
As a follow-up on Keeneland's position on synthetics and the concern about equine injuries in racing and training, in July 2008, the Jockey Club founded the Equine Injury Database (EID), the U.S. Thoroughbred industry's first national database of equine breakdowns.
As you will see, there is a lot of industry activity regarding synthetic surfaces that tends to obscure the prescient leadership Nicholson and Keeneland demonstrated back then.
Below, I will review each track that had a synthetic surface installation in those first two years. Whatever the business issues were, I believe that the facts regarding the importance of synthetic surfaces are unequivocal: installed properly and maintained at the highest level, synthetic surfaces are without question safer and superior to dirt tracks.
For at least the last two decades, racetrack executives, track maintenance managers, and surface consultants have talked about delivering a newer, better and safer dirt track. This superlative dirt track does not exist and will not exist in the future. Dirt tracks simply cannot outperform the best designed, installed and managed synthetic racing surfaces.
Huge assets
The eight tracks that installed synthetic surfaces over this period represented some of the largest and most powerful racing companies and also some of the smallest tracks. The three major tracks involved in this analysis - Keeneland, Del Mar and Santa Anita - installed new synthetic surfaces during this period and subsequently reverted back to dirt. This has led many in the industry to conclude that the synthetic surfaces did not live up to the safety features of the dirt tracks.
However, to the contrary, properly designed and maintained synthetic racing surfaces can be huge assets for both large and small racetracks.
First, before digging into the narrative regarding each of the eight tracks, I have devised the chart below from the EID, which shows the actual stats for the tracks for this period.
The first year that the EID published data was 2009. In three cases - Turfway Park, Presque Isle and Golden Gate - the tracks have continued operating with the same racing surface for the ten years since. I split the ten years into five-year periods to see if there was any deterioration in the numbers as the tracks aged.
Finally, before reviewing the individual track profiles, I would refer you to the chart on the Jockey Club EID page that summarizes the annual average breakdown, which includes all surfaces. For the ten-year period (2009-2018) the total breakdown rate declines from 2.00 in 2009 to 1.68 in 2018, which is a decline of 16 percent for the full decade. In my view we need to do better - the industry should be making organized track initiatives to reduce equine breakdowns.
Also, if you look at the database itself, you will discover that the tracks submit the information to the Jockey Club, but the tracks can decide whether the Jockey Club can make the data public. This is unacceptable. If a track is unwilling to publish its equine injury analytics, then the track would not appear to be making a diligent effort to improve breakdown statistics.
According to EID cumulative statistics since their inception for 2009, synthetic tracks have averaged 1.2 fatalities per 1,000 starts, turf has averaged 1.47 and dirt has averaged 1.97.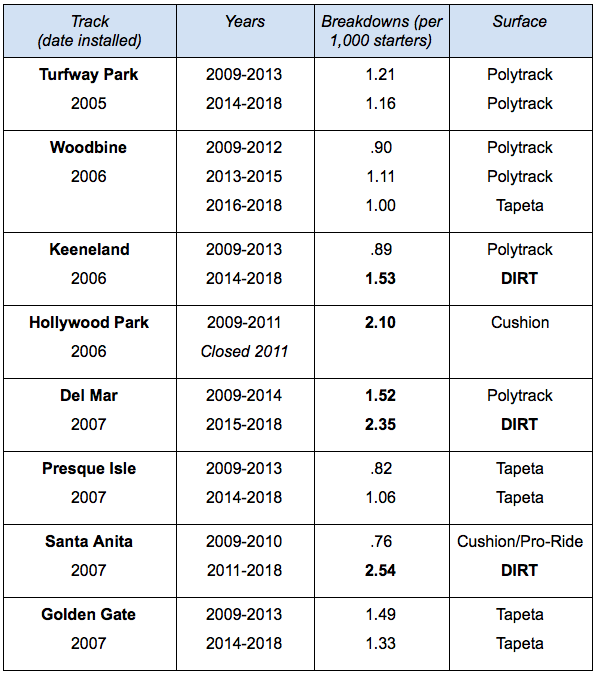 TURFWAY PARK is based in Northern Kentucky just south of Cincinnati. The track usually races from December through March. Its cards have a majority of low-level claimers and it races in cold weather and adverse weather conditions throughout the meet. However, Turfway clearly has done an excellent job maintaining the Polytrack surface as breakdown numbers have been very consistent throughout the two five-year periods, being slightly below the synthetic track average.
Last October, Churchill Downs purchased Turfway and has arranged to install 1,500 historical horse racing machines. It has doubled the average daily purses. Turfway management has said it has no intention in changing from synthetic to dirt, but Churchill recently announced plans to develop a second inner track at Turfway, which would be a dirt surface.
WOODBINE, which is based in the northwest suburbs of Toronto, has been one of the best synthetic success stories in racing. It installed Polytrack for the 2006 fall season and handle and field size has continued to grow annually. However, as one can see from the breakdown numbers comparing the three-year periods 2009-2012 and 2013-2015, the breakdown rate increased by 23 percent in the second period.
Brian Lynch, a leading trainer based at Woodbine stated, "They definitely need to change the surface they have now. The material they've got, it seems like it's lost a lot of life that was formerly in it … They definitely need to replace the surface that they have now."
Other trainers felt that the Polytrack did not hold up well in the cold weather.
After a thorough review, Woodbine selected the Tapeta synthetic surface, developed and manufactured by Tapeta Footings. At the time, Jim Lawson, Chairman of the Woodbine Entertainment Group, stated, "We went through an exhaustive consultation exercise in our search for the new main track. It's clear that Tapeta is the next generation of horse racing surfaces that we'll be proud to unveil in April of 2016."
As noted above, for its first three years, Tapeta has shown an excellent breakdown rate of 1.0, considerably below industry average.
KEENELAND was the first major track to lay a synthetic surface, when it installed Polytrack for the spring 2006 meeting. Keeneland's dirt surface often had a serious inside speed bias and also had breakdown spikes from time to time.
As noted above, Keeneland had one of the lowest breakdown rates among major racetracks for its Polytrack surface. However, despite the equine safety results, the all-source handle increases and record-breaking spring or fall meet attendance, there were some serious issues that Keeneland had to confront. Major wagering customers who liked the inside speed bias of the dirt track were lost with the slower pace fractions of the Polytrack, which seriously affected their handicapping.
Also, while I never read anything about this, Keeneland is at the center of the American Thoroughbred breeding industry, and there were reportedly concerns among breeders about their dirt sires' offspring's ability to run on synthetic surfaces, thus potentially devaluing the stallion.
In April of 2014, Keeneland President and CEO Bill Thomason stated, "We had hoped that the synthetic surface would become the prevalent and predominant racing surface in America and, for whatever reasons, it just hasn't … in order for us to continue attracting the quality of horse at the highest level of racing, which is what is expected of Keeneland, we have decided to change back."
Keeneland installed a new dirt track in time for the 2014 fall meeting. It had hoped to achieve a new dirt surface that would produce breakdown results similar to the Polytrack surface. As you can see, it achieved a 1.53-per-thousand breakdown rate for the 3½ years of the new dirt surface.
This may make it one of the safest dirt tracks in the country and considerably safer than the prior dirt surface, but it is almost double the rate of the Polytrack surface it replaced.
HOLLYWOOD opened with its Cushion in 2007, but, as it was owned by Churchill Downs until the 2009 meeting, there are no EID numbers as Churchill does not release EID stats to the public. Hollywood was sold to a real estate development company and closed after the end of the 2011 race meeting.
It is interesting to note that the Cushion track synthetic surface had one of the highest breakdown rates of all synthetic tracks, 2.10. Also, as you can see from this chart, all the California tracks do have higher breakdown rates than tracks in other regions, be they dirt or synthetic.
ARLINGTON PARK opened its 2007 race meeting with a new Polytrack. Arlington is a Churchill Downs track, so it does not give the public access to breakdown information.
DEL MAR, like all major California tracks, moved to a synthetic surface as mandated by the California Horse Racing Board for the 2007 summer race meeting. In reviewing the six years of data from the EID, Del Mar had a higher breakdown rate per thousand on the synthetic surface than any of the other seven tracks.
In early 2014, the Chairman and CEO of the Del Mar Thoroughbred Club, Joe Harper, stated, "With all the other tracks in Southern California racing on dirt, it's time. Plus our track is falling apart. They said that the life of the Polytrack was seven years, and guess what, we're seeing it. The asphalt is disintegrating because of the petroleum base in the wax. We had no other choice. This is the safest decision we could make."
The Breeders' Cup had announced in November 2010 that it would no longer consider awarding its championships to tracks that race over synthetic surfaces. Perhaps this is a coincidence, but both Keeneland and Del Mar announced independently in the spring of 2014 that they were abandoning their synthetic surfaces and returning to new dirt tracks. A few months later, the Breeders Cup announced simultaneously that the 2015 championships would be held for the first time at Keeneland and the 2017 event would be held for the first time at Del Mar.
These are two of the most important tracks in the country. To be included in the rotation of the Breeders' Cup was very, very significant. The two-day event is scheduled to return to Keeneland this year, and to Del Mar in 2021.
Not surprisingly, Keeneland 2015 and Del Mar 2017 are considered two of the best Breeders' Cups since the first one at Hollywood Park in 1984.
PRESQUE ISLE DOWNS opened for the first time on February 27, 2007, with a brand new Tapeta Footings synthetic racetrack.
This was the first commercial racing surface designed and installed by Tapeta, although Michael Dickinson and wife Joan Wakefield had designed the first version of Tapeta and installed the surface at their training center at Tapeta Farm in Maryland in 1997.
Presque Isle Downs set a combined all-source handle record in 2018 of $83,042,838 and maintains a daily average purse structure of $170,000, which is commensurate with Lone Star Park, Tampa Bay Downs and Golden Gate Fields.
Pennsylvania Horsemen's Benevolent and Protective Association executive director Todd Mostoller commented on their record year in 2018. "It gets tougher every year to fill barns at racetracks because the national foals produced average has been dropping each year. But, because of the Tapeta surface, we had just two casualties, which is phenomenal. We continually have the safest track in America."
Given the strong handle growth at Presque Isle, along with a very safe racing surface, the industry should certainly take a second hard look at synthetic surfaces that many in the industry have dismissed them after some of the larger tracks abandoned synthetic tracks for dirt, which may be a huge strategic error.
These Presque Isle Downs equine injury numbers are as good as you will find at any track in the U.S.
SANTA ANITA. On May 25, 2006, at the strong urging of chairman Richard Shapiro, the California Horse Racing Board voted to mandate that the five major California tracks had to install polymer-based synthetic racing surfaces by January 1, 2008. At the time, Turfway Park, noted above, was the only synthetic track operating in the U.S.
Turfway had opened its synthetic track in September 2005, less than 12 months earlier. Shapiro and the board clearly relied on the prior testimony of Turfway Park president Robert Elliston, who said the Polytrack surface had reduced racing breakdowns by 90 percent since the track opened.
Shapiro told the board, "While it is not just racing surfaces causing the problem, it is a contributing factor. I think it is clear, given Turfway's experience, that California needs to move forward and continue our progress."
So the entire racing industry in California was relying on the experience of a small, minor, cold-weather Kentucky track that had less than a year's experience with the Polytrack surface.
The California tracks were given 18 months to research, investigate, test and implement synthetic surfaces at all five of the designated tracks. This one decision by the CHRB could well have set back the progress of the implementation of proper synthetic tracks in the U.S. by over a decade, and the industry is paying the price today.
Shapiro subsequently publicly stated, "I feel clearly I was sold a bill of goods. In 20-20 hindsight, if it was today, I wouldn't have pushed the mandate."
Santa Anita went on and did a deal with Cushion Track (a UK company that had never done a track installation in the U.S.) with disastrous results.
Cushion built a synthetic surface for Santa Anita that launched with the October 2008 Oak Tree meeting. The track never drained properly. It was determined that Cushion could not correct the problem and Santa Anita filed a $10m suit against the company.
Santa Anita then retained an Australian company, Pro-Ride, which was unable to correct the Cushion problem. In the end, Santa Anita limped through 2010 and opened the winter meet on December 26, 2010, with a new dirt track.
Finally, we know that Santa Anita had a brutal 2019 from a breakdown perspective. However, check out its 2011-2018 figures since the dirt track was installed. It has the highest breakdown rate - 2.35 per thousand starters - slightly ahead of Del Mar.
GOLDEN GATE. As I noted earlier, Golden Gate has not escaped the higher level of breakdowns that California tracks collectively seem to have.
Clearly both Golden Gate management management and Tapeta Footings have improved the performance of the track as breakdowns have declined in the most recent five-year period, which is a good indicator.
It is interesting that Golden Gate had a consistently lower synthetic breakdown percentage than Del Mar and clearly Del Mar has a much higher-quality horse population. Golden Gate is also another track where all-source handle has been in a strong positive trend.
Possible opportunities
In summary, I think the perception of the industry about the current and future importance of synthetic racing surfaces is significantly less than the actual opportunities that exist. I believe synthetic surfaces represent opportunities in a number of areas. Here are a few suggestions and I welcome any thoughts or criticism readers have.
The home page of the Thoroughbred Safety Coalition's website says this: "Putting safety first, every horse, every race every time … promote a culture of safety." The coalition represents the most powerful racetracks in the U.S. and should come to understand that putting the horse first has to involve a conversation about synthetic surfaces.
I have learned during my research on synthetics that where we are today is more about the mistakes that have been made than about acknowledging those tracks where synthetic surfaces mean good business. Spend a few minutes and look at where tracks like Woodbine, Turf Parkway, Golden Gate and Presque Isle have used their synthetic surfaces to promote themselves to their customers, owners, trainers and jockeys.
We need to push forward with all aspects that will protect and watch out for the welfare of our equine participants. We saw first hand during the Santa Anita breakdowns that the animal rights movement is not a fringe organization. It is here to stay. We need to respect them, educate them, try to understand their concerns and respond appropriately. For example, I believe that racetracks that do not show complete transparency in the EID about their breakdowns are not interested in making serious efforts to protect the health and well-being of the horse.
There are a few statements regarding synthetic surfaces that simply are not true. Here are a couple of examples and my response.
Most trainers do not like synthetic racing surfaces
Many trainers think that a synthetic surface evens the playing field and also protects their horses. Mark Casse, a brilliant trainer who has been the leading conditioner at Woodbine (a Tapeta track) for many years and participates at the highest level in most major circuits, speaks highly about his regard for synthetic surfaces protecting his horses. Another brilliant trainer, Graham Motion, has spoken often about his appreciation for synthetic surfaces. I encourage you to discuss synthetics with the trainers that you know and respect.
Big bettors do not like betting on synthetics
One thing I know about my big bettor friends is that they like contrarian opportunities and they like to stay ahead of favorite-players. Once they understand synthetics, those betting opportunities present themselves.
In sum, I strongly believe that synthetic surfaces have been dealt a bad hand for many reasons. In my view, they can significantly help resolve a business issue as well as a PR/media challenge for the industry. Synthetic surfaces properly installed and maintained represent a huge strategic opportunity for the Thoroughbred racing industry. Please take some time and see for yourself.