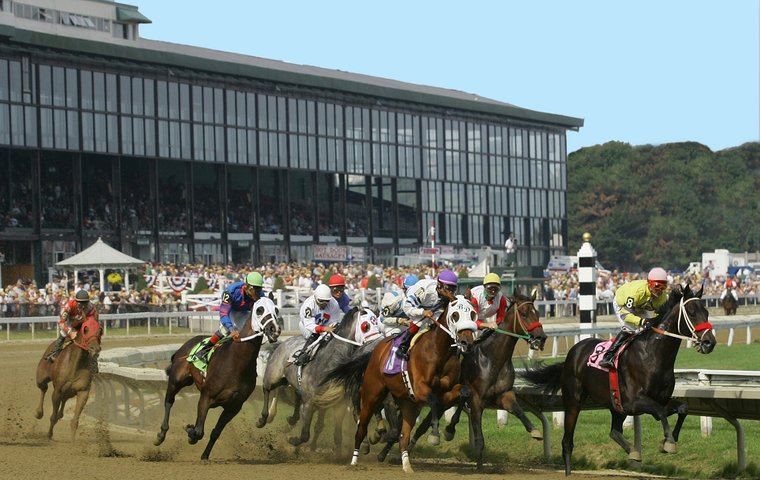 If there's a common thread among sports fans in New England, it's their perseverance. It can be seen in the region's passionate love affair with the Boston Red Sox, even though one generation after another was subjected to nothing but disappointment during 86 years without winning a World Series.

Horse racing fans in that same region of the United States have a similar spirit as they continue to embrace racing at Suffolk Downs in East Boston, Massachusetts, even though the decrepit, 83-year-old facility has risen from the grave enough times to put Lazarus to shame.
"New England is all about perseverance. We don't give up," said jockey Tammi Piermarini, who is third all-time among female jockeys in the U.S., with nearly 2,500 wins, and has spent the bulk of her career riding in the New England region. "It's like the Patriots, Red Sox, Bruins and Celtics. Even if they are trailing in the seventh inning, they will come back and win, and we're trying to keep racing alive here in New England and we're winning."
The latest 'victory' in that fight came during the weekend of Sept. 15-16, when Suffolk Downs held its fourth and final monthly two-day weekend of the year – with surprisingly lucrative purses – and drew a combined crowd of 12,149 with a total handle of $1,298,320 for the Saturday and Sunday cards.
Acceptable figures
Daily average attendance increased slightly from 6,449 in 2017 to 6,543, while daily average wagering slipped by about 24 percent from $870,949 to $660,015.
Those figures might seem miniscule in comparison to a weekend at Saratoga or Keeneland, but they are quite acceptable for a racetrack that announced it was closing after its 2014 season and even had a farewell card at the end of that year. That was when racetrack operators were thwarted in their bid for casino gaming and the curtain was supposed to come down on the last remaining Thoroughbred racetrack in New England.
Life support was provided when the Massachusetts Gaming Commission allowed Suffolk to continue taking simulcast wagering provided it conducts at least one day of live racing a year. While a far cry from the track's 179-day meet in 2001 and a daily, four-month schedule in 2014, that allowed racing to continue in East Boston with a three-day meet in 2015, followed by six days in 2016 and eight days the last two years.
"All things considered, we did OK this year," said Chip Tuttle, the Chief Operating Officer for Sterling Suffolk Racecourse, which conducts racing at the facility. "While the business results are helpful, that's not the primary reason we are running these racing dates. We're doing it to give Massachusetts horsemen and breeders a chance to run for that purse money."
And, given the past, present and future of horse racing in Massachusetts, OK is indeed good enough.
Go back 50 or more years and Suffolk Downs was the lynchpin of a busy New England racing scene. Champions such as Seabiscuit, John Henry and Triple Crown winner Whirlaway raced there, and as recently as 1995 and 1996 Hall of Famer Cigar registered a pair of victories in Suffolk's premier race, the Massachusetts Handicap, a.k.a. the Mass Cap.
It gained national attention for different reasons during 1968-71, when showman Bill Veeck ran the track and staged wild promotions, such as chariot races in homage to the famed movie Ben-Hur.
The region was also home to Rockingham Park in New Hampshire as well as other tracks such as Narragansett Park and Green Mountain and a fair circuit with stops at Northampton, Great Barrington and Weymouth, among other places.
Now only Suffolk remains, and its days are down to a precious few. While no official announcement has been made, the 2019 season will almost assuredly be the last at the East Boston plant. Tuttle says Suffolk plans to conduct four to six days of racing in May and June, consisting of either two- or three-day meets or three two-day meets. After that, in July, the owner of the property, HYM Investment Group, will begin to dismantle the racetrack to redevelop the grounds.
A piece of history
Tuttle says a year-round simulcasting area will remain, but the track that was visited by some of the sport's greatest equine and human stars will become a piece of New England history.
"It feels like the boy who cried wolf to say we're closing again because we felt this year would be the end, but it's hard to see any scenario that would include racing at Suffolk beyond the middle of 2019," Tuttle said. "The landlord has plans to begin demolition of the barn area in January, and we can work around that during the first part of the year. After that …"
After that, there are a couple of possibilities. The Stronach Group has explored building a new racetrack in Lancaster, Massachusetts, but little has been said about it since the plan was floated in late July.
More realistically, racing will return to the commonwealth in 2020 at the Great Barrington fairgrounds. Tuttle said the Sterling Suffolk group is intent on renovating the shuttered racetrack in Western Massachusetts and bringing racing back there, with the fair that coincided with the race meet also making a comeback.
A better choice
"We are renewing our option on Great Barrington for 2019," Tuttle said. "The concept is to simulcast here in Boston and have a short meet at Great Barrington. It's a more reasonable and realistic plan than building a racetrack from scratch anywhere in the commonwealth. We spent five to six months looking at possible spots all over the state and went to Great Barrington, in part because a lot of the infrastructure is still there. It still has a grandstand, barns and a racetrack. There hasn't been a race there for 20 years but it's all still there. It's a better choice in terms of a capital investment.
"You want to start with something practical, like 12 days over the course of two or three weekends in August or September," he added. "We'll probably start with something like we have now and then expand so we can have training, which we couldn't do in year one. A ship-in type meet is more practical than getting horses to stable here. The cost of live racing is daunting."
To make it happen, Great Barrington will need a major facelift. The grandstand is wooden and the racing surface is a four-furlong oval. Tuttle said the oval will be expanded to 5½ or 6 furlongs, but a major stumbling block is the lack of a turf course. Of the 22 races carded Sept. 15-16, 14 were contested on Suffolk's turf course.
"It may be a tough go without turf but an all-weather surface is a consideration," Tuttle said.
Few options
Moving from Suffolk Downs may not be akin to the closing of the Boston Garden, but will mark an end of era and a change that some see as inevitable but not an optimal solution.
"We want a mile track and a mile turf course. We want major league racing, naturally. We've had it all our lives. We had numerous tracks and now we are looking at the possibility of no tracks," said Anthony Spadea, president of the New England Horsemen's Benevolent and Protective Association (NEHBPA). "You want to keep racing and breeding alive, so how do you do that? You have to work with the best possible opportunity until something better happens. We want to keep the sport going anyway we can because we do not have a lot of options."
Spadea said he would welcome a 60-day or longer meet at Great Barrington, but that seems a longshot at best. Jay Bernardini, perennially one of the leading trainers at Suffolk and Rockingham in a career that started in 1988, believes even a 30-day meet could be too long under present conditions.
"I believe 30 days will be a problem if you spread it out over 2½ or 3 months. Thirty days is too short to move your entire stable and you can't fill 30 days with just horses that ship in. Where do I bring my 60 horses after the meet is over? Some tracks will not take you back. I'm not going to screw up my operation for something like that," said Bernardini, who moved his stable out of Massachusetts after 2014 and now has 60 horses at Mountaineer Park.
"You need to set up a circuit so that you can be in conjunction with another track. This way, horses can come in, race and then have a place to go. If you can do that, then you can make it work. What's also telling is that they are talking about 300 stalls when you would need at least 800 for a 30-day meet."
At the heart of the issue is that, while casino revenue steered into Massachusetts' Race Horse Development Fund accounts for $400,000-500,000 a day in purses, that structure offers little benefit for Sterling Suffolk or any other operator without their own form of alternative revenue.
"Money from casino wagering is great for purses, but it does nothing for the racetrack," Bernardini said. "There's not enough revenue to convince someone to spend $60 or $70 million to build a new racetrack for year-round racing here in Massachusetts. It's up to the racing commission to find a way to make it viable for the racetrack operators and I don't feel the state feels that obligated to support the racetrack industry. When the commission did not give them the casino, it was a death knell for Suffolk and the Thoroughbred industry. If they gave it to Sterling, the slots would be up and running and we'd have a 60-day meet. That was a monumental decision that impacted a lot of lives."
There are a couple of possible solutions.
One involves Sterling Suffolk being allowed to offer sports betting once Massachusetts passes the proper legislation.
'Reality of the marketplace'
"The legislative leadership wants to ramp up the conversation about sports betting in the first quarter of the next session, which starts in January of next year. These things are related and our ability to continue to race will certainly be aided by being able to participate in expanded sports betting in Massachusetts. We have several advantages if that's the path the legislature takes. We've been processing $150 million in wagers here for the last several years on track and via the Internet," Tuttle said. "You look at other states like New Jersey and they are starting at their existing facilities and letting their licensees expand into the Internet. It's a reality of the marketplace. You just can't do bricks and mortar if you want to divert people from illegal offshore entities to legal entities. We want to be a part of those conversations and we welcome those discussions.
"We've had preliminary talks with a couple of providers and we have a long-standing, mutually beneficial partnership with TVG, which is now working with Fan Duel, and you see what they are doing in New Jersey and you can only be impressed with that. We're cognizant there are other entities in the state that want to participate in sports betting and to us, it's the more, the merrier."
There could also be reset of the process that awarded a casino to Wynn Resorts in Everett, Massachusetts, instead of Suffolk in 2014. Sterling Suffolk filed a $1 billion lawsuit against Wynn Resorts on Sept. 19 alleging a conspiracy to rig the process. In a separate suit against the Massachusetts Gaming Commission, Mohegan Sun, which partnered in Sterling Suffolk's bid, calls for Wynn's casino license to be revoked.
Popular purse structure
"Our complaint outlines why it's clear that Wynne Resorts was not suitable for a gaming license in 2014 and it lays out that case," Tuttle said. "We always felt this was the best location for a casino and it's still disappointing given all the recent issues and problems and allegations with Wynn Resorts. It's clear that, if any of that had been known at the time, the entity would not have met Massachusetts' standards for suitability."
In the meantime, what promises to be the final meet at Suffolk Downs in 2019 figures to follow the same successful abbreviated format as in the previous four years. Tuttle says he expects this year to end with a fourth straight profitable season for Sterling Suffolk, and horsemen also had much to like, especially with the purse structure.
While a non-winners-of-one optional claimer carried a purse of $50,000, a $6,500 claimer on the turf had a purse of $30,000. In contrast, at The Meadowlands' current turf-only meet, a $7,500 claiming race, had a purse of only $12,000.
"The weekend meets have been a tremendous situation for any of the old New England horsemen who stayed in operation. When you come here, you race for an exorbitant amount of money," said the 52-year-old Bernardini, who topped the trainer standings with ten wins and earnings of a little more than $340,000 during the eight days of racing. "And you can get horses for a good price because horsemen are being aggressive with their placement of their horses to win those purses. I have clients from this area that buy horses earlier in the year just to race them here. It's been tremendous for the guys who have raced here and people who work at the track."
Grabbing the opportunities
A great example of the opportunity available at Suffolk can be seen in Diablo's Darling. A 5-year-old mare owned by Ron Lombardi's Mr. Amore Stable, Diablo's Darling started in each of the four weekends during June, July, August and September with two wins, a third and fourth while racing on turf three times and the main track once. In the last of those starts, she ran for a $6,500 claiming tag, yet through the course of those four races she earned $44,600 and more than doubled her career earnings to $83,311.
"She loves turf but she's stabled at Finger Lakes, where's no turf and no options. Suffolk fit nicely into her schedule and it fills a void in that region," Lombardi said. "Since the races are spread out once a month, you can run, regroup at your home track and go back."
New York-based trainer Dave Donk recorded a win at Suffolk on the Sept. 16 card with King Of New York. A turfer who was no better than sixth for a $25,000 claiming tag in his last four starts at Saratoga and Belmont Park, King Of New York ran in a $7,500 claimer with a $30,000 purse. A winner by 6¼ lengths off the huge class drop, he earned $18,500 and was claimed, grossing $26,000 for Funky Monkey Stable.
Return of the 'Mass Cap'?
"They have very good purses for the quality of horses they attract," Donk said. "I ran for $7,500 with a horse that could not compete in New York. We didn't have a lot of options but we went there for a very good purse and lost the horse through a claim, but you expect that. Someone is going turn him into a bigger fisher in a smaller pond."
Aside from relatively high daily purses, there might even be a special guest appearance next year. Tuttle said he toyed with the idea of bringing back the Mass Cap this year, which was dropped from Suffolk's schedule in 2009, provided he could lure Gronkowski, the horse named after the immensely popular New England Patriots All-Pro tight end, to run in it. When that Hail Mary fell incomplete, the plan was scrapped.
Who knows? Perhaps in a grand farewell the Mass Cap might highlight the final day or weekend. Yet regardless of whether there's an allowance race or stakes topping that card, if June proves to be Suffolk's last stand, it will surely be a highly emotional moment, especially for the staunchest of the track's fans.
"My family still lives here so, whenever the horses get on the van after the final Sunday and the lights go out at Suffolk Downs, it's a sad moment," Bernardini said. "It will be worse next year, when it's finally all over. I grew up near Rockingham Park and matured as horse trainer there and then watched it close. It will be a very bittersweet day when we ship out after that last day next year. It will be rough. It will be like losing a friend."