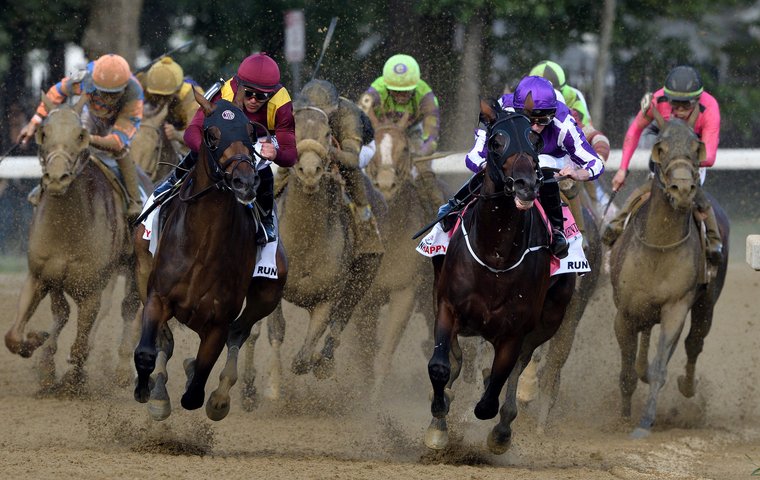 Recent publicity for next month's Pegasus World Cup suggests connections of six horses, led by Breeders' Cup Classic winner Accelerate, have purchased a $500,000 slot in what is no longer the world's richest race.

A seventh entity, Coolmore, have also paid up. But, while they have a guaranteed place in the starting gate, it would appear they no longer have a horse for the $9 million dirt contest, although they are said to be aiming BC Turf runner-up Magical at the new $7 million Pegasus World Cup Turf on the same card at Gulfstream on January 26.
They did have one, however, in the shape of Mendelssohn – though perhaps it is entirely appropriate that, after a star-crossed campaign, the son of Scat Daddy should be retired before running in the race that may well have suited him better than any of the others he had been asked to compete in during a punishing 3-year-old season.
No wonder, though, that Aidan O'Brien told the Racing Post that he was "disappointed to retire" Mendelssohn. "The plan was made to go to the Pegasus and then for the Dubai World Cup," he revealed. "He could have run in the Pegasus and still gone to stud, but the lads in Coolmore America were having so much interest in him that the decision was made to retire him.
Beautiful pedigree
"We felt we hadn't seen the best of him, and thought the Pegasus was absolutely made for him over nine furlongs, but his stud appeal from a business side of things won out on this occasion."
And so Mendelssohn has been retired to Coolmore's Ashford arm in Kentucky, where his beautiful pedigree – he is a $3 million half-brother to multiple champion filly Beholder – should ensure he doesn't struggle for business at his published price of $35,000. After all, he is a gorgeous-looking Grade 1 winner, having landed the Breeders' Cup Juvenile Turf on his final start as a 2-year-old, while his spectacular 18½ -length romp at Meydan in the UAE Derby will stay long in the memory.
There remains, though, a glaring hole in Mendelssohn's CV and a lingering sense of immense frustration over a career that promised considerably more. Somehow, despite a series of Grade 1 performances, he never won a Grade 1 race on dirt.
Remember, this was the horse that represented Ballydoyle's most concerted attempt to win the Breeders' Cup Classic, a race long since coveted by Coolmore, who have made a habit over the years of running sons of Galileo (and Galileo himself) at the end of a long campaign in Europe and hoping to strike it lucky.
There are commercial reasons for doing so, but it has been an unavailing policy so far, and only those with U.S. breeding, notably Giant's Causeway and Declaration Of War, have gone close on the dirt in America's most prestigious race; nothing has made any sort of mark in the Kentucky Derby.
But they did things differently with Mendelssohn, who raced exclusively in the States after his visit to Meydan and yet, despite possessing an abundance of talent, failed to land the Grade 1 on dirt that would probably have doubled his asking price at stud in the States.
Plenty of admirers
Being virtually pulled up on the Kentucky Derby helter-skelter is easily excused given the grisly conditions, and he plainly needed the comeback at Belmont in the G3 Dwyer Stakes after a period in which many of O'Brien's horses succumbed to a bug.
After that came a string of high-class displays. Mendelssohn's second place to Catholic Boy in the Travers Stakes augured well as he raced on the dead rail at Saratoga before a lung-bursting effort in the Jockey Club Gold Cup won plenty of admirers as he bravely held on for third after that enervating pace battle with top-class Diversify, whose heart he seemed to break. After such intense early fractions, there was no disgrace in being beaten a couple of lengths behind late-running Discreet Lover in a race over a mile-and-a-quarter trip probably in excess of his optimum; the race was totally set up for the closers.
However, while not allowing a top-class horse like Diversify an easy lead was understandable, setting such a red-hot pace in the Classic was less so, though yet again Mendelssohn looked a Grade 1 performer in a four-length defeat.
The Pegasus loomed: the nine-furlong trip looked ideal, and, given the habitual front-running tactics favoured for Mendelssohn, so did the pace paradise of Gulfstream Park.
Steep learning curve
So guess what? Presumably in a bid to finally get that Grade 1 success, Mendelssohn was sent back across the Atlantic for the Cigar Mile at Aqueduct, where he was made favourite against a less-than-stellar field. Finally, unsurprisingly in retrospect, his exertions took their toll and he posted a lacklustre effort in coming only fourth, never able to match strides with the winner Patternrecognition, who duly made all.
It was the dullest of ends to an exasperating career, all thoughts of the Pegasus quickly shelved.
The Grade 1 success on dirt will forever remain elusive and – with the benefit of hindsight, the science that is never wrong – those involved might be prepared to admit that a few things could have been done differently. Nobody says it is easy trying to win races like the Kentucky Derby and Breeders' Cup Classic from Europe – just ask Godolphin – but this was a steep learning curve indeed.
O'Brien, that most meticulous of trainers, may perhaps reflect that Mendelssohn could have stayed in the States instead of being shipped to and fro to Ireland on such a regular basis. Coolmore have horses stationed at major racing centres on both coasts; it is not as if they could not have located a stall, thereby avoiding possible travel and quarantine fatigue and any associated perils.
On the wider issue, Ballydoyle's transatlantic record in recent seasons hardly looks a thing of rare beauty. Despite fielding more runners than any other trainer, O'Brien drew a Breeders' Cup blank for the first time since 2014 and the third time in ten years. Magical ran a fine race in the Turf but, for the record, here are the finishing positions of the stable's 2018 Cup squadron: 83497456809825.
As for Mendelssohn, perhaps running at Dundalk (synthetic Polytrack) and then the idiosyncratic Meydan dirt strip (a law unto itself) is not necessarily the ideal preparation for a U.S. campaign. Getting beaten in a U.S. trial might have taught Mendelssohn more before the Kentucky Derby; he could, for instance, have run in the Blue Grass Stakes at Keeneland and stayed in Kentucky for a month getting acclimatised and acquainted with the Churchill Downs surface, though admittedly that may well not have helped much given the mudbath that ensued. Easy points for Kentucky qualification are also on offer outside America.
Retracing his steps even further, perhaps Mendelssohn could have run in the dirt Juvenile at the 2017 Breeders' Cup; mind you, he did at least get his Grade 1 there on the grass, without which his CV would be more seriously lacking.
Real-time experiment
Harsh as it sounds, others may also have employed a U.S.-based jockey, though the strategy to utilise Mendelssohn's speed would not have been Ryan Moore's on his own.
But these are all 'what might have beens' and frankly they offer more questions than answers. Moreover, maybe all this is to miss the point: perhaps Mendelssohn himself has been sacrificed for the greater good, for the long-term goal. "He probably ended up being a little bit of a guinea pig because we were learning as we were going along with him," O'Brien admitted.
As such, the colt's career – forever destined to look unfulfilled – looks nothing short of a real-time experiment. Don't forget: it won't be long before Coolmore are unleashing the sons of American Pharoah and Justify. Presumably not many of them will be running on European turf and it is likely everyone involved with the hapless Mendelssohn will have learned an immense amount from their experience. However frustrating it might have been.
AIDAN O'BRIEN'S KENTUCKY DERBY RUNNERS
AIDAN O'BRIEN'S BREEDERS' CUP CLASSIC RUNNERS

UK industry SPs from 2003 onwards