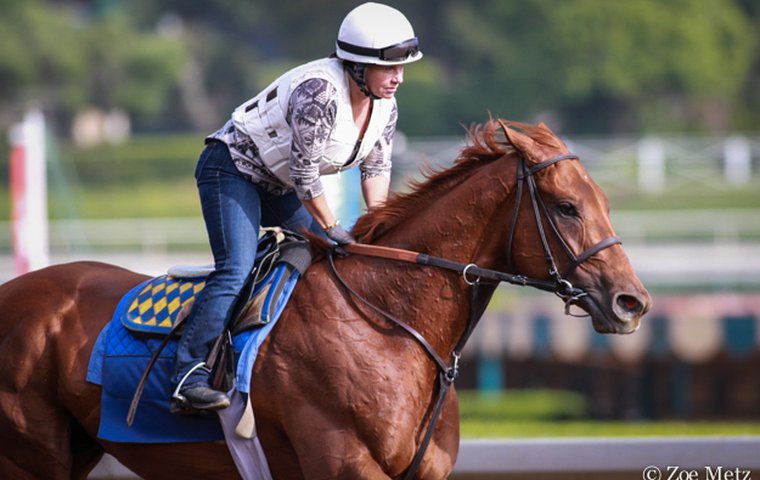 Growing up in Southern California, Dana Barnes daydreamed as she steered her childhood pony across dry riverbeds, up and down hills, and through woods.

"I always wanted to ride racehorses. That was like a dream to me," Barnes recalled. "I rode my pony like most kids ride a bicycle, but I always wanted to be on racehorses."
Barnes invested her hopes into hard work, beginning with galloping Thoroughbreds at a training center when she was 16. In the 35 years since then, she has transformed her imagination into a sparkling career at the pinnacles of racing.
Now in her 20th year of working for one of the most accomplished trainers in the world, Bob Baffert, Barnes, and her husband, Jimmy, are widely recognized as two essential components of his operation. Both have earned his confidence as assistants, and Dana rides many of Baffert's top stakes competitors in their morning works, including undefeated Kentucky Derby contender Dortmund.
"She and Jimmy are such a big factor in our success," Baffert said. "They work so hard and they know the drill."
In fact, Barnes is so good at riding Baffert's horses that he said "she has carte blanche" when it comes to some aspects of handling the runners in their exercise.
Her achievements in a position that is typically a step removed from glory have perhaps never been so clear.
On March 28, she held a share of the spotlight on the world's richest day of racing, the $30 million Dubai World Cup program. Televisions around the world aired footage of her hoisting huge trophies in the Meydan Racecourse winner's circle after she handled all the morning work riding and the general care of Secret Circle prior to his game victory in the $2 million Dubai Golden Shaheen.
Since neither Baffert nor Secret Circle's owners—Mike Pegram, Karl Watson, and Paul Weitman—made the trip to Dubai, Barnes stood in for all of them on the trophy podium, joined by jockey Victor Espinoza.
"I was just so relieved," said the unassuming Barnes. "It was so stressful going over there by yourself. But [Secret Circle] had been doing so well that if he hadn't won, I would have been very disappointed."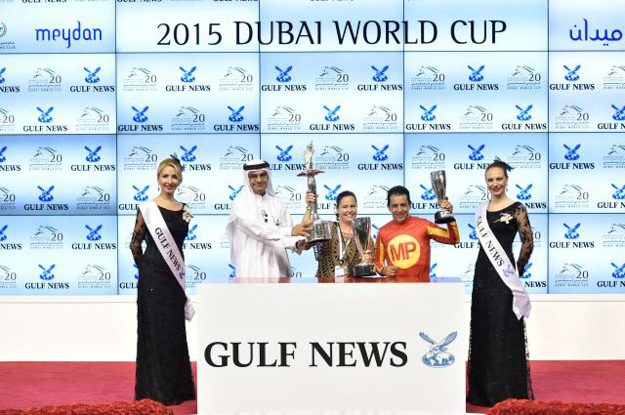 While in Dubai, Barnes's reputation as a consummate work rider led to an invitation to climb on Horse of the Year California Chrome and guide him through his final drill for the $10 million Dubai World Cup. Espinoza, the regular jockey for another Kentucky Derby favorite trained by Baffert, champion juvenile American Pharoah, as well as for California Chrome, had suggested Barnes handle the assignment since he was unable to arrive in time to do it himself.
"That was no pressure," Barnes joked. "It was only a $10 million race and I had never ridden [California Chrome] before."
If she felt pressure, no one else could sense it, including the horse. California Chrome worked smoothly at Meydan, galloping out eagerly.
"Once he gets rolling, you're like 'Wow!'" Barnes said. "He gets in that cruising mode and he's awesome. It's like being on a cloud."
"Dana—she's cool," exclaimed California Chrome's trainer Art Sherman. "She's been on so many of those good horses of Baffert's, and she did a great job."
California Chrome finished second in the World Cup after a trip Espinoza described as less than ideal, incurring bumping around the turns, but the colt earned $2 million, the biggest single payday of his career.
Now back in the United States, Barnes is anxiously awaiting another big event as Dortmund races in the Santa Anita Derby on April 4 as his final prep for the Kentucky Derby. In fact, she said the worst part of going to Dubai was leaving Dortmund for almost two weeks.
"He's just a great big baby," Barnes said fondly of Dortmund. While casual observers compare the 17-hand, nearly 1,300-pound chestnut to another tall redhead trained by Baffert, 2001 Horse of the Year and Preakness and Belmont Stakes winner Point Given, Barnes knows better from her unique experience in the saddle.
"He doesn't hit the ground hard, like Point Given did," Barnes said. "He's much lighter and more agile on his feet."
In collaboration with Baffert, Barnes has come up with a methodology of keeping Dortmund—who at times has been a bit fractious—calm and happy. She carries carrots in her pocket as she rides the son of Big Brown out for exercise at Santa Anita Park, and he will stop at the same place, the last barn before reaching the racing office, every day "and ask for a carrot."
"Bob wanted me to take the carrots to settle him down," she related, adding that Dortmund has responded well to the treat therapy. After giving the colt a carrot, "then I go to the gap and he could stand there all day. The other day there was a loose horse, and he just stood there and watched."
With his size and intensity, Dortmund is not an easy ride, according to regular jockey Martin Garcia, who told Barnes he doesn't know how she gallops the colt. But her instinctive horsemanship skills and quiet manner have given her the edge on many a strong colt over the years.
Perhaps the best indication of how good Barnes is at her profession is her list of riding partners. Among those she has piloted in exercise, in addition to Point Given, are Baffert's Dubai World Cup winners, Silver Charm and Captain Steve, with the former also capturing the Kentucky Derby and Preakness Stakes. She also rode Kentucky Derby and Preakness winners Real Quiet and War Emblem, and she's been aboard 2014 Breeders' Cup Classic winner Bayern on occasion.
Her work is not just all business, however. Barnes gives a huge measure of her heart to what she does.
At the mention of one of her work partners, eight-time G1 winner Game On Dude, tears spring to Barnes's eyes.
"He was like my child," she explained. "He knew me and could see me coming a mile away. He liked fruit candies, and I always had one pocket full of candies and one pocket full of carrots, and he knew which was in each pocket and would take turns."
"She loves to spoil these animals. Game on Dude was so spoiled," Baffert said, obviously pleased while observing how this kind of interaction can be key to developing great racehorses.
"They get this sense of we're working with them and everything is cool, and it keeps them level-headed. It keeps them relaxed," he said.
Barnes has a trove of stories about all the horses she has ridden. Silver Charm, for example, knew he was something special and loved attention.
"After the [Kentucky] Derby, I was jogging him back after his work, and someone at the rail said, 'That's Silver Charm.' He heard it and you could literally feel him pump himself up and stride out," Barnes recalled.
One of Barnes's prized possessions is a photograph of back-to-back Kentucky Derby and Preakness winners Silver Charm and Real Quiet working together, with Barnes riding the latter, who came within a nose defeat in the Belmont Stakes of sweeping the Triple Crown in 1998. Jockey Gary Stevens rode 1997 champion Silver Charm in that workout.
El Corredor, winner of the 2000 Cigar Mile Handicap, is another who stands out in Barnes's memory.
"He was so smart and he was one of the happiest horses. When he walked down the road, he had this strut—that's what makes a great horse. They have to feel like they are the best," Barnes said.
G1 winners Hoppertunity and Euroears also make her list of favorites.
Secret Circle, the 2013 Breeders' Cup Sprint winner who finished second in that race last year and proved again that he is one of the world's best sprinters with his Dubai Golden Shaheen victory, can be a challenge.
"Talk about a smart horse—he's almost too smart," Barnes said. "He'll do whatever he wants. Basically, I'm just along for the ride."
Other marquee horses she has ridden include the champion filly Silverbulletday, who could be "tough and mean;" Bayern, who she described "no problem" in his work, and the flashy General Challenge, "who was a really good guy" to ride.
Barnes began working for Baffert in 1996. While the trainer is known for teasing some of his employees, Barnes held her ground, beginning early on when she heard him refer to her as "that girl."
"I am not 'that girl,'" she responded firmly.
In all the years since then, she has proved repeatedly that she is not just anyone doing an ordinary job, earning the respect of her boss and peers while the horses she rides make their mark on the sport.
Now 51 and approaching her 30th anniversary with her husband, Barnes still possesses the same passion for racehorses that she did when daydreaming on her pony. Through the demanding hours of their work, she and Jimmy have raised daughters Jenee, 27 and an award-winning graduate of Tulane University Law School, and Jordan, 21, who is working in the Santa Anita marketing department while finishing her education.
Enduring the inevitable highs and lows of racing they have shared, Barnes and her husband have grown so close with the Bafferts that they consider them family. Baffert trusts Barnes implicitly, as he told her she could do whatever she thought best with Secret Circle in Dubai.
"I was so proud of her, I was so happy for her," Baffert said of their success.
The Dubai victory had to be a highlight of Barnes's career judging by her smile as she held up the trophies. Yet she was glad to get back home—and back on Dortmund.
After all, there is another Kentucky Derby to be run, and she wants her work partner to win it as she continues to live her childhood dream.
"You just get so attached to these horses," she reflected, "and every quirky thing they do. This is just so much fun."