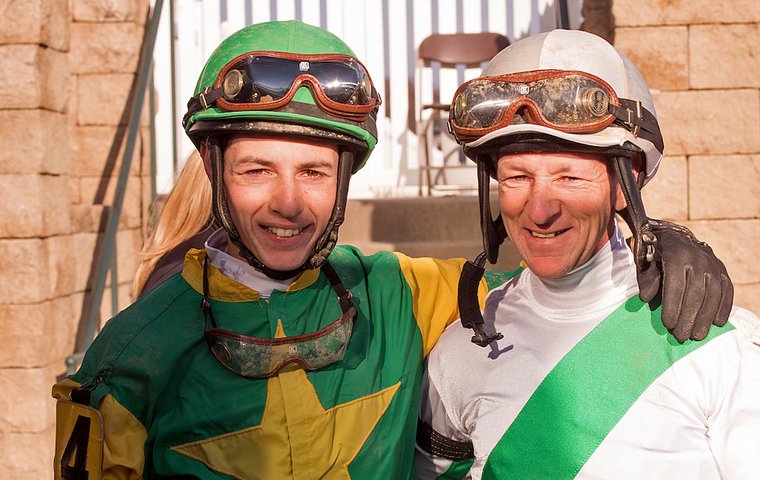 Knowing what to expect didn't make things any easier for Steve 'Cowboy' Hamilton when his youngest son, Weston, decided he wanted to follow in dad's footsteps and become a jockey. Instead, it gave the 43-year-old Hamilton, a winner of more than 1,300 career races and multiple Graded stakes, a kind of perspective he hadn't had before.

"The first couple races I watched him ride I can think back to when I was rodeoing and what my parents went through, because that was the first thing they dealt with. Secondly came the racehorses," Hamilton said. "I know how I felt when he was riding, so now I know how they felt when I was riding.
"It's gotten better each time he's ridden. It's worn off a little bit. I just hope he keeps trucking along," he added. "He keeps his mind open, he's working hard and he's learning every day. That's about all you can ask for."
Apprentice Wes Hamilton, freshly turned 19, won his first two professional races on Monday at Laurel Park in his only mounts on the card. His breakthrough victory came, appropriately enough, on a 5-year-old mare named I Just Wanna Win, owned by David Carter and trained by Pat Magill. Steve Hamilton, riding Include A Check, finished fourth.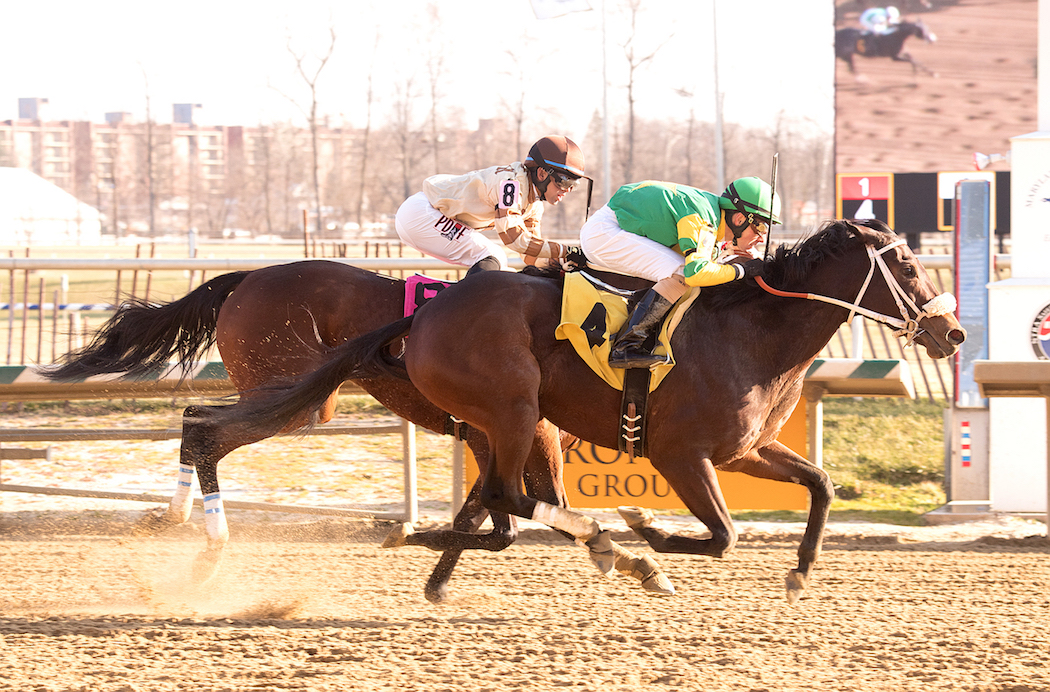 It was the fifth time since Hamilton made his pro debut Dec. 2 at Laurel that he and his father rode in the same race, and the first time that he beat his dad to the finish line. Hamilton junior rides with a ten-pound weight allowance.
Wes Hamilton and his older brother, Garrett, were both born in Maryland during their father's previous tenure, one that ended in 2006 due both to injuries sustained in an automobile accident and a desire to return to raise the boys in his native Oklahoma.
When his son expressed an interest in being a jockey, Hamilton sent him to the Elloree Training Center in South Carolina, where he learned the business from the ground up, mentored by Frank 'Goree' Smith, brother of Laurel-based trainer Hamilton Smith.
"I remember being at the races and hearing everybody when he was winning and when he was leading rider saying 'Here comes Steve 'Cowboy' Hamilton,'" he said. "I don't really remember a whole lot because I was little when he was racing, but I remember being there and watching him win a few times.
"He's taught me how to hang on one when they're acting crazy. As an old bull rider, he showed me how to really get tied on them," Hamilton added. "He's taught me everything. When I was in Carolina, he taught me a lot of stuff, just speaking to him over the phone. He's taught me a ton."
"I went down there and I started grooming before I got on any horses and just learned how to do bandages stuff like that, starting from the bottom. Then I started getting on some and we went from there," Wes Hamilton said. "I learned so much down there. I'd probably say the most important thing is to treat every horse different because they don't all want the same thing. You've just got to see what they want and give it to them. You get them to relax a certain way and every one's different."
Wes Hamilton rode in three amateur races, making his debut Sept. 9 at Laurel and winning a seven-furlong claiming event for trainer Patricia Farro Nov. 5 at Parx. His last amateur race came Nov. 17 at Laurel before he finished second in his professional unveiling on Linda Albert-trained Durango Girl.
"It was really great. We broke good and sat off a few horses and had some horse to finish up with. It felt really good to finish strong and really get a feel for what it's like," Hamilton said of his amateur victory. "You've really got to stay calm and really try not to be nervous. Right when you go into the gate you've just got to keep your mind clear of everything. If you start worrying about things, that's when stuff starts going wrong, so you've got to stay open-minded and stick with the plan."
Steve Hamilton was impressed with the foundation Wes got at Elloree and supplements the time spent there with his own experience gained over a riding career that began in earnest in 1991.
"I went down there and visited him a couple times, and they're not just getting handed a paycheck. They're down there working and there's a lot expected of them, but they also expect to get a lot out of it," he said. "You couldn't ask for a better place to go. Mr. Goree took care of him when he was down there and he come out of there with some good work ethics and it set the stage for him.
"I tell him to just be patient, wait as long as you can and try to have something to finish up with. The biggest thing is knowing where you're at and try to stay out of trouble. Do the best you can," he added. "He's just got to keep his head up and keep trucking along and good things are going to come."
Wes Hamilton has mounts on four horses when live racing returns to Laurel with a nine-race program today, and is also named in the last of nine races tomorrow.
"Everything's going pretty good," he said. "I just try to show up and work hard every day, get on as many horses as I can and the more you get on the more you learn. It's going good so far."