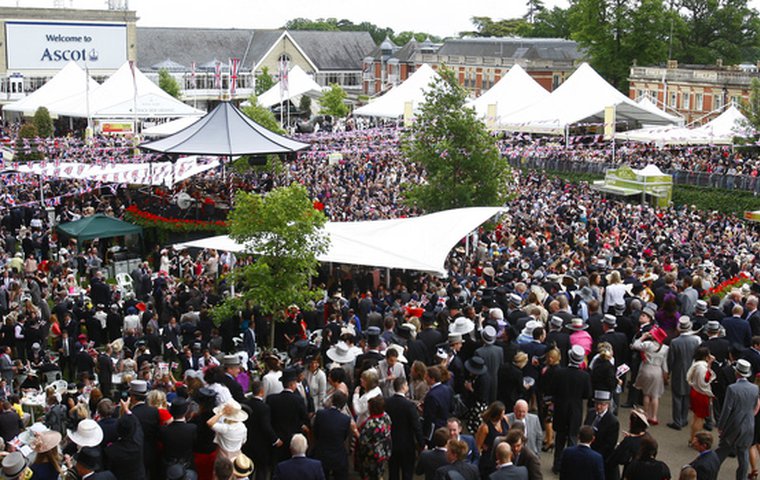 Terese Karmel, a Connecticut-based journalist and college instructor reflects on her annual pilgrimage to Royal Ascot.

I am both an Anglophile and a horseplayer.
Each June both sides come together for my annual trip to the Royal Ascot meet, days filled with royalty, fashion, and witnessing races with the best Thoroughbreds on the planet.
But Royal Ascot is about two Hs: Horses and Hats. Especially hats.
I spy my first one, a circular object that resembles a magenta Frisbee, as I ascend the escalator from the tube to the Waterloo Railway station where a few seconds later, a virtual millinery shop explodes before my eyes. The hour-long ride to the racecourse for opening day flies by in large part because of a conversation with spiffily-dressed Kate Avis who tells me she rented her teal blue "air hostess thing" from Felicity's Hat Hire for £30. She shows me a selfie of last year's hat -- a large silvery configuration of rings called "Saturn" -- that she rented for £100. Asked why she spent less this year and her husband interjects: "Because I said so," while nodding his head, which sports a stiff black top hat. A "Royal Enclosure" tag hangs from his morning coat that tells me he could be rubbing elbows with Queen Elizabeth II later today.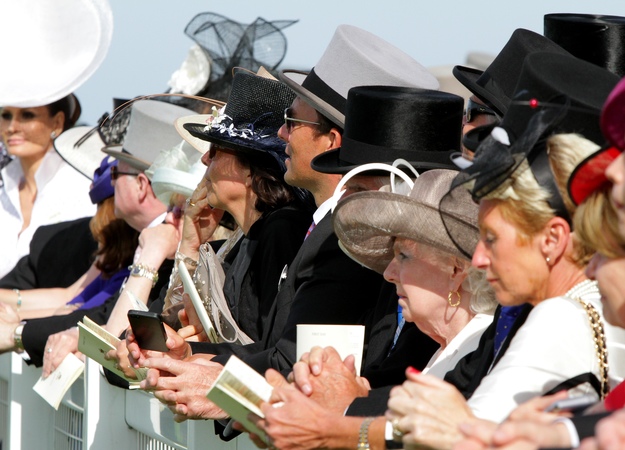 I, however, am headed for the Silver Ring, the cheapest section of this massive course, an area comprised mainly of bars, grassy knolls, picnic tables, and a small unreserved grandstand. Most race-goers are in the Silver Ring to party as well as to gamble, the women in filmy dresses more suitable for cocktail parties than horse races.
The racegoers here lug in hampers, coolers and supermarket bags of food, then drag tables together and enjoy fancy picnics. They inch around tables precariously carrying glass pitchers of the rich amber drink, Pimm's, its slices of floating fruit bringing to mind Hawaiian drinks without the umbrellas.
Mind you, I've nothing against salmon, Stilton, and Pimm's but I'm primarily here for the horseracing.
Once at the racecourse, my first order of business is to fill out a "place pot," in effect, a pick six ticket in which your horse need only hit the board in all six races in order for you to cash. I say "only" as if it's a piece of cake; it's not, especially if you are not used to relying on speed and pace figures to handicap up to 30 horse fields.
Then, I wade through the crowd to the rail, where a heated debate is taking place about – what else - the color of the Queen's hat. It will be revealed when the horse-drawn carriages carrying the royals roll up the course to the Royal Enclosure.
The betting shops were offering 3-to-1 on yellow. Those around me had strong opinions (stronger than their picks in the first race) with one large Belfast-born woman declaring yellow totally inappropriate for an 88-year-old great-grandmother.
"I wouldn't put my mother in that," she scoffed. "I wouldn't put myself in that."
And here comes the Queen, resplendent in robin's egg blue from head to toe. "That's better," said the woman who disapproved of yellow.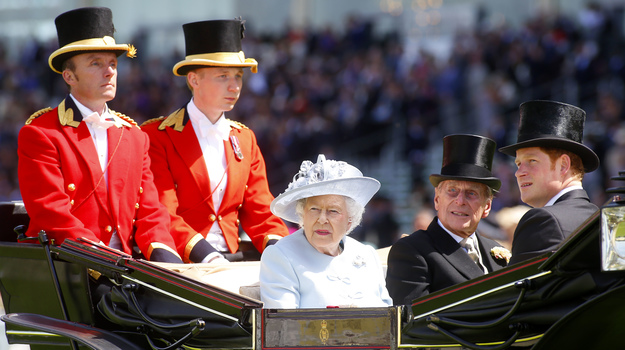 I like to visit on Opening Day, which is said to have the best racing of the five-day meet with three Group 1s and a Group 2. In 2011, I saw Frankel win on Opening Day, on his way to an undefeated career (14-0) before retiring to stud. British turf writers unabashedly label him the best horse ever.
This year's opener is further enhanced for me by the presence of two American horses: Verrazano, a dual G1 winner on dirt last year when trained in the U.S. by Todd Pletcher (now with Aidan O'Brien), and the Wesley Ward charge Hootenanny. Both are owned by the Magnier-Tabor-Smith connections.
I am not provincial by nature; I like to experience new places and people, but this day I'm whispering "U.S.A! U.S.A!" when the American horses make their appearances. Both run well: Verrazano runs second to Toronado, regarded as the U.K.'s classiest 4-year-old miler, in the G1 Queen Anne Stakes, and later, Hootenanny, whom the track announcer notes is being ridden by "Victor Espinoza from the United States" wins the Windsor Castle Stakes, a listed race for 2-year-olds, at 7-2 odds (low for a field of 25). I am hoping that winning at Royal Ascot makes up in small measure Espinoza's disappointment in losing the Triple Crown with California Chrome.
Verrazano keeps me alive in the place pot, but by the 3:05 (the second race), it is dead as a doornail and there is no payoff for picking five. In that contest, the five-furlong G1 Kings Stand Stakes, I back a South African gelding, Shea Shea, who resembles a corkscrew he is so tightly wound in the warm up. There's lots to recommend Shea Shea. In March, he set a course record at Meydan, and was runner-up in this race last year. But no, no for Shea Shea (and me) this year. Frustrated by losses, I adopt a "shoot the messenger" approach to wagering and switch bookmakers. Dozens of these "turf accountants" as they are formally called, line the grassy areas between the viewing stands and the track, adjusting their posted odds by micro-numbers to attract punters.
I sit out a race or two to regroup for the feature race of the day, the G1 St. James Palace Stakes at a mile for 3-year olds. I'm going to try to beat the two heavily backed horses, Juddmonte's Kingman and Night Of Thunder, owned by Saeed Manana. Night Of Thunder's grandsire is Dubai Millennium, who I witnessed winning the G1 Prince of Wales Stakes at Royal Ascot 2006, his last race in a brilliant 10-race career in which he only lost once. That day, I was at the rail taking pictures of a triumphant Jerry Bailey, subbing for the injured Frankie Dettori, as he (Bailey) charged up the homestretch hill, his fist in the air as he crossed the finish line to give Sheikh Mohammed's Godolphin stable one of its most prestigious wins ever at the Royal meet. Later that summer, I showed Bailey the pictures.
"You were there?" he asked. "How good was he?" I replied. Then, shaking his head almost in disbelief, he gave me an emphatic thumbs-up.
This day that triumphant feeling is long gone. When the St. James Palace Stakes is over, I am shaking my head in disbelief at my useless bet on Toormore who may be still trying to ascend the hill. As the betters predicted, Kingman and Night Of Thunder finish 1-2. Say, what's the English word for "chalk?"
I return to Royal Ascot on Thursday for Ladies Day. The crowds are so large that even the Silver Ring is sold out, so I purchase a ticket from one of the "tickets buy or sell" hawkers outside the track. Although the numbers suggest the Belmont Stakes Day crowd on June 7 at Belmont Park was much larger, (102,000-plus to 65,000-plus) based on the rowdiness and packed quarters, the New York event was an afternoon tea at Buckingham Palace by comparison.
Two women from Staffordshire, kind enough to share their bench with me, tell me their husbands are off drinking beer and betting.
"They're not interested in our 'Oh that's a nice hat,' 'Oh look at her,'" said Ann Farrelly, herself wearing a smart straw bowler.
There is so much discussion about hats during pre-race television coverage beamed onto the racetrack that one commentator eventually begs the other, "can we finally talk about horses?"
This day, I have much to talk about when it comes to horses since I netted 40 pounds on a couple of longer prices, including Aidan O'Brien's, Bracelet, in the G2 Ribblesdale Stakes run at 1 mile and 4 furlongs for 3-year-old fillies. Though she had never won at more than seven furlongs, Bracelet was sired by 2000 Arc winner Montjeu so distance was in her blood and besides O'Brien, who used a hood on her for the first time, was winless to date at the royal meeting, so I figured he was due. Everything worked out for Bracelet, who was aided by O'Brien's pacemaker, Terrific, and I was in the chips with the 10-to-1 shot.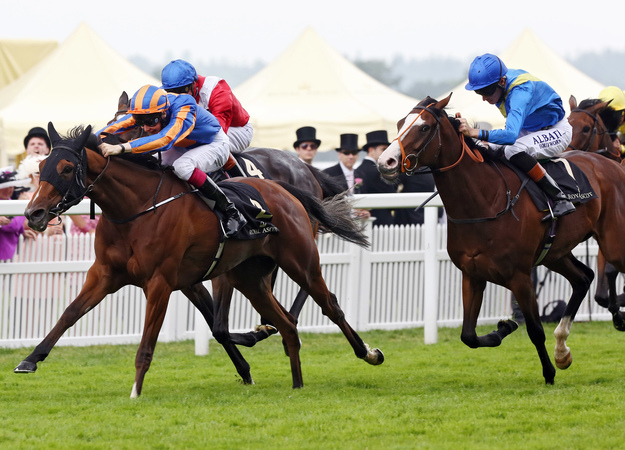 In the next race, the G1 Gold Cup run at 2 miles and 4 furlongs, I back a long shot instead of the heavily favored Leading Light (also sired by Montjeu – what am I thinking?) who gave O'Brien two straight wins. Leading Light barely nosed out Estimate, the queen's horse who had won the Gold Cup a year ago.
I watch the race on television in the Takeover Target bar, a massive Silver Ring drinking area named for the 2006 Kings Stand Stakes winner. Not only did I have to suffer the agonies of defeat, but I was also labeled "disloyal" by a woman from Liverpool who said she'd feel guilty if she hadn't backed the Queen's horse.
Her comments get me thinking: If President Obama owned Thoroughbreds, would I feel guilty if I didn't back them? Absolutely not. I guess that's the difference between a monarchy and a democracy.
Soon it is time to leave Royal Ascot for another year. I navigate my way to the exit, treading lightly on ground littered with Champagne corks, plastic glasses, all manner of cocktail food, and hundreds of pairs of four-inch heels in piles on picnic blankets– their owners having long since sacrificed fashion for comfort.
Going out, I notice a sign for an "alcohol drop-off" station.
"No, madam, you can't take that with you," a uniformed security guard politely tells a young woman who is waving a half-full bottle of rosé in the air.
With a "the hell I can't" look on her face, she pours the wine down her throat to hearty applause from onlookers.
So she can take it with her just as I can take wonderful memories of another June at Royal Ascot. The good Lord and good horses willing, I shall be back again a year hence.