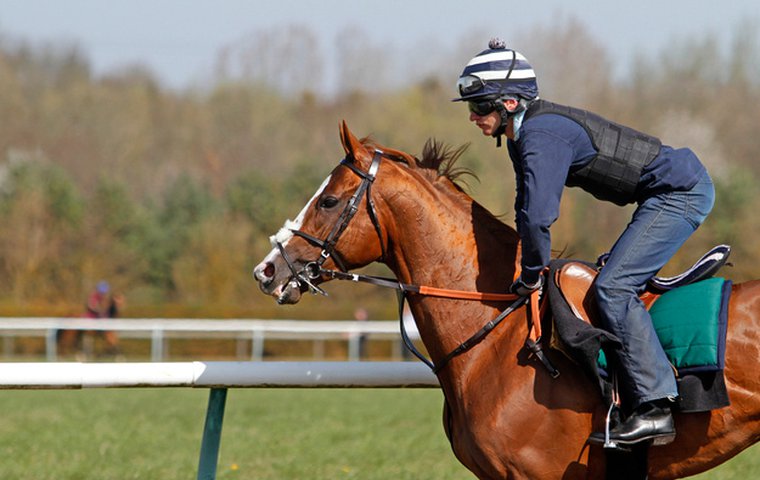 He's woken up. That's the verdict on California Chrome from the two men closest to him, rider Robbie Mills and trainer Rae Guest, as the champion continues his build-up to the Prince Of Wales's Stakes, at Royal Ascot on June 17.

Not literally "woken up" of course, although the chestnut colt with the big white blaze down his face barely raises an eyebrow as I stick my head through the V-shaped grill covering much of the upper section of his stable door.
It's shortly after 10 a.m. at Guest's Chestnut Tree Stables in Newmarket, England, and California Chrome is so settled into his new routine that he is certainly not going to make a fuss about a journalist sticking his nose into his kingdom.
The yard is perfectly quiet save for the dull whirring of an electronic horse-walker with a solitary occupant, and Chrome knows that his training will not commence until Mills and Guest's other regular staff return from the adjoining Heath where they are currently exercising a number of less well-known residents of the yard.
By the time Mills appears a few minutes later to ready the Kentucky Derby winner for some gentle exertion, the cold north westerly breeze of early morning has given way to a temperate spring day, periods of sunshine lifting the temperature close to 70 degrees Fahrenheit.
Chrome perks up, it's almost his turn. Mills and Guest have planned it this way, so that he can go out onto the Heath late when the weather is a bit warmer and Newmarket's other 75 trainers are winding down – most of the serious gallops having taken place soon after dawn.
"He's a bit more awake now," said 27-year-old Mills, the man hand-picked by the father-and-son California-based training combination of Art and Alan Sherman to oversee the European leg of their best ever horse's world tour. "He's getting well in himself after a few pieces of work."
"He's done three proper bits of work, just with a soft lead [inferior horse in front of him] and he's come through it nicely. He went past the lead horse as he should and doesn't do much once he gets in front.
"We've done plenty of cantering and building work with him on the grass and he's getting used to the ups and downs of the turf. He's finding his feet on it and going on it now seems like second nature to him, which is a good sign."
Expanding on the recent intensification of his fitness regime, Mills added: "Last weekend we took him on the Watered Gallop [one of Newmarket's huge network of exercise venues that add up to 67 miles worth of carefully managed "gallops," encompassing all kinds of different surfaces]."
"It's a beautiful stretch of grass which is only used twice a year. I was really happy with him and the way that he handled the undulations and its dip."
Mills has clearly bonded with America's favourite racehorse and is enjoying the privilege of riding such a celebrity. "He's a clever horse who likes to have a whinny and a shout," he revealed.
"When he gets out there he is the 'Boss Of The Heath' and when we meet another string he will have a good shout.
"When he hears the click of a camera he wants to look around. He knows what it is all about and he knows how to have his picture taken.
"It's so nice the amount of people who are interested in him – people do really care about him. I think when he first arrived there were a lot of people who were a bit dubious, a few doubters, but hopefully they have calmed down a bit now."
Enough of talking. Mills now resumes his primary occupation in the saddle, and I make the short walk (barely 50 paces) around to the back of California Chrome's box to stand with Guest in the centre of a circular horse walk, a narrow artificial strip cut into the grass and less than 100 metres in circumference, as Chrome and a handful of other horses begin to limber up ahead of their daily exercise.
Chestnut Tree Stables backs directly onto the wide open spaces of Newmarket Heath, although there is a line of tall trees to separate stables from grassland. It is a tranquil place, save for the continuous birdsong of the feathered inhabitants of those trees, especially the cawing of crows.
Little more than a month short of his 65th birthday, Guest comes from one of Britain's most prominent racing families. His sister, Jane, is Sir Henry Cecil's widow and was at Cecil's side throughout Frankel's incredible unbeaten career that ended in 2012, while his brother, Richard, was the riding hero of the infamous 2001 Grand National when just two of the 40 runners completed the four-and-a-half-mile steeplechase course unscathed.
Rae was also a jockey but on the flat, enjoying most of his best victories outside Britain, in Scandinavia and India. Since taking out a trainer's licence in 1988, he has never been afraid of targeting major international events. Many of his biggest successes have come at Longchamp in Paris, and he has plundered the occasional lucrative prize in North America, with Aldbourne (in Atlantic City in 1990) and Serious Attitude (in Toronto two decades later).
He tells me that California Chrome has progressed a great deal since I first popped in to check up on him a month ago.
"He was very tired when he first arrived, what with the long journey and the different time zones," Guest recalled. "He was lying down every day for a couple of weeks, but he's picked up now."
"He always had a nice coat on him but do you remember how he looked when you first came to see him? He looked like a Greyhound….he looks much better now."
Alan Sherman will be touching down in England on June 2 to supervise the last fortnight of the Lucky Pulpit colt's Ascot preparation, and Guest reveals that Chrome will be making the 100-mile trip to The Queen's racecourse to have a gallop there shortly after Sherman's arrival, on June 4 or 5.
"Life in Newmarket is perhaps a bit too laid back for him, that's why we want to do that gallop at Ascot. And he hasn't been wearing his blinkers for his work like he does at home, it's just not something that we do over here.
"He's got used to the grass and we've been taking him on it twice a week but this morning he's just going to exercise on a woodchip gallop. We tried him on an artificial surface but I was told that he didn't like the polytrack and he didn't seem to enjoy it. The woodchip is a looser surface that seems to suit him better."
Mills and Chrome head off through the trees to the Heath to start the 20-minute walk to the woodchip. As a companion they have the 22-year-old Montecristo, a horse that provided Guest's wife, Rachel, with victories on the first two starts of her career as an amateur rider, thus guaranteeing himself a home for life.
Guest and I head there by car -- and I'm grateful that he knows the way to one of Newmarket's least used training surfaces. We park up and walk across what is in effect a huge meadow, crossing one artificial gallop before stopping some 20 yards back from the woodchip.
As we walk, I quiz Guest about how hard he feels Chrome's task will be at Ascot and his response is quite chastening.
"Impossible," he responded, after a pause for thought. "He's a good horse, there's no doubting that, and it's a very sporting challenge by his owners.
"But this is a new discipline for him. He's got to deal with a new track, a new style of racing, a right-handed bend, and an uphill finish."
This ancient Heath, first used for horse racing some 400 years ago, is only gently undulating -- on this side of town at least. Its one dominating feature is the Millennium Grandstand, about a mile away at the Rowley Mile Racecourse, where Frankel left the crowd aghast with his staggering victory in the 2011 running of the 2,000 Guineas, pulling more than 10 lengths clear of his rivals before the halfway point had been reached.
Training horses in Newmarket is about as far removed from Clockers Corner at your average U.S. racetrack as you can imagine. Partly owing to the variety of different gallops on offer, trainers here never use a stopwatch – and the same can be said for trainers right across the county, even those that are forced to use the same terrain for exercise almost every day.
In contrast to his sorties onto the dirt at Los Alamitos, where the track is closed in his honour and an announcement made over the loudspeaker so that the public can cheer him past as they enjoy breakfast at the trackside café, here there is an audience of just three – Guest and myself, plus a single California Chrome-fan, or "Chromie," a visitor from Las Vegas of Japanese origin called Yuki who is resplendent in a bright pink jacket.
And, in truth, what we see is less than revealing. Moving freely but not fast, Chrome and Mills come past at a very controlled tempo, some way short of maximum speed.
California Chrome heads off into the distance, leaving me behind to thank Guest for his hospitality. For the good of international racing and to reward the ambition of his sporting owners, let's hope that he can beat the odds to leave his equine rivals behind amid the pomp and pageantry of next month's Royal Ascot meeting.
----------
James Crispe is associate director of editorial at the International Racing Bureau