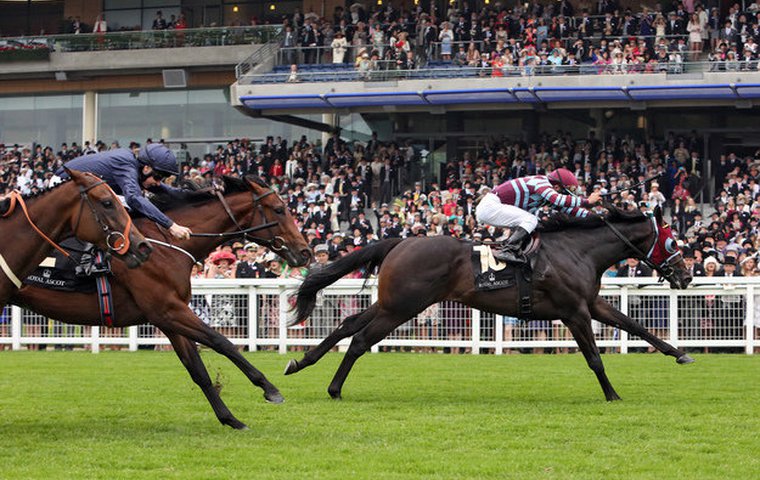 Injuries, loss of form, and retirement have cost Britain's flagship race meeting, which starts today, its now customary influx of star names from Australia and Hong Kong, but there will still be an exciting international challenge through the week, as Chris Smith reports.



At first glance, you could be excused for assuming the 2014 edition of Royal Ascot is a bit of a flop as far as its international ambitions are concerned.
The world's most glamorous, and some might argue most prestigious, racing festival set its store more than a decade ago to do what no other European meeting had done before: become a must-be-there magnet for the best horses all over the world. The success of that initiative is well documented: More than 50 runners from outside Europe since 2003; five winners from Australia, two from Hong Kong, and three from the United States; challenges from towering performers such as Black Caviar and Animal Kingdom.
And just two months ago it seemed this year was set to be the daddy of them all. Probably the fastest horse in Australia (Zoustar), the fastest in Hong Kong (Sterling City), the Melbourne Cup winner (Fiorente), the winner of the world's richest mile race (Sacred Falls), and the winner of the world's richest turf 10-furlong race (It's A Dundeel) were all but booked on the plane for Britain.
So how many of those marquee draws do you suppose will actually be lining up in Berkshire this week? Yes, you guessed it – none of them.
But don't think for a second that spirits are down among the Ascot management. On the contrary, they have every reason to be thoroughly satisfied with the international line-up this time, thanks largely to the response from one country in particular: the United States.
Eight American runners are due to take their chances at Royal Ascot, starting with the Joan Scott-trained, 5-year-old Ancil, who broke the five-furlong track record at Tampa Bay Downs in March and runs today in the five-furlong G1 King's Stand Stakes, partnered by English jockey James Doyle. Ken McPeek runs Kentucky Oaks fourth-placed runner Rosalind in the one-mile G1 Coronation Stakes on Friday, and regular Royal Ascot raider Wesley Ward has sent six juveniles to contest many of the highly competitive 2-year-old races through the week, starting with Hootenanny, the mount of Victor Espinoza in the Listed Windsor Castle Stakes over five furlongs today.
Add to the mix two top-flight runners with big chances from South Africa's Mike de Kock – Soft Falling Rain (G1 Queen Anne Stakes over a mile today) and Shea Shea (King's Stand) – along with the jewel in the crown, French-trained Prix de l'Arc de Triomphe winner Treve, the joint highest-rated horse in the world last year and a runner in the G1 Prince of Wales's Stakes tomorrow (Wednesday), and you can begin to see why the organisers' mood is decidedly upbeat.
As Nick Smith, Ascot's head of communications and international racing, put it: "Like anything in any business, you have to take a long-term view on things and, generally speaking, everything is going according to plan on the international promotional front. It's just one of those years [when not everything has worked out].
"We're really pleased with the Americans and Mike de Kock's team, and of course you've got Treve, and the general standard of the racing is as usual fantastic with Kingman and Night Of Thunder [second and first in the Newmarket 2,000 Guineas in May] running against each other again," Smith said.
"The Australian situation is slightly unfortunate. It's one of those things. If Zoustar and Fiorente hadn't got injured, you'd have last season's top 3-year-old and Fiorente, the highest profile horse in the whole of Australia, running for the most high-profile trainer in the whole country, Gai Waterhouse, at Royal Ascot."
It's A Dundeel was retired to stud by owner John Messara after his $2.2 million-victory in the 10-furlong Queen Elizabeth Stakes, highlight of The Championships, Sydney's new $16.5 million, two-day festival in April.
"I wonder if he had been second, whether he might have come," Smith pondered. "But, having won that race and ticked that box [for his appeal as a stallion], you can understand what John Messara [the driving force behind The Championships] must have thought. He's put a lot of time and money and effort and energy into making that meeting what it is, and it's very much an end in itself and that's I think how he regarded It's A Dundeel winning.
"After the race, we were very optimistic," he continued. "It's A Dundeel and Sacred Falls [second in the Queen Elizabeth and the winner earlier in the meeting of the $1.7 million Doncaster Mile] were being touted. In the papers, it was all about Royal Ascot, which was completely unprecedented for Sydney in April. Sacred Falls was effectively a runner at that stage. He was going to come with Zoustar. But that didn't happen, and really that is a blessing in disguise because the horse needs soft ground. He probably would have been withdrawn because there would just not have been any point running on this ground [it will be fast ground at Royal Ascot this week]."
The other notable missing international star is Hong Kong's Sterling City, winner of the six-furlong Golden Shaheen at the Dubai World Cup meeting at Meydan Racecourse in March. "There was a good chance he would come," Smith said. "He would have been chasing the million-dollar Global Sprint Challenge bonus had he won in Singapore [the KrisFlyer Sprint last month], but he ran so flat in Singapore that the connections couldn't put him on a plane again."
Smith is taking huge encouragement from the American challenge this week and believes a success or two for the U.S. team could spark significantly more interest in the royal meeting from America, much as the 2003 victories of sprinter Choisir did in Australia.
"There are six very good horses from Wesley Ward – he's very confident about that team. Rosalind is a top-class horse, a G1 winner, placed in a Breeders' Cup, fourth in a Classic over there, and Ancil is a bit of a speculative runner that could be quite interesting, so we're very happy with what we've got," Smith said.
"This comes on the back of Animal Kingdom [who ran disappointingly when favourite for the Queen Anne last year]. The owners of Rosalind, who's a serious racehorse, could easily have thought 'if Animal Kingdom can't do it at Royal Ascot, why are we going to take Rosalind.' But that hasn't been the case.
"A lot of people from the States are looking in now. If one of these horses wins, it could be very much like what happened with the Australians."