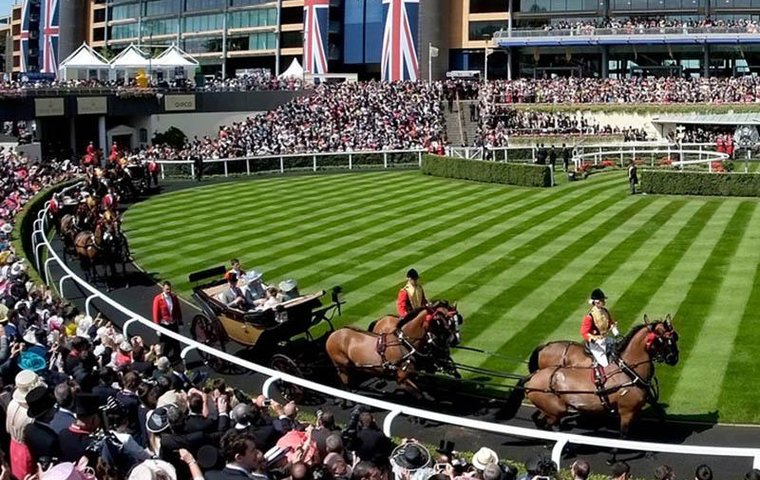 This week's Royal Meeting, which starts today, will be available to view in over 200 countries, headlined by extensive domestic coverage on the terrestrial ITV channel in Britain.

The network will cover all 30 races over the five days, an arrangement unique to Royal Ascot, with an onsite team of over 250 people.
The Racecourse Media Group (RMG) TV channel Racing UK will also show the race to 50,000 subscribers and in 6,000 pubs and clubs in the UK and Ireland.
Globally, coverage of Royal Ascot will have a reach of over 584 million households across a record 201 territories. The number of markets receiving coverage of Ascot has grown more than 30 percent since 2014.
Reach in the U.S. has grown from 23 million households in 2015 to almost 80 million this year through an extension of the contract with NBC to include, for the first time, coverage of Royal Ascot going out on the main NBC channel on Saturday (days one to four on NBC Sports Network).
Racing.com in Australia will broadcast all five-days of the meeting, on over 100 free-to-air channels across the country, with Sky Racing Channel covering through its betting outlets.
Around 42 million homes in 17 countries in the Middle East and North Africa will be served by live coverage from Dubai Racing Channel, Abu Dhabi Sports and Al Kass (Qatar).
Royal Ascot is once again broadcast in China via Sina, the direct to home streaming service. Of the 340 million monthly active users, 45 million access the Sina Sport portal daily bringing Royal Ascot to millions of Chinese customers.
NTV Plus will carry the meeting in Russia, while SNTV (Sports News TV), the leading sports news video agency, will distribute coverage to news outlets around the world.
CNN is covering the meeting for its World Sport and Winning Post broadcasts.
EuroSport will be showing highlights and news from Royal Ascot across 147 million households in Europe and 11 million in Asia, as well as across its website, which has 33 million unique users.
Coverage in Japan has been revolutionised by partnership with DAZN, offering premium sports programming such as J League, Premier League - and now Royal Ascot, to the vast young digital market there.
There will be 1.3 million betting streams in the UK, with 22 global betting operators showing the broadcast feed live, and over 40,000 betting shops worldwide will carry the races. In the USA and Canada five official designated betting operators are working on enhanced marketing to promote a new Pick 4 concept, which will drive additional new audiences to the Royal Ascot brand.
Juliet Slot, chief commercial officer at Ascot, said: "We are very privileged in the UK to have a terrestrial free-to-air partner in ITV which is so committed to racing, illustrated no better than through their extensive coverage of Royal Ascot. RUK will provide its usual in-depth specialist coverage to its 50,00 subscribers in tandem and overseas. The Royal meeting has never had such exposure.
"Coverage on NBC, which as last year will include fashion and Royal procession inserts into their flagship Today programme, has expanded and it is very significant that Saturday will go out on the main network - the equivalent of ITV1 at home.
"With horses from four leading U.S. stables set to be represented, and following two wins for America last year, interest there has never been higher. Our ambition to continue to grow our brand on the global stage is enhanced by such an extensive network of broadcast partners with unprecedented reach for the five days of the Royal meeting.
"This wouldn't have been possible without the efforts of our broadcast distribution partners, RMG, GBI Racing and Pitch International."