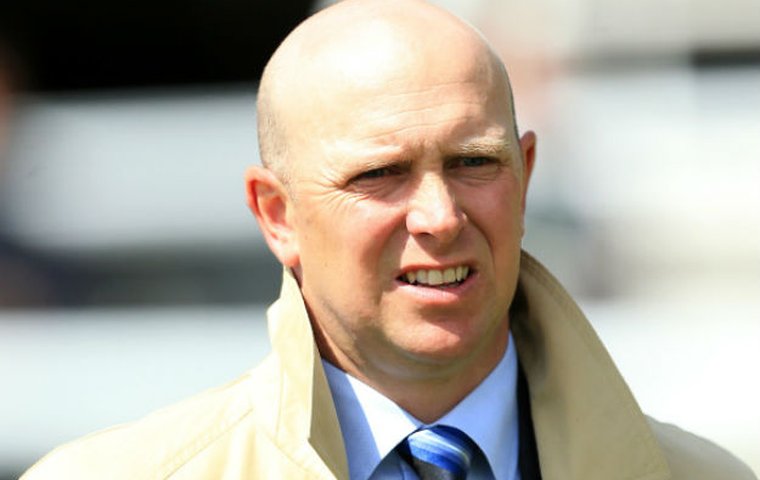 As Owen Burrows fine-tunes Massaat's preparations for the Epsom Derby on Saturday, he is fortified by the knowledge that a previous Derby winner was prepared on the manicured turf surrounding Kingwood House Stables.

Ten years ago Marcus Tregoning trained Sir Percy to win at Epsom from the same Lambourn stables that were extensively refurbished by Sheikh Hamdan Al-Maktoum in 1998.
Burrows now endeavours to follow in Tregoning's footsteps. He has been at Kingwood House for more than 18 months, the first 12 as assistant to Barry Hills. The rookie can still scarcely believe it.
Burrows was at a loose end when he retired as a jumps jockey back in 2001. "For six months after that, I didn't know what I wanted to do," he reflects. "I was very lucky that one thing led to another. There's no way I ever imagined I'd end up training – much less at a place like this."
Kingwood House sits in 80 acres above the Lambourn valley in southern England, where numerous Derby winners have been trained. Among them was Felstead, the winner in 1928, who was bred at Kingwood Stud, which is adjacent to Burrows' stables.
Tranquil surroundings
A 7 ½-furlong training track runs around Kingwood House and Burrows has access to five different grass-gallop strips, owned privately by the sheikh, in the valley below. It is something of an equine oasis.
These tranquil surroundings are bringing the best out of Massaat. Having chased home Air Force Blue on the last of three juvenile starts in the Dewhurst Stakes, Massaat beat all bar Galileo Gold on his seasonal debut in the 2000 Guineas.
Although Burrows was thrilled with his debut runner in a classic, he would readily attest that there is nothing worse than finishing second. He saddled nine runners-up from his first 17 starters. "I shouldn't complain but I'm getting a bit a bit sick of second places," he says.
So what of the prospects of Massaat stopping the rot in the biggest race of them all (he's generally available at a generous-looking 14-1 with the bookmakers)? Burrows is encouraged while acknowledging the severity of the question, given that Massaat, a son of Teofilo, has never raced beyond a mile.
Up against his former boss
"The horse was a bit fresh [rank] at Newmarket, but we had to ride him quite positively," he says. "We didn't want anything getting first run on us and I felt he galloped right to the line. So, while it's not definite he will stay one and a half miles, I'd say it was likely."
That concern arises from Massaat's dam, the Acclamation mare Madany. "Barry [Hills] trained Madany for Sheikh Hamdan and says she was very quick," Burrows concedes.
"He never ran her over more than six furlongs, but Massaat's whole demeanour is encouraging. He relaxes in his races and he has a great mind. When Paul Hanagan rode him at Newmarket, he said the horse could hold his own over a mile but that his future lay over 10 furlongs."
Burrows may be in his debut season, but the sight of a Derby horse is not new to him. He spent 12 years with Sir Michael Stoute in Newmarket, all but two of them as the 10-time champion trainer's assistant. Now he is aligned against his former boss, who trains the much-fancied Derby contender, Ulysses.
The gift of patience
"I was very fortunate to be with Sir Michael when he had three Derby winners [Kris Kin - 2003, North Light - 200, and Workforce - 2010]," Burrows reflects. "We also had horses like Conduit and Harbinger, while Workforce won the Prix de l'Arc de Triomphe."
Burrows learnt to keep his eyes open while at Freemason Lodge. "Sir Michael has the gift of patience," he says. "He'd seen the odd glimpse from Harbinger as a 2-year-old, but he didn't run the horse at all that year. With a backward 2-year-old, he would only need to see something once on the gallops, and that would be enough for him to wait. Patience was the key."
Burrows is taking a similar approach to his new profession. Among his string of nearly 50 horses are 27 juveniles, most of which will be campaigned towards the back-end of the season. Besides, there is no rush when you are privately employed by Sheikh Hamdan.
A Derby triumph for Massaat would give Dubai's Minister of Finance immense pleasure. It was at Epsom 27 years ago that his Nashwan – like Massaat a homebred product – etched himself into equine folklore.
Nashwan was the first of two Derby winners for the sheikh, but the colt's victory vindicated at a stroke his purchase of Kingwood House the previous year. He'd bought it because of his empathy with Dick Hern, who was obliged to vacate the royal stables at West Ilsley when he was dismissed as the Queen's trainer in 1988.
Fairytale start
Nashwan was proof enough that Hern's skills were not compromised by a fall he suffered in the hunting field that left him confined him to a wheelchair. He emphasised the point when he saddled Sheikh Hamdan's Harayir to win the 1000 Guineas in 1994.
Hern trained at Kingwood House until he retired in 1997, when Tregoning, then Hern's assistant, took over the licence. Although Tregoning enjoyed plenty of success, the expense of running the training complex led him to relocate to Hampshire in 2013.
Kingwood House subsequently went into a state of flux. Having put the property on the market, the sheikh asked Barry Hills' son John, who trained next door, to look after the small string he kept there. But John died suddenly of cancer in June 2014, prompting Barry to fill the breach for one year until an appropriate replacement was recruited.
That's where Burrrows stepped in.
He is the fifth trainer to occupy Kingwood House since the sheikh bought it 28 years ago. He promises to bring the sort of continuity so redolent of the sheikh involvement in the sport.
A Derby winner would amount to a fairytale start for Burrows. The prospect fills him with excitement and trepidation in equal measure.
"I'm having to get used to all the media attention, but it's amazing to be in this situation," he says. "It's quite daunting at this early stage of my career but I'd much rather be at Epsom with a runner on Derby Day that watching the race at home on television. Who wouldn't?"