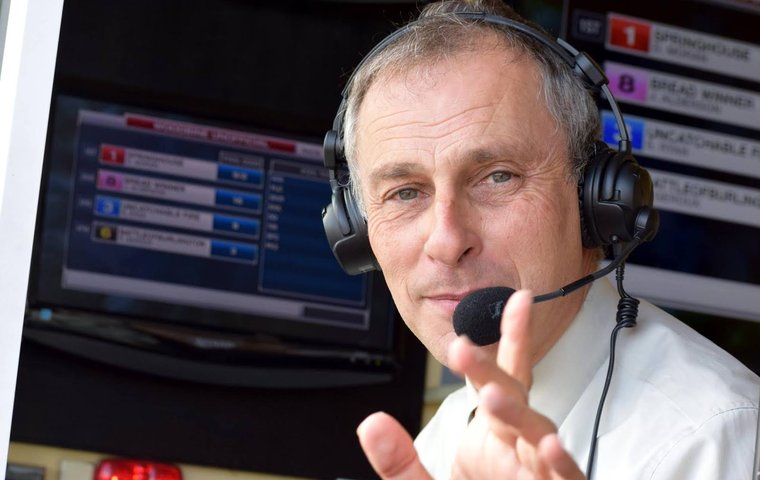 Robert Geller is currently the announcer at Woodbine Racetrack outside Toronto, but he has called races all over the world. Born in England, he started his professional career in Australia, then moved to Hong Kong to call at Sha Tin and Happy Valley. He called at Emerald Downs outside Seattle for 19 years before moving to Woodbine.

Who do you think is the most important figure in world racing history?
Can I say a horse? It's interesting to think a horse could be it, rather than a person.
Phar Lap. I think Phar Lap captured the essence of Australian racing, and when all is said and done I think Australian racing will be the first and last racing jurisdiction. There was so much folklore about him, so much mystique. And he traveled. I think he set the standard for Australian legends. Living in North America can mean you are in a bubble of North American racing, and you forget that racing jurisdictions are thriving in other places.
Which is your favourite venue and race?
My favorite horse race is the Melbourne Cup, and my favourite venue is Flemington Racecourse. I used to go there as a child, every time they were racing. I think it has retained its prestige and established itself with the Melbourne Cup as an important international race. It is nice to grow up with that, and see how important it is to the world.
The Melbourne Cup is a challenge because the race has become a bit swamped by international invaders. It's a handicap over two miles, it's been won by some very nice horses, and it's a race that is pivotal to the carnival in Australia. It was designed as a race for the battling horse but it has become a race for the quality horse. It brings chills when you watch it.
What is your fondest memory in racing?
Emerald Downs holds a great deal of emotional memory for me. It was the opportunity to start race calling in the United States and North America. I thought it was a wonderful honor to be inducted into the Hall of Fame there. There was something so honest and true in the way the racetrack and I had a real genuine connection. There was so much love put into the last day [before taking up the position at Woodbine].
I was shocked by how many little gestures they made towards making sure I had a good send off, like they had the jockeys raise their whips to me in the post parade. It was hard to keep going because it was so surprisingly touching. It really caught me by surprise how much love there was. Those things stay with me more than a race call or a particular moment. I had tears in my eyes that day.
What do you see as the biggest challenge racing faces today?
One thing we have to be careful of is to not dumb it down. There is a tendency in many industries to dumb things down. I think we should present racing differently; instead of saying, 'Here's an experience or a giveaway!' we need to put the question out: are you willing to come on a journey with us? The journey will take a little bit of time, but it is a wonderful journey.
There's a rush to feed the short attention span, and a rush to feed experiences, but are they long lasting? Anything with foundation has more chance of lasting.
Are people willing to invest more patience and time to appreciate the nuances of horse racing? One of the greatest gifts is to allow someone into your world honestly, and not present them a lot of blah. Cut the hot air, get down to what racing represents. If you raise the bar, people will go to that level. People are more resourceful than we give them credit for.
If you could change one thing in racing, what would it be?
I think the sport needs to work together and not take pride in one section of racing doing well at the expense of the other. At the end, everyone loses. We need to build from the bottom up; if you lose lower-level tracks, the higher-level tracks become lower level, and then what?
It's important to invest in the grassroots of people's lives and build it up. The trickle-down effect doesn't work. There has to be a level of respect given to every track, and they have to be uniform in their goal to promote racing. To have longevity, it can't just be about their own insular survival versus another track. Are they thinking about themselves, with no real ability to see the long-term effect of that on the industry, or are they genuinely able to find a way to make this industry work together?
I think right now we are really seeing we need to bring a degree of centrality to it. We can't just feed the top level. We've really seen too many tracks go under lately, for no good reason.