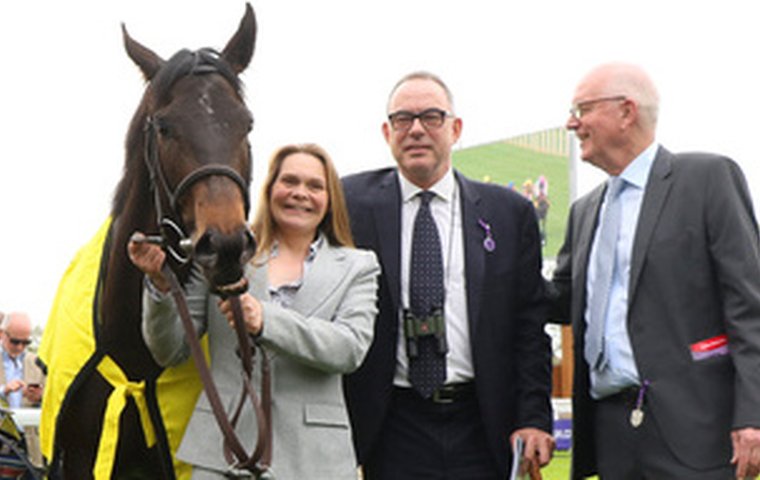 The best thing that ever happened to Steven Smith was being held up at gunpoint in his own house. Not that he was exactly down on his luck before that. He was (and is) a spectacularly successful businessman, and, latterly, a racehorse owner and breeder. Things were going quite well by any measure.

Smith came slowly to the world of Thoroughbreds; jollies at the Epsom Derby and the Cheltenham Gold Cup, then 'mixed' results as a fledgling owner.
"The first time Mighty Phantom ran over hurdles at Folkestone, it took hours to get there, longer to get home, in terrible rain, and she came ninth or tenth. I thought, 'I don't like this'. She got better and won for us, but she was moody and refused to start, so we retired her and bred from her. I've had that family ever since."
His success grew. By 2011, he'd had around 20 winners, and a third place at Cheltenham, and was becoming increasingly interested in pedigrees.
Then came the catalyst. He was alone at his house in France when two armed robbers crashed in and accosted him. One of them went to locate the safe (and his wife's jewellery), and he knew this would be painful - "an empty safe is worse than no safe" – so he took his chance, and attacked the second man, slamming him against the wall.
13-hour operation
Smith's only way out was the window. He was 30 feet up on the second floor. "There was a river beneath the house - it's an old mill - so in my mind I was jumping into that. It's very difficult to execute when you've got one second to think. I slipped when I jumped, so I hit the bank before the river and broke my back. I rolled into the river. I broke my arm, I broke my leg … various things."
The robbers re-appeared, with a third man who had been waiting in a car and issuing instructions, dragged him out of the river, beat him up and tied him up (badly). They stole his watch and took off, rather traumatised at the turn of events.
After half an hour, his gardener escaped the wine cellar where he'd been locked and called the fire brigade. He arrived in Nice for a 13-hour operation that night, then a 12-hour operation a few days later. Coming round, on his first day out of intensive care, he was told he'd never walk again.
After a month in French hospitals, first in critical care on the trauma ward ("people had axes in their heads. In three days only two of the five of us in the room didn't die"), the staff tried to get him up. It was "like Hannibal Lecter; they tilt you up and take the bottom ledge away. I couldn't feel a thing and I was quite demoralised".
Back in London, progress was slow and microscopic; he could feel a pinch but his legs felt like lead and he wore a "horribly constricting" metal straitjacket.
Progress finally began when he was dropped into a swimming pool on a hoist and he could move his legs. "Wow! So the only thing that was stopping me was strength. I was in the pool as often as possible. Eventually I could walk outside of it. I improved for 18 months, then it stopped and I hit a wall, which was depressing."
A downer, but all that time was a chance to contemplate. He says, "I was lying in hospital, thinking about what to do with the rest of my life. I'd done everything right and this happened. Maybe I should have done everything wrong and had a good time. I'd worked hard, I hadn't taken too many crazy risks, I made a bit of money, but I was a slave to my career, I suppose.
"I thought, 'what do I really like doing?' I really like the horses. 'What would be the best thing I could do that I'd be really interested in?' I thought, 'I'd really like to breed horses, that would be the coolest thing I could do.'"
Unstoppable momentum
So, with his wife and the (now) farm manager, they found a place - Hunscote Stud in Warwickshire; 70 acres, 27 boxes, 13 paddocks; perfect. He was on a mission and he had the unstoppable momentum of a great idea.
He decided to focus on the flat. "We went to sales in Baden Baden first. I wanted German pedigrees. They have a different way of breeding there; the stallions have to be sound, no wind operations and no real medical issues, so they're more robust. It was the last time I ever took a private jet. I said to my wife – she wasn't that chuffed - I'm not paying £15,000, we could buy a horse with that."
Smith found his 'thing', the thing that obsesses and changes a person once they discover it. He's fascinated, thrilled, and inspired by every angle of it.
He says, "I'm big on the mentality of animals. If they don't want to race, it's no good. I do loads of tests to freak them out. I stand behind them to see how their ears move. They have two blind spots, one in front and one behind. If their ears are all over the place, you've got a twitchy horse. If they stand or turn to see you or - as a good horse - the ears follow you around, that's what I like to see. It means they're attentive, not overly worried but aware of where you are. They need spacial awareness when they're racing."
He bought a filly, Nyanza, in the summer after the attack. "She was small, not particularly athletic, but she didn't like losing and would try harder than the others. I had five broodmares by the end of the first year," he recalls.
He was a man in a hurry ("experience is important, but it doesn't happen fast enough"). He was also a man with PTSD and the horses helped because they made him concentrate on something else. "I had a lot of learning to do. You can't keep them all. If you're in it to breed a Derby winner, you've got to upgrade.
"We spend a lot of money putting stock together. We don't compete with the Irish or the Arabs on how much they spend, we do a lot of work on DNA and statistics. I like anything with a memory challenge and I now know 200-300 stallions' pedigrees well. My ambition is to breed a Group 1 winner."
It's not all about the numbers, though. He's intrigued too. "I got a protection dog and she's my saviour because we walk and see every horse twice a day. I spend more time with the foals, I like to learn who they are in character and mentality. They're so different - just like people - some timid, shy, some are in your face, some are naughty, some are scared."
Talent spotting
And he's not immune to the excitement of talent spotting. "We can see ones who'll be good on the racetrack. I have high hopes for Chicago Guy, a lovely chestnut 3-year-old. He knows he's good. The others know too. He swaggers, he gets his food first. We've had a listed winner and a Group 3 winner, Dan's Dream." Smith lent this horse to a spinal injuries charity for a year, donating all its winnings.
It's "all consuming, I think about nothing else". He adds, "It's not surprising, it's a huge challenge. We've got nearly 60 horses and something happens every day to one of them."
It's brought about some profound and surprising changes too. "It teaches you to deal with upset and disappointment better than anything because they don't win very often; even the good ones lose most of the time. The lows are bigger than the highs. It's good to feel that.
"It's good to be emotional; it means you feel passionately about something, which is better than not feeling passionately. That's what has changed. The incident was the best thing that ever happened. I'd never have done this."