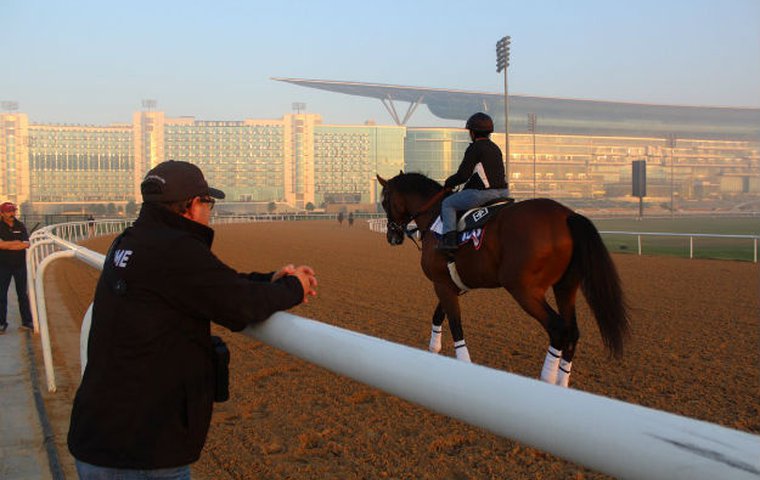 With just two days to go until his eagerly awaited World Cup prep race at Meydan, there is little doubt that California Chrome is shining in the Dubai sunshine and delighting connections in the process - at least when the fog allows.

There have been a few foggy mornings at Meydan in the last week or so but what has been seen of Chrome has been impressive and, perhaps more importantly, the reaction of his team to his completed preparations has been one of delight.
So it would be a surprise if he were to be tested seriously on Thursday, even though some of the seven other runners declared today for the $150,000 Trans Gulf Electromechanical Trophy have useful form on the Meydan dirt track - and will be receiving weight from the 2014 Kentucky Derby and Preakness Stakes winner, although not as much as the official difference in their ratings.
----------
It's all going exactly to plan for Frosted
----------
California Chrome completed his final 'serious gallop' last Friday, striding out over 1,000 metres and stopping the clock at 47.20 secs. Significantly, his trademark blinkers were absent as he devoured the Meydan surface.
Alan Sherman, assistant to his father and California Chrome's trainer, Art, said yesterday: "We take the blinkers off in his work sometimes to keep him a bit more relaxed. He went very well indeed and I could not be happier with him.
"The blinkers will, of course, be back on when he races on Thursday. That was his final serious gallop before that race on Thursday and he will just tick over between now and then.
"Dad and Victor Espinoza are due to fly in tonight, and I think they will be delighted with what they find; the horse is in great shape and looks amazing."
There is certainly something impressive about the way California Chrome's effortless stride powers across the Meydan dirt. His movement is fluid, almost graceful. There is no extravagance or wasted effort.
Friday's gallop was his fourth serious piece of work since he arrived in late January. During his first, on Saturday, January 30, he covered 800 metres in 48.4 secs and galloped out to six furlongs in 1:13.
The following week he worked over 1,000 metres, which he covered in a comfortable 59.2 secs, and the week after he was stretched out to 1,400m, covering the trip in a smooth 1:24.2.
'Happy, healthy and fit'
Sherman said: "I would not swap him for any of the other World Cup hopefuls. Yes, Frosted was very impressive, I know, and Kiaran McLaughlin is a top trainer, but we have a serious horse, also proven at Meydan [when he was second to Prince Bishop in the World Cup last March].
"Keen Ice has just arrived, and we all know how good he is on his day, but he has yet to experience Meydan.
"And, as I keep saying, Chrome is a far bigger and stronger horse this year. I am delighted we decided to come over early as he has just settled into his routine so well.
"He is a happy, healthy and fit horse who put on about 20 pounds in his first week here. This will be his second run of the year, remember, and then he has four weeks until the big night. That has always been the plan, for the World Cup to be his third run of the year.
"We strongly believe most horses are at their peak for that third outing, and hope it will be the case with him this year. It is just so exciting and great to be part of the whole Meydan and World Cup Carnival experience."
It seems appropriate that, soon after the introduction of the California Chrome Stakes at Los Alamitos was announced, the horse has the chance to justify such recognition on the world stage, exactly five years and one week after his foaling date.
California Chrome's presence in the field of eight for the 2,000-metre (mile-and-a-quarter) dirt handicap, which has always been his target, means the other seven will all be out of the handicap in the race, which goes off at 9.55 pm U.A.E. time (12.55 EST).
That scenario occurred in the same race in 2008, when subsequent World Cup winner Curlin was far too good for five rivals. Curlin was rated 129, the runner-up, Familiar Territory, 109.
This time, California Chrome has an official rating of 121, 16 pounds clear of the next-highest-rated runner, Storm Belt. Chrome has to concede 7 kilos (15.4 pounds) to all his rivals on Thursday.
The other seven:
Storm Belt
7yo (by More Than Ready) Rated 105
Owner: Sheikh Hamdan bin Mohammed Al Maktoum; trainer: D Watson
A solid performer in six runs on the Meydan dirt. Disqualified for a positive sample after victory a year ago, then fifth of nine in the G1 Al Maktoum Challenge R3 behind World Cup winners African Story and Prince Bishop. Just one run so far this season.
Hunting Ground
6yo (by Street Cry) Rated 102
Owner: Sheikh Hamdan bin Mohammed Al Maktoum; trainer: S bin Ghadayer
Three runs on Meydan dirt track - a fifth and a third in handicaps this year and an easy win in a handicap last year.
Good Contact
4yo (by Teofilo) Rated 101
Owner: Godolphin; trainer: S bin Suroor
Strong finishing and narrowly beaten in a handicap at Meydan last time in only start so far on dirt.
El Tren
5yo (by Danehill Dancer) Rated 100
Owner: Attwater Partnership; trainer: M Attwater
Five wins in Germany in 2014-15 but down the field in two tries on turf at Meydan. This would be his first run on dirt.
Success Story
5yo (by Peace Rules) Rated 100
Owner: Lee Jong Hun; trainer: Jang G Min
One of two horses from South Korea to have taken part in the Dubai Carnival this year. Third of 14 in his only run there so far (on dirt at Meydan in January). A winner on dirt in his homeland.
Plantagenet
9yo (by Trade Fair) Rated 98
Owner: Stall in Bloom; trainer: N Petersen
Spanish-bred, Swedish-owned, Norwegian-trained, Plantagenet has run on the Meydan dirt three times, including when a good second in a handicap first time out this year.
Pit Stop
5yo (by Iffraaj) Rated 95
Owner: Sheikh Hamdan bin Mohammed Al Maktoum; trainer: S bin Ghadayer
Six runs on dirt (four at Meydan, including a handicap victory last February, and two at Jebel Ali). Encouraging sixth in his only run so far this season.