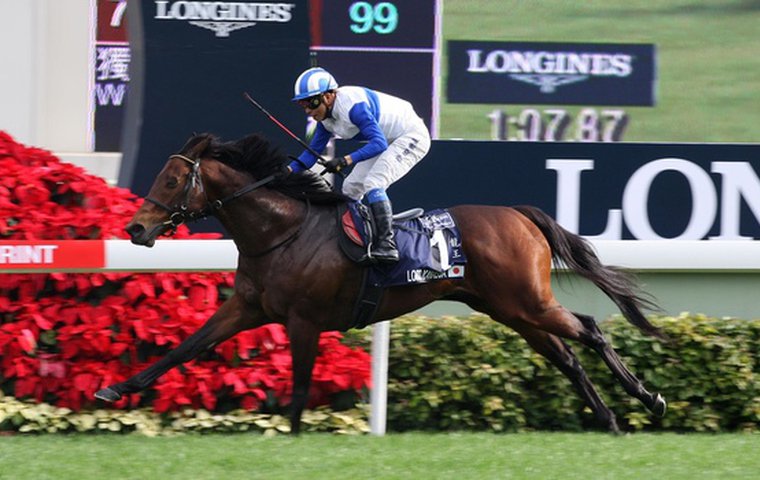 Yesterday, Paul Haigh described how the determination of the Hong Kong Jockey Club to raise its standards to international level inevitably brought it into sporting conflict with its racing neighbour in the north. Today, he continues his review of their still developing racing rivalry as the two Asian powerhouses prepare to do battle yet again, at Hong Kong's Sha Tin racecourse in the Audemars Piguet Queen Elizabeth II Cup on April 27 and the Champions' Mile on May 4.

Read about the history of the racing rivalry between Japan and Hong Kong
----------
..In 2001, the year that followed Fairy King Prawn's ground-breaking Yasuda Kinen victory - the first by a Hong Kong horse on Japanese soil - the Japanese struck back hard, not once, but three times in one day. On December 16, 2001, Stay Gold won the Hong Kong Vase, Eishin Preston won the Hong Kong Mile, and Agnes Digital won the Hong Kong Cup itself. Meanwhile, back in the summer, Fairy King Prawn had failed in his attempt to repeat his Tokyo triumph, finishing ninth in the 2001 Yasuda Kinen. To many Hong Kongers, it must have seemed like a reassertion of supremacy by the big racing neighbour to the north.
A point needs to be made about Hong Kong's apparent obsession with the Yasuda Kinen, Tokyo Racecourse's famous mid-summer mile. The race is an important G1 and a major event on the Japanese racing calendar. But of the 51 Hong Kong runners (some of those on repeat missions) who have set out to conquer Japan since 1994, no less than 35 have been aimed at this one race. The number is hardly justified by the Yasuda Kinen's status, high as that status might be. Nor is it justified by the degree of difficulty involved, as Japanese milers are of a consistently high standard, so the Yasuda Kinen is a very difficult race to win.
The explanation isn't complex though. The race, in early June, fits neatly into the Hong Kong racing programme. By that time of year, all the best Hong Kong races have been run, and the season's close is only a month away. It's convenience more than anything else that encourages Hong Kongers to tilt at this race in particular — that, and the knowledge that there is very little point in sending their 2,000-metre and (their few) 2,400-metre horses to the Japan Cup in late November, for example. Far better to save them for Hong Kong's flagship races a couple of weeks later on home ground.
Among Hong Kong horses, only Indigenous has tried for the Japan Cup. He did so three times, but never improved on his second place finish in 1999. Hong Kong's two best staying horses of the first decade of this century, Viva Pataca and Vengeance of Rain, never raced in Japan, although they saw off a few Japanese opponents at home. When they did travel, it was to Dubai, where Viva Pataca was slightly unfortunate not to have won the 2008 Sheema Classic in his attempt to follow up Vengeance of Rain's victory in the 2007 running. (Connoisseurs of the Japan-Hong Kong rivalry will recall that Vengeance of Rain had Japan's Pop Rock – beaten only a short head by his compatriot Delta Blues in the 2006 Melbourne Cup – nearly four lengths behind him in sixth at Nad Al Sheba Racecourse that day.)
Similarly, connections of Japan's champions at 2,000 metres and beyond have tended to bypass Hong Kong. Their own programme and prize money make the trip unnecessary.
Japan's traditional strength is in its middle distance horses - those who race at what's known as a "route" in North America. Hong Kong's great strength is in its sprinters. These are sourced mainly in Australia, where Hong Kong's economic clout enables its owners to skim plenty of cream off the top.
In the mid-2000s, they unearthed a truly exceptional champion. Silent Witness was one of the fastest horses that ever lived, and could no doubt have mopped up wherever he was sent to race. The fact that Cape of Good Hope, the local rival who always seemed to be chasing him down the Sha Tin Racecourse straight – albeit at a respectful distance - had to travel to Royal Ascot just to get away from him, and still came back with a Golden Jubilee (the meeting's top sprinting prize) is pretty fair testimony to the class of the greatest public idol Hong Kong racing has known. It was probably Cape of Good Hope's third place in Japan's 2004 Sprinters Stakes that persuaded Silent Witness's connections to send the champion over to confiscate that prize in 2005 - which, as expected and with minimum fuss, he did.
During Silent Witness's unbeaten run of 17 races there was very little point in Japanese sprinters bothering to come to Hong Kong to take him on. His career marked the start of a period of Hong Kong supremacy at the shorter trips that carried on more or less uninterrupted until 2012. During the same period Japan enjoyed an assumed supremacy at distances beyond a mile. Then, sensation struck.
You had to have been there at the 2012 Longines Hong Kong International Races to appreciate the full impact of the moment Lord Kanaloa first took a wrecking ball to the notion that Hong Kong sprinters were almost invincible at home. When Japan's mighty sprinter came back last December to repeat the operation, this time even more emphatically, the clicking sound was Hong Kong jaws hitting the floor.
The first Japanese horse to have made any serious impression on the Hong Kong Sprint - 12 had tried before him, most of them considered star 6-furlong performers at home in Japan - Lord Kanaloa brought a new dimension to the still developing rivalry. Essentially a sprinter, Lord Kanaloa was so good he was able to win last year's Yasuda Kinen at a mile.
It's worth noting that it was Silent Witness's stablemate, mile-specialist Bullish Luck, who ended the Hong Kong champion sprinter's winning streak in the Champions Mile of 2006, and had became the second Hong Konger to take the Yasuda Kinen in 2005. Both horses are remembered with fondness and respect on both sides of the China Sea.
So, too, though is Eishin Preston. No review of Hong Kong-Japan racing rivalry can fail to mention Eishin Preston, a Japanese star who took a particular liking to Sha Tin. The most successful individual performer in the history of competition between the two jurisdictions, he won two Audemars Piguet Queen Elizabeth II Cups (2002 and 2003) and the 2001 Hong Kong Mile. The sight of his jockey, Yuichi Fukunaga, fierce looking in his black and red striped silks, charging down the centre of the track to swamp the opposition became an all too familiar one for Hong Kong fans.
However, one important facet of the rivalry is that the greatest of Japanese middle distance champions, the likes of El Condor Pasa, Deep Impact, and Orfevre, do not come to the Hong Kong International Races or the Queen Elizabeth II Cup, because they have even bigger fish to fry. There is prestige and prize money enough for them back home in Japan. Many of racing's top money-earners have been trained in Japan, and Gentildonna makes an excellent contemporary example. The mare has earned the equivalent of $18.5 million in her still unfinished career, much of that money in Japan. And it can fairly be argued that the true Japanese overseas obsession has been the Prix de l'Arc de Triomphe – ever since Montjeu just managed to wear down El Condor Pasa in the mud at Longchamp Racecourse in 1998.
The understudies of the Japanese greats haven't done badly either. Apart from Eishin Preston, who was never quite a champion at home, there have been victories in the Hong Kong Mile for Hat Trick (2005) and Rulership in the 2012 Audemars Piguet Queen Elizabeth Cup. For Hong Kong, there was another for Ultra Fantasy in the Sprinters Stakes at Nakayama Racecourse in 2010.
In the 20 years since Hokusei Ciboulette finished last in the 1993 running of the now defunct Hong Kong International Bowl, 83 runners (not 83 individual horses, because some of them have travelled more than once) have come from Japan to race in Hong Kong's international events. Of these, just 10 have won, a proportion that compares favourably with the four from 51 who've made the journey in the opposite direction, hardly an establishment of domination in either case. But still, the challengers keep coming in both directions.
There is strong evidence that levels of quality at all distances and in both jurisdictions is rising, a rise that is just beginning to be accepted even by western-orientated international handicappers. This has never been more clearly demonstrated than at last month's Dubai World Cup meeting where Japan won both the $5 million turf races - the Dubai Duty Free by no less than 6 ¼ lengths - and Hong Kong horses took the two most valuable sprints (Lord Kanaloa having retired to stud).
It is slightly disappointing, though consistent with Japanese policy with their very best horses, including the current world's highest-rated Thoroughbred, Just A Way, will not be contesting the Champions Mile at Sha Tin on May 4. But the Dubai results have added further spice to the rivalry that began two decades ago.
HKJC Executive Director of Racing, Bill Nader offered his take on the strong and still growing sense of competition between Hong Kong and Japan:
"We have the utmost respect for Japan as a global power in Thoroughbred racing, and for the consistency Japanese horses have shown at the highest level year after year. Lord Kanaloa was incredibly impressive in winning the last two renewals of the Longines Hong Kong Sprint, which is arguably the biggest single test of ability in the turf sprint division. Japanese horses are known for their toughness, particularly in the middle and longer distances, and it should come as no surprise that Japan followed Hong Kong's sprint sweep in Dubai with its own consecutive victories in the Duty Free and Sheema Classic. Any major Group 1 race run in Hong Kong is incomplete without a Japanese presence… and Hong Kong has also enjoyed its share of success in the past on Japanese turf. These are brother countries in Asia, and the rivalry is friendly yet competitive in the purest sense of international competition at its very best".
Tradition dictates that the only pronouncement on racing from Japanese administrators is the Japan Race Association Chairman's speech each New Year, but eminent Japanese Racing journalist Naohiro Goda characterized the rivalry thus:
"It is held to be common sense among Japanese people that Hong Kong is a good friend and a good neighbour. Although Japan and Hong Kong are not very close geographically, we are in the same region: Asia.
"As far as the Hong Kong International Races in December are concerned, we feel the meeting is a strong rival to the Japan Cup… Yes we feel Hong Kong is our friend, but it is our rival as well. For example, when Hong Kong horses won the two sprint races in Dubai last month, we Japanese were very happy to see it. Or should I say we were much happier than we would have been if European or American sprinters had won those races. When it happened we all congratulated Hong Kong. But after we had won the two big races on turf, and the score between Japan and Hong Kong became 2 and 2, Japanese fans were really anxious to see the Japanese horses beat the Hong Kong horses in the Dubai World Cup. And we were very relieved to see the Hong Kong horses unable to win…Our World Cup horses were well beaten too, but we didn't want to go 3-2 down to Hong Kong.
"We understand the quality of sprinters at Hong Kong has been very good, and the quality of milers and middle distance horses in Hong Kong has been improving significantly in the last few years. And as an international event, we Japanese are now convinced that the Hong Kong International Races in December are now more important for horses, owners, and trainers in Europe and Australia".
In summary: It seems Japanese and the Hong Kongers see each other as partners when it comes to taking on the rest of the world, but when up against each other they have no doubt at all which way they'd like to see the results go. Battle resumes at Sha Tin this Sunday with the 2014 running of the Audemars Piguet Queen Elizabeth Cup. It continues, sadly without Just A Day, at the Champions Mile on May 4. Rivalry will be intense as always, and followed intently by fans in both countries. But unlike the great rivalries in some other sports, it will continue to be, as it has always been, be a very friendly rivalry nevertheless.
---
Read about the history of the racing rivalry between Japan and Hong Kong