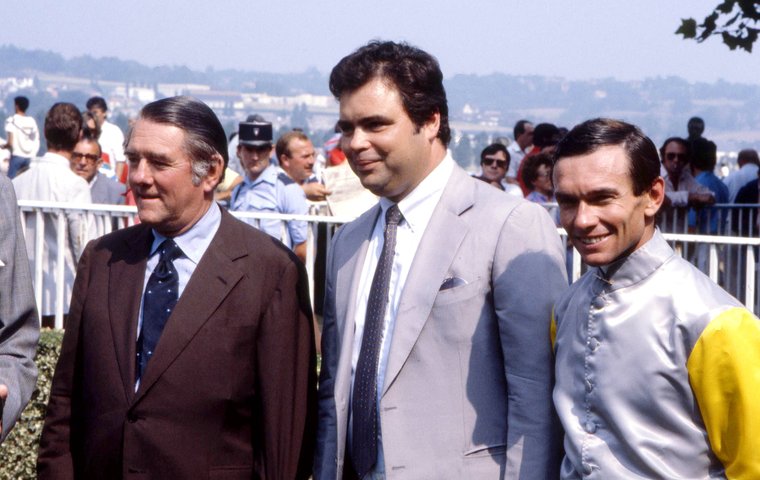 John Fellows, the son of an Australian riding and training legend, threw himself in at the deep end when he decided to try to follow in his father's footsteps and took up a trainer's licence in 1971. He was up against it in a golden age of French trainers.

That he was able to carve out a hugely successful career at the top level in competition with the likes of Francois Mathet, Etienne Pollet and Francois Boutin certainly speaks volumes for his talent, and the patronage he was able to build.
The young Fellows went on to saddle a host of top-class horses to memorable victories in some of Europe's most famous races, including Regal Exception in the 1972 Irish Oaks, Escaline in the 1983 Prix de Diane, and two winners of the Poule d'Essai des Pouliches - Aryenne (180) and the filly who helped make up his mind to give the job a go - Bold Fascinator (1971).
There was also Arctic Tern (later the sire of Bering) in the 1977 Prix Ganay, multiple Group winner Cricket Ball, who he sent across the Atlantic to win the Laurel Dash in 1989, and G1 winners Esprit du Norde and Regal State (dam of Dubai World Cup winner Pleasantly Perfect).
There was also another horse, an ex-Spanish gelding, who is more famous than any of them - for an unfortunate reason. But more of that later.
After an outstanding career, Fellows quit training, at the relatively tender age of 49, in 1999, largely for health reasons, and moved back to Australia. He has some fringe involvement with horse racing these days, and is certainly a sharp observer on the sidelines - and his opinions are always worth listening to, as John Gilmore discovered.
The influence of Ernie Fellows
Ernie Fellows had a successful riding and training career in Australia before accepting an offer to train in France in 1960, when John was just ten. Four years later, he trained Baldric II to win the 1964 2000 Guineas at Newmarket and the Champion Stakes at the same track. He also sent out Nasram to a shock victory over the Epsom Derby winner and 2/13 favourite Santa Claus in the King George at Ascot in that same season.
Ernie Fellows looked set for a long and successful training career in France, but he died suddenly from cancer at the age of 58.
John remembers, "I went to school and university in England and attended medical school and then vet school so actually had no particular ambition to train," However, life is full of surprises and my father passed away unexpectedly on March 22, 1971, from cancer. All winter I had taken time off to revise in Chantilly and also recuperate from a very bad car accident and, while my father, mother and sister were on holiday in Florida, I had looked after the horses in his absence."
He adds, "So, on his death, I quickly decided to change course and put in for my training licence, thanking at the time Alec Head, among others, for helping me to obtain it the following month, thereby becoming the youngest ever to be given one."
Fellows says what he had learned from his father was a major factor in his decision to become a trainer. And then there was Bold Fascinator ...
"For many years, my father played the professor and I was a good listener and keen observer. I had also fallen in love with a grey filly called Bold Fascinator. Probably if she had not been there I would have returned to vet school. Hence, when I started training, I already had a fairly solid basic knowledge of his training methods and procedures, backed up by a well-oiled professional and dedicated staff."
Ernie Fellows, though, was a hard act to follow. "When I started training, some owners went elsewhere, but the majority gave me the benefit of the doubt, and I eternally thank them. I am not quite sure what would have happened if I had not been very successful early on."
Such a dream start
Luck is a major part of racing, and it certainly played its part in those early days for Fellows. His very first winner was at Group level a few weeks later, giving him a dream start to his training career. And the horse, of course, was Bold Fascinator.
"She took the Group 3 Prix de La Grotte and her next race, the Poule d'Essai des Pouliches (French 1000 Guineas), by five lengths, ridden by Bill Williamson for American owner Wendell Rosso."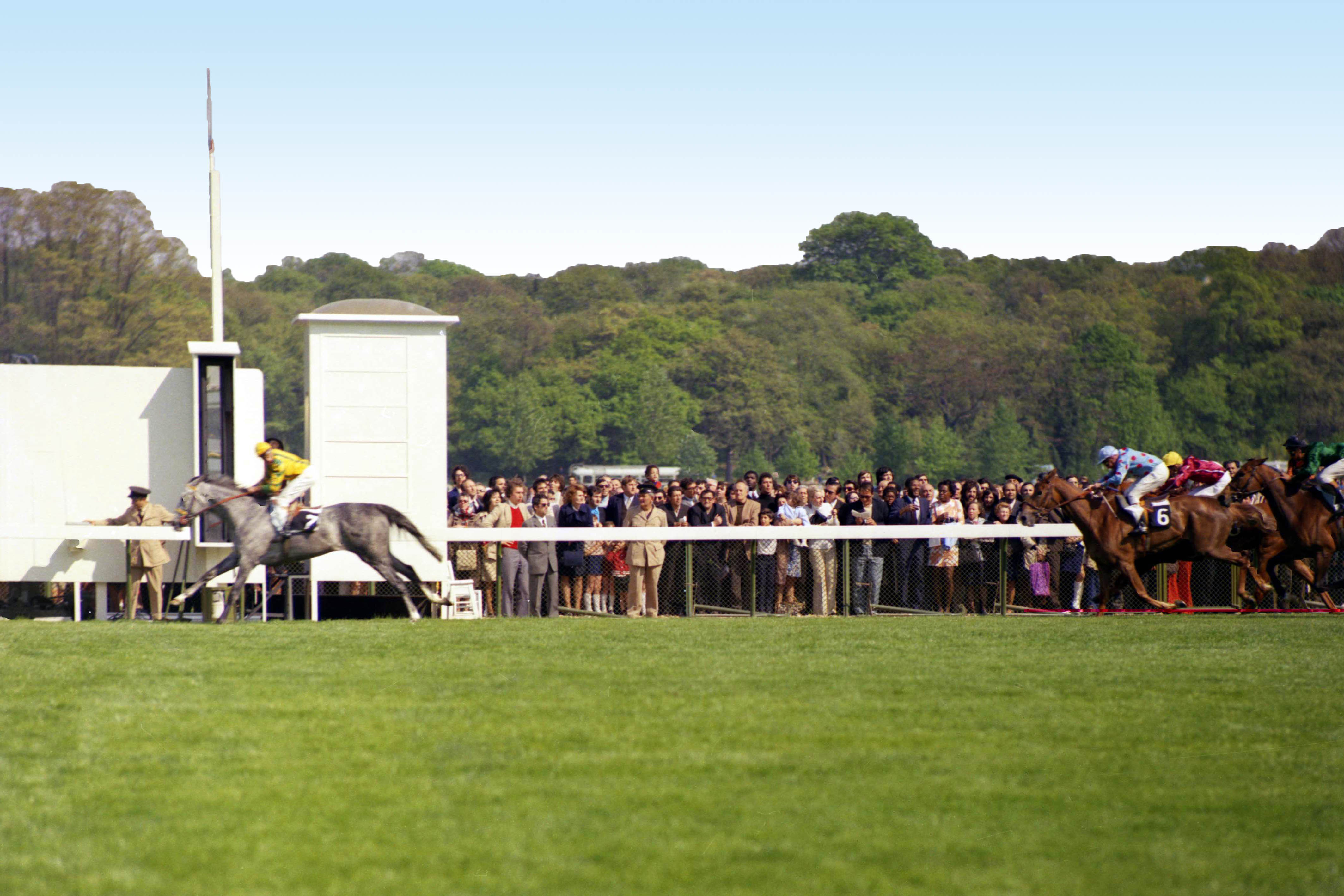 Bold Fascinator was then narrowly beaten in the G1 Prix Jacques le Marois and was second in the Prix Moulin at Longchamp. "As far as I know, I am still the youngest trainer to win a Classic in racing history," says Fellows. [Donnacha O'Brien came close when Fancy Blue won the Prix de Diane 17 days before his 22nd birthday on July 5, 2020, but Fellows was 21 years and 268 days when Bold Fascinator won the Pouliches].
"And my father was the youngest jockey to win a Classic - in the Canterbury Guineas when he was just 14," says Fellows.
In just his second year training, he captured the Irish Oaks with Regal Exception, who had previously finished second in the Epsom Oaks. The filly went on to be a close-up fourth to San San in the Prix de l'Arc de Triomphe
"Undoubtedly, I had the good fortune to train Regal Exception for Robin Scully so early in my career, and her five-length win in the Irish Oaks put me on the international map. After that, I certainly found it considerably easier to find new owners."
A-list owners
Fellows was principal trainer for Scully, but he also trained for a wide variety of other top owners with some success.
Among the notable owners he trained Group winners for were Nelson Bunker Hunt (Bountiful, Intimidator, Kramer and Sweetie) and Daniel Wildenstein (Castle Guard).
He says, "I never trained anything of significance for Robert Sangster, but we did a lot of wheeling and dealing. Prince Khalid Abdullah purchased Seven Springs (winner of the Prix Robert Papin and Prix Morny at two). "She never really trained on as a 3-year-old," says Fellows, "but she bred Distant View [who became a European champion miler]."
"Prince Khalid also purchased Aryenne [Prix Marcel Boussac and Pouliches winner], trained by me, from David Volkert at the end of her 4-year old season in 1981. She foaled 1990 Derby winner Quest For Fame."
Fellows also trained Mode Classic for Sheikh Mohammed, but his involvement with the now-ruler of Dubai will always be remembered because of another horse.
The Royal Gait affair
That was the ex-Spanish trained Royal Gait, who Fellows trained to win many top races, including the 1987 Prix du Cadran and Prix Royal Oak, and the following year's Gold Cup at Ascot, which he won by five lengths from the Sheikh's Sadeem.
Except that Royal Gait, ridden by Cash Asmussen, didn't win it - he was disqualified after the stewards decided controversially he had interfered with El Conquistador, Sadeem's exhausted pacemaker, causing the horse to stumble badly and unseat jockey Tony Clark (see video below).
The disqualification was greeted with disbelief. It was roundly condemned at the time and is still considered one of the worst stewards' decisions of recent decades.
Sheikh Mohammed himself appeared to take little pleasure from it, and indeed he went on to purchase the ex-Spanish gelding. After missing more than a season through injury, Royal Gait was sent into training at Newmarket with James Fanshawe and given a novice hurdle campaign, which ended, remarkably, with him winning the 1992 Champion Hurdle at the Cheltenham Festival, the first novice to take Europe's premier hurdling race in nearly 40 years.
French program modified 'to the point of lunacy'
Fellows speaks of some of the changes that have occurred in French racing over the years.
"When I started training, there were six meetings a week in the Paris region and we only had Mondays off, which was either for golf or game shooting in the winter. However, the Government decided to introduce Monday racing, which has not changed. There were also more racetracks in the region - Le Tremblay and Evry have both sadly gone, and now Maisons-Laffitte is seriously threatened with permanent closure, which would be a disaster in the long run because the other Paris tracks would be damaged by excessive overuse."
But that is only part of a problem he sees. "In my time as a trainer, there were many more big stables who were basically owner-breeders and did tend to breed more stayers even with the constant influx of U.S.-bred horses, which were more sprinters-milers than middle-distance horses."
"However, the program has been constantly modified and changed to the point of lunacy.
"The old 2-year-old program was a logical progression, with the Group 3 Prix du Bois [1000 metres] in June, the Prix Robert Papin [1100m] in July, the Prix Morny [1200m] in August, the Prix de la Salamandre [1400m] in September, the Grand Criterium [1600m] in October and the Criterium de Saint-Cloud [2000m] in November.
"In recent years, the Grand Criterium has been reduced to 1400 metres, and that and the Criterium de Saint-Cloud are now run on consecutive days at the end of October. The Salamandre has been completely scratched."
Fellows has nothing complimentary to say about the evolution of the French Classics either.
"The 3-year-old program has now been modified so many times that it's difficult to know where to start, but scratching the [2000m G1] Prix Lupin [a trial for the Prix du Jockey Club] was irresponsible and has totally changed the Classic program. Why leave the [G1] Prix Saint-Alary in the fillies division and get rid of the Lupin? I do not agree with the Jockey Club distance being reduced to 2100 metres since 2005 as it had traditionally been run over 2400m since its inception in 1833 and I think people had become used to it.
"Undoubtedly, in its first running over the shorter distance, Hurricane Run would definitely have won over 2400m, though the winner, Shamardal, has since proved the better stallion. However, I am a traditionalist and would have much preferred the Classic program to be left alone and remained unchanged."
'Learn a lesson from Australia'
Fellows is also critical of France Galop spending €140 million on refurbishing and modernising Longchamp racecourse.
"Apparently, France Galop's finances are in a poor state, so I can only conclude that rebuilding Longchamp was a monumental error. The crowds are certainly no better than they were before, and I believe this is because the mentality of the French racing public has changed. There are so many sports, things to do and other ways of spending money now readily available and affordable. Also, being a racehorse owner has become an [even more] expensive pastime."
Fellows considers the French could perhaps learn something from the way racing is marketed in Australia, though it has to be said that France Galop has had considerable success with its Thursday-night spring and summer racing at ParisLongchamp in the last couple of years, with music until late into the night, which has seen attendance levels treble, even though day meetings outside the top racedays are still poorly attended
"Probably, the main reason racing is so successful in Australia is because 99 percent of every horse belongs to a syndicate, which makes it a lot cheaper. It is still considered by all ages to be a lot of fun to go racing.
"There are four main tracks in Melbourne, the biggest being Flemington, where there are innumerable bars and approximately 20 restaurants. On big days, about 90-100,00 people turn up, and on smaller days the directors are slightly horrified if there are less than 20,000."
Continuing dominance of owner-breeders
Concerning the major races today, Fellows sees little change, with the leading owner-breeders still dominant. "When I was training, I regularly bought yearlings in Europe and the USA for owners, including at Deauville, where I have been fairly successful. However, my biggest and most successful owners were owner-breeders, whether they bred in Europe or the USA because they could control every aspect of breeding, racing and preparing young horses for racing.
"Nothing has changed much today. All you have to do is look at the number of home-breds winning major races; it is virtually always the same owners.
"Even though many of the commercial breeders also purchase very expensive yearlings, it is mainly to keep the prices up and also promote their own stallions. Hence, Arqana at the sales does not really have to actively look for new foreign buyers as they are already there or seem to turn up all on their own."
Training in a 'more challenging' era
Fellows considers training was a lot more difficult in his era, with many of them knowing how to get the best out of horses.
"In my opinion, when I started training, it was seriously challenging because there were generally speaking better trainers around than there are now. My direct competition was the likes of Francois Mathet, Etienne Pollet, Francois Boutin, Alec Head, the wily Egyptian Maurice Zilber, Albert Klimsha and not forgetting the Argentinean magician Angel Penna.
"Also, there were extremely able trainers that regularly visited France during my time with enormous success, such as Vincent O'Brien, Henry Cecil, John Dunlop and others.
"In more recent times obviously Aidan O'Brien has been having an incredible career, as has Michael Stoute, John Gosden and in France Alain de Royer-Dupré and, certainly not the least, André Fabre."
'A reason there are so many unsound horses'
Fellows considers a key factor of training in his time was that horses exercised for longer sessions than today.
"My own methods of training were similar to my father's, but modified in time, staying out riding for approximately one and a half to two hours a day and doing a lot of trotting and slow cantering before anything else. Also swimming and all my horses, whatever their breeding, learned to jump low brush hurdles when very young. Later, when older, jumping was always on the curriculum when they were having a break. I did train a few jump horses with some success, but the average flat horse loves it - like a child in a playground - and it is an excellent mental and physical exercise."
Fellows is not keen on some modern methods.
"We did have the comparative luxury of keeping horses out longer than today, where most trainers are obliged to rely on electric walking machines etc. In Australia, which is very similar to the USA, horses are only ridden about 15-20 minutes per day, then hooked up to a walking machine for a while. I believe this is one of the main reasons why there are so many unsound racehorses and the attrition rate so incredibly high."
Ongoing stable staff problem
Fellows also talks of the changing demographics in racing.
"In the early 1800s, Lord Seymour and others, who really started Thoroughbred racing in France, managed to bring a lot of stable staff from England to principally Chantilly and Maisons-Laffitte. So, at that time, they were mainly populated by little people, who married little people and bred little people.
"Even today, when you look at a Chantilly's telephone book, you will find an enormous amount of English names, but the people involved have not spoken English for generations.
"However, in recent times, the average height and size of the general population has increased considerably and the attraction of better-paid jobs is always there. Stable staff have to be dedicated and passionate about their jobs, which involve hard work and long hours. Hence the current problem of finding stable staff is an ongoing one."
'Yves was the best'
Jockeys were an important part of the equation for Fellows, and he makes no secret who he considers the best.
"I was fortunate enough to have used nearly all the top jockeys of that era. My all-time number one was Yves St Martin, still a close friend, who won 15 championships and [many] major races for me. I have a soft spot for Bill Williamson as he won my first race and first Classic winner.
"A regular visitor to France was Lester Piggott, who also won Group 1s for me, is still a pal and a living legend. Among others, I would have to cite Maurice Philipperon, Cash Asmussen and Gary Moore, who all won top races for me."
Admired big players
On the wider front, Fellows has admired several people concerning their major contribution racing over the years.
"There have been many people I had the honour to know personally, such as Marcel Boussac, who founded modern French racing and breeding. When I first started training, I used to translate for Mr Boussac directly from English to French, every Sunday morning The Blood-Horse and Thoroughbred Record, because his breeding in the USA was very successful and at that time, not so in France.
"Once he told me that, in the late 1950s, he was recommended to go to the USA and buy the winner of the Kentucky Derby to improve his breeding stock in France. This he did, buying Iron Liege [1957 winner], who had not done very well at stud. However, when winning, he defeated Bold Ruler, Gallant Man and Round Table, and Marcel Boussac admitted he probably bought the wrong horse!
"Also, there was John Gaines, who was a friend and founded the Breeders' Cup and all that went with it. Finally Robert Sangster was a client and good friend. He certainly was instrumental, with John Magnier, in remodelling racing and breeding in the world, and his legacy lives on."
Racing's big challenge
According to Fellows, racing faces a number of important challenges going forward.
"Possibly the biggest challenge on a worldwide basis today is actually keeping racing alive, retaining a certain elegance, competitiveness and identity among so many other sports such as football, which is absorbing much of the wagering money. Racing festivals are very important as they seem to ignite a certain patriotism among competitors of different countries, and long may they continue."
Life after training
Fellows retired from training in 1999 and now lives in Australia. He normally returns to Europe each year in time for the Arc.
"I officially retired at the end of 1999 after winding down for several years. I did retire a little too early, but I managed to contract a very rare strain of malaria in Africa, which I still have, that has left me in a coma several times.
"There were also financial difficulties, but mainly it was a health issue. It is always a problem repositioning good racing staff and in France. It is exceedingly expensive to retire. I now live in Melbourne and enjoy visiting Europe and France for a couple of months each year."
Since moving to Australia, Fellows is still involved in the business side of racing.
"I have had different racing and breeding interests," he says. "Only one to date has been successful, and that was Lena's Hero, who ran twice and won each time by six lengths in Melbourne and was then sold to Hong Kong for AU$1.5million and has done quite well since. I have also bought and sold horses in all directions."
Lasix alternatives 'with no side effects'
The use of Lasix in training and racing is a hot topic of conversation and Fellows, who originally was training to be a vet, explained his point of view on the subject.
"I actually never used Lasix to train but did occasionally use it on horses running in the USA and destined to stay and continue their career in the States. Virtually every horse in every race in the States seems to have either Lasix or Bute behind their name on the program - even 2-year-olds who have never run before."
He adds, "Lasix was certainly available when I started training and probably before. There are other products not so well known that do the same thing without the inconvenience of Lasix, which is a very powerful diuretic and can cause more problems than it solves. Also, there are treatments which do cure mild-to-medium bleeding problems with no side effects, and I am sure work just as well today as in the past.
"The knowledge of these treatments seems to be a jealously guarded secret, and I assume is directly passed onto others or not."
"A fairly famous quotation by Sydney trainer Anthony Cummings about his father, the legendary Bert Cummings goes, 'My father taught me everything I know about training but he did not tell me everything he knew about training.'"