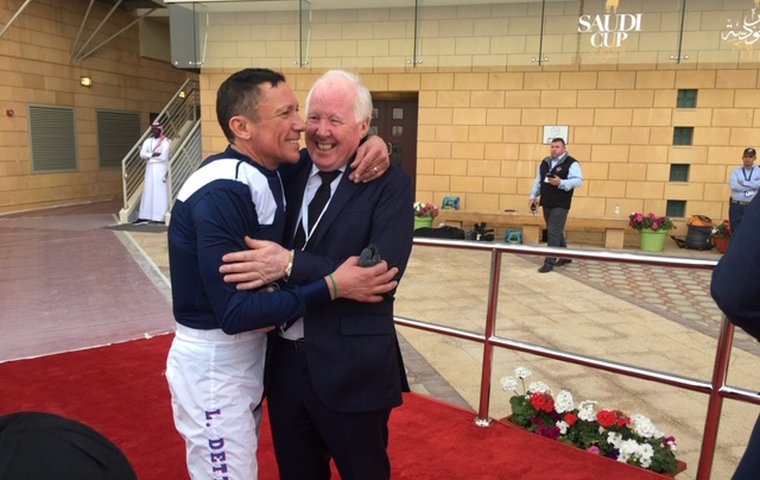 Have passport, will travel. And Bahrain's multiple champion trainer Allan Smith, has certainly followed the racing path less taken in a career now well into its sixth decade.

An Essex boy and proud supporter of Southend United Football Club, Smith started out as a callow teenage apprentice in Newmarket in 1966. Don't be misled, however: in the end, the bright lights of the racing world were not for him.
The intervening half-century – the odd diversion here, the odd headline there, and plenty of good stories throughout – have seen long, hugely successful stints training in Belgium and Bahrain, with three years in Dubai plus an aborted retirement in Florida. Oh, and a few years as a touring musician in a country-and-western outfit.
Given his wandering instincts, it makes sense that he wouldn't waste any time taking advantage of the new eVisa to visit nearby Saudi Arabia. More surprising, perhaps, was the fact that he came back from Riyadh as a winner, having saddled Dark Power for a 66/1 success (on the industry odds returned for British bookmakers) under Frankie Dettori in the stc 1351 turf sprint on the undercard at last month's inaugural edition of the Saudi Cup.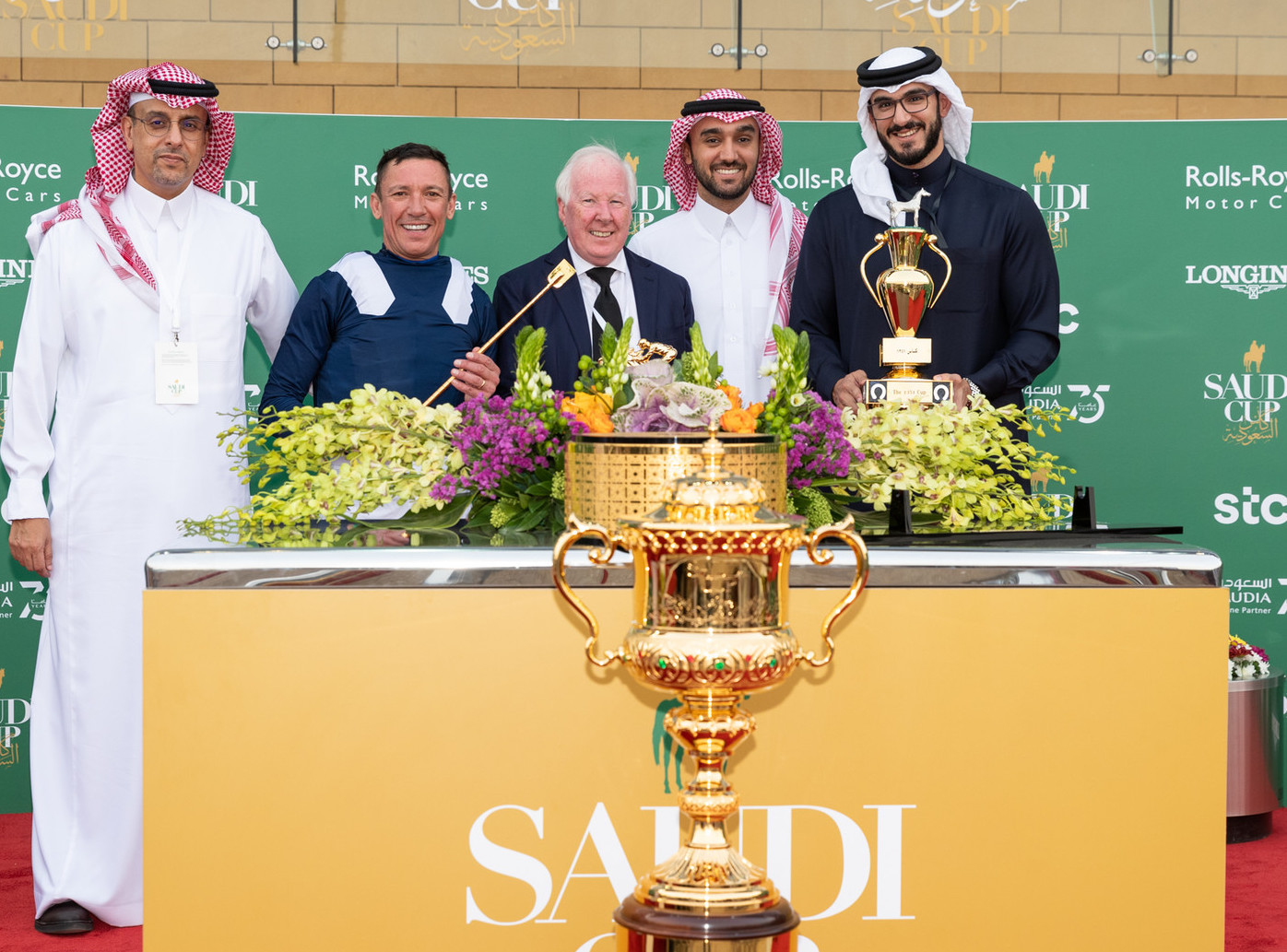 The race was worth a total of $1 million, making the victory by some measure the most lucrative of Smith's long career. "It was nice to be on the big stage," he says. "No one takes any notice of us and it was very satisfying. I suppose it gives us a bit of spending money for our holidays!"
Although Smith has been training for four decades now, on and off, the one place he has never fancied is back home. "I love going racing in England and used to have lots of runners but I always say now it's a lovely place for a holiday but I wouldn't want to live there," explains the softly-spoken 69-year-old, speaking in the lovely surroundings of Bahrain's Royal Stables where he is employed as salaried trainer to senior members of the ruling family. His major patrons include HH Sheikh Mohammed bin Isa Al Khalifa plus Al Mohammediya Racing and Al Adiyat Racing, the respective stables of HH Sheikh Sultan bin Mohammed Al Khalifa and HH Sheikh Isa bin Salman Al Khalifa, who owns Dark Power, an ex-British-trained 6-year-old son of Dark Angel.
"I'd like to take him to England in the summer but I'll have to persuade Sheikh Isa," says Smith. "We could look at a variety of races – he's fast enough for five, he broke the track record over five in Bahrain so he's not slow but on the other hand, he's not your typical type of sprinter, he extends his stride, he's a big-moving horse. He's a bit of a Cadillac."
Before the Saudi victory, Smith's most prestigious triumph came with Skoozi in the first leg of the Maktoum Challenge, a G3 at Nad Al Sheba in 2002.
Reflecting on Riyadh, he adds: "It was very satisfying — not just for me but for my son, Paul, who does so much work in the stable. He's a bit of an unsung hero – he does do a lot of the work. I always say it's no good having a dog and barking yourself, and he does a lot of barking!"
While such a high-profile victory was undoubtedly another feather in the trainer's cap, nobody in Bahrain – also on the mark in Saudi with Fawzi Nass-trained Port Lions – can have been shocked.
To say Smith is the dominant force in the kingdom is to risk understatement. Though he faces a strong challenge this year from his old mate, Jimmy Naylor, Smith has been champion trainer every season since he began his second stint in Bahrain in 2005; he first went there in 1994, when he saw the writing on the wall for Belgian racing as off-course betting interests broke into the pari-mutuel monopoly.
"Belgian racing was very strong then and we had a lot of success, training over 50 winners each year and having runners in Britain, Germany and France," he recalls. "But it was beginning to go down, so, before it went completely, I saw this advert for a job in Bahrain. The advert said it was for a prominent stable, so I thought I'd see what it was all about – but I didn't know it was the Emir himself! I started off training local-breds and ended up with more Thoroughbreds alongside Pat Rohan. Then Pat retired and had the stable to myself."
Now, with son Paul as his assistant – another son, Martin, trains in Newmarket, Smith supervises more than 100 horses, many of them inexpensive ex-Brits bought at horses-in-training sales. They are housed in six air-conditioned barns next to the Arabian horse complex near the royal stud, all just beyond the winning post at the Sakhir home of the Rashid Equestrian and Horseracing Club on the outskirts of the capital, Manama.
The track hosted its first international race in November. Smith saddled third-placed Rustang, who led for much of the way before losing out to French-trained Royal Julius; as usual, however, he enjoyed success elsewhere on the showpiece card.
Short-lived Florida retirement
"It's a nice job and we've got a nice stable of horses," reflects the long-serving trainer. "We start early in the morning and I'm finishing by 9 am; there's racing once a week and we don't have to drive too far."
Smith is now in his second stint in Bahrain, having decamped to the UAE for a spell at the start of the century, when he trained at Umm Al Quwain for a year before moving to Jebel Ali in Dubai with Sheikh Ahmed as his main patron. When that contract finished, he was ready to enter semi-retirement in Florida – "we had a small horse farm in Ocala," he explains – before he was asked to return to Bahrain in 2005.
"It has changed a bit over the years," he says. "It is competitive racing now and our top horses are definitely Group 3 horses. A lot of the work is buying decent horses, then also improving our local stock. But I used to be able to go to the sales in England to get an 80- or 85-rated horse and that would be enough for here, but now you wouldn't get a look-in.
"I still buy those horses, but only those where I believe there's some improvement," he goes on, adding that he sources horses alongside bloodstock agent Richard Frisby. "We have paid quarter of a million but that's a big spend. I don't like doing that. I used to go to the sales when I was in Belgium with five grand in my pockets and find something!"
An impish character, Smith is fond of a colourful anecdote – at least several of them entirely printable – going right back to the start of his life in racing as a wannabe apprentice, wet behind the ears as he went to Jack Clayton's yard in Newmarket in 1966.
"When I started, Scobie Breasley was our stable jockey and Lester Piggott was riding as our second jockey," he recalls. "Bruce Raymond had just ridden out his claim and was our third jockey. Can you imagine going there and riding your first bit of work with those three?"
Smith vividly recalls his first day on the gallops. "I went over to Racecourse Side and Lester came out in his car and Scobie in his chauffeur-driven Rolls-Royce," he explains. "Bruce, who was a great jockey and an even better judge, had ridden out and the guv'nor said I could ride back in on the pony.
"Anyway, I rode back with Bruce and he asked me where I'd come from and how much money my mum had given me. I told him, 'ten bob'.
"He said: 'You take it racing today and put it on our filly in the Nell Gwyn."
"I said: 'In the what?'
"He said: 'The 4.30!'
"And that was Hiding Place and she won at 10/1, so I was quids in! This was the game for me!"
Smith also rode a winner on his first ride, Systematic, (owned by the Queen's racing manager, Lord Porchester) at Folkestone, the now defunct Kent venue that two decades later was the stage for what must count as Smith's most memorable contribution to the British Turf.
Not before an interlude, however. "I got out of racing and became a professional musician for a while in the early 70s," he deadpans. Double bass (plus backing vocals) was his instrument of choice, and he toured extensively with Pete Sayers, the former Nashville-based country-and-western star who was back in the UK with the 'Grand Ole Opry Road Show'.
Belgium's glory days
Smith still rode work for Michael Jarvis when he could; the peripatetic life of a gigging guitar-slinger lost its appeal when he had a young family, so he went back into racing and agreed to ride work for his old friend, the trainer Brian Lunness, who was based in Ostend in Belgium. When Lunness left, Smith took over the training licence. "I went out for three months to ride as a lightweight and I stayed there 16 years," he grins, recalling an era of prosperity in the country's racing when Smith was top dog.
"Racing used to be great in Belgium," he says. "Prize money was better than England in the 1980s and the biggest race, the Grand Prix Prince Rose at Ostend, was a major target. Rheingold had won it in 1973 before he won the Arc."
With a string of 75 horses at his zenith, he thrived as a multiple champion, winning every race worth winning. "It was a great life in Belgium back then," he goes on. "I had the equivalent of Derby winners, Grand National winners, and I hardly ever went to the races without coming back with money in my pockets. You could get a bet on because they had on-course bookies as well as pari-mutuel."
Smith was always fond of the odd raid from his Belgian base and it was one such successful sortie with the two-year-old Old Hook at Folkestone in June 1993 that brought him into the headlines. Not for nothing is the trainer's Twitter handle @oldhook.
'I think we can do a job with him'
To cut a long story short, off-course bookies initially refused to pay out on a well-executed coup before facing up to their obligations – to the tune of somewhere in excess of £150,000. "It was about six months in the planning and they had to pay up because there was nothing wrong with it," says Smith, who picked up the horse at Goffs in Ireland.
"I saw this little horse by Digamist, who was the most unsuccessful stallion there's ever been," he recalls. "But I knew the dam, who had won nine races in Belgium, and of course no-one took any notice of that, but he was a nice little horse, precocious-looking."
He roped his family into the bargain. "I phoned my brother and said, 'I think I've found one – I think we can do a job with him," he says. "He didn't know what I meant so I had to explain: 'We can have a gamble!' So we bought him for five grand and that was Old Hook."
The juvenile trained okay and finished fifth at Brighton on his debut under Smith's son Paul. "He said he probably could've been placed if he'd been harder on him and it wasn't a bad little race," says Smith. "After that he worked with a sprinter who had won in England and worked all over him, so I set about looking for the worst race I could possibly find."
The race that jumped out was a seller over five furlongs at Folkestone in July. "I told my brother, 'we're going to Folkestone but you're not. You can watch it on the bloody telly in the bookie's."
Family and friends were duly sent out into the shops, told not to have more than £300 on a single slip, and to wait until the last minute to avoid suppressing the starting price. "We got about £7,600 or more on," he says. "We didn't take a price and on course he was 33s in a couple of places, then 25/1. But because the lad who led him up didn't obey his orders and had a fiver, he was returned at 20/1."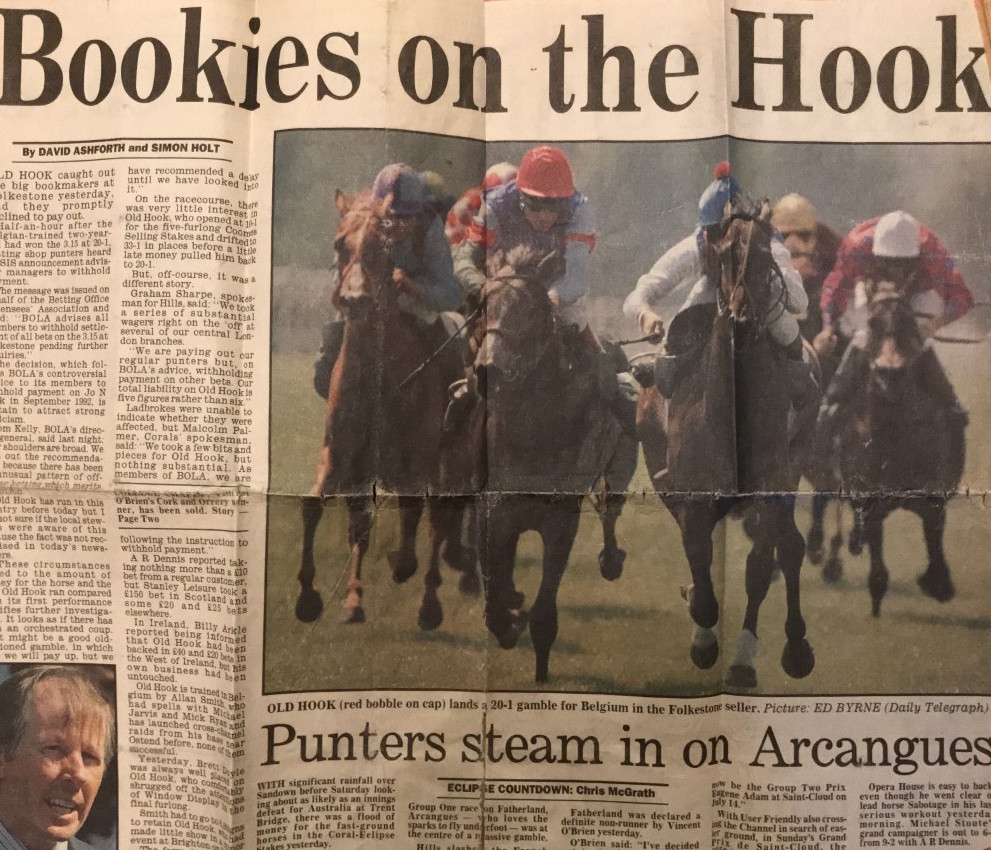 The rest, as they say, is history. Ridden by then-three-pound claimer Brett Doyle, Old Hook obliged by a length and a half. "The stewards called us in," he grins; the off-course betting industry, via its trade association BOLA, cried foul over 'unusual betting patterns'. "The guy from the betting association said, 'Mr Smith, your horse, there seems to have been some money on it,'" says Smith.
I said: "Yes, that's right, everything's gone to plan!"
But he said there had been none on course, which was suspicious. I had to correct him. I said, 'well, there was some because the bloody boy who led him up had a fiver. He'll be lucky if he's got a job tomorrow morning!'
"The stewards asked how much we'd had. I told them we wanted ten grand but we'd be happy if we got seven on."
There was no case to answer. "The head steward turned round at the end and said: 'Bloody well done!'"
Mind you, it doesn't always work, as Smith recalls. "We have piled money on in Belgium and come unstuck," he says. "I've been in Belgium when someone has turned up in a shabby trailer with hair and tail down to the ground and I've got my shiny new horse from England and we've been slaughtered!"
Nowadays Smith could hardly be further away from the cut and thrust of the betting ring as the elder statesman of the burgeoning Bahraini horse racing scene. It has, as they say, been quite a journey.