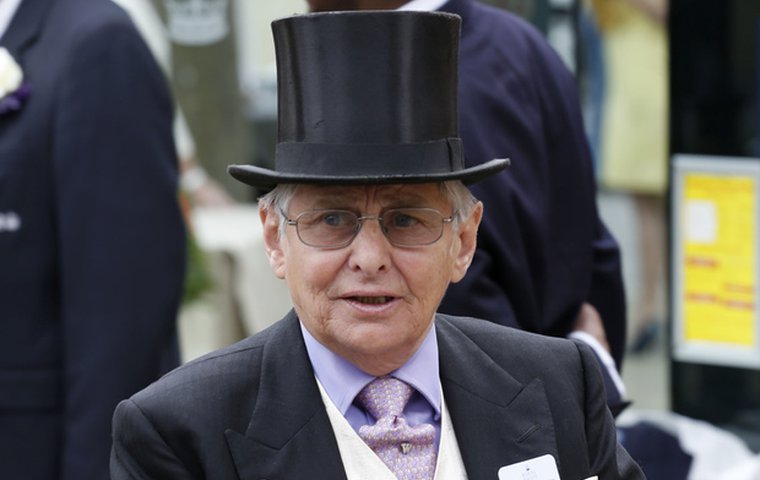 Willie Carson was three years off winning the first of his five British jockeys' championships when he received a piece of advice in 1969 from trainer Bernard van Cutsem that was to shape his life outside riding.

"My mentor was Bernard van Cutsem," said Carson, whose 3,828 wins as a jockey included 17 British classics, "and he said to me one day: 'If you're going to be a successful jockey, you're going to be getting some nominations. So go and buy yourself a mare'."
Van Cutsem, then Lord Derby's trainer at Stanley House Stables in Newmarket, played a vital part in the development of Carson as a racing household name, providing him with his first classic winner in the 1972 2,000 Guineas hero High Top and a fruitful association with Sharpen Up, one of the top 2-year-olds of 1971. A long spell for the Scot followed as stable jockey to Major Dick Hern, for whom he rode Epsom Derby winners Troy, Henbit and Nashwan, and then later as first jockey to Sheikh Hamdan during the days of Dayjur, Salsabil and Erhaab.
By that time, van Cutsem's advice to jump into the breeding game had long been heeded. Carson purchased his first mare, Hay-Hay, in 1969 and, with that, a successful career was born as a racehorse breeder, which has reached a zenith this year through leading Arc contender Jack Hobbs.
"My first mare, Hay-Hay, lived in the backyard when I was at Falmouth Cottage in Newmarket," remembered Carson. "I bought her from Humphrey Cottrill and she bred a load of winners. She taught me a lot about breeding."
Carson bought Minster Stud, near Cirencester, Gloucestershire, in 1980 and, within eight years, the stud, run alongside his wife Elaine, had bred and raised a classic winner in Minster Son, whom he memorably rode to victory in the 1988 St Leger.
Other high-class performers, such as the 2010 Dubai Duty Free winner Al Shemali and his G2-winning half-brother Tungsten Strike, followed and today, the 160-acre stud is home to 16 mares, including Swain's Gold, whose son Jack Hobbs provided the stud with another classic success when romping to victory in the Irish Derby in June.
The dam was a U.S. dirt sprinter who never raced on medication
Previously runner-up to Golden Horn in the Epsom Derby, John Gosden's rapidly improving Halling colt is generally a 7-1 shot for the Arc a week on Sunday following a bloodless winning return against older horses in the September Stakes at Kempton. Among those left in his wake was his Hernando half-brother, Niceofyoutotellme, who did his bit to enhance the family earlier this year when third in the G3 Brigadier Gerard Stakes at Sandown.
Their dam, Swain's Gold, joined Minster Stud when purchased at the 2007 Keeneland January Sale through agent James Delahooke for $180,000. Although by a top notch 1m4f European performer in Swain, Swain's Gold was a sprinter who won three of her four starts on dirt in the U.S. Her dam, Golden Pond, was an Irish-bred G2-winning daughter of Don't Forget Me and from a noted Jim Joel family that had previously enjoyed its time in the sun through Eclipse Stakes winner Connaught.
Unusually for an American runner, Swain's Gold also never raced on medication.
"I've had a lot of success buying from Keeneland," said Carson. "The first mare I bought there was Copper Creek. I remember buying her on the phone while I was sitting in an airport lounge in America. I sent her to Dayjur a few times and she later bred Tipsy Creek [1999 G2 Temple Stakes winner].
"James Delahooke also bought Bathilde [dam of Al Shemali and Tungsten Strike] for me at Keeneland. So I thought I'd look at Keeneland again. I wasn't at the sale when Swain's Gold went through so I rang James to see if he'd seen anything and he came back with a couple of mares. Swain's Gold came up first on the list so I got her.
"She was in foal to Afleet Alex at the time and I left her to foal in Kentucky. I sent her back to Mr Greeley and brought her home in foal."
The resulting foal, Mrs Greeley, was leased out to be trained in England by Eve Johnson Houghton, for whom she won three races. Mrs Greeley has since returned to the Minster fold, while Swain's Gold herself has a yearling filly by Mayson and a filly foal by Sepoy that is slated to sell at the foal sales.
A classic winner now - but some wrote 'NH' next to Jack Hobbs as a yearling
Jack Hobbs was bred when his sire, Darley stalwart Halling, was in the twilight of his stud career. The decision to send the mare to the son of Diesis was an easy one, said Carson.
"We spend about three months thinking about the matings and I look at nicks all the time," he said. "Halling gave us Sharpen Up over Ahonoora [sire of Don't Forget Me], which was a good cross.
"I've never really bred for the sale ring. Obviously, I keep an eye on it but for me nicks are the most important thing and I'm always looking at which stallions are doing well as broodmare sires.
"Jack Hobbs was an okay foal - he didn't really stand out. He always had the walk but it was when he got older that he really started to fill the eye. I did a couple of yearling shows at the stud with trainers before they went to the sales. But to be honest, quite a few people wrote NH [National Hunt] on the page."
One trainer that evidently didn't write 'NH' on the page was John Gosden. Blandford Bloodstock signed at 60,000gns for the strapping colt on behalf of the trainer at Book 2 of the Tattersalls October Sales, and it was in the colours of Gosden's wife, Rachel Hood, and friends George Bailey and Nicholas Hall that the colt raced before his sale to Godolphin.
Another member of that year's Minster draft, Snoano, was also saddled by Gosden to run third in this season's G3 Bet365 Classic Trial at Sandown. That performance came on the same April afternoon that Jack Hobbs leapt to prominence with a 12-length length victory in the card's 3-year-old handicap.
With a classic winner among the three black-type performers representing Minster's select broodmare band, 2015 is a season that will serve long in the memory. However, for now it is Minster Son's classic season in 1988 that is still held in the highest regard.
Jack Hobbs is a combination of two top sire lines in Carson's riding career
By Niniski, who was ridden by Carson to victory in the 1979 Irish St Leger, and out of the Crepello mare Honey Bridge, Minster Son was named by Lady Beaverbook in honour of his birthplace and sent into training with Major Hern. Thus he was ridden in the majority of races by Carson, notably when successful in the St Leger, Newmarket, Predominate and Gordon Stakes.
"If Jack Hobbs had won at Epsom, that would have been the ultimate," said Carson. "But we still had a great day. We knew going into it that Golden Horn was the better horse, but we still had a bit of hope that Epsom and the trip might have helped us. I thought he handled Epsom very well for a big horse.
"But Minster Son was a fairytale. I'd seen Lady Beaverbrook in the paddock at Ascot some weeks before and told her that I had a lovely horse by Niniski, who she'd owned. Dick Hern and Lord Chelsea's racing manager both liked the horse and came to an agreement; if Chelsea wanted him, he could have him up to 20,000gns.
"They were sitting opposite the rostrum while Lady Beaverbrook was in her usual spot three rows back to the right of the auctioneer. The colt was sticking at 16,000gns and that's when Lady Beaverbrook started thumping her stick at the auctioneer to bid. Lord Chelsea saw this and turned to Dick Hern and said: 'make her pay'. So after a few bids, she ended up buying him for 36,000gns.
"I rode Minster Son in most of his races but not his debut as a 2-year-old, when he beat me on Unfuwain at Newbury. He'd been a bit naughty in his work so Brian Procter rode him with the instructions 'jump out and give him a smack'. Anyway, he ended up beating me by half a length.
"I rode him when he was eighth in the Derby - Steve Cauthen rode Unfuwain [who finished seventh] - and he came back with an injury. He was rushed to get to the Gordon Stakes, which he won, and then rushed to the St Leger."
Then officially trained by Hern's assistant, Neil Graham, as the Major battled ill health, Minster Son repelled the Epsom and Irish Oaks winner Diminuendo, sent off the 4-7 favourite, in a driving finish to win by a length.
"I think I got lucky as the jockey on Diminuendo went too soon," said Carson. "He had a hard race that day and didn't race again."
The Arc was one of the few major races that Carson didn't win during his 37 years in the saddle and victory for Jack Hobbs in the Longchamp showpiece would provide a remedy of sorts. In any event, his emergence as one of the best Carson-bred runners is particularly fitting given the colt represents a combination of the Sharpen Up (grandsire of Halling) and Nashwan (grandsire of Swain's Gold) sire lines, both among the best horses ridden by the jockey.
"I'm more nervous breeding horses than I ever was riding them," said Carson. "They're your babies. You're going down the paddocks, having chats with them and when you're doing that for 18 months, you get attached.
"I was cool as a cucumber riding them - as a jockey, you're not on their backs for very long. But breeding and owning them gets the butterflies going. It's a bigger thrill."