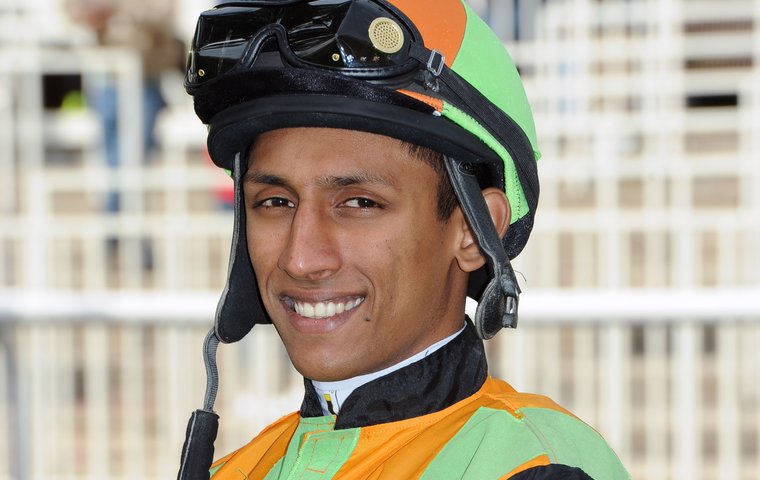 "I remember it fully," said jockey Rajiv Maragh, sitting in the jocks' room at Aqueduct Racetrack. Many trauma victims have no memory of a catastrophic event, often describing waking up in a hospital and wondering how they got there. But Maragh remembers every detail of the event that sent him speeding away from the track in an ambulance to a trauma center and 17 months of recovery.

On July 10, 2015, Maragh was riding Yourcreditisgood in the fifth race at Belmont Park when Mini Muffin, under jockey Ruben Silvera, veered into their path. Maragh's mount clipped heels with Mini Muffin and fell, throwing Maragh to the dirt.
"My horse was traveling really good," he recalled. "Then the horse that was in front of me on the outside made a bit of an errant change in lanes and cut off my horse. I got thrown in front and the horse fell on top of me.
"It was my first experience in a life-and-death situation."
A year and a half later, Maragh can talk about the incident without emotion, other than the occasional rueful laugh.
Collapsed lungs
"I had collapsed lungs and I couldn't breathe," he said. "I obviously didn't know the extent of my injuries, but I felt like I was fighting to stay alive and I didn't want to pass out because I was running out of air."
When he finally got to the hospital, the man known for a relentless sense of humor said he almost felt like laughing with relief, despite the agonizing pain.
"I felt like if I could make it to the hospital awake or conscious, they'd be able to save my life," he said.
He remembers a crowd of doctors waiting for him, immediate X-rays, and hearing that, remarkably, he wouldn't need surgery for his injuries: nine fractures of the spine, broken ribs, and a collapsed lung.
Three years earlier, Maragh had suffered a compression fracture in his T3 vertebrae, the result of another spill; this time, he'd fractured his T4, 5, 6, and 8 vertebrae, and, while he wasn't paralyzed, he was unable to walk, or even move much, for the first three days. Once on his feet, he was sent home by Long Island's North Shore LIJ hospital, an apparent miracle that he wasn't injured more seriously. But his recovery was just beginning.
Extreme pain
The accident happened on the day after the jockey's 30th birthday, and his extended family had made the trip from their home in Florida to celebrate the milestone with him.
"It was good and bad," said Maragh. "It was great that they were here, but it was obviously hard on them."
For three months, through the fall of 2015, Maragh did little more than lie on the couch in his Long Island home. He watched a lot of horse racing on television, and he played a lot of video games; walking to his backyard required a major effort and represented a major accomplishment.
"I was in so much pain," he said. "In my back, everywhere. I've suffered a lot of injuries in my career, but pain-wise, this was extreme."
"For the first three months, neither of us got any sleep," said Angelina, Maragh's wife. The two met in Florida in 2004 and were married in 2013.
When Maragh went down on that July afternoon, he'd been back riding for barely six months since his last fall. A broken arm suffered in October 2014, in the Jockey Club Gold Cup, had kept him out of action until January of last year; on New Year's Eve 2012, he'd suffered that first spine fracture in a fall at Aqueduct.
Aided by Angelina, Maragh spent the summer and early autumn of 2015 visiting specialists in and around New York City, often receiving conflicting information.
Lost hearing
"One specialist told me I'd be back riding in six months," he said. "Another told me that I didn't need a brace."
"One of the doctors told him never to ride again," said Angelina. "That was hard to hear."
"Everything was so painful," he said. "Angie would have to drive me to the doctors and drive so slow, being careful not to hit any bumps or potholes. I had a cousin that came with us to help me in and out of the vehicle, and he was kidding with me the other day about a time that Angie hit a pothole and I started screaming like I was dying."
It was a doctor at New York's Hospital for Special Surgery who put Maragh in the brace that he would wear for nine months to stabilize his spine, taking it off only to sleep or take a shower. While the device strengthened his spine, it also prevented him from bending or twisting, so that when he finally was able to shed it, his physical therapy and rehabilitation had the man used to commanding the movement of a 1,200 animal unable to pick up even the lightest of hand weights.
"Rubber bands," he said, with another little laugh. "I was pulling rubber bands at the beginning of therapy, and sometimes they'd say, 'Let's change from the red one to the blue one because it's easier.'"
He developed unbearable pain in his heels because of the position that he had to sleep in, and, at one point, he inexplicably lost the hearing in one ear, his doctors finally suggesting a course of oral steroids, followed up by a shot of the medication directly into his ear.
Four wins at Aqueduct
Sitting in the waiting room on the scheduled day of that injection, the jockey who faces pain and injury every day as a matter of course fled when his name was called. "I was horrified," he said. "I couldn't do it."
As inexplicably as it had disappeared, his hearing returned to normal within a few months, but the rest of his recovery required more than just patience. For the first time in his life, he worked out regularly. The self-professed exercise hater did physical therapy nearly every day for two and a half hours; he and Angie had headed to Florida in the fall of 2015 so he could recuperate there, closer to family, and regular visits to Gulfstream Park not only got him out of the house, they reminded him of why he was enduring the agonizing sessions.
"I talked to myself a lot," he said. "I just told myself that, if I don't do it, I'll never be able to ride again."
He got on his first horse in 15 months in mid-October this year, in the barn of longtime friend Kiaran McLaughlin. Coming off a fourth-place finish in the Jockey Club Gold Cup, Mubtaahij took a walk around the shedrow with Maragh on his back. The first horse he took to the track was McLaughlin's Celtic Chaos.
"I really like and respect him and his wife Angie," said McLaughlin from Florida. "They've been through hell."
Maragh got his first Grade 1 win on a McLaughlin horse, Little Belle in the 2008 Ashland at Keeneland, and the two men also share an affinity for poker.
Last Saturday (December 10) Maragh rode four winners at Aqueduct, the last one coming for McLaughlin on Ekhlaas.
Costly error
"That was great," said McLaughlin of the jockey's four-bagger. "We started riding him early (when he returned), and he's not tired at all. He waited until he was fit and ready to go."
Maragh's first win since his return came on November 23 at Aqueduct, on Bass River Road for trainer Jeremiah Englehart and owner Mike Repole, whom Maragh considers a friend and adviser.
"I'm just thankful that people still give me opportunities," Maragh told the New York Racing Association. "I'm lucky I have good people who always stood behind me throughout the years. Mike Repole is one of them. He's given me so much support. To have confidence in me coming off such a long stint, it means a lot to have the opportunity to ride these horses."
He says he wasn't nervous about coming back, that he's never been nervous about riding in a race. He also says he doesn't spend much time thinking about the incident that caused him to miss a year and a half of his career. Generally quick with his words, he chooses them carefully when he talks about it.
"No," he said, asked if he harbors any ill will towards Silvera. "A lot of emotions go through your mind, but being mad at anybody can't help me. I've made mistakes, other people make mistakes. Obviously this is almost as bad as it gets, when you could lose your life or be paralyzed, but at the end of the day, it's just an error. A costly error, but it's part of what happens in horse racing."
He didn't need any reminders of the sport's risks, but he got an uninvited one on November 27, when his mount Elbow Room clipped heels in the fourth race, falling and throwing Maragh to the ground in the stretch. Angie was at the track that day to see it happen.
Good sign
"You go through the motions at first," she said. "Okay, I don't see him on the horse. They're not showing it on the TV. Then I look over and I see him on the ground, and I'm waiting for him to move."
"Then I saw him moving and thought, 'Okay, that's a good sign.' I saw the ambulance pick him up and bring him back to the paddock, and that's when I went down to see him. It's always a good sign when they bring him back to the front of the track."
She didn't know a lot about horse racing when she met him; she wasn't accustomed to the sport's risks, but, even through his many injuries, she supports his decision to keep riding.
"He knows what he's doing," she said. "I trust his judgment, and I support him 110 percent in any decision he makes."
For now, that decision is to keep riding, and to stay in New York to ride this winter. His goal, he said, is to be the leading rider in New York in 2017, and, to do that, he needs to stay here, build up his business, establish relationships with trainers who will ride him regularly.
Dream come true
Remarkably considering his lengthy spells on the sidelines, Maragh is ranked as high as 32nd among U.S. riders in the TRC Global Rankings.
"He's very smart," said McLaughlin. "He's got an almost photographic memory, and he knows every horse in the race, and what every jock is thinking. If he saw the horse run a year ago, he seems to remember everything about it. He'll make a great agent when he's done riding."
That day, thankfully, seems to be well in the future for Maragh. He's hardly become a gym rat, but he's continued the fitness regimen that began while he was hurt, and he's riding half a dozen or more horses each day at Aqueduct. Early in the current meet, which began on December 7, he's won six races from 19 mounts for a 32 percent win percentage, highest in the jockey colony; he's tied for first by number of wins and sits second by earnings.
"I feel like everything was going the way I envisioned my life to go, and then boom, it was all taken away from me," he reflected. "I had to re-set, but I just feel like I have to stick to my fundamentals; they're what got me here in the first place and they'll get me there again one day.
"I started out racing at Calder and now I'm in New York, the top level of racing in America. To be successful here has been a dream come true."