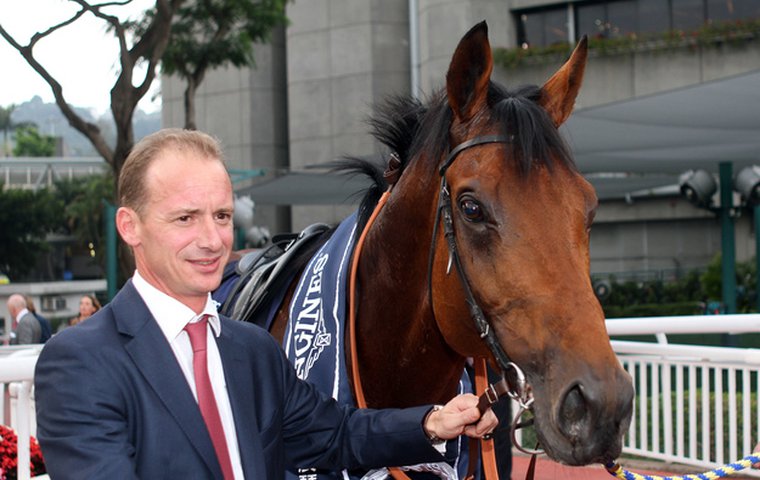 Emigration is a major step for anyone. For a racehorse trainer, it's a process that requires a bit more of an individual than just packing the bags and taking your skills to another country. Adapting to new conditions demands physical as well as intellectual challenges, as Englishman Richard Gibson found when he moved from being a middle-ranking French trainer, who'd learnt much of what he knew about his trade in the United States, to Hong Kong.

One thing he did know is that, in racing terms, Hong Kong is a land of opportunity. With the highest-per-race prize money anywhere in the world, hardly anyone who's offered the chance to train there refuses, unless they're doing spectacularly well at their present base. But, equally, it has its punishments for failure. Just like everywhere else, the best horses go to those who've proved themselves. Sure it's unfair, but it's life.
On top of that, there's the Hong Kong Jockey Club's (not quite iron) rule that trainers who fail to reach the required 15 winners in the 83-meeting season run the risk of relegation from the ranks.
So there is pressure on newcomers. But, after Doctor Dino, twice winner of the G1 Hong Kong Vase as well as the G1 Man o' War at Belmont, had played a major part in bringing him to the club's attention, the then 41-year-old had very little hesitation in making the move at the start of the 2011-2012 season.
What differences did he find in his new environment?
"As an avid racing fan," he said, "I'd always thought it must be quite difficult for a trainer to move to another place. I knew it was going to be a challenge because, wherever you are, it always takes a great deal of time to understand your training track. It's professionally difficult because you have to learn again how to quantify a horse's fitness when you're unfamiliar with the track he's working on.
"My early personal experience in the U.S.A. was invaluable when I arrived, though, as I'd learnt about training on a flat round track and how to base training on timing and speed.
"Training in Hong Kong, though, you've got to be very open with yourself about the need to change and adapt. One of the aspects I found most difficult was in dealing with the staff. In Europe and the U.S.A. many of the work riders have been riding Thoroughbreds for 25 years or more. Many are ex-jockeys, and you learn to rely on them for their judgement and for information about your horses.
"With the greatest respect to Hong Kong staff, many of them are not very proficient in English and so you're not getting the feedback you've grown used to – and feedback, as any trainer will tell you, is absolutely crucial.
"When I came to Hong Kong I rather hoped I'd packed away my riding boots for good, but then I realised I was going to have to unpack them, because sitting in a trainer's hut 800 metres away from where the horse is galloping is not going to give you the sort of knowledge about him that you need."
Emulating multiple Hong Kong champion John Size in exercising the horses in his care did Gibson no harm at all. He hit the ground running and, in his first season, sent out 35 winners for total prize money of HK$23 million (about $3 million). In his second season, he won the Hong Kong Derby with Akeed Mofeed, increasing his prize money to HK$42 million. In his third season, Akeed Mofeed won the Hong Kong Cup, and Gibson's haul increased to HK$53 million.
His total for this season reached HK$55.7 million (fifth highest among Hong Kong trainers) thanks in large part to the patronage of Akeed Mofeed's owner, Pan Sutong, one of the richest people in the world.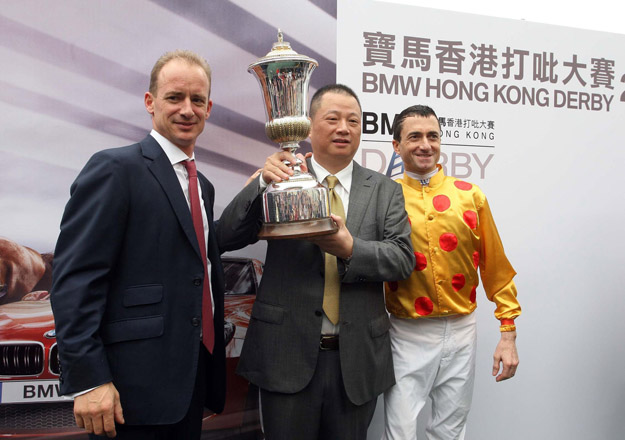 Yes, it helps to have met the right owners and to have impressed them when you do. Just to put those figures into perspective, Hong Kong's leading trainer, John Moore, has won almost HK$140 million this season (well over £11 million and around $19 million) in Hong Kong alone. But Gibson can counter this with the statistic of which he's most proud. From the start of the 2013-2014 season until now, he has sent out nine Group race winners from 34 runners, a strike rate of 26 percent; Moore has 27 Group winners from more than 200 runners, a strike rate of 12 percent.
As Gibson observes about his own improvement in circumstances – not that he started from a particularly low base as the son of a very successful solicitor: "To win that much in Britain or France, you'd have to be champion trainer."
In fact, his finishing positions in the Hong Kong championship in his first three years have been seventh, 10th and 12th, and on 27 winners at the time of writing he currently stands in 16th place. Nevertheless, his has been a very solid start to a career in the trainers' El Dorado.
But to return to his description of the other differences between training in Hong Kong and elsewhere: "The second part of your job here concerns bloodstock, because bloodstock recruitment is so important. What you have to learn is how to beat the others in finding the right type of horse for Hong Kong. And that's a very interesting challenge because the horses come from two hemispheres.
"If you strip out the stats in Hong Kong, you find that some trainers are experts in finding the right horses in one hemisphere or the other, but very few are equally adept at recruitment from both Australasia and Europe. Perhaps only John Moore has mastered both after his 35 years of experience.
"If any fellow trainers or horsemen are reading this, I think they'll agree that this is about the most interesting, and almost unique, subject in racing – the subject of training Northern and Southern Hemisphere horses. I've always been very opinionated and I've felt that I know when a Northern Hemisphere horse is about to blossom. But Southern Hemisphere horses aren't just foaled at a different time of year, they're a different breed. They're a lot bigger and heavier and they tend to have more speed and rather less stamina. They need a very different manner of training.
"It's a very interesting challenge learning how to adapt to this new situation. Even top European and North American trainers never quite experience this challenge. In a way it's slightly comparable to the one facing Californian trainers 15 or 20 years ago when there was a big flood of South American-bred horses onto the circuit. They too, trust me, are another different breed.
"And there's no magic formula. There are dozens of bloodstock agents and previous trainers who scratch their heads in surprise when a horse that's performed so well in his country of origin comes to Hong Kong and for some reason fails abysmally.
"To lay all the blame on its new handler is a naïve and incompetent assessment, as is the tendency to give all the credit to the new trainer if they succeed. One of the keys to the success of my two most successful European imports was their superb handling by John Oxx and Ger Lyons in their European careers.
"So shopping for horses is a 24/7 occupation for trainers in Hong Kong and, yes, you must look both ways because the top talent does come from both directions.
"If you ignore Australasia, you will fall behind, not least because – never mind the champions they produce – the Hong Kong handicapping system favours the unraced Southern Hemisphere horses because they start with a bottom rating of 52. If a horse is above average and has starting off at that rating, he should win his first three races at least, with ease."
So does he feel he's already got the hang of finding the right Southern Hemisphere horses to bring in? And if so, what is the secret?
"I might have," he says laughing, "but if I had I don't think it would make very good sense to tell everyone, do you?"
Gibson now has a new wife as well as a new training life, and during the course of the interview he was on tenterhooks as Flora, a Hong Kong-based expatriate schoolteacher was due at any minute to produce their first child.
Last question then: Does he ever feel nostalgia for Europe and France in particular, where he used to train from the stables of the late, great François Boutin? Does he ever think about moving back?
"I have no ambition to train anywhere else. Absolutely none."
So why then – OK, that bit about it being the last question was a lie – aren't trainers knocking down the doors of the Hong Kong Jockey Club demanding to be offered a licence?
"On the other hand if you're major league, say top five, in your country of origin why would you want to leave? But the highest I ever finished in my 14 years in France was ninth."
He spreads his hands and hurries to join his wife. Their child, a son, Alvie, was born the next day.