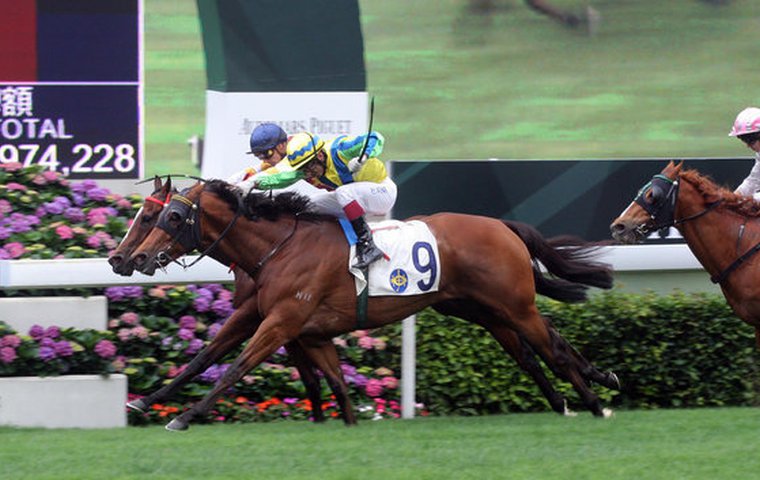 Hong Kong-trained Rich Tapestry seeks to conquer new ground as he seeks to venture forth from the world's most thriving racing jurisdiction to inject new blood into the Breeders' Cup.

It's a widely held opinion that the Breeders' Cup World Championships are in need of an injection that will spread its field of interest beyond the borders of the annual turf (and dirt) wars between North America and Europe. It's another widely held opinion that, as a numerically small but very tough group, Hong Kong sprinters may be just about the best in the world. To an extent, this view has been borne out in the last decade not only by the rise of Hong Kong champions Silent Witness and Sacred Kingdom to the top of the world rankings, but by Little Bridge's effortless victory at Royal Ascot a couple of years ago, and by the clean sweep for Hong Kong in the two major sprints at this year's Dubai World Cup.
Here perhaps is an idea whose time has come. A first runner from the world's most economically successful racing jurisdiction is being aimed at Santa Anita this November.
Rich Tapestry may not be the best sprinter in Hong Kong. In fact, he may not be in the top 10 on turf. But on dirt - and the dirt track at Sha Tin is effectively American dirt - he is a horse transformed.
He doesn't just like any non-turf surface. He loves it. His triumph on the Meydan Tapeta in a valuable G3 on March 8 surprised some in Dubai who'd failed to notice he'd been one of the closest group following the great Lord Kanaloa home in the December's Hong Kong Sprint. It is unlikely to have surprised even one Hong Konger: they all knew his tastes.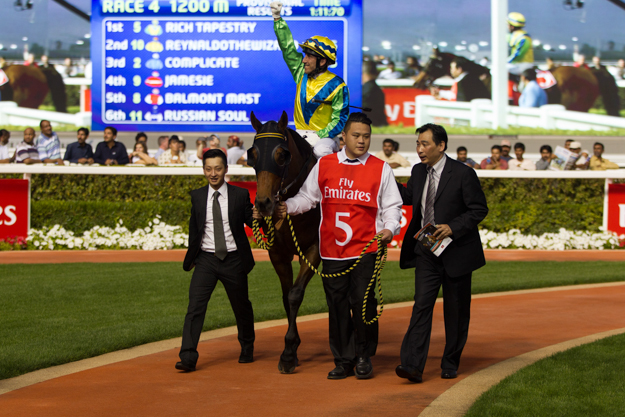 Until the last 50 yards of the G1 Golden Shaheen on Dubai World Cup night it looked as though he was going to follow up that G3 victory until the new riding sensation, Hong Kong-based Brazilian Joao Moreira, conjured a finish out of the John Moore-trained Stirling City, who'd looked for most of the straight to be well held. The exacta was no surprise in Hong Kong either.
THIS WEEK'S TOP TEN
The world's leading trainers of fillies and mares
| | | | |
| --- | --- | --- | --- |
| 1 - Aidan O'Brien | 1027pts | 6 - Chris Waller | 966 |
| 2 - Chad Brown | 1013 | 6 - Mark Casse | 966 |
| 3 - Todd Pletcher | 981 | 8 - John Gosden | 962 |
| 4 - J-C Rouget | 977 | 9 - William Mott | 958 |
| 5 - Gai Waterhouse/Adrian Bott | 970 | 10- David Hayes* | 957 |
According to TRC Global Rankings algorithm. Includes all runs by fillies and mares in Group or Graded races worldwide in the last three years
*David Hayes is listed for simplicity, but this is actually partnership 'D Hayes, B Hayes and T Dabernig'
Rich Tapestry's trainer, Michael Chang (no relation to the tennis player), is a man with an interesting history of his own. He came from a very poor family who happened to have made their home next to Sha Tin Racecourse. He fell in love with the sport immediately and completely. As soon as he was old enough, he got a menial job with a trainer.
Small enough in his youth to have dreams of becoming a jockey, he got a recommendation from a British administrator and joined a small stable at Epsom Downs. He didn't make it as a rider, and he couldn't stand cold winters. Coming home, he started again, worked his way through the ranks to become assistant to three trainers in succession, and then got his own licence in the 2006-07 season.
He had no big backers and no real money behind him. But he had talent and unbounded self-confidence. Even after a year or two he declared in an interview that "I know if I had the same horses he has, I could do just as well as John Moore" (the most successful trainer of big race winners in Hong Kong racing history).
Now he's got one. (Two actually, because his diminutive Dibayani recently ran third in the Hong Kong Derby, albeit behind two Moore runners). And it is typical of the likeable 52-year-old that he should aim to take that horse where no Hong Kong trainer has gone before.
Chang has no complex plan for preparation for his ground-breaking venture except to make sure the Irish-bred gelding arrives at Santa Anita "a fresh horse."
"I will give him just one run in Hong Kong before we go," he said. "I can't say yet which race it will be as I have to wait to see the program for next Hong Kong season, which starts in September, before I can find the right race for him. I'm very hopeful about him though because he is just a different horse when he goes on the dirt. He has won beyond a mile, but we will definitely be aiming for the Breeders' Cup Sprint.
"The owner is very keen to send him to the U.S., and in fact we don't really have a choice, because he now has a Hong Kong rating of 131, and we will have to race him overseas as there just aren't the opportunities on the all-weather for a horse that highly rated."
Rich Tapestry is a son of Holy Roman Emperor, a Breeders' Cup-registered sire who stands outside North America, so there's no problem about registration or supplementary fees. There is, however, a snag. Or perhaps it's the opposite of a snag.
Rich Tapestry is a bleeder. In fact, after the habitual front runner had weakened to finish eighth after leading into the straight in the G2 Sprint Cup at Sha Tin last Sunday, Chang confirmed the vets' finding that he had blood in his trachea.
"But that doesn't change my plan for him at all," said the trainer. "He always has that. And he always gets over it."
Chang is well aware of the different medication rules in the U.S. and they increase his expectation of a strong showing against America's dirt specialists.
"Lasix can definitely help him," he said. "In fact I think if it stops him bleeding, it will improve him at least a length or two."
And he seems excited about the prospect of going where no Hong Kong trainer has gone before to take on America's best at the meeting that marks American racing's seasonal grand finale.
"Of course I am very excited to be sending the first horse from Hong Kong to the Breeders' Cup and to be the first trainer to do that," he said. "But, of course, I am a bit nervous too. Above all I don't want to embarrass anyone in Hong Kong racing. I believe he can do well, and I am so keen for him to do well and make Hong Kong proud. That's why I want to make sure my horse is absolutely right when he goes to the post on November 1."
When the gates bang open for the Sprint on Breeders' Cup Day 2014, it may be the most exciting moment of Chang's career to date. It may also open the gates for others to follow his trail-blazing lead, and tempt connections of the best in Hong Kong to make the trip across the Pacific in years to come.