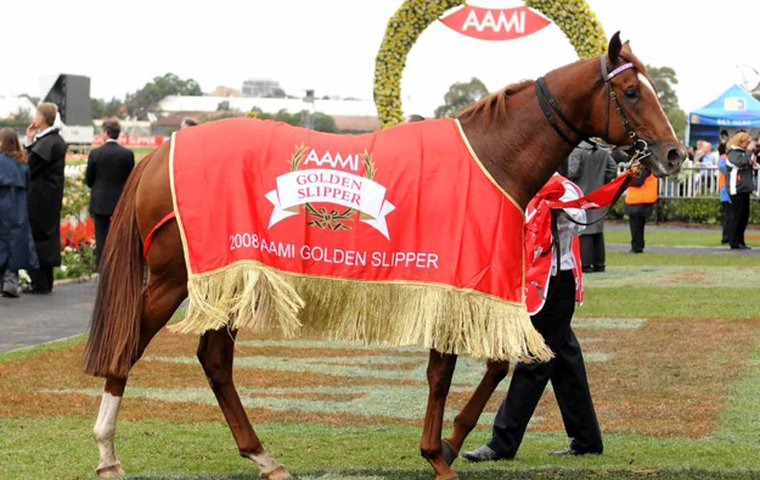 Over the years, 2-year-old racing has fended off its share of criticism from claims of animal abuse to questions of racehorse longevity. But in Australia, it is alive and well, with this weekend's G1 Golden Slipper its showpiece event. Brad Waters looks at some of the reasons why this side of racing has done so well Down Under.

Some people might find it ridiculous, 16 2-year-olds scampering around six furlongs for AUD$3.5 million in prize money. Nevertheless, the G1 Golden Slipper is one of Australia's showpiece racing events, and the richest race for juveniles in the world. And think about it. After the Melbourne Cup and Randwick's Queen Elizabeth Stakes, the Slipper is the richest event on the Australian calendar. It accounted for 0.6 percent of total prize money last season.
In a typical Slipper field, horses might have raced just once, so you could be excused for thinking such inexperienced runners haven't earned the right to compete for outrageous prizemoney. But Australian racing thinks differently. The Slipper, and Melbourne's million-dollar G1 Blue Diamond Stakes, also for 2-year-olds, always attracts large fields, and the spin-offs are greater than mere prizemoney. A Golden Slipper-winning colt is certain to balloon in stud value at one of the Hunter Valley's larger operations.
High-stakes 2-year-old racing offers racehorse buyers the chance for a quick return of enormous proportions, sometimes within months of securing a rising 2-year-old. The Widden Stud stallion Sebring is a good example. Fetching AUD$130,000 as a yearling, he didn't race after his six-start 2-year-old season, but he tallied more than AUD$2.4 million in stakes, including the Golden Slipper and G1 Sires' Produce. Sebring brought eight figures when he was sold as a stallion prospect to Widden, and today commands a service fee of AUD$60,500.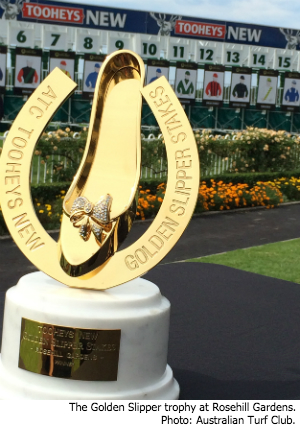 Sebring was a dream result for syndicator Star Thoroughbreds, and also for those that answered his syndication advertisement. It is a result that underpins the syndication model in Australia, where everyday people can own a horse to compete at the best levels of this business, both on the track and in the breeding shed.
For season 2013/2014, there were 4,964 ownership syndicates in Australia. Victoria laid claim to almost half of them. Ownership rules allow for 20 people to be named as owners of a horse in a racebook, and just seeing one's name in print on race day is a thrill for many who have invested in the sport. A AUD$10,000 syndicate purchase in Australia can very quickly turn into a shot at millions of dollars if a horse can show the required speed for 2-year-old racing, but it must also stand up to the rigours of an Australian campaign. Tracks are firm in this part of the world, especially during the exposed warmer months, and shin soreness is an ever-present threat to the hopes of 2-year-old owners.
Trainer Gai Waterhouse has forgotten more about 2-year-old racing than most people would ever know. Her Tulloch Lodge stable, along with its two satellite yards, has won more than 15 juvenile G1 races, and managed the 2-year-old careers of some of the country's brightest young stallions – Pierro, Sebring, and Manhattan Rain. Waterhouse knows the importance of 2-year-old success to attract and keep Australia's wide and varied ownership base, which has a wide demographic of disposable income.
"2-year-old racing in this country is very strong, and that is very important for racing overall because the 2-year-olds are what make our stallion base," Waterhouse said. "A lot of people in Australia can afford to have a share in a horse. Sebring, for example, wasn't a very expensive horse, but he gave those owners the time of their lives in the season that he raced as a 2-year-old, and most are still in racing with other horses, all from their experience with their first horse."
Australia's ownership landscape supports this view. There were 74,448 people with shares in racehorses last season, of which only 1,246 were based overseas.
It stands to reason that a strong 2-year-old economy would support strong figures at the yearling sales. In 2008/2009, with the Global Financial Crisis (GFC), the average yearling price tumbled in Australia by 31 percent to just more than AUD$50,000. It has climbed steadily ever since, and last racing year stood at AUD$69,428, just shy of the record average of AUD$75,853 pre-GFC.
The 2-year-old economy in Australia benefits greatly from both inbuilt industry incentives and the major auction houses. Every state has a breeding incentive scheme (such as the Breeder Owner Bonus Scheme, or BOBS, in New South Wales), while both William Inglis & Son and Magic Millions run lucrative incentive races that are restricted to graduates of their respective yearling sales. Of the latter, the racehorse Chance Bye shows its value.
Chance Bye cost AUD$15,000 as a yearling filly at an Inglis sale in 2009. Her trainer, Michael Tubman, had to borrow the funds to buy her, but by the end of that year, she had earned him AUD$170,000 for her debut effort in the Inglis Nursery at Randwick. A month later, she had doubled her prize money in a similar race at Rosehill. The upshot of these two runs was that Chance Bye had won AUD$340,000 in stakes without racing horses outside of the Inglis sales system.
The progress in quality of Australian 2-year-olds in the last decade has been impressive. According to figures by the Australian Racing Board (ARB), the average rating of the country's best youngsters has increased steadily from 108 in the racing decade 1995-2005, while the next 10 years produced an average performance figure of 113. Sepoy and Pierro are rated as the equal best 2-year-olds of the last 20 years on 118, while Sebring and Phelan Ready achieved 115. Last year's joint top performers were Earthquake and Mossfun on 114.
Where has the improvement come from?
The irrepressible influence of Danehill is obvious at all levels of Australian Thoroughbred, but he has been especially influential among the top 2-year-olds, especially in the last five seasons. Danehill descendants have occupied at least half of the top 10 positions in the leading 2-year-old sire's table for at least the last five seasons. Exceed And Excel keeps on producing outstanding juveniles, while Redoute's Choice continues to exert enormous influence. In fact, leading into this weekend's Golden Slipper, Redoute's Choice has four sons in the top-10 spots of the current 2-year-old sire's table – Snitzel, Not A Single Doubt, Beneteau, and Stratum.
However, none of this seems to resonate with the Australian punting public, many of which refuse to bet on 2-year-old racing. This leg of the sport has historically attracted significantly smaller tote pools, while on-course bookmakers almost always report little interest in it, excepting the likes of the Golden Slipper and Blue Diamond. Also, 2-year-old racing has fended off its share of criticism for a long time. Welfare groups target juvenile racing around the world as abuse of young animals, claiming 2-year-olds can be trained beyond what their bodies are capable of, washing them up long before their use-by date.
In 2013, researchers at the University of Sydney refuted this, with a decade-long look at more than 115,000 Australian Thoroughbreds. They found that the risk of premature retirement decreased the younger a horse was when it started in its first race. In a press release dated April 2013, chief researcher Dr. Natasha Hamilton, a supervising author at the university's Faculty of Veterinary Science, stated: "[This study] observed that for those Thoroughbreds that have started racing at two, no ill effect can be detected."
Nevertheless, the ARB has 2-year-old welfare high on its agenda. Each entrant in this year's Blue Diamond field had a compulsory, thorough pre-race veterinary examination, and 2-year-old racing remains prominent in welfare discussions, along with whip rules and jumps racing. But this side of the sport is still in a very healthy state in Australia, surviving even the resurgence of interest in stayers.
And this brings us back to the speed issue, upon which so much of Australian racing depends. The country is world renowned for its sprinters, and some of this is thanks to its investment in speedy 2-year-olds. It takes time to wait for a stayer, and for many that want a quick return at the top end of the game, 2-year-old racing is a vital block of the sport.