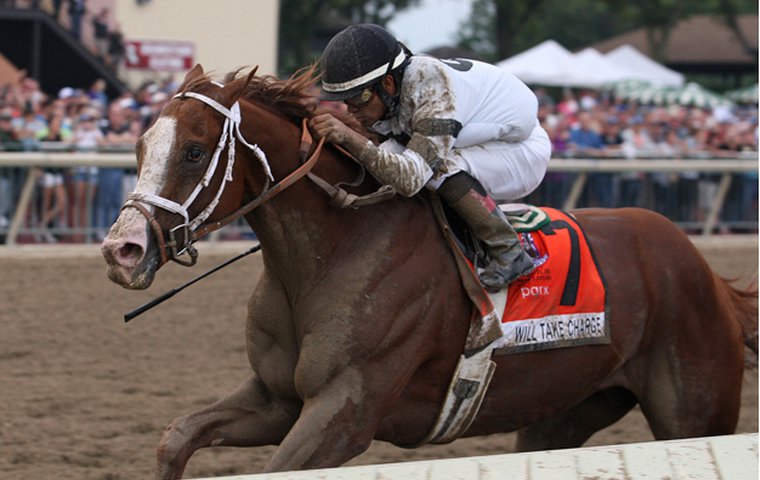 With the 145th running of the G1 Travers in the books, Seth Abrams of All Day Racing considers a trio of other late-season targets for 3-year-olds.

The Travers Stakes at Saratoga Race Course tends to dominate the late-summer headlines for 3-year-olds. It is among the marquee races of the historic Saratoga meet and has been run a staggering 145 times. This year, it featured a record purse of $1.25 million, along with its usual G1 status, and played host to an upset with up-and-coming sophomore V.E. Day defeating Wood Memorial and Jim Dandy winner Wicked Strong as well as Belmont Stakes victor Tonalist. However, outside of the Travers, other late-season stakes races restricted to 3-year-olds, unable to rely on a lengthy racing tradition, have still managed to gain a significant foothold in the division.
These races – the West Virginia Derby, the Pennsylvania Derby, and the Super Derby – have carved their place through the use of purses that are comparable – or sometimes have even exceeded– the purses of premier G1 races. Each of these races is nine furlongs, and each carries a purse of a $400,000 or greater, making them significant targets for connections of high-class Thoroughbreds. In addition, careful scheduling – with an eye toward ideal layoffs and modern race campaigns – has also served an important role in their growth.
The first of these races, the G2 West Virginia Derby, was contested at nine furlongs at Mountaineer Race Track on its now-traditional date of the first Saturday in August. The race has a long, but spotty history, spanning several tracks. In its recent incarnation, it has been run at Mountaineer yearly since 1988. When moved to Mountaineer, the purse was only $100,000, and until 2002, the race was ungraded. However, the purse grew incrementally through the 1990's, and, due in part to new slot machine revenue during this time, the purse was raised to a lofty $600,000 in 2002. It was elevated again to its current $750,000 level in 2005, and the race achieved G2 status in 2009.
Importantly, the West Virginia Derby is also scheduled to provide ideal layoffs from many other 3-year-old stakes. It is five weeks from G3 Iowa Derby at Prairie Meadows, seven weeks from the G3 Matt Winn Stakes at Churchill Downs, and, importantly, four weeks from G2 Los Alamitos Derby (formerly the Swaps Stakes at Hollywood Park). Notably,this year, the trainers of three 2014 Kentucky Derby starters – Tapiture, Candy Boy, and Vicar's in Trouble – all used these prep races to gain condition for their horses on their way to the West Virginia Derby, and this pattern bodes well for the continuing future importance of this race.
The G2 Pennsylvania Derby provides another significant late-season target for 3-year-olds. Run at Parx Racing (formerly Philadelphia Park), it has had an up-and-down history, with significant purse downgrades and upgrades. It was first held in 1979 on the last weekend in May for a purse of $100,000. It achieved its first grading in 1981, and in 1983, it was upgraded to a G2. From 1985 to 1990, it offered a then-quite sizable purse of $300,000. However, in 1990, the race was moved to Labor Day, and in 1991, the purse was slashed to $150,000. The race was eventually downgraded to a G3 in 1996. The purse began increasing again in 1999, and eventually reached $750,000 by 2003. The race was elevated once again to a G2 in 2004.
With the addition of slot machine revenue, the purse was raised to its $1,000,000 level in 2007. In 2010, it moved to its current spot on the racing calendar, the third Saturday in September, which has proven to be a very successful move for the race. As stated at the time, the primary motivation was to position the race to serve as prep for the Breeders' Cup six weeks later. In addition, it is scheduled a reasonable four weeks from the Travers, and it is also seven weeks from the West Virginia Derby. Indeed, since the move to the later September date, the Pennsylvania Derby has developed a stellar recent record of producing future stars, such as Will Take Charge in 2013 and To Honor and Serve in 2011.
Yet another potential late-season target for top 3-year-olds is the G2 Super Derby. Established in 1980 at Louisiana Downs, the Super Derby burst on to the scene to make an instant mark on the 3-year calendar. It provided an example of what a huge purse can mean for a race, even without any prior running history. Traditionally run in late September or early October, it quickly became a G1 race by 1983, and its history is filled with many classic names, such as Tiznow, Gate Dancer, Sunday Silence, and Alysheba. At that time, it offered the largest purse ever for 3-year-olds. In 1980, the purse was $500,000, but was raised to a staggering $1,000,000 from 1987 to 1991. In contrast, in 1980, the Kentucky Derby purse was only $200,000, and in 1991, its purse was still only $500,000.
However, even with the addition of slot machine revenue for Louisiana racing in the 1990's, the Super Derby purse began a steady decline throughout the next two decades (with the exception of a one year increase in 2005), and it was eventually downgraded to its current G2 level in 2002. It is contested at nine furlongs and the purse was $500,000 from 2006 to 2013, and now $400,000. Importantly, its purse now lags behind both the West Virginia Derby and the Pennsylvania Derby. Furthermore, the Super Derby is now held on the first Saturday in September – a change made in 2011. At the time, Trent McIntosh, director of operations for Louisiana Downs, told the Daily Racing Form that the change was intended to put the race in a more "realistic position" on the racing calendar. It is no longer intended to be an event on the road between the Travers and the Breeders' Cup – a role now held by the Pennsylvania Derby. Only two weeks removed from the Travers Stakes, it is now also eight weeks from the Breeders' Cup. It is, however, an ideal five weeks from the West Virginia Derby, and is in not unheard of for a horse to now sweep both of these races, just as Departing did in 2013. It also can now serve as a prep race for the other graded stakes races later in the fall, such as the G2 $500,000 Indiana Derby, during the first weekend in October.
Even with the relative decline of the Super Derby, all of these late-season stakes races still offer attractive purses for the connections of high-class 3-year-olds. By offering large purses – often, but not always driven by slot revenue – these three mid-level tracks have been able to gain an important place in the late-season campaigns. When combined with an eye for scheduling toward ideal multi-race campaigns, these mid-level tracks have been able to provide connections with multiple options for their top 3-year-olds throughout the late summer.