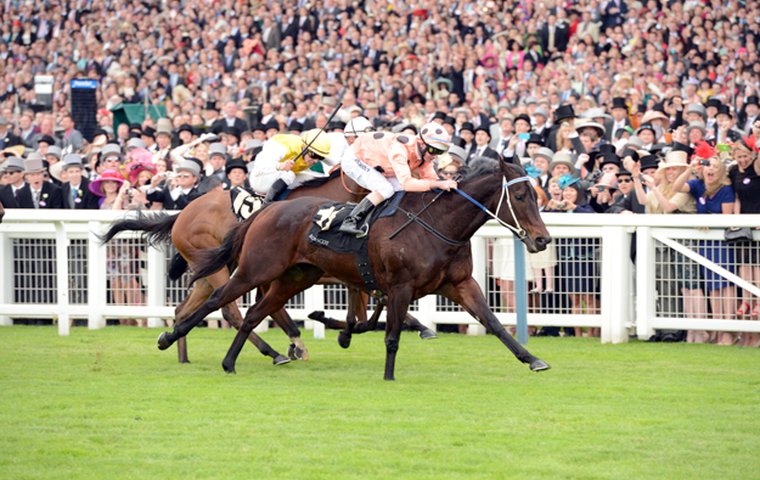 They're the definitive measure of merit of the planet's best horses, comparable across generations - at least that's the idea - and they've been pored over endlessly by elite handicappers representing the International Federation of Horseracing Authorities. But the annual Longines-sponsored year-end World's Best Racehorse Rankings have attracted plenty of criticism in their various guises over the years. So how did the handicappers do this time when they released their final figures for 2013 on January 16? Who better to ask than Simon Rowlands, Head of International Research and Development at Timeform and a long-time observer of these, the most prestigious worldwide accolades in racing?

Following the controversy of the year-ago period, when its committee chose to rewrite history through a "recalibration" exercise, this year's Longines-sponsored World's Best Racehorse Rankings (WBRR) have rattled few cages. Handicappers, public and private, may quibble over a pound or two here and there, but true bones of contention are few and far between.
They do exist, however. In particular, it must be wondered how much longer the illusion can be sustained that these ratings have a truly global scope when no two-year-olds outside Europe are considered.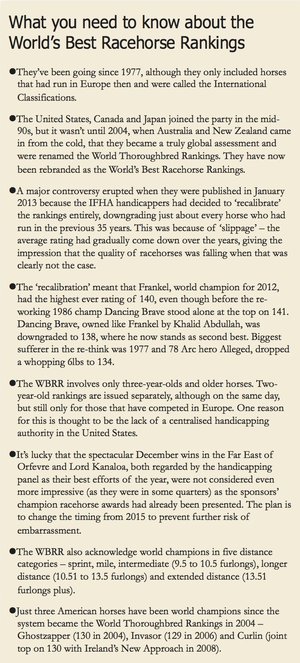 Toormore, on a figure of 122, is top of the pile among European juveniles, which is fair enough. But Timeform, which rates every race in North America as a matter of course these days, has the unbeaten Shared Belief - easy winner of the Cash Call Futurity at Betfair Hollywood Park in December - better by 2 lb (Timeform rating of 123 compared to Toormore's 121). Yet Shared Belief does not even get a look in due to the strange geographical restriction applied.
You will also look in vain for the likes of Havana, Cairo Prince, and New Year's Day on the list, each of them high achievers neglected due to having raced exclusively in North America.
On the other hand, the 117 rating awarded to the filly Chriselliam seems generous. She deserves great credit for winning big races in both Europe and the U.S., but the fillies she beat in the Breeders' Cup Juvenile Fillies Turf at Santa Anita were unexceptional. A centralised authority that assessed performances on an ongoing basis surely would have picked up on that.
The slippage in older-horse ratings which led to the recalibration exercise at the end of 2012 was identifiable long before it was tackled, both through comparisons within the World Thoroughbred Rankings (WTR) and between those figures and Timeform's. Twenty horses were rated 125 or higher in the International Classifications (forerunner of the WTR and WBRR) in 1986. The equivalent (considering only horses that raced in Europe) in 2004 was just three.
Following a slight revival in the intervening years, the number has now dropped again to just six in 2013, the lowest in six years. It is surprising that a project of this scale does not seem to apply elementary statistical validation to its figures, which should rule out any danger of slippage.
The gap between the WBRR figures for top older horses and those of Timeform (which standardises its figures as a matter of course) was as high as ever at five on average in the latest year. The biggest discrepancy concerns the three-year-old milers Toronado and Dawn Approach, who the WBRR seem to have sold short on 125 and 124 respectively (whereas Timeform has them on 133 and 132 respectively - the difference is 8 rather than the usual 5).
The top horses of 2013 - Black Caviar and Treve (Timeform has Wise Dan alongside them) - have the lowest ratings for global leaders since New Approach and Curlin, who were also rated 130 officially, in 2008.
This seems justified. There was bound to be a post-Frankel (and before him Sea The Stars and Harbinger) hangover, and Black Caviar and Treve do not have their sex allowance incorporated, so can be viewed even more favourably in reality.
Black Caviar was retired in April, and arguably had slightly better performances to her name in 2011 and 2012 than in 2013. But Treve should be racing in 2014, when the brilliance she showed in extending her unbeaten record to five in the Qatar Prix de l'Arc de Triomphe at Longchamp will be put to the test.
Treve slammed Japanese star Orfevre by five lengths in Paris, but the WBRR considered the latter's subsequent eight-length win in the Arima Kinen at Nakayama to be a better effort by that horse and has just 1 pound between the pair.
Timeform makes it 2 pounds, but agrees with the general point. Handicapping falls foul far too often of assuming horses have run to the same figures on different occasions, seemingly for convenience as much as anything.
The WBRR may remain parochial in terms of its treatment of the younger generation, but no such accusation should be levelled at them these days regarding older horses. "Decision by committee" has led to some questionable figures and omissions, but not all politicking has had a negative effect.
It can only be imagined that the increased - and overdue - recognition for Australian-trained horses in recent years has resulted from a greater influence of that nation's representatives on the process. Something similar may be occurring with Japanese-trained horses.
The efforts of Orfevre and of the Japanese Derby winner Kizuna in Europe in 2013 meant that they could not be ignored by European interests. But Lord Kanaloa's stunning win in the Longines Hong Kong Sprint at Sha Tin in December also catapulted him up the ratings. His 128 WBRR was easily the highest by a male sprinter anywhere in 2013, and that is one assertion with which it is very difficult to disagree.