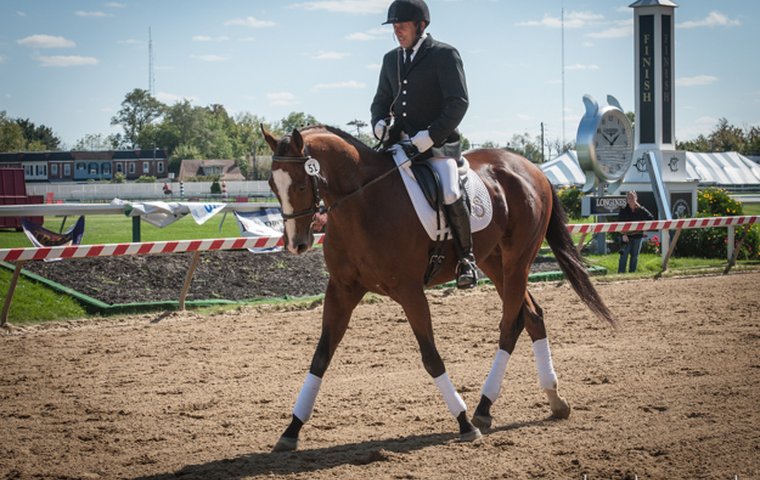 After attending the Retired Racehorse Project's Thoroughbred Makeover event at Pimlico Race Course this past weekend, I realized that many people – including equestrians and racing industry professionals – are limited in their view of the Thoroughbred breed.

It may surprise some, but Thoroughbreds are talented athletes who can excel at other activities besides just running fast on a racetrack.
At the event, many equestrians, racehorse trainers, aftercare affiliates, and others in attendance shared stories about the ignorance they faced when working with Thoroughbreds due to misconceptions that the breed is hot, hard to handle, not suitable for children, only has one speed, or a myriad other myths that can be easily proven untrue by spending time around Thoroughbreds.
I've personally experienced this misunderstanding while riding hunter/jumpers growing up. When the time came to look for my first horse, my parents got help from friends in the racing industry who suggested searching for a mount at Thoroughbred aftercare facilities. We found a grey gelding named Tarquin Joe at the Thoroughbred Retirement Foundation's facility at Blackburn Correctional Complex in Kentucky. Joe was well mannered, easy going, and a nice mover -- and we bonded instantly. After further evaluation -- including a call to his former trainer Billy Badgett who said Joe was one of the nicest horses he'd been around -- we called our hunter trainer to come take a look at him. When my mother described Joe on the phone, the trainer screamed "You can't put a child on a Thoroughbred!"
Unfortunately, this attitude has become the norm in the hunter/jumper world. A decade ago, Thoroughbreds dominated the hunter/jumper rings. Now, most riders and trainers seek out warmbloods and the Thoroughbred has become an afterthought.
Although we wanted to proceed with Joe's adoption, despite our soon-to-be former trainer's warnings, X-ray results revealed that Joe's arthritic knee would become a problem for him when jumping.
While Joe wasn't a good candidate for me, his story doesn't end there -- just because he would never be in the show ring and could no longer run races didn't mean that he could not have a successful second career.
Soon after, he was adopted out to Little Creek Special Equestrians, a therapeutic riding facility in Indiana, where he excelled as a therapy horse. He even went on to compete in the Indiana State Special Olympics, where he brought home a gold medal and two silver medals in 2004.
Like Joe, there are many off-track Thoroughbreds waiting to get a second chance at a new career, and these horses cannot afford to have professionals in the equine industry ignore what else they can do. Racehorse owners and trainers need to understand that a horse is not useless just because it can no longer compete at the racetrack. Equestrians need to be aware of all that Thoroughbreds are capable of -- and communication between these two groups is something that organizations such as Retired Racehorse Project strive to achieve. This past weekend, I saw ex-racehorses demonstrate their talents in a range of activities such as barrel racing, polo, show jumping, trick riding, eventing, western pleasure, and fox hunting.
Misconceptions about the breed are not the only obstacle to aftercare success stories, but education can do much to help pave the road to meaningful second careers.