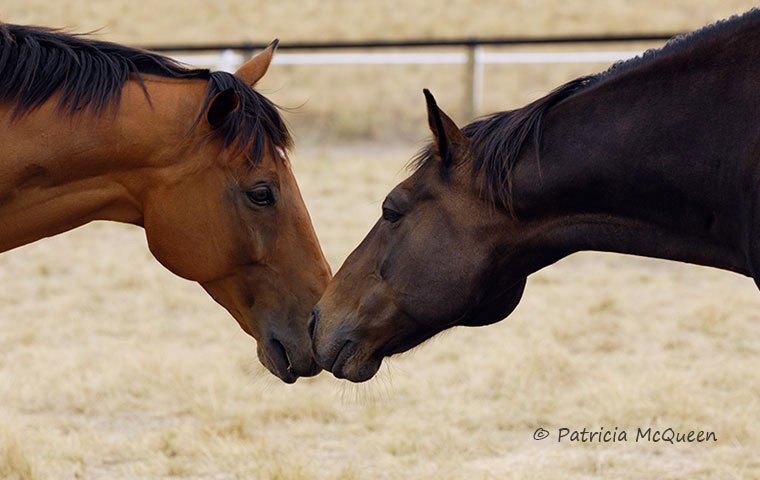 Ten years ago I went to Australia to see Secretariat's son, Kingston Rule, who to this day holds the record for the fastest Melbourne Cup ever run. While he was the primary reason for the journey, if you are traveling for 24 hours, you might as well look for other opportunities.

I made arrangements to visit several leading stud farms in Victoria and New South Wales as icing on the cake. Traveling with my friend (and fellow TRC contributor) Mary Pitt, we were welcomed at these facilities with open arms.
Fortunately for us, we also discovered Living Legends – a 'rest home' for retired Thoroughbred stars, which had just opened a few weeks before our visit.
Established in November 2006, the facility's concept is similar to America's Old Friends. One difference is that the Living Legends mandate is to bring racing's retired stars to the people, so not only do the horses get visitors on-site, they make appearances throughout the area.
And you definitely won't see wild kangaroos at Old Friends.
Many celebrated racing stars have graced Living Legends, including winners of the Melbourne Cup, Japan Cup, Caulfield Cup, Australia Cup and Cox Plate, plus several Hong Kong-based superstars.
The current roster includes Apache Cat, Brew, Buffering (part of the year), Bullish Luck, California Memory, Chief De Beers, Efficient, Fields Of Omagh, Good Ba Ba, Lucky Nine, Maluckyday, Might And Power, Paris Lane, Rogan Josh, Silent Witness, Super Impressive, The Cleaner, Zavite and Zipping. They are joined by Piccolo, a miniature horse who keeps Might And Power company.
Other notable residents, now deceased, included Better Loosen Up, Doriemus, Little Bridge and Saintly. The latter, known as the 'Horse from Heaven' was a resident for only a few months at the very beginning.
Fields Of Omagh planted the seeds
Fields Of Omagh is credited with planting the seeds that created Living Legends, according to Dr. Andrew Clarke, the facility's chief executive officer and veterinary director. The horse was noted for running in five consecutive Cox Plates, winning two of them, including his last career start in 2006. While he was still running, his ownership syndicate started wondering where the gelding would go when he retired – none of them had a farm.
Although there's no doubt he would have found a good home, the idea of a making him available to his fan club started taking hold.
Around the same time, the Victoria state government had called for proposals for the Woodlands Homestead in the Woodlands Historic Park, located next to the Melbourne airport. The property dates from the mid-1800s but was rundown and not being fully utilized.
The winning proposal came from Living Legends, a group formed for the purpose of creating a retirement home for Thoroughbreds; it included some of the Fields Of Omagh syndicate members.
Clarke was finishing a contract as professor of equine studies at the University of Melbourne and ended up taking a hands-on role at Living Legends. "I saw a great opportunity to have the vet students involved here, and eventually fund research and education."
Having the commitment to house Fields Of Omagh was critical. "He was a very high-profile horse, and that gave us the springboard to be able to approach other owners of champion horses, such as Better Loosen Up, Might And Power and Doriemus," said Clarke.
Those were the first horses on the grounds, and they were quickly joined by several others.
Fan favorites
With its group of top-quality horses, there is something for every racing fan. "They all have their followers," said Clarke. The general public, however, admires Apache Cat based on appearances alone – he has that 'Phantom of the Opera' white face that people recognize from a distance. The Australian-bred champion sprinter won eight G1 races, and it just so happens that he's a grandson of Secretariat, being by Secrettame's son Lion Cavern.
Among other residents, Might And Power (pictured below) still reigns supreme after all these years; living up to his name, he's the only horse to win both the Caulfield and Melbourne Cups wire to wire.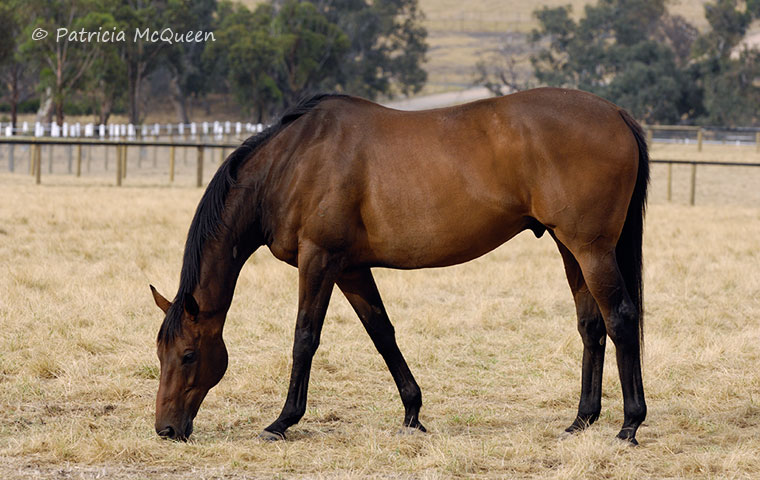 "He is hugely popular, because he was such a courageous front-running horse," said Clarke. Japan Cup winner Better Loosen Up, who died last March, was another long-time favorite among racing fans, and was a gentle little horse in retirement.
Visitors from Hong Kong enjoy being up close and personal with several of their star runners. Leading that group is superstar Silent Witness, an Australian-bred Hong Kong Horse of the Year ranked as the world's fastest sprinter three years in a row.
Others include three Kentucky-breds that found stardom in Hong Kong – Bullish Luck, California Memory and Good Ba Ba. Irish-bred Lucky Nine ventured to Hong Kong in his world travels, which also took him to Australia, Japan, Dubai and Singapore.
As Clarke said, racing fans always gravitate to their favorites. One memorable visit was from a little boy named after Rogan Josh. His mother had bet on the horse in the Melbourne Cup while she was pregnant, with an 'understanding' that she'd name the baby after him if he won. The horse obliged, and little Josh finally got to meet his namesake.
"Anywhere else in the world, people wouldn't appreciate [naming a child after the winner of a horse race]," marveled Clarke. "It shows the depth of how far into our psyche and our heritage the Melbourne Cup is."
While most horses come to Living Legends immediately following a stellar racing career, three came in after spending additional time as police horses. Well, technically just two – the third, Brew, failed police academy training. He is one of the best-bred Melbourne Cup winners in history, by the great Australian sire Sir Tristram out of New Zealand champion mare Horlicks. Brew passed most of his police academy lessons, but was dishonorably discharged after kicking up his heels once too often.
Chief de Beers and Super Impressive both served ten years in the police force after their racing days were over. Chief de Beers is just a little horse but specialized in crowd control and search and rescue. Super Impressive handled every police job but one – he couldn't do a controlled trot for parades.
Eyeing those kangaroos
Upon their arrival at Living Legends, some of the horses, especially those who spent a lot of time in Hong Kong, where there are no open spaces for paddocks, are initially surprised to find the kangaroos bouncing around the grounds. Most recently, California Memory got his introduction to the marsupials. Based on the gelding's reaction, Clarke figures the horse was thinking, "I hope these suckers don't eat horses, because if they eat horses, I'm in trouble."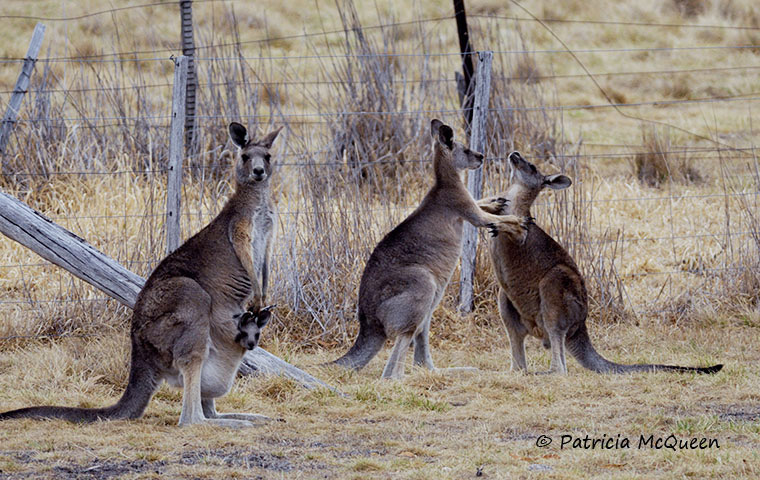 One of the most special things about being around Living Legends over the years is getting to know the personalities of the horses. For example, Clarke compared Might And Power with Melbourne and Caulfield Cups winner Doriemus, who died in January 2015.
"If horses played chess, Doriemus was a chess player. If you put carrots on the roofs of one of the horse shelters, Doriemus would get a ladder and climb up and get the carrots. Might And Power would kick the shed down. They'd both get the carrots, just in totally different ways – they were totally different personalities."
The two were actually paddock mates for several years, until they had a terrible falling out.
"Might and Power gave Doriemus a good belting one night. We reckon it was an argument over a race they had together." Whatever it was, they had to be separated at that point. These days, Might And Power hangs out with a miniature horse named Piccolo. "The little bloke is a little demon – he tries to run around and fight and play with Might And Power. He's the right little horse to be in there – they both have that bit of attitude about them."
The stories are endless, but don't ask Clarke who his favorite is – that's a lot like asking parents which of their children they like the best. "They are all special."
A horse walked into a bar
And they have special functions. It's an old joke – "A horse walked into a bar, and the bartender asks 'why the long face?" Well, it's not a joke for Brew. He may have failed police academy, but the training he received means he can go just about anywhere. And one of his adventures meant walking into a bar – by no means an unusual occurrence for Living Legends horses.
In fact, appearance fees make up an important part of the revenue by which Living Legends supports itself. In addition to participating in the annual Melbourne Cup parade down Swanston Street, the horses make guest appearances at race meetings, functions and events.
Recently, Silent Witness was the star of a big function in a ballroom at Crown Casino in Melbourne. Before a group of about 1,000 Asian executives, the horse walked onto the stage. "I've never heard 1,000 people gasp before," said Clarke. The promoters asked for a ten-minute photo session in the foyer afterwards. About 90 minutes later, people were still in line waiting to have their photos taken with the horse.
Horses as therapy
The horses may go out into the world on a regular basis, "but a lot of our best work is done here at the farm." Vet students from area schools are regular visitors, honing their horse-handling skills. Minor offenders can take care of the horses as part of their community service programs.
The working farm also provides school children with fun and educational opportunities. Many of them have never petted a horse or seen a wild kangaroo. Clarke loves showing them 'how many kids does a horse weigh?' "We put the horse on the scales, then we take the horse off and start to put the kids on. It's good fun."
Even with all that interaction with the community at large, some of the best visits come from special-needs children and adults, especially autistic individuals and adults with early dementia or other brain-related problems. "You never know how people will interact with the horses."
Clarke remembers one boy whose condition was so severe his teachers almost didn't bring him, fearing there would be no point. "The little boy just bonded with Silent Witness. It was quite amazing – the horse was nuzzling him over the fence."
Then there was a man of Italian descent who had stopped speaking English and would only speak Italian. "The day he was here, petting the horses, he spoke English."
There are also the bucket-list visitors, those who are facing their own mortality. "They want to spend time with horses that may have meant something special to them. It makes you put your feet on the ground and really appreciate life."
For Clarke, the emotions are priceless. "You just don't know from day to day. You could cry your heart out with some of these stories one day and on another you laugh until your sides hurt. That's what it's all about – the emotions that come with the interactions with horses."
Future endeavors
Making all this possible is the generosity of the horses' owners, donations from the public, and appearance and tour fees. Twice, however, Living Legends almost had to shut down.
Not long after it opened, equine influenza hit Australia in 2007. Unable to support itself because the horses couldn't meet their public, the venture almost ended before it had barely begun. More recently, a major fundraiser went bankrupt and Living Legends lost most of the $100,000 that had been raised on its behalf.
But the ship has righted again from this most recent setback, and Clarke and his team are busy.
In addition to some basic renovations and reconfiguring of the paddocks, there are plans for new stables. There may even be horseback riding offered in the future.
The facility could potentially hold double the number of horses, perhaps adding clinics and taking horses that need re-training and re-homing after their racing careers. All that requires more staffing and more facilities, so these possibilities are a longer way off.
The challenges behind him for now, Clarke is looking towards this future. "We want to promote life after racing for a lot more horses."